¿Hemos evitado la bala del estancamiento secular?
WASHINGTON, DC – En 2016, Robert Gordon de la Northwestern University publicó su magnum opus de más de 700 páginas, Ascenso y caída del crecimiento en Estados Unidos. Dos años después, cuando no sólo Estados Unidos sino toda la economía mundial experimentan una aceleración sincronizada del crecimiento, el segundo sustantivo en el título de Gordon parece, cuando menos, excesivamente pesimista.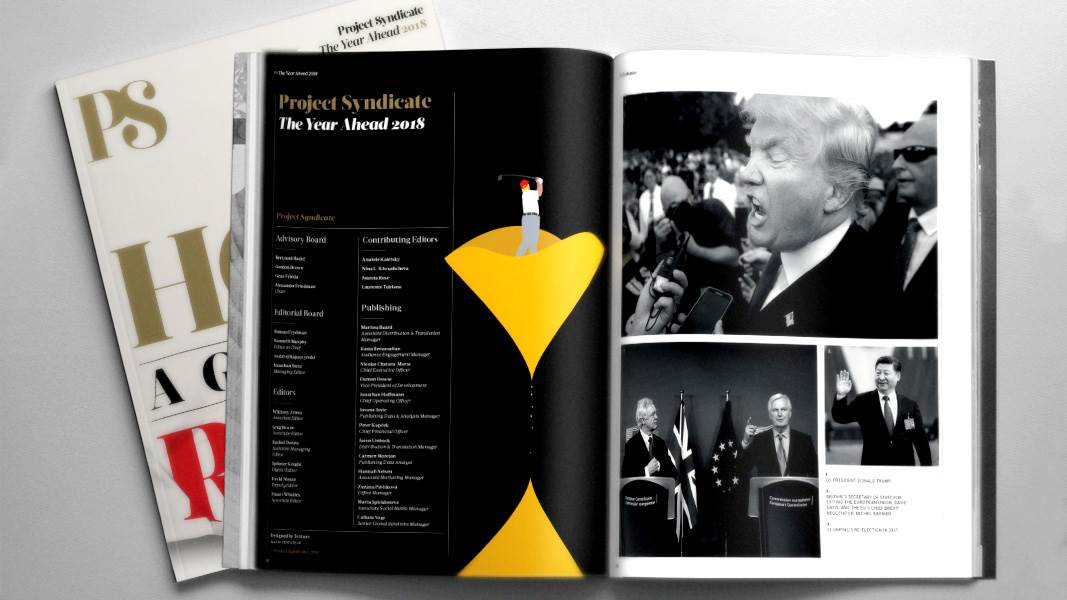 The Year Ahead 2018
The world's leading thinkers and policymakers examine what's come apart in the past year, and anticipate what will define the year ahead.
El principal argumento de Gordon era que el siglo posterior a la Guerra Civil en Estados Unidos -de aproximadamente 1870 a 1970- trajo consigo una revolución económica sin precedentes, en tanto innovaciones como la electricidad y el agua canalizada rápidamente aumentaron la productividad y transformaron el estilo de vida de la gente. En su opinión, las innovaciones de hoy -especialmente en el terreno de la tecnología digital, el aprendizaje automático y la inteligencia artificial- pueden ser asombrosas, pero no tienen el mismo potencial enorme de aumentar la productividad. Gordon es, esencialmente, un pesimista del lado de la oferta, aunque también señala que la desigualdad de ingresos puede actuar como un obstáculo para el crecimiento, al reducir la demanda efectiva.
Otra visión sombría sobre el crecimiento futuro, presentada por el ex secretario del Tesoro de Estados Unidos Lawrence H. Summers después de la crisis económica global, tiene una connotación decididamente más keynesiana o "del lado de la demanda". La teoría de Summers del "estancamiento secular" (un término utilizado por primera vez por el economista Alvin Hansen en 1938) sostiene que, en Estados Unidos, el deseo de ahorrar supera crónicamente el deseo de gastar en inversiones que mejoren el crecimiento.
El equilibrio entre ahorro e inversión podría lograrse, sostiene Summers, sólo con una tasa de interés nominal que esté por debajo del límite inferior igual a cero. El hecho de que no se invirtieran las grandes ganancias corporativas parecía respaldar esta hipótesis, que también echó raíces fuera de Estados Unidos.
La aceleración sincronizada del crecimiento actual no necesariamente invalida estas perspectivas pesimistas. Después de todo, Summers -y Gordon aún más- se estaba refiriendo al largo plazo. Si la aceleración actual del crecimiento se agota después de seis meses o un año, todavía se las podría reivindicar. De modo que, al evaluar la posibilidad de un crecimiento débil en el largo plazo, vale la pena analizar dónde se vinculan exactamente las hipótesis de Gordon y Summers, y qué las invalidaría.
Cuanto más bajo el retorno esperado sobre la inversión marginal en una economía, más baja debe ser la tasa de interés para que se realice la inversión. Un retorno bajo sobre la inversión podría ser el resultado de factores del lado de la demanda, relacionados, digamos, a la distribución de ingresos o a las actividades del sector financiero. También podría estar arraigado en el lado de la oferta, donde un progreso tecnológico lento conduce a un crecimiento débil de la productividad. En resumen, el estancamiento secular que ha pronosticado Summers, con tasas de interés bajas, necesarias para compensar los bajos retornos sobre la inversión, bien podría ser causado por la desaceleración del cambio tecnológico que mejora la productividad que resalta Gordon. 
Por lo tanto, resulta útil observar que lo que parece haber cambiado recientemente no es la oferta de ahorro, sino el retorno esperado sobre la inversión. La economía está saliendo de la trampa de la tasa de interés cero no porque los ahorros estén cayendo, sino porque la inversión se está volviendo más atractiva, debido a las mejores expectativas.
Esa confianza puede derivar, en parte, de la legislación impositiva amigable con las empresas que se sancionó recientemente en Estados Unidos. Pero, más fundamental, parece reflejar un cambio en la manera en que se perciben las tecnologías actuales y en desarrollo. En otras palabras, el tecno-optimismo está ganando terreno.
Si, contrariando la tesis de Gordon, las tecnologías de hoy efectivamente impulsan la productividad de manera significativa, el retorno sobre la inversión aumentaría (a menos que la mano de obra se quede con todas las ganancias a través de salarios más altos, un resultado que nadie espera). Eso sacaría de territorio negativo la tasa de interés que equilibra la oferta y la demanda, resolviendo el problema del estancamiento secular de Summers.
Sin embargo, debe destacarse que lo que ha cambiado son las expectativas, no el crecimiento potencial estimado. En Estados Unidos, el crecimiento anualizado de la productividad alcanzó el 2% en el segundo y tercer trimestre de 2017, pero fue negativo en el primer trimestre de ese año e igual a cero en el último. Según el reciente informe Perspectivas Económicas Mundiales del Banco Mundial, "a pesar de una reciente aceleración de la actividad económica global, el potencial crecimiento de la producción está mermando".
De modo que si estamos o no en la cúspide de una aceleración sostenible del crecimiento económico global depende de que las tecnologías innovadoras de hoy finalmente tengan un impacto apreciable en la mano de obra y la productividad global de los factores. Yo creo que lo tendrán. Pero la realidad es que, hasta el momento, no lo han tenido.
Sólo si el crecimiento de la productividad anual aumenta de su rango actual de 0,5-1% a 1,5-2% en los próximos años podremos decir que Estados Unidos ha evitado el destino pronosticado por Summers y Gordon. No debería permitirse que el optimismo económico de hoy eclipse esta realidad, y mucho menos que inspire la complacencia sobre el futuro. Después de todo, aun si la tecnología efectivamente colma las expectativas de los optimistas en términos de su impacto en el crecimiento, el desafío de garantizar que el crecimiento agregado sea inclusivo permanecerá.