Het controleren van de waarheid in het tijdperk van Trump
LONDEN – Op 6 oktober heeft de Amerikaanse president Donald Trump een tweet verstuurd, waarin hij beweerde dat de gewone griep in één jaar soms wel ʻmeer dan honderdduizend Amerikanen' doodt. ʻGooien we ons land dus op slot?' vroeg hij. ʻNee, we hebben ermee leren leven, net zoals we zullen moeten leren leven met COVID, dat in de meeste bevolkingen veel minder dodelijk is!!!'
De eerste bewering van Trump is waar: als gevolg van de griep zijn in 1918 and 1957 meer dan honderdduizend Amerikanen omgekomen. ʻWe hebben ermee leren leven,' is een uitspraak waarover de meningen zullen verschillen, terwijl zijn bewering dat COVID-19 in de meeste bevolkingen ʻveel minder dodelijk' is dan de griep twijfelachtig is (welke bevolkingen, en waar?)
Er was niets bijzonder ongebruikelijks aan deze tweet: de voorkeur van Trump voor de suggestio falsi is welbekend. Maar al snel nadat hij was verstuurd, verborg Twitter de tekst achter een waarschuwing waarin stond dat de regels van het platform over ʻhet verspreiden van misleidende en mogelijk schadelijke informatie, gerelateerd aan COVID-19' waren geschonden. Facebook ging nog verder en verwijderde een identiek bericht van zijn site.
Dergelijke online-controverses worden steeds meer gemeengoed. In 2018 zou de nu failliete politieke consultancy-firma Cambridge Analytica met opzet fake news hebben verspreid op de sociale media om Amerikanen ertoe over te halen bij de presidentsverkiezingen van 2016 op Trump te stemmen. Sindsdien hebben Facebook en Twitter miljoenen valse accounts en ʻbots' verwijderd, die valse verhalen aan het rondpompen waren. Voor deze operatie moesten de platforms zelf speciale, met behulp van kunstmatige intelligente gebouwde algoritmes inzetten om de verdachte accounts op te sporen.
Onze afhankelijkheid van bedrijven die ervan profiteren om ʻdesinformatie' het voortouw te laten nemen bij het controleren van de waarheid weerspiegelt het probleem waarmee de digitale technologie ons heeft opgezadeld. Facebook en Twitter hebben geen doorslaggevend motief om ervoor te zorgen dat op hun sites louter ʻware' informatie verschijnt. Integendeel, deze bedrijven verdienen hun geld door de data van hun gebruikers te benutten om advertenties te verkopen die specifiek op die gebruikers zijn gericht. Hoe meer tijd gebruikers doorbrengen op Facebook of Twitter, en hoe meer zij ʻliken,' aanklikken en posten, des te meer deze platforms profiteren – ongeacht het rijzende tij van desinformatie en ʻclickbait.'
Dit rijzende tij wordt deels gevoed door psychologische factoren. Onderzoekers van het Massachusetts Institute of Technology zijn erachter gekomen dat het tussen 2006 en 2017 70 procent waarschijnlijker was dat valse nieuwsverhalen op Twitter zouden worden geretweet dan ware verhalen. De meest voor de hand liggende verklaring is dat vals nieuws een grotere nieuwswaarde heeft dan de waarheid, en sterkere reacties uitlokt – met name verrassing en afschuw. Hoe kunnen bedrijven die gebruikers en inkomsten ontlenen aan vals nieuws dan betrouwbare hoeders van waarheidslievend nieuws zijn?
Subscribe to Project Syndicate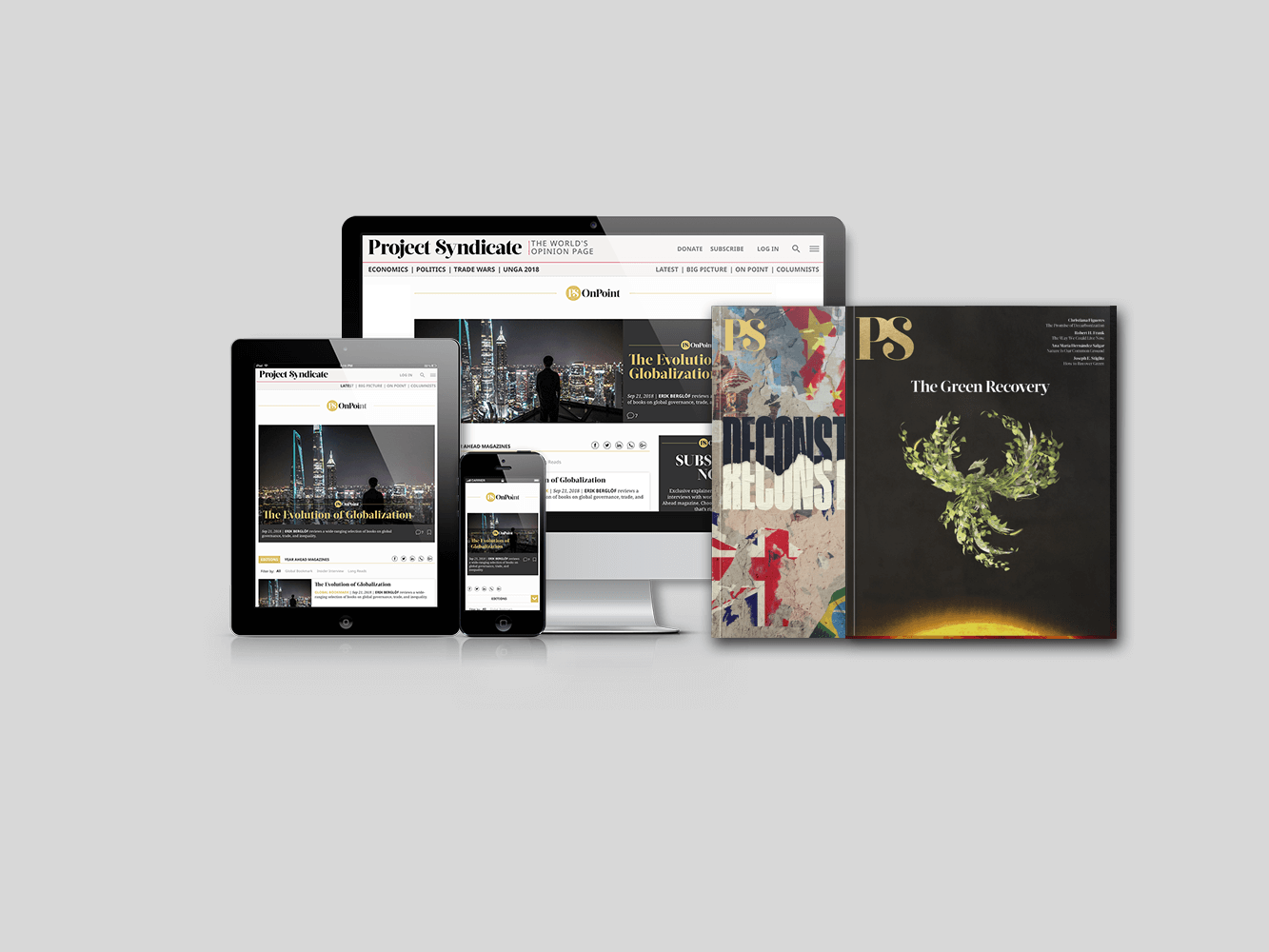 Subscribe to Project Syndicate
Enjoy unlimited access to the ideas and opinions of the world's leading thinkers, including weekly long reads, book reviews, and interviews; The Year Ahead annual print magazine; The Green Recovery special-edition print magazine; the complete PS archive; and more – All for less than $9 a month.
Bovendien zijn de mogelijkheden om desinformatie te verspreiden toegenomen. De sociale media hebben het publiek voor allerlei soorten verhalen veel groter gemaakt, een voortzetting van het proces dat in de vijftiende eeuw is begonnen met de uitvinding door Johannes Gutenberg van de verplaatsbare drukpers. Net zoals de innovatie van Gutenberg heeft geholpen de controle op kennis aan de rooms-katholieke kerk te ontfutselen, hebben de sociale media de manier gedecentraliseerd waarop we informatie ontvangen en interpreteren. De grote democratische belofte van internet was dat het communicatie mogelijk zou maken zonder top-down beperkingen. Maar het gevolg was dat de geloofwaardigheid van de informatie gelijkgeschakeld werd, ongeacht de bron.
Het probleem is echter fundamenteler van aard: ʻWat is waarheid?' zei Pontius Pilatus schertsend tegen Jezus. Ooit was de waarheid het woord Gods. Later was het datgene wat de wetenschap had ontdekt. Tegenwoordig is zelfs de wetenschap verdacht. We zullen ons vertrouwen moeten hechten aan bewijsmateriaal als de koninklijke weg naar de waarheid. Maar feiten kunnen gemakkelijk worden gemanipuleerd. Dit heeft ertoe geleid dat postmodernisten beweren dat alle waarheid relatief is; erger nog, die waarheid zou door de machtigen zijn geconstrueerd om hun macht te behouden.
De waarheid schuilt dus net als de schoonheid in het oog van de waarnemer. Dit laat veel ruimte voor alle partijen om hun eigen verhaal te vertellen, en zich niet al te veel zorgen te maken over de feitelijke juistheid ervan. Meer in het algemeen zullen deze drie factoren – de menselijke psychologie, de door technologie mogelijk gemaakte verspreiding van de boodschap, en de postmodernistische cultuur – zonder enige twijfel de rekbaarheid van de geloofwaardigheid vergroten en de verspreiding van complottheorieën bevorderen.
Dit is een serieus probleem, omdat het een gemeenschappelijk podium elimineert waarop democratische debatten en overleg kunnen plaatsvinden. Maar ik zie geen voor de hand liggende oplossing. Ik heb geen vertrouwen in de bereidheid of het vermogen van sociale media-bedrijven om toezicht te houden op hun platforms. Zij weten dat ʻvalse' informatie slechte politieke gevolgen kan hebben. Maar ze weten ook dat het verspreiden van meeslepende verhalen, ongeacht de vraag of ze waar zijn of niet, en ongeacht de gevolgen ervan, zeer winstgevend is.
Het enige motief dat deze bedrijven hebben om het probleem van fake news aan te pakken is het minimaliseren van de slechte pers die hen dat heeft opgeleverd. Maar tenzij en totdat het vertellen van de waarheid de winstgevendheid dient, is het futiel om te verwachten dat ze van koers zullen veranderen. Het beste waar je op kunt hopen is dat ze zichtbare pogingen zullen ondernemen, hoe oppervlakkig ook, om misleidende informatie of conclusies van hun sites te verwijderen. Maar performatieve daden van censuur, zoals het verwijderen van de tweet van Trump, zijn een loos gebaar zonder duidelijke signaalfunctie. Ze dienen louter om de aanhangers van Trump te irriteren en het verontruste geweten van zijn progressieve tegenstanders te sussen.
Het alternatief – het aan de autoriteiten overlaten van de controle  op opinies – is net zo onverteerbaar, omdat het de onhoudbare bewering nieuw leven zou inblazen dat er één enkele bron van waarheid is, goddelijk of seculier, en dat die over het internet zou moeten heersen.
Ik heb geen oplossing voor dit dilemma. De beste benadering is miscchien het eenvoudigweg op sociale media-platforms toepassen van het aan de openbare orde ontleende beginsel dat het strafbaar is om raciale haat aan te wakkeren. Twitter, Facebook en anderen zouden dan wettelijk verplicht kunnen worden om hatelijk materiaal te verwijderen. Ieder besluit dat zij nemen zou door de rechter getoetst moeten kunnen worden.
Ik weet niet hoe effectief zo'n stap zou zijn. Maar het is zeker beter dan het laten voortduren van het steriele en eindeloze debat over wat ʻfake news' nu eigenlijk is.