Weitere Überlegungen zu den weißen Schwänen des Jahres 2020
NEW YORK – Im Februar warnte ich, dass eine beliebige Anzahl vorhersehbarer Krisen – so genannte "weiße Schwäne" – heuer massive globale Turbulenzen auslösen könnten. Ich schrieb:
"… die USA und der Iran waren bereits in eine militärische Konfrontation verwickelt, die wohl bald eskalieren wird; China befindet sich im Würgegriff eines Virusausbruchs, der sich zu einer weltweiten Pandemie auswachsen könnte;  Cyberkriege sind im Gange; wichtige Inhaber von US-Staatsanleihen verfolgen Diversifizierungsstrategien; bei den Präsidentschaftsvorwahlen der Demokraten zeigen sich Risse hinsichtlich der Gegnerschaft zu Trump und es werden bereits jetzt Zweifel an der Stimmenzählung laut; die Rivalität zwischen den USA und vier revisionistischen Mächten eskalieren; und die wahren Kosten des Klimawandels und anderer Entwicklungen in der Umwelt steigen."
Seit Februar hat sich der Covid-19-Ausbruch in China tatsächlich zu einer Pandemie ausgeweitet, wodurch diejenigen unter uns bestätigt wurden, die schon frühzeitig vor den möglicherweise schwerwiegenden Folgen des Coronavirus für die Weltwirtschaft gewarnt hatten. Dank massiver Konjunkturmaßnahmen ist die größere Rezession des Jahres 2020 nicht zu einer größeren Weltwirtschaftskrise geworden. Dennoch präsentiert sich die Weltwirtschaft nach wie vor schwach, und selbst wenn es zu einer V-förmigen Erholung der stark rückläufigen Produktion und Nachfrage käme, könnte diese angesichts des niedrigen Niveaus der wirtschaftlichen Aktivität nur ein oder zwei Quartale anhalten.
Eine andere Möglichkeit besteht darin, dass angesichts des hohen Maßes an Unsicherheit die Risikoaversion und der Schuldenabbau auf Seiten der Unternehmen, Haushalte und sogar ganzer Länder zu einer länger andauernden anämischeren U-förmigen Erholung führen. Gelingt es jedoch nicht, den jüngsten Anstieg an Covid-19-Fällen in den Vereinigten Staaten und anderen Ländern unter Kontrolle zu bringen, und kommt es noch vor der Entwicklung eines sicheren und wirksamen Impfstoffs in diesem Herbst und Winter zu einer zweiten Welle, würde die Wirtschaft wahrscheinlich eine W-förmige Double-Dip-Rezession erleben. Und angesichts der tiefgreifenden Schwächen der Weltwirtschaft lässt sich auch eine L-förmige größere Depression bis zur Mitte des Jahrzehnts nicht ausschließen.
Darüber hinaus hat sich, wie im Februar prognostiziert, die Rivalität zwischen den USA und vier revisionistischen Mächten - China, Russland, Iran und Nordkorea - im Vorfeld der US-Präsidentschaftswahlen im November verstärkt. Es besteht wachsende Besorgnis darüber, dass diese Länder Cyber-Kriegsführung einsetzen, um sich in die Wahlen einzumischen und Amerikas parteipolitische Spaltung vertiefen. Ein knappes Ergebnis wird mit ziemlicher Sicherheit zu (beiderseitigen) Anschuldigungen wegen "Wahlmanipulation" und möglicherweise zu Unruhen führen.
Die Covid-19-Krise hat auch den Kalten Krieg zwischen China und Amerika im Hinblick auf  Handel, Technologie, Daten, Investitionen und Währungsfragen enorm verschärft. In Hongkong, Taiwan sowie im Ost- und Südchinesischen Meer eskalieren die geopolitischen Spannungen auf gefährliche Weise. Auch wenn weder China noch die USA auf eine militärische Konfrontation aus sind, könnte ein verschärftes politisches Spiel mit dem Feuer zu einer militärischen Panne führen, die dann außer Kontrolle gerät. Meine Warnung vom Februar, dass der kalte Krieg zwischen den USA und China heiß werden könnte hat seit damals noch mehr Gewicht bekommen.
Subscribe to Project Syndicate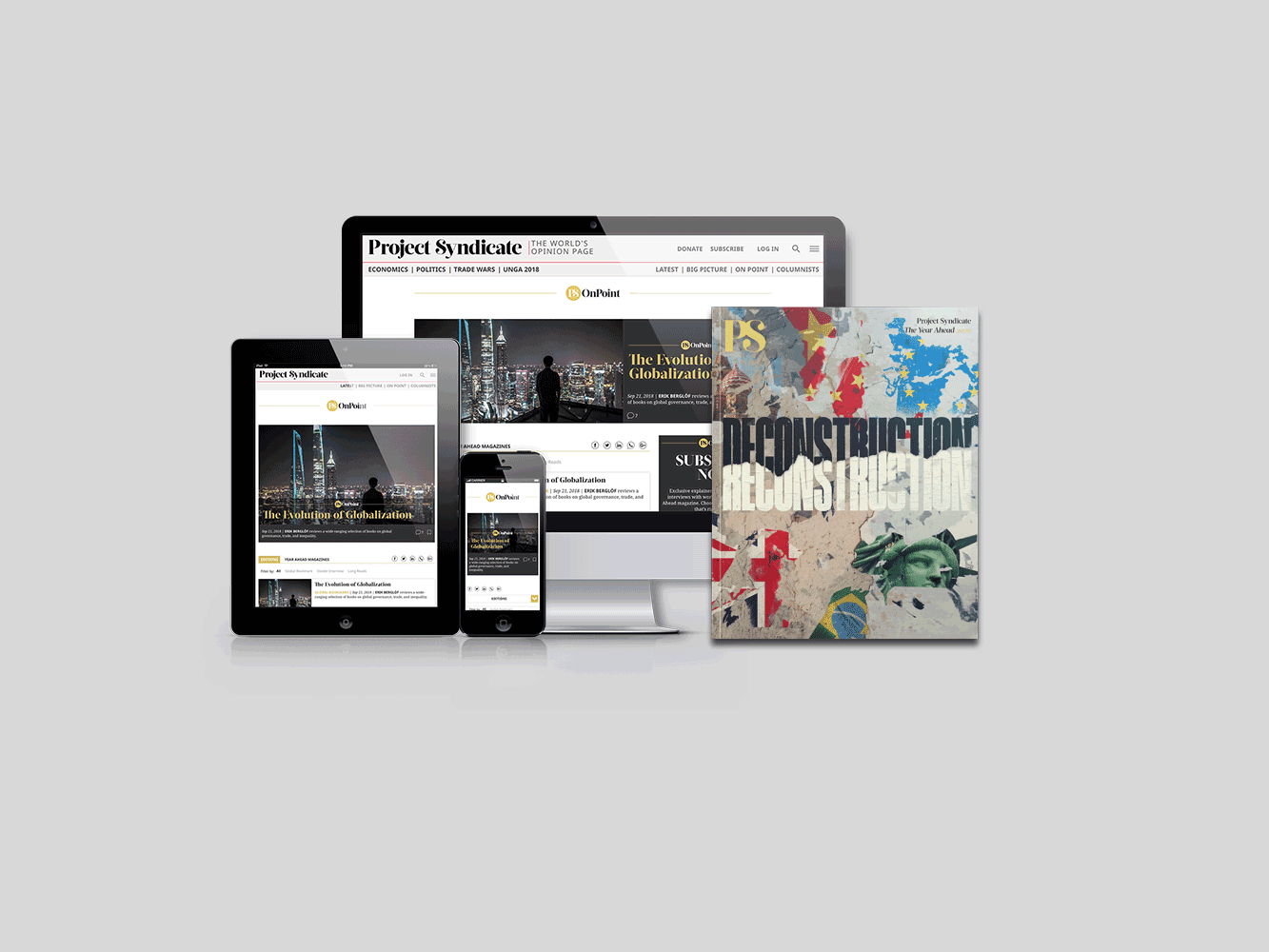 Subscribe to Project Syndicate
Enjoy unlimited access to the ideas and opinions of the world's leading thinkers, including weekly long reads, book reviews, and interviews; The Year Ahead annual print magazine; the complete PS archive; and more – all for less than $2 a week.
Im Hinblick auf den Nahen Osten rechnete ich damit, dass sich die Spannungen zwischen dem Iran und den USA sowie deren Verbündeten - insbesondere Israel und Saudi-Arabien - verschärfen würden. Angesichts der zunehmend deutlicher werdenden Schwäche Trumps in den Umfragen haben sich die Iraner aber offenbar für eine Politik der relativen Zurückhaltung entschieden. Dies wohl in der Hoffnung, dass ein Sieg Joe Bidens die USA dazu bewegen wird, sich dem Atomdeal von 2015 wieder anzuschließen und die US-Sanktionen zu lockern. Allerdings hat Israel in dem Gefühl, dass sich sein strategisches Fenster schließt, Berichten zufolge verdeckte Angriffe auf eine Reihe militärischer und nuklearer Ziele im Iran gestartet (vermutlich mit stillschweigender Unterstützung der Trump-Administration). Aus diesem Grund wird im Zusammenhang mit dem Nahen Osten immer häufiger von einer "Überraschung im Oktober" gesprochen.
Darüber hinaus äußerte ich die Befürchtung, dass die Trump-Administration unter Anwendung von Sanktionen die US-Staatsanleihenbestände Chinas, Russlands und anderer Rivalen beschlagnahmen und einfrieren könnte. Das könnte zu einem Ausverkauf der amerikanischen Anleihen führen, wenn die erwähnten Länder auf geopolitisch sicherere Vermögenswerte wie Gold umsteigen. In Kombination mit der Gefahr, dass umfassende monetarisierte Haushaltsdefizite die Inflation anheizen könnten, hat diese Befürchtung seither für einen sprunghaften Anstieg des Goldpreises um 23 Prozent in diesem Jahr und um über 50 Prozent seit Ende 2018 gesorgt. Tatsächlich setzen die USA den in jüngster Zeit schwächelnden Dollar als Waffe ein, wobei Rivalen und Verbündete der USA gleichermaßen danach trachten, ihre Bestände zu diversifizieren und einen Bogen um in Dollar denominierte Vermögenswerte machen.
Auch die Besorgnis im Zusammenhang mit Umweltproblemen nimmt zu. In Ostafrika hat die fortschreitende Wüstenbildung ideale Bedingungen für Heuschreckenschwärme biblischen Ausmaßes geschaffen, die Ernten und Lebensgrundlagen vernichten. Jüngste Forschungen deuten darauf hin, dass Missernten aufgrund steigender Temperaturen und fortschreitender Wüstenbildung in den nächsten Jahrzehnten hunderte Millionen Menschen veranlassen werden, sich aus den heißen tropischen Regionen in Richtung USA, Europa und andere gemäßigte Zonen aufzumachen. Und in anderen Studien aus jüngerer Vergangenheit wird davor gewarnt, dass klimabedingte "Kipppunkte" wie der Zusammenbruch der großen Eisschilde in der Antarktis oder Grönland zu einem plötzlichen katastrophalen Anstieg des Meeresspiegels führen könnten.
Auch die Zusammenhänge zwischen Klimawandel und Pandemien treten immer deutlicher zutage. Da die Menschen immer häufiger in die Lebensräume von Wildtieren vordringen, kommen sie auch öfter mit Fledermäusen und anderen Vektoren zoonotischer Krankheiten in Kontakt. Und es besteht zunehmende Besorgnis darüber, dass mit dem Schmelzen des sibirischen Permafrosts lange Zeit gefrorene Viren wieder in Erscheinung treten und sich so wie Covid-19 rasch auf der ganzen Welt ausbreiten könnten.  
Warum werden diese Risiken von den Finanzmärkten schlichtweg ignoriert? Nachdem die Aktienmärkte zu Beginn der Pandemie um 30 bis 40 Prozent gefallen waren, haben viele den Großteil ihrer Verluste aufgrund der massiven fiskalpolitischen Reaktion und der Hoffnung auf die bevorstehende Entwicklung eines Impfstoffs gegen Covid-19 wieder wettgemacht. Die V-förmige Erholung der Märkte deutet darauf hin, dass die Investoren mit einer V-förmigen Erholung der Wirtschaft rechnen.
Das Problem besteht darin, dass heute immer noch zutrifft, was bereits im Februar galt: die Wirtschaft könnte durch weitere hohe wirtschaftliche, finanzielle, geopolitische oder gesundheitspolitische Risiken noch immer rasch aus der Bahn geworfen werden. Zahlreiche dieser Gefahren bestehen seit Februar und einige sind im Laufe der gegenwärtigen Krise noch akuter geworden. Die Märkte sind nicht sehr gut darin, politische und geopolitische – oder gar ökologische  - Risiken zu bepreisen, da ihre Eintrittswahrscheinlichkeit schwer einzuschätzen ist. Aber angesichts der Entwicklungen der letzten Monate sollte es uns nicht überraschen, wenn ein oder mehrere weiße Schwäne auftauchen und die Weltwirtschaft erneut erschüttern, bevor dieses Jahr zu Ende ist.
Aus dem Englischen von Helga Klinger-Groier