Eine Wunschliste der Finanzinvestoren für 2018
NEWPORT BEACH – Würden Finanzinvestoren diese Weihnachten Briefe an den Weihnachtsmann schreiben, wären sie vermutlich versucht, um eine Fortsetzung der ungewöhnlichen Kombination von Faktoren zu bitten, die im vergangenen Jahr bestimmend war: die ultraniedrige Volatilität an den Märkten, hohe Wertsteigerungen bei Finanzanlagen, die Kosten der Minderung von Portfoliorisiken verringernde Korrelationen und vielversprechende neue Anlagechancen (wie etwa Bitcoin). Doch bevor sie ihre Wunschliste formulieren, sollten sich diese Anleger die längerfristigen Risiken bewusst machen, die mit der Entkoppelung der Finanzmärkte von den wirtschaftlichen und politischen Rahmendaten einhergehen.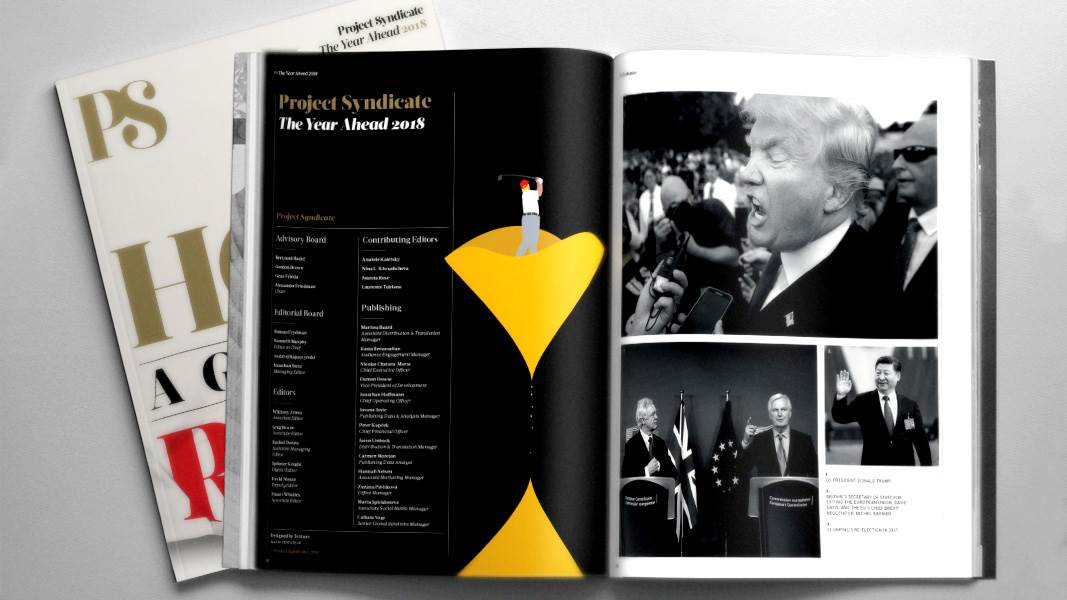 The Year Ahead 2018
The world's leading thinkers and policymakers examine what's come apart in the past year, and anticipate what will define the year ahead.
Man könnte den Anlegern den Wunsch nachsehen, dass es weitergeht wie bisher. Schließlich dürfte das Jahr 2017, das in nicht mal einem Monat zu Ende geht, beim jetzigen Stand der Dinge ein enorm, wenn nicht gar historisch profitables Jahr für sie werden. Mit Stand vom 12. Dezember haben die weltweiten Aktienmärkte – insbesondere der S&P Index – dieses Jahr rund 20% zugelegt, und das vor dem Hintergrund einer bereits seit mehreren Jahren anhaltenden starken Entwicklung. Dazu kommt eine außergewöhnlich geringe Volatilität: In den USA hat das Jahr 2017 bisher die niedrigsten Tagesverluste in der gesamten Geschichte des S&P 500 Index gezeigt. Und es gab wenig, was die Anleger hätte um den Schlaf bringen können.
Normalerweise geht eine derart starke Entwicklung bei den Aktien mit niedrigeren Kursen für Staatsanleihen einher – die sogenannte negative Korrelation zwischen risikobehafteten und sicheren Anleihen. Anders 2017. Trotz der beeindruckenden Entwicklung auf dem Aktienmarkt lag der Preis für längerfristige US-Schatzanleihen Anfang Dezember höher als zu Jahresbeginn.
Und dann ist da der rasante Anstieg der Kryptowährung Bitcoin. Deren Preis ist in diesem Jahr um einen schwindelerregenden Betrag gestiegen (von rund 1.000 Dollar auf über 16.000 Dollar mit Stand 12. Dezember), sodass selbst eine kleine Bitcoin-Position in den Portfolios der Anleger einen wesentlichen Unterschied machte.
Fünf wesentliche Faktoren haben diese ungewöhnliche Situation möglich gemacht:
·         eine synchrone Erholung des weltweiten wirtschaftlichen Wachstums, das weiter an Fahrt gewinnt;
·         Fortschritte in den USA bei wachstumsfreundlichen politischen Maßnahmen;
·         eine kompetente Normalisierung der Geldpolitik (die sich weiterhin fortsetzt) durch die US Federal Reserve;
·         massive Kapitalflüsse in passive Anlageprodukte;
·         anhaltend große Liquiditätsspritzen seitens dreier großer Notenbanken – der Bank von Japan, der Europäischen Zentralbank und Chinesischen Volksbank –, die gemeinsam mit den liquiditätsstarken Unternehmensbilanzen zu sinkenden Finanzierungskosten für einen großen Teil der Haushalte und Unternehmen geführt haben.
Es gibt aber auch weniger gute Nachrichten: Ohne anhaltende wirtschaftliche und politische Verbesserungen drohen die Faktoren, die die Anleger 2017 so erfreut haben, eine unangenehme Verkehrung der Umstände herbeizuführen. Die starke Entwicklung in diesem Jahr wurde schließlich erheblich durch aus kommenden Jahren "geborgte" Renditen begünstigt.
Was die Minderung der Portfoliorisiken angeht, lässt der Kursanstieg bei den Staatsanleihen wenig Spielraum, um mittels dieser traditionell sicheren Anlagen einen möglichen Kursrückgang bei den Aktien aufzufangen. Angesichts der Wirkungsweise vieler VaR-gestützter Modelle hat die anhaltend niedrige Volatilität zu Handelskonzentrationen in einer Reihe von Bereichen geführt, die sich als technisch anfällig erweisen könnten.
Der steile Aufstieg von Bitcoin seinerseits – angetrieben unter anderem durch das zunehmende Engagement institutioneller Anleger – könnte darauf hindeuten, dass diese Währung auf dem Weg zu allgemeiner Anerkennung ist. Er könnte sich jedoch auch als wenig mehr als eine große Finanzblase erweisen, deren unweigerliches Platzen irgendwann zu schweren Schäden führen würde.
Auf was also sollten die Anleger im kommenden Jahr wirklich hoffen? Allgemein muss oberste Priorität eine Verbesserung der wirtschaftlichen und politischen Rahmendaten sein, und zwar soweit, dass diese bestehende erhöhte Vermögenspreise besser rechtfertigen und zugleich eine Grundlage für weitere künftige Gewinne bilden.
In den USA würde dies die Ausweitung wachstumsfreundlicher politischer Maßnahmen erfordern, was, wie kürzlich von der Regierung Donald Trumps angekündigt, die Ergänzung von Deregulierungs- und Steuermaßnahmen um ein Infrastrukturprogramm umfassen würde. Die europäischen Länder sollten ebenfalls fokussiertere wachstumsfreundliche Maßnahmen auf nationaler Ebene verfolgen, und zugleich, gestützt auf eine gestärkte deutsch-französische Achse, und einen relativ geordneten Brexit-Prozess, intensivere regionale Bemühungen unterstützten.
Was Japan angeht, so sollte Ministerpräsident Shinzo Abe seine bei den vorgezogenen Neuwahlen im Oktober erzielte große Mehrheit im Parlament nutzen, um den dritten "Pfeil" seiner als "Abenomics" bezeichneten Wirtschaftspolitik umzusetzen: wachstumsfreundliche Strukturreformen. Und schließlich sollten zur Förderung eines stabilen Wachstums alle weltweiten systemrelevanten Notenbanken – insbesondere die Fed, die Bank von Japan, die EZB und die Chinesische Volksbank – ihre Strategien weiterhin miteinander abstimmen, um eine einheitliche geldpolitische Haltung sicherzustellen.
Nur durch derartige Bemühungen kann die aktuelle Zunahme des weltweiten Wachstums jene strukturellen Wurzeln hervorbringen, die erforderlich sind, um mittelfristig für die Dauerhaftigkeit, Ausgewogenheit und Inklusivität dieses Wachstums zu sorgen. All dies ist umso wichtiger in einer Zeit im Fluss befindlicher geopolitischer Risiken und unsicherer Produktivitäts-, Lohn- und Inflationsdynamiken.
Ganz gleich, wie verführerisch es sein mag, unsere Festtagswünsche auf unsere eigenen unmittelbaren Sehnsüchte zu richten: Es ist in diesem Jahr sehr wichtig, dass die Wunschliste der Anleger das wirtschaftliche und politische Gesamtbild berücksichtigt.
Aus dem Englischen von Jan Doolan