La Fortuna dell'Economia Globale Potrebbe Esaurirsi
ABU DHABI – La mia naturale inclinazione, a dicembre, è quella di rivedere gli sviluppi economici e finanziari dell'anno passato per aiutare i responsabili delle politiche e gli investitori ad anticipare quello che potrebbe accadere nel 2020. Quest'anno sta finendo con una nota relativamente positiva, soprattutto se confrontata con lo stesso periodo dell'anno scorso. Vi è la speranza di una ripresa della crescita globale, le tensioni commerciali sono diminuite, e le banche centrali hanno ribadito che manterranno tassi di interesse ultra bassi e continueranno a fornire ampia liquidità. La volatilità finanziaria è contenuta e vi sono ragionevoli aspettative di solidi utili in molte classi di attività.
Per quanto allettante sia soffermarsi sulle attuali condizioni finanziarie e macroeconomiche, farlo rischia di offuscare un elemento fondamentale nelle prospettive per il futuro. C'è un curioso contrasto tra la relativa chiarezza delle aspettative a breve termine e l'oscurità e l'incertezza che si presentano quando si estende ulteriormente l'orizzonte – diciamo, ai prossimi cinque anni.
Molti paesi si trovano ad affrontare incertezze strutturali che potrebbero avere implicazioni sistemiche e di vasta portata per i mercati e l'economia globale. Ad esempio, nei prossimi cinque anni, l'Unione Europea cercherà di stabilire nuove relazioni lavorative con il Regno Unito, affrontando al contempo i dannosi effetti sociali e politici di una crescita lenta e insufficientemente inclusiva. L'UE dovrà farsi strada tra i pericoli di un periodo prolungato di tassi di interesse negativi, e contemporanemente rafforzare il proprio centro economico e finanziario. Finché l'architettura della zona euro sarà incompleta, continueranno a persistere consistenti rischi di instabilità.
Inoltre, negli anni a venire, gli Stati Uniti, avendo surclassato molte altre economie, dovranno decidere se continuare a disimpegnarsi dal resto del mondo – un processo in contrasto con la loro posizione storica al centro dell'economia globale.
Oppure si consideri il processo di sviluppo della Cina. Con l'economia globale che agisce più come un freno alla crescita che come un vantaggio per essa, la Cina può trovarsi di fronte al rischio di aver esagerato. La forte dipendenza dalle misure di stimolo a breve termine è sempre più incompatibile con l'obiettivo di perseguire le riforme a lungo termine di cui ha bisogno, ed inoltre le sue ambizioni geopolitiche e gli impegni economici e finanziari regionali (compresa la Belt and Road Initiative) stanno diventando più costosi. Ancora più importante, nei prossimi cinque anni, la Cina e gli Stati Uniti, le due maggiori economie nazionali del mondo, dovranno muoversi lungo un percorso sempre più ristretto nel tentativo di proteggere i propri interessi evitando al contempo uno scontro diretto.
Tale situazione fluida offusca le previsioni economiche, finanziarie, istituzionali, politiche e/o sociali di altri paesi. Le incertezze macroeconomiche e geopolitiche di oggi amplificheranno quelle alimentate dalle innovazioni tecnologiche, i cambiamenti climatici e gli andamenti demografici. E solleveranno domande sul funzionamento e la resilienza dell'economia e dei mercati globali.
Subscribe now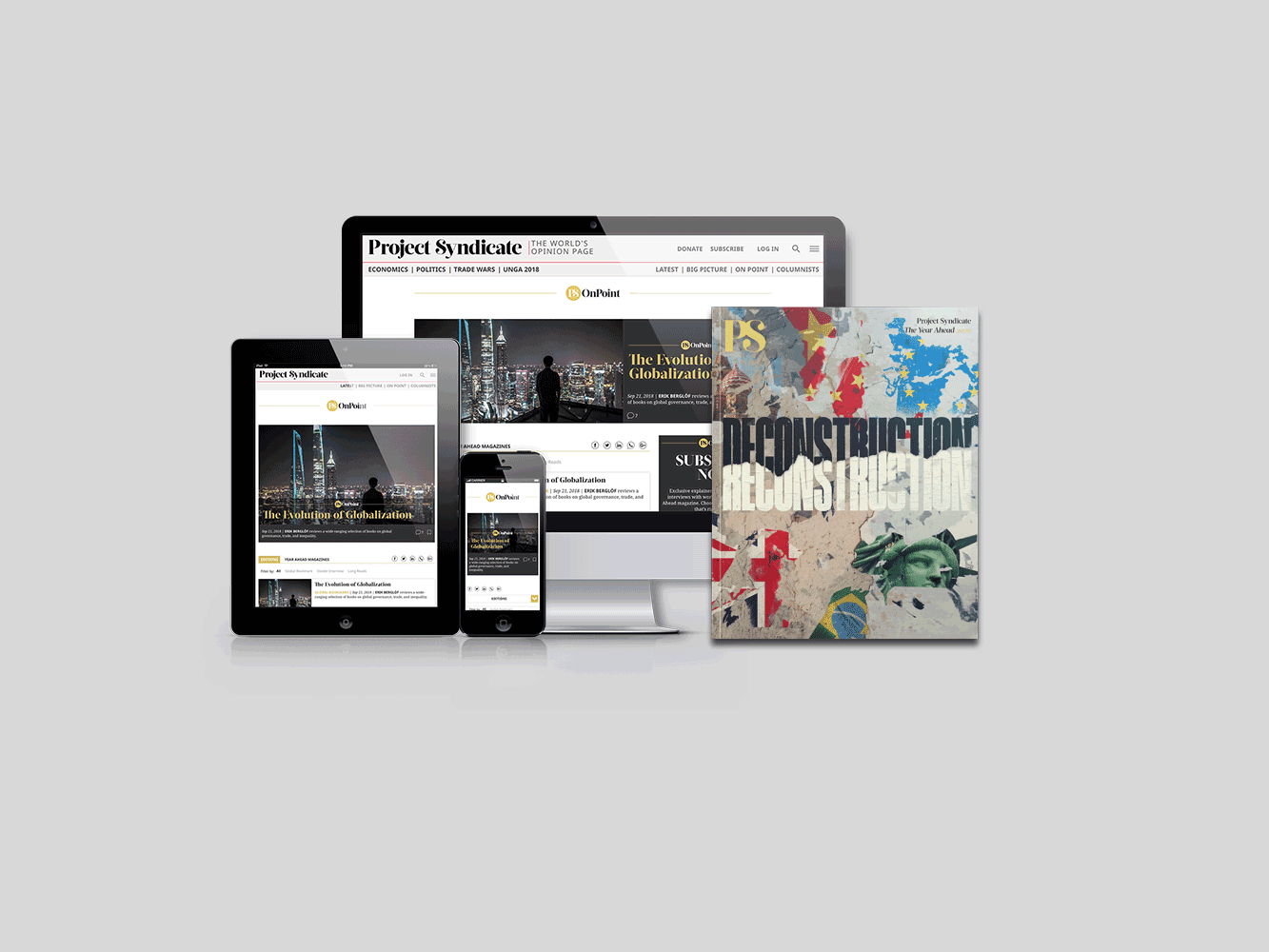 Subscribe now
Subscribe today and get unlimited access to OnPoint, the Big Picture, the PS archive of more than 14,000 commentaries, and our annual magazine, for less than $2 a week.
Questo grado di incertezza è particolarmente evidente nell'ambito pluridecennale della globalizzazione. Negli ultimi anni, la stabilità derivante dall'adesione su vasta scala all'ordine internazionale basato su regole è stata notevolmente indebolita, così come il potere delle banche centrali di reprimere la volatilità finanziaria e guadagnare tempo per l'economia reale.
Se non gestite, queste tendenze strutturali di medio periodo potrebbero porre le basi per una maggiore frammentazione politica e sociale, e sollevare lo spettro di una de-globalizzazione secolare. Se c'è una cosa a cui non sono destinati né l'economia globale né i mercati è una rottura prolungata e profonda delle relazioni economiche e finanziarie transfrontaliere. Se si concretizzasse un nuovo paradigma di questo tipo, le attuali tensioni commerciali, di investimento e valutarie finirebbero con l'intensificarsi, ed estendersi al regno della sicurezza nazionale e della geopolitica.
Gli esiti negativi non sono inevitabili (almeno non ancora). Essi si potrebbero tuttora evitare attraverso la sostenuta attuazione di politiche dirette a promuovere una crescita più forte e inclusiva; a ripristinare un'autentica stabilità finanziaria; e ad inaugurare un sistema più equo e credibile (e ancora libero) di commercio internazionale, investimenti e coordinamento delle politiche.
Ma molto dipenderà dal funzionamento delle politiche a breve termine. All'ingresso del 2020, i politici si trovano con una base di partenza favorevole da cui avviare le politiche necessarie per estendere le prospettive positive di breve periodo al medio e lungo periodo. Le preoccupazioni riguardo ad una recessione globale si sono attenuate, le condizioni finanziarie sono estremamente accomodanti, e le tensioni commerciali tra Stati Uniti e Cina sono diminuite. Ma queste circostanze promettenti non dureranno per sempre.
Purtroppo, è improbabile che si verifichi una spinta politica in grado di migliorare e chiarire le prospettive a medio termine. Gli Stati Uniti sono sul punto di entrare in un anno elettorale teso e divisivo. Germania, Italia e Spagna sono nel mezzo di difficili transizioni politiche. L'UE sta trattando con Brexit e altre divisioni regionali. E il governo cinese sta cercando di consolidare il potere di fronte al rallentamento della crescita e alle continue proteste a Hong Kong. La preoccupazione principale – messa a fuoco da un numero troppo esiguo di partecipanti al mercato – è che, nei prossimi cinque anni, sia necessario arrivare ad un deterioramento delle condizioni economiche e di mercato globali più prossimo a livelli di crisi, prima che i sistemi politici nazionali, regionali e multilaterali esprimano una risposta adeguata.
Fortunatamente, adesso siamo in una fase in cui potrebbero essere intraprese azioni per impedire che lo scenario peggiore diventi una realtà vincolante. Speriamo che io mi sbagli sulla paralisi politica di oggi. Finché c'è ancora tempo, c'è la possibilità che i responsabili politici seguano i consigli offerti dall'allora amministratore delegato dell'FMI Christine Lagarde nell'ottobre 2017: "Ripara il tetto mentre il sole splende".