Les conditions favorables de l'économie mondiale ne seront pas éternelles
ABOU DABI – Tous les ans au mois de décembre, j'ai pour habitude de revenir sur les événements économiques et financiers de l'année écoulée, afin d'aider les décideurs politiques et les investisseurs à anticiper ce qui pourrait arriver, cette fois-ci en 2020. Cette année se termine sur une note relativement positive, notamment si on la compare à la même période de l'année précédente. L'espoir existe autour d'une reprise de la croissance mondiale, les tensions commerciales se sont atténuées, de même que les banques centrales ont réaffirmé leur volonté de maintenir des taux d'intérêt très faibles, et de poursuivre l'apport de liquidités massives. La volatilité financière est actuellement maîtrisée, et il existe de bonnes raisons de croire à de solides rendements pour les investisseurs dans de nombreuses catégories d'actifs.
Mais aussi tentant soit-il de se satisfaire des conditions financières et macroéconomiques actuelles, prenons garde à ne pas négliger un élément clé des perspectives futures. Il existe en effet un curieux contraste entre d'une part la relative clarté des attentes à court terme, et d'autre part le flou ainsi que l'incertitude qui se dégagent lorsque l'on étend davantage l'horizon, disons sur une période de cinq ans.
De nombreux pays sont aujourd'hui confrontés à des incertitudes structurelles susceptibles d'entraîner des conséquences systémiques majeures pour l'économie et les marchés mondiaux. Au cours des cinq prochaines années, l'Union européenne travaillera par exemple à l'instauration d'une nouvelle relation de travail avec le Royaume-Uni, tout en ayant à gérer les effets sociaux et politiques défavorables d'une croissance lente et insuffisamment inclusive. L'UE devra naviguer sur les eaux agitées d'une période prolongée de taux d'intérêts négatifs, tout en œuvrant pour consolider son cœur économique et financier. Tant que l'architecture de la zone euro demeurera incomplète, des risques constants d'instabilité existeront.
Par ailleurs, au cours des prochaines années, les États-Unis, qui surclassent nettement la plupart des autres économies, décideront s'ils entendent ou non poursuivre leur désengagement par rapport au reste du monde – un processus en contradiction avec la position historique de l'Amérique en tant que centre de l'économie planétaire.
Considérons également le processus de développement de la Chine. L'économie mondiale étant davantage un poids qu'une aubaine pour la croissance, la Chine pourrait réaliser avoir trop tiré sur la corde. Le recours massif de la Chine à des mesures de relance de court terme s'inscrit de pus en plus en distorsion avec les réformes à plus long terme dont le pays a besoin, de même que ses ambitions géopolitiques ainsi que ses engagements économiques et financiers régionaux (dont la Nouvelle route de la soie) se font de plus en plus coûteux. Plus important encore, au cours des cinq prochaines années, la Chine et les États-Unis, les deux plus grandes puissances économiques nationales de la planète, devront arpenter un chemin de plus en plus étroit dans leurs efforts de sécurisation de leurs propres intérêts, et leur exercice consistant à éviter une confrontation ouverte.
Cette volatilité vient flouter les perspectives économiques, financières, institutionnelles et/ou sociales des autres pays. Les incertitudes macroéconomiques et géopolitiques d'aujourd'hui sont vouée à amplifier les incertitudes alimentées par les ruptures technologiques, le changement climatique, et la démographie. Elles soulèveront des interrogations concernant le fonctionnement et la résilience de l'économie et des marchés mondiaux.
Subscribe now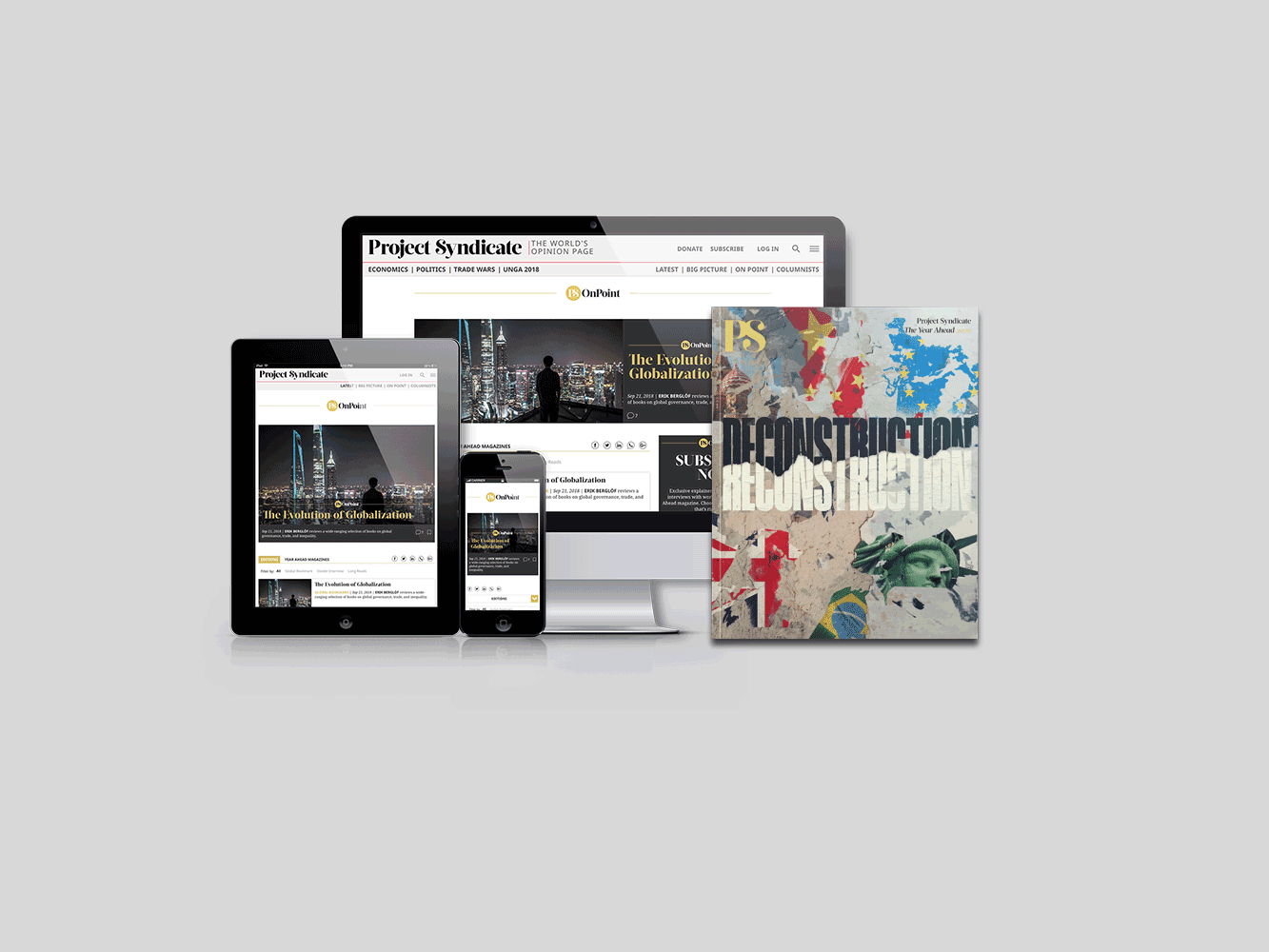 Subscribe now
Subscribe today and get unlimited access to OnPoint, the Big Picture, the PS archive of more than 14,000 commentaries, and our annual magazine, for less than $2 a week.
Ce degré d'incertitude est d'autant plus notable dans le contexte pluridécennal de la mondialisation. Ces dernières années, la stabilité associée à une large adhésion à un ordre international fondé sur des règles s'est considérablement fragilisée, tout comme le pouvoir des banques centrales dans la maîtrise de la volatilité financière, et dans l'exercice consistant à gagner du temps pour le bien de l'économie réelle.
Livrées à elles-mêmes, ces tendances structurelles à moyen terme pourraient poser les bases d'une fragmentation politique et sociale plus prononcée encore, et faire apparaître le spectre d'une démondialisation séculaire. S'il est une chose face à laquelle l'économie mondiale et les marchés ne sont pas armés, c'est bien une rupture prolongée et croissante des relations économiques et financières transfrontalières. Si un tel paradigme venait à se concrétiser, les actuelles tensions commerciales, monétaires, et frictions liées à l'investissement s'intensifieraient et se propageraient jusque dans la sphère de la sécurité nationale et de la géopolitique.
Ces issues défavorables sont encore évitables (du moins pour l'heure). Nous pouvons encore y échapper à condition de mettre en œuvre de manière durable des mesures politiques consistant à promouvoir une croissance plus forte et plus inclusive, à rétablir une véritable stabilité financière, ainsi qu'à créer un système plus juste et plus crédible (pour autant libre) de commerce, d'investissement et de coordination des politiques au niveau international.
Beaucoup dépendra toutefois du fonctionnement des politiques dans un avenir très proche. À l'approche de 2020, les dirigeants politiques bénéficient d'une voie libre propice au lancement des mesures nécessaires pour étendre jusqu'à moyen et long terme les perspectives positives actuelle de court terme. Les inquiétudes quant à une récession mondiale s'estompent, les conditions financières sont actuellement ultra-accommodantes, et les tensions commerciales entre les États-Unis et la Chine connaissent une désescalade. Mais ces circonstances favorables ne dureront pas éternellement.
Malheureusement, un élan politique susceptible d'améliorer et de clarifier les perspectives à moyen terme apparaît peu probable. Les États-Unis s'orientent vers une année électorale tendue et créatrice de divisions. L'Allemagne, l'Italie et l'Espagne vivent chacune actuellement une transition politique difficile. L'UE doit faire face au Brexit, ainsi qu'à d'autres divisions régionales. Quant à la Chine, son gouvernement s'efforce de consolider son pouvoir face à une croissance déclinante ainsi qu'à des manifestations qui ne faiblissent pas à Hong Kong. Ignorée par un trop grand nombre d'acteurs des marchés, la principale inquiétude est la suivante : au cours des cinq prochaines années, il n'est pas impossible qu'une détérioration des conditions économiques et des marchés mondiaux soit nécessaire, jusqu'à des niveaux de crise, pour que les systèmes politiques nationaux, régionaux et multilatéraux élaborent enfin un réponse adéquate.
La bonne nouvelle, c'est que nous vivons une période propice à une action consistant à empêcher le scénario du pire de se changer en réalité contraignante. J'espère me tromper quant à la paralysie politique actuelle. Tant qu'il est encore temps, il existe un espoir de voir les décideurs politiques suivre les judicieux conseils formulés en octobre 2017 par la directrice du FMI de l'époque, Christine Lagarde : « C'est quand le soleil brille qu'il faut réparer le toit ».
Traduit de l'anglais par Martin Morel