Tři scénáře pro globální ekonomiku
NEW YORK – V posledních několika letech globální ekonomika kolísá mezi obdobími zrychlování (kdy je růst kladný a sílí) a zpomalování (kdy je růst kladný, ale slábne). Míří svět po více než roce akcelerace k dalšímu přibrzdění, anebo zotavení přetrvá?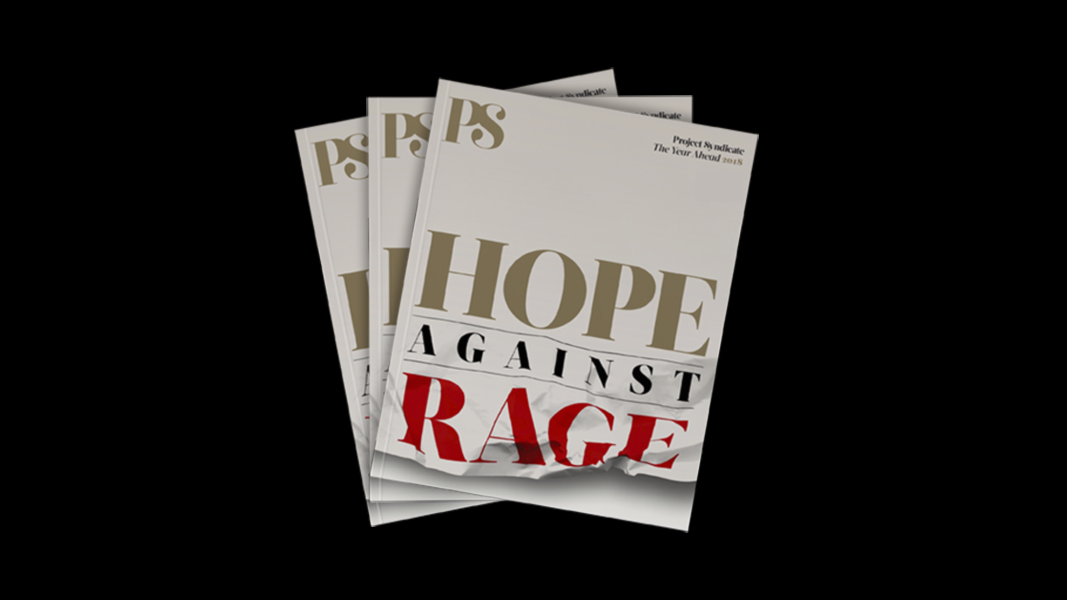 The Year Ahead 2018
The world's leading thinkers and policymakers examine what's come apart in the past year, and anticipate what will define the year ahead.
Současné oživení růstu a akciových trhů sílí už od léta 2016. Navzdory krátkému škobrtnutí po hlasování o brexitu zatím zrychlování přestálo nejen zvolení Donalda Trumpa prezidentem USA, ale i vzestup politické nejistoty a geopolitických zmatků, které vyvolává. Mezinárodní měnový fond, jenž globální růst v posledních letech charakterizoval jako "novou prostřednost", v reakci na tuto zdánlivou odolnost nedávno pozvedl své Ekonomické vyhlídky světa.
Bude aktuální růstový spurt v příštích několika letech pokračovat? Nebo svět zažívá přechodný cyklický vzestup, jejž brzy přemohou nová mezní rizika, podobná těm, která v posledních letech vyvolala jiná zpomalení? Stačí si připomenout léto 2015 a počátek roku 2016, kdy se slily obavy investorů z tvrdého přistání Číny, příliš rychlého odklonu Federálního rezervního systému od nulové sazby, stagnace růstu HDP v USA a nízkých cen ropy a podlomily růst.
Lze si představit tři možné scénáře vývoje globální ekonomiky v příštích zhruba třech letech. V býčím scénáři čtyři největší, systémově významné ekonomiky světa – Čína, eurozóna, Japonsko a Spojené státy – zavedou strukturální reformy, které budou posilovat potenciální růst a řešit finanční slabiny. Takové snahy by zajistily, že cyklický vzestup bude spojen se silnějším potenciálním a skutečným růstem, takže by přinesly pevný růst HDP, nízkou, ale mírně stoupající inflaci a relativní finanční stabilitu na mnoho dalších let. Americké a globální akciové trhy by dosáhly nových výší, opřeny o pevnější fundamenty.
V medvědím scénáři se stane opak: velkým světovým ekonomikám se nepodaří zavést strukturální reformy, které posílí růstový potenciál. Čína tento měsíc nevyužije celostátní sjezd komunistické strany jako reformní katalyzátor a potíže dál pohrne před sebou, po cestě nadměrného pákového zadlužení a přebytečných kapacit. Eurozóna nedokáže dosáhnout silnější integrace a schopnost tvůrců národních politik zavádět strukturální reformy podporující růst sevřou politické mantinely. Japonsko uvízne na trajektorii nízkého růstu, neboť reformy na straně nabídky a liberalizace obchodu – třetí "šíp" ekonomické strategie premiéra Šinzó Abeho – vyšumí.
Co se týče USA, Trumpova administrativa bude v tomto scénáři pokračovat v uskutečňování politického přístupu – mimo jiné daňových škrtů, které drtivě straní bohatým, obchodního protekcionismu a omezování migrace – který dost dobře může snížit potenciální růst. Nadměrná fiskální stimulace vede k překotným schodkům a dluhu, což vyústí ve vyšší úrokové sazby a silnější dolar a dále oslabí růst. Nažhavený pistolník Trump by mohl sklouznout až do vojenského střetu se Severní Koreou – a později s Íránem – a tím americké ekonomické vyhlídky dále srazit.
V tomto scénáři bude cyklický vzestup v důsledku scházejících reforem ve velkých ekonomikách omezen nízkým trendovým růstem. Zůstane-li potenciální růst nízký, uvolněné měnové a úvěrové politiky by mohly vést k inflaci zboží či aktiv a nakonec způsobit hospodářské zpomalení, eventuálně přímo recesi a finanční krizi, až prasknou bubliny aktiv nebo vzroste inflace.
Třetí – a podle mého názoru nejpravděpodobnější – scénář leží někde mezi prvními dvěma. Cyklický vzestup, v oblasti růstu i akciových trhů, bude načas pokračovat, poháněn zbývajícími příznivými větry. Avšak přestože velké ekonomiky budou uskutečňovat určité strukturální reformy s cílem zlepšit potenciální růst, tempo změn bude mnohem pomalejší a jejich rozsah skromnější, než by bylo zapotřebí k maximalizaci potenciálu.
V Číně tento scénář polovičatého úspěchu znamená, že země udělá jen tolik, aby předešla tvrdému přistání, ale ne zas tolik, aby přistála skutečně měkce; při neřešení finančních slabin budou časem nesnáze téměř nevyhnutelné. V eurozóně by tento scénář znamenal jen nepatrný pokrok k větší integraci, přičemž vytrvalé německé odmítání skutečného sdílení rizik či fiskální unie by oslabovalo motivaci členských zemí, které zápolí s obtížemi, aby prováděly náročné reformy. V Japonsku by čím dál méně efektivní Abeho administrativa zaváděla minimální reformy, a potenciální růst by tudíž uvízl pod 1 %.
V USA by Trumpův výkon v úloze prezidenta zůstal kolísavý a neefektivní a narůstající počet Američanů by dospěl k poznání, že navzdory populistické přetvářce je Trump pouze plutokrat chránící zájmy bohatých. Nerovnost by stoupla, střední třídy stagnovaly, mzdy by sotva rostly a spotřeba a růst by zůstaly bezkrevné, na úrovni stěží kolem 2 %.
Rizika postupu s odřenýma ušima ale dalece přesahují nevalnou hospodářskou výkonnost. Tento scénář nepředstavuje stabilní rovnováhu, nýbrž nestabilní nerovnováhu, citlivou na hospodářské, finanční a geopolitické otřesy. Až se takové šoky nakonec objeví, postrčí ekonomiku do zpomalení, anebo bude-li šok dostatečně velký, až do recese a finanční krize.
Jinými slovy, pokud se svět bude jen jakžtakž prokousávat vpřed, což se zdá pravděpodobné, do tří až čtyř let by před sebou mohl mít medvědí vyhlídky. Poučení je jasné: buď političtí lídři a tvůrci politik projeví vůdcovské schopnosti potřebné k zabezpečení lepšího střednědobého výhledu, anebo se zanedlouho zhmotní rizika negativního vývoje – a globální ekonomice přivodí vážné škody.
Z angličtiny přeložil David Daduč