Cómo gobernar un mundo digitalmente conectado en red
WASHINGTON, DC – Los gobiernos construyeron las actuales instituciones y sistemas de cooperación internacional para abordar los problemas de los siglos XIX y XX. Sin embargo, en el complejo y acelerado mundo digital de hoy, estas estructuras no pueden funcionar a la "velocidad de Internet".
Tomando en cuenta esto, el año pasado el Secretario General de las Naciones Unidas, António Guterres, formó un panel de alto nivel –copresidido por Melinda Gates y el cofundador de Alibaba, Jack Ma, dicho panel fue creado con el propósito de que proponga maneras de fortalecer la gobernanza digital y la cooperación. (Fadi Chehadé, coautor de este artículo, también es miembro de dicho papel). Se espera que el informe final del panel, cuya entrega se prevé para el mes de junio, represente un avance significativo en la gestión del potencial y los riesgos de las tecnologías digitales.
La gobernanza digital puede significar muchas cosas, incluido la gobernanza de todo en el mundo físico mediante medios digitales. El significado al cual nos referimos es aquel que se entiende como la gobernanza del propio sector de la tecnología, y los problemas específicos planteados por la colisión entre el mundo digital y el físico (aunque la tecnología digital y su primo muy cercano, la inteligencia artificial, pronto se permearán dentro de todos los sectores).
El tema está llegando rápidamente a la cima de la agenda global. En la reunión anual de este año del Foro Económico Mundial en Davos, los líderes de Japón, Sudáfrica, China y Alemania pidieron supervisión global del sector de la tecnología, y paralelamente reconocieron las dificultades que conlleva el diseño de un sistema de gobernanza que sea viable.
Algunos líderes empresariales también aceptan la necesidad de reglas y normas digitales. El presidente de Microsoft, Brad Smith, pidió que se celebre una "Convención de Ginebra para el ámbito digital" con el propósito de proteger a los ciudadanos de los ataques cibernéticos en tiempos de paz, mientras que el CEO de Apple, Tim Cook, sostiene que Estados Unidos necesita su propia versión del Reglamento General de Protección de Datos de la Unión Europea con respecto a los datos personales. Ambos ejecutivos reconocen que una falta continua de normas afectará el crecimiento empresarial y erosionará aún más la confianza en la administración por parte de sus empresas del mundo digital.
Debido a que Internet es una red de redes, las estructuras que la gobiernen también deberían serlo. Si bien alguna vez imaginamos que una sola institución sería capaz de gobernar la seguridad global o el sistema monetario internacional, eso no es práctico en el mundo digital. Ningún grupo de gobiernos, y ciertamente ningún gobierno que actúe por sí solo, puede realizar esta tarea.
Subscribe now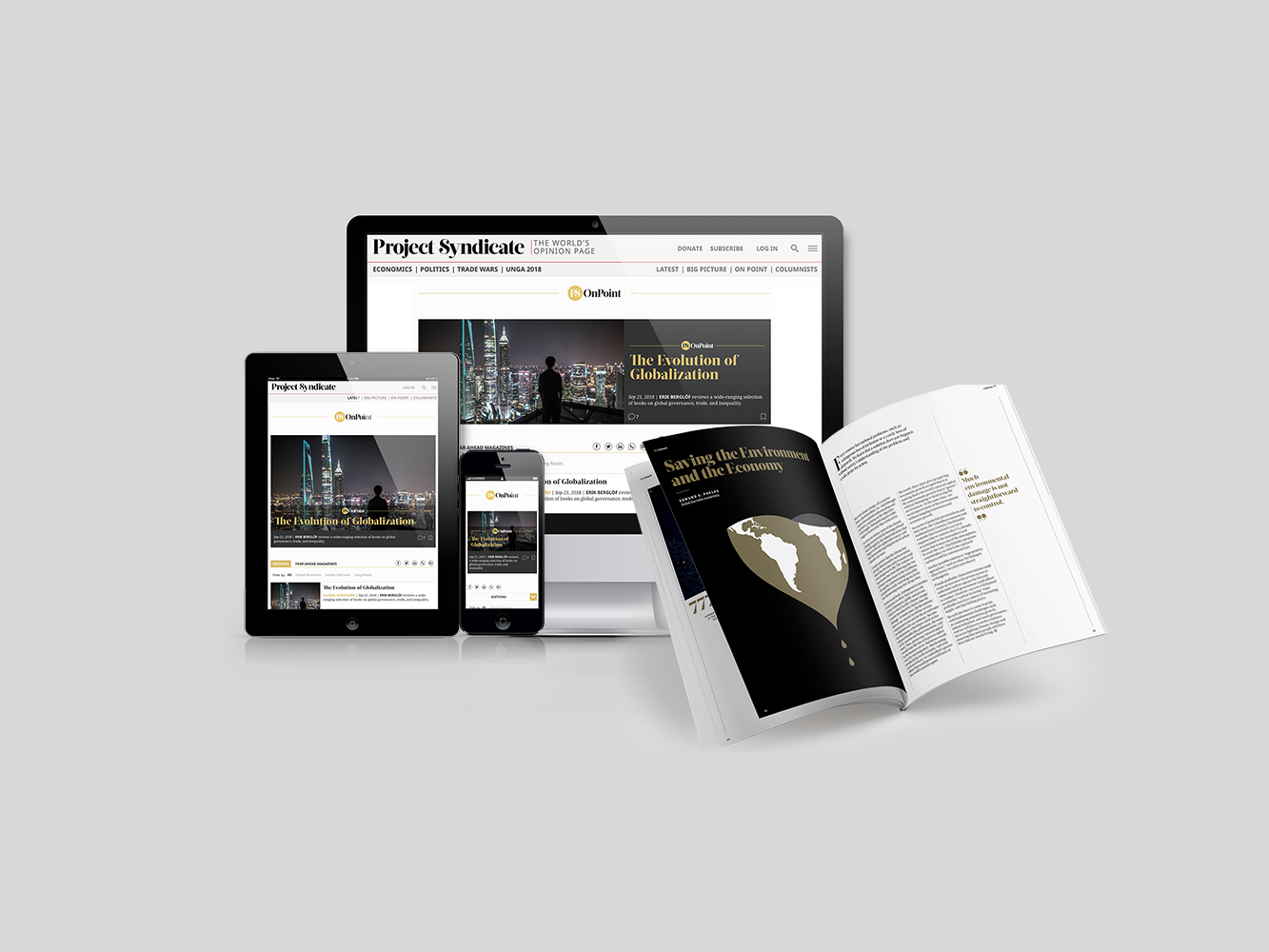 Subscribe now
Get unlimited access to OnPoint, the Big Picture, and the entire PS archive of more than 14,000 commentaries, plus our annual magazine, for less than $2 a week.
En cambio, necesitamos una orden de co-gobernanza digital que comprometa a líderes públicos, cívicos y privados sobre la base de tres principios de participación. Primero: los gobiernos deben gobernar junto con los sectores privado y cívico de una manera más colaborativa, dinámica y ágil. Segundo: los clientes y usuarios de las tecnologías y plataformas digitales deben aprender a asumir sus responsabilidades y hacer valer sus derechos. Tercero: las empresas deben cumplir con sus responsabilidades para con todas las partes interesadas, no sólo con sus accionistas.
En el orden digital que prevemos, los representantes de los gobiernos, las empresas y la sociedad civil formarían redes horizontales entre pares que sean autónomas, es decir que se autogobiernen. Un núcleo central activaría estos grupos para abordar problemas digitales específicos – problemas como el uso de datos de reconocimiento facial, el compartir con proveedores de seguros información en los expedientes médicos de pacientes, y la publicidad oculta dirigida a niños – y se cercioraría de que se incluya la participación de expertos relevantes.
Los participantes en estas redes co-diseñarían normas digitales, o reglas de acción y pautas de implementación que brinden a las empresas y a los ciudadanos incentivos claros para cooperar de manera responsable en el mundo digital. Estos co-diseñadores deberían producir las mejores soluciones posibles que funcionen a la velocidad de Internet, y deberían ponerlas a disposición de cualquier persona para que dichas personas las adopten voluntariamente.
En algunos casos, puede que las autoridades nacionales o internacionales adopten nuevas leyes y regulaciones para garantizar que las normas digitales se implementen y se cumplan. Sin embargo, tales acciones 'de arriba abajo' deberían ser sólo un último recurso, e idealmente deberían usarse las normas digitales co-diseñadas como planos-guía.
El núcleo central o la cámara de compensación coordinarían las redes de forma flexible y se cerciorarían que todo el orden de co-gobernanza funcione de acuerdo con los principios de apertura, inclusión, subsidiariedad, resiliencia e innovación. Además, el núcleo central serviría como un lugar para el intercambio de normas digitales provenientes de diferentes redes, fomentando, por lo tanto, su difusión y adopción. Esto también ayudaría a aumentar la cohesión y a limitar duplicidades innecesarias.
Con el tiempo, el núcleo podría ayudar activamente a los gobiernos, empresas y grupos de usuarios, así como también a otras organizaciones nacionales e internacionales relevantes, para que participen en el diseño – y fundamentalmente en la adopción – de normas digitales. Sin embargo, estimularía la entrega de recursos y poder a los participantes, en lugar de ejercer autoridad actuando 'desde arriba hacia abajo'.
Las redes horizontales son un diseño práctico para gobernar el mundo digital. Al mismo tiempo, aprovechan en gran medida los éxitos (y los fracasos) de las redes existentes de reguladores nacionales, como por ejemplo el Comité de Supervisión Bancaria de Basilea, el Consejo de Estabilidad Financiera, y la Corporación de Internet para la Asignación de Nombres y Números (ICANN). En lugar de perder otro año más debatiendo sobre cuál es el sistema de gobernanza digital perfecto, sería más inteligente comenzar con un enfoque funcional y probado, y hacer adaptaciones a lo largo del camino.
El mundo necesita con urgencia un sistema de gobernanza digital viable que sirva al bien común. Si los líderes públicos, privados y cívicos no actúan pronto, corremos el riesgo de un declive económico, una más rápida conversión de las tecnologías digitales en armamento, y una mayor erosión de la confianza y seguridad. Las consecuencias de dicho fracaso se extenderán más allá del mundo digital.
Traducción del inglés: Rocío L. Barrientos.
,