A solidariedade climática global é impossível?
NOVA IORQUE – Apesar do burburinho em torno da acção climática na reunião deste ano do Fórum Económico Mundial em Davos, na Suíça, as actuais perspectivas ambientais do mundo são preocupantes. Existem três obstáculos: a negação das alterações climáticas, os aspectos económicos da redução de emissões de gases com efeito de estufa (GEE) e a política das medidas de atenuação, que tende a ser fortemente regressiva.
Segundo o Painel Intergovernamental sobre as Alterações Climáticas, as emissões globais de dióxido de carbono têm de ser reduzidas 45% relativamente aos níveis de 2010 até 2030, e depois inteiramente eliminadas até 2050, para termos uma probabilidade minimamente razoável de evitar o aquecimento global de 1,5 °C acima dos níveis pré-industriais. "Precisamos de resultados rápidos", alerta o Programa Ambiental das Nações Unidas no seu último Emissions Gap Report, "ou a meta de 1,5 °C do Acordo de Paris deixará de estar ao nosso alcance".
Isto é um eufemismo. Mesmo que se cumpram as Contribuições Nacionais Determinadas (CND) pelo acordo de Paris de 2015, as emissões em 2030 estarão 38% acima do nível em que deveriam estar. As temperaturas médias globais estarão encaminhadas para aumentar uns desastrosos 2,9 a 3,4 °C até 2100, com aumentos continuados subsequentes. Os objectivos das CND teriam de ser quase triplicados só para limitar o aquecimento nos 2 °C, e teriam de quintuplicar para alcançar a meta dos 1,5 °C.
Isso não vai acontecer. A única altura na história recente em que pareceu que as emissões CO2 poderiam estabilizar foi entre 2014 e 2016, devido ao fraco crescimento global. Segundo o Global Carbon Project, as emissões voltaram a subir desde então, 2,7% em 2018 e 0,6% em 2019. Para piorar a situação, a Conferência da ONU sobre as Alterações Climáticas (COP25) de Dezembro de 2019 resultou num lamentável fracasso, não originando quaisquer novas promessas climáticas nem declarações claras de intenções para a cimeira COP26, a realizar-se este ano em Glasgow.
Porque se mostra a humanidade tão reticente em salvar-se? Primeiro, muitas pessoas simplesmente não aceitam as previsões apresentadas pelos climatologistas. Mas o negacionismo é o menos sério dos três principais obstáculos. Haverá sempre uma minoria para quem os factos e a lógica serão distracções indesejadas. Contudo, até o Presidente dos EUA, Donald Trump, já terá percebido que as alterações climáticas comprometerão a viabilidade e a rendibilidade futuras de Mar-a-Lago.
À medida que os custos reais das catástrofes climáticas forem crescendo ao longo do tempo, o negacionismo será um problema cada vez menor. Com efeito, um inquérito da Universidade de Yale de Novembro de 2019 concluiu que 62% dos eleitores recenseados nos Estados Unidos já apoiariam um presidente que "declare o aquecimento global uma emergência nacional, em caso de inacção do Congresso".
Subscribe now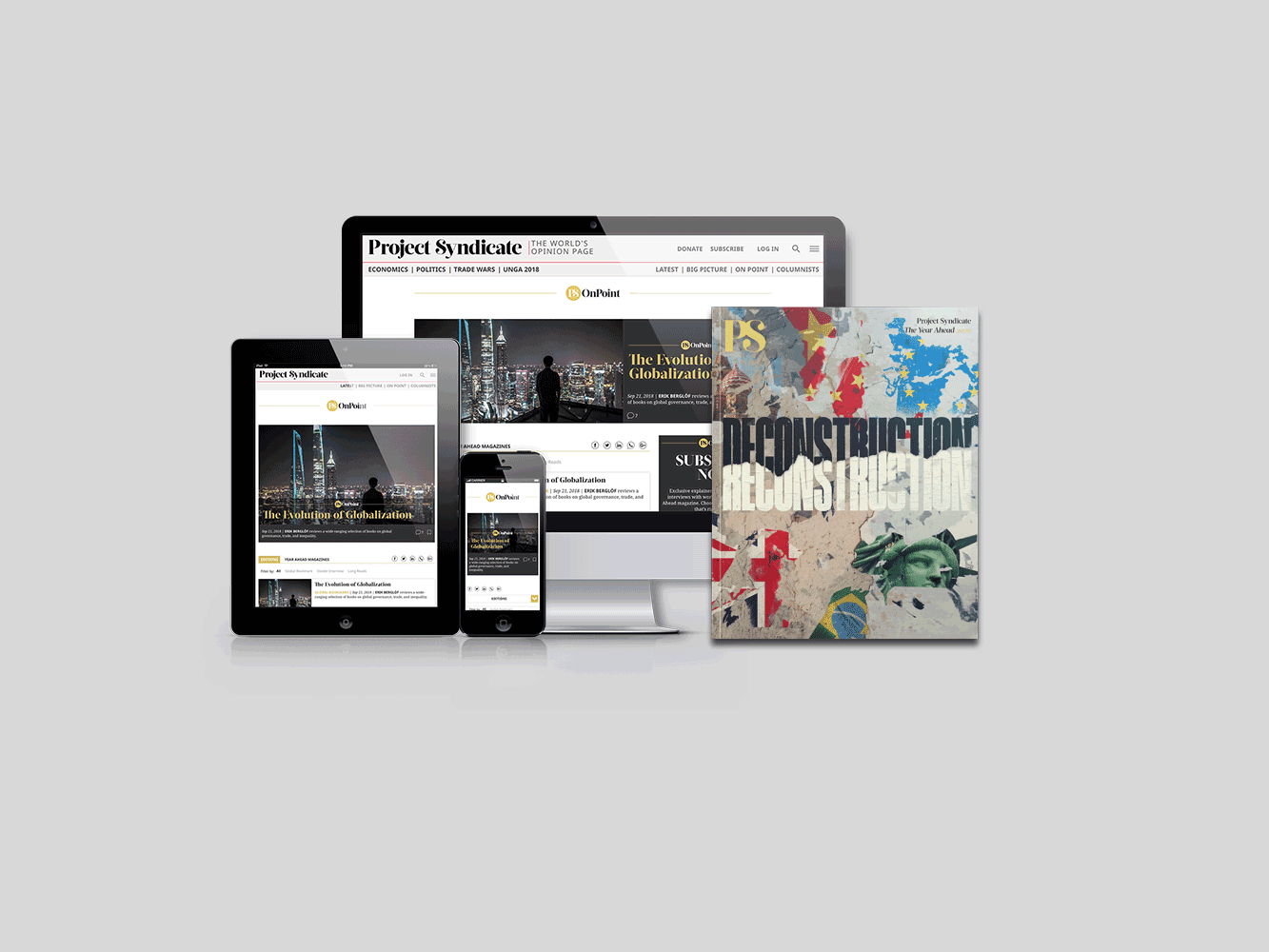 Subscribe now
Subscribe today and get unlimited access to OnPoint, the Big Picture, the PS archive of more than 14,000 commentaries, and our annual magazine, for less than $2 a week.
O segundo grande desafio é que as emissões de GEE são a quintessência das externalidades económicas globais. As alterações climáticas não respeitam fronteiras; os GEE, independentemente da sua origem, acabarão por afectar todas as pessoas. Isso significa que existe um enorme problema de aproveitamento (NdT: no original, a massive free-rider problem). Nas circunstâncias actuais, será sempre individualmente racional deixar que os outros reduzam as suas emissões em vez de fazê-lo. O único modo de corrigir este problema é através da racionalidade colectiva ou do interesse próprio esclarecido. Mas dado o actual estado do multilateralismo, será deslocado esperar um esforço verdadeiramente global na prossecução do bem comum.
O terceiro obstáculo é que as políticas eficazes para reduzir as emissões de GEE prejudicam de forma desproporcionada os mais desfavorecidos (tanto globalmente, como dentro de cada país). O Fundo Monetário Internacional calculou recentemente que o actual preço global real das emissões de CO2 está nuns meros 2 dólares por tonelada. Contudo, para limitar o aquecimento global a menos de 2 °C, seria necessário um preço real médio de 75 dólares por tonelada até 2030.
Concordo com o economista da Universidade de Harvard, Kenneth Rogoff, que defende um imposto global uniforme sobre as emissões de carbono como a melhor solução para o desafio climático, pelo menos na perspectiva ambiental. Mas com um tal imposto em vigor, os preços médios da electricidade para consumo doméstico aumentariam cumulativamente em 45%, e os preços da gasolina em 15%. Consequentemente, mesmo nos países ricos, as implicações distributivas seriam difíceis de gerir, como o governo francês descobriu depois de ter tentado introduzir um modesto imposto sobre os combustíveis em 2018. Pior: desde a década de 1980, têm-se desautorizado, nas economias mais avançadas, os mecanismos fiscais redistributivos eficazes.
Além disso, o maior fardo distributivo de um imposto global sobre o carbono recairia desproporcionalmente sobre países pobres, que esperam conseguir um desenvolvimento rápido nas próximas décadas. Perto de 570 milhões de pessoas na África Subsaariana não têm acesso a serviços básicos de electricidade; globalmente, o número é mais próximo dos 1,2 mil milhões.
É evidente que o muito aguardado crescimento das economias em desenvolvimento e emergentes implicará aumentos enormes do consumo energético e das emissões de GEE. Nos próximos anos, as centrais eléctricas a carvão continuarão provavelmente a ser construídas na Índia, na China e em muitos outros países. Nestes países, a energia limpa e renovável do sol e do vento complementará os combustíveis fósseis, em vez de os substituir. Apesar dos avanços conseguidos na tecnologia de armazenamento em baterias, os problemas da intermitência associada à energia solar e eólica implicam um papel continuado para os combustíveis fósseis e a energia nuclear.
Veja-se a Índia, responsável por 7% das emissões globais anuais de GEE, o que a torna o quarto maior emissor do mundo, depois da China (27%), dos EUA (15%) e da União Europeia (10%). Isto apesar do facto do consumo energético per capita da Índia ser cerca de um décimo do da América. E mesmo que esse valor duplique até 2030, ainda só será metade do da China em 2015.
Países como a Índia e os países da África Subsaariana não sacrificarão o seu desenvolvimento económico em nome da redução de emissões. A única maneira de conseguir a quadratura do círculo será alargar a ajuda económica às economias em desenvolvimento e emergentes nos seus processos de desenvolvimento inevitavelmente intensivos em energia, para que consigam internalizar as externalidades dos GEE através de um imposto adequadamente pronunciado sobre as emissões.
Infelizmente, os programas internacionais de ajuda em larga escala são profundamente impopulares. E dado que a solidariedade fiscal doméstica já é deficiente, a solidariedade fiscal internacional parece estar votada ao fracasso. A menos que isso mude, uma crise existencial provocada por nós só piorará a situação.