Peluang Telemedis
,
ACCRA/BASEL – Di negara berpenghasilan rendah dan menengah, rendahnya akses terhadap layanan kesehatan melemahkan keluaran kesehatan dan merugikan seluruh generasi. Namun, di beberapa komunitas yang paling sulit untuk dijangkau di dunia, teknologi merevolusi hubungan pasien dengan pengobatan modern. Di wilayah terpencil di Ghana, sebuah program "telemedis" menggambarkan betapa efektifnya layanan digital ketika cakupannya diperluas ke mereka yang tidak mempunyai akses terhadap layanan kesehatan.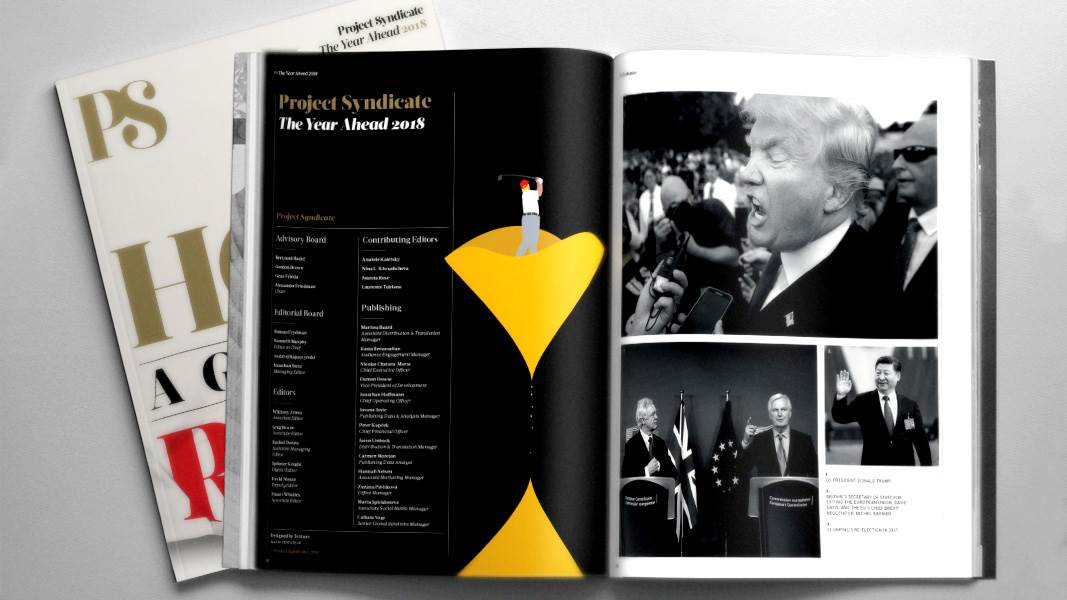 The Year Ahead 2018
The world's leading thinkers and policymakers examine what's come apart in the past year, and anticipate what will define the year ahead.
Pada tahun 2011, organisasi kami meluncurkan program percontohan telemedis pertama di Ghana, yang bertujuan untuk menciptakan sebuah model untuk melakukan ekspansi nasional. Program ini dimulai dari distrik Amansie Barat di wilayah Ashanti, Ghana, sekitar 330 kilometer (200 mil) di sebelah barat laut ibukota, Accra, kami berupaya untuk meningkatkan kualitas layanan di daerah terpencil, mengurangi waktu tempuh ke rumah sakit, dan mengurangi biaya pengobatan pasien.
Program tersebut, dirancang dengan kolaborasi bersama penyedia layanan telekomunikasi global, universitas, dan LSM, yang pada awalnya mencakup 30 komunitas lokal, dan menghubungkan sekitar 35,000 orang ke tenaga profesional layanan kesehatan melalui staf call center. Dengan menghubungkan komunitas ke hub komunikasi, maka perawat, dokter dan dokter spesialis dapat di akses selama 24 jam sehari dan dapat memberikan dukungan langsung kepada pasien dan pekerja kesehatan berbasis komunitas (CHWs). 
Saat ini, kami bangga melaporkan bahwa program ini telah meraih sukses lebih dari harapan paling optimis yang kami miliki. Lima tahun setelah diluncurkan, jumlah pasien rujukan ke klinik turun sebesar 31% di area tempat program percontohan dilakukan, sementara lebih dari setengah konsultasi di program ini dapat diselesaikan melalui telepon. Setiap pasien yang dapat ditangani melalui telepon pada rata-rata dapat menghemat 110 Cedi Ghana ($25), dan tingginya tingkat kesuksesan penanganan kasus menurunkan waktu tunggu di klinik.  
Kami telah mendengar banyak cerita mengenai pasien yang hidupnya dipengaruhi oleh inovasi kesehatan digital ini; sebuah cerita sangat membekas di kami. Tidak lama setelah program dimulai, seorang perempuan muda bernama Debora, yang berada dalam perawatan pekerja kesehatan lokal, mengalami pendarahan berat setelah persalinan. Karena tidak mampu merawat pasien tersebut, dan tidak adanya akses terhadap ambulans, maka pekerja kesehatan tersebut dihadapkan pada sebuah pilihan. Dia bisa mengirim Debora ke rumah sakit yang letaknya jauh dengan menggunakan taksi – yang merupakan sebuah perjalanan yang sulit melalui jalan yang rusak– atau dia bisa menelepon. Setelah terhubung dengan pusat telemedis regional, seorang dokter memandu pekerja kesehatan untuk melakukan pengobatan kepada Debora, dan hal ini menyelamatkan nyawanya.
Mengetahui banyak cerita serupa, Badan Layanan Kesehatan Ghana pada tahun 2016 mulai memperluas akses telemedis ke wilayah lain. Perluasan tersebut selesai pada bulan lalu, dan saat ini, terdapat enam call center yang didukung oleh ratusan tenaga medis profesional yang memberikan akses terhadap pengalaman medis pada enam juta orang.
Dengan komitmen ini, Ghana membuat sebuah pernyataan yang berani: telemedis merupakan kunci untuk memperluas cakupan perlindungan kesehatan semesta, yang merupakan tujuan utama dari Tujuan Pembangunan Berkelanjutan PBB yang Ghana harap akan dapat dicapai pada tahun 2020, yaitu sepuluh tahun lebih awal dari target PBB. Namun, yang paling menarik adalah program di Ghana ini menawarkan cetak biru mengenai cara negara berkembang lainnya memperluas akses layanan kesehatan mereka.
Di negara maju, telemedis juga merevolusi cara pasien berinteraksi dengan tenaga medis profesional. Di Amerika, ahli bedah terhubung dengan rumah sakit untuk memberikan saran mengenai perawatan. Di Eropa, dokter terhubung dengan pasien melalui telepon dan email untuk memberikan saran mengenai pelayanan kesehatan yang mendesak atau jangka panjang. Dan di seluruh Afrika, LSM seperti Doctors Without Borders menggunakan telemedis untuk menghubungkan pasien yang sulit untuk diobati dengan spesialis yang berada di negara lain.
Untuk setiap program telemedis, kolaborasi dari berbagai sektor sangatlah penting. Di Ghana, organisasi kami bermitra dengan pihak-pihak seperti Columbia University, Millennium Promise Alliance, Ericsson, dan Airtel, yang menggabungkan pengetahuan lokal dan internasional mengenai inovasi layanan kesehatan dengan kemampuan untuk mengambil risiko finansial.
Pada gilirannya, Layanan Kesehatan Ghana, Kementerian Kesehatan, Badan Asuransi Kesehatan Nasional, dan Kementerian Komunikasi memperluas program percontohan mereka, dan memasukkan telemedis ke dalam strategi e-health nasional dari Kementerian Kesehatan. Pada akhirnya, program baru ini dapat dikembangkan lebih triage dasar, misalnya dengan memberikan konsultasi dalam manajemen penyakit, kesehatan mental dan layanan lainnya.
Masyarakat Ghana dapat merasa bangga akan program telemedis yang mereka ciptakan. Tidak hanya karena program ini merupakan inisiatif layanan kesehatan paling komprehensif di wilayah ini; namun ini juga merupakan contoh dari apa yang dapat dicapai melalui kemitraan kesehatan. Di setiap negara, kemakmuran dimulai dengan akses terhadap layanan kesehatan yang berkualitas, dan Ghana kini mempunyai pendekatan yang sangat efektif untuk mencapai hal tersebut.