Les promesses de la télémédecine
,
ACCRA/BÂLE – Dans les pays à revenu faible et intermédiaire, un accès insuffisant aux soins médicaux restreint les résultats de l'action sanitaire et désavantage des générations entières. Mais dans certaines communautés extrêmement isolées, la technologie est en train de révolutionner la relation entre les patients et la médecine moderne. Dans une région reculée du Ghana, un programme de télémédecine illustre à quel point les soins numériques peuvent être efficaces lorsqu'ils sont accessibles par ceux et celles qui sont médicalement marginalisés.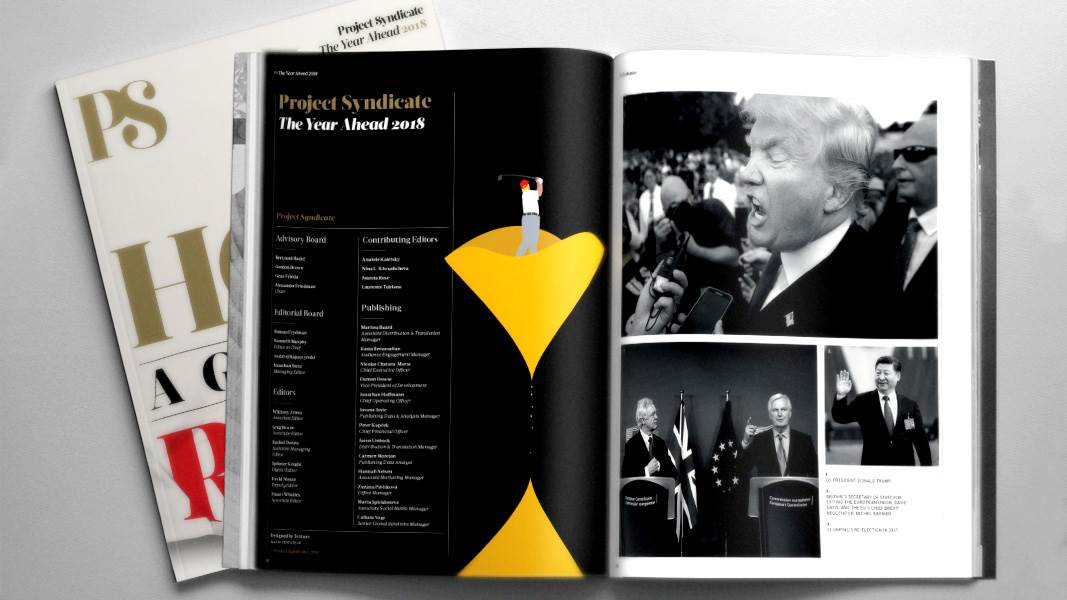 The Year Ahead 2018
The world's leading thinkers and policymakers examine what's come apart in the past year, and anticipate what will define the year ahead.
En 2011, nos organisations, la Fondation Novartis et le Service de santé du Ghana, ont lancé le premier programme pilote de télémédecine du Ghana dans l'objectif de créer un modèle qui puisse être déployé à l'échelle nationale. Initialement lancé dans le district d'Amansie ouest de la région d'Ashanti, à quelques 330 kilomètres de la capitale, Accra, ce programme était destiné à améliorer la qualité des soins dispensés dans des zones reculées, à réduire le temps de transports vers les hôpitaux et à abaisser le coût des traitements pour les patients.
Ce programme, conçu en collaboration avec des fournisseurs mondiaux de services de télécommunications, des universités et des ONG, a dans un premier temps été déployé dans 30 communautés rurales et a connecté 35.000 personnes à des professionnels de la santé par le biais d'un centre d'appel. Relier ces communautés à un centre de communications a permis de faire en sorte que des infirmiers, médecins et spécialistes soient disponibles 24h/24 pour offrir un soutien immédiat aux patients et aux agents de santé communautaires.
Nous sommes aujourd'hui heureux d'annoncer que ce programme a rencontré un succès dépassant nos attentes les plus optimistes. Cinq ans après son lancement, le nombre de patients admis en clinique a baissé de 31 pour cent dans la région pilote et plus de la moitié des cas faisant l'objet d'une consultation dans le cadre de ce programme ont été résolus par téléphone. Chaque hospitalisation évitée a permis aux patients d'économiser, en moyenne, 110 cedis ghanéens ($ 25) et le taux élevé de cas résolus a réduit le temps d'attente dans les cliniques.
Nous avons entendu de nombreuses histoires de patients dont la vie a été changée par ce programme de santé numérique novateur, mais l'une d'entre elles reste particulièrement vivace : peu après le lancement du programme, une jeune femme nommée Debora, suivie par une soignante locale, a souffert d'une hémorragie post-partum. Dans l'incapacité de la soigner et n'ayant pas accès à une ambulance, la soignante s'est trouvée face à un dilemme : elle pouvait soit envoyer Debora par taxi à un hôpital loin de là – un pénible voyage sur des routes pleines d'ornières – soit passer un coup de fil. Après qu'elle ait contacté le centre régional de télémédecine, un médecin lui a expliqué comment soigner Debora, lui sauvant sans aucun doute la vie.
Encouragé par des histoires similaires, le Service de santé du Ghana a commencé à étendre l'accès aux services de télémédecine à d'autres régions du pays. Ce travail a été achevé le mois dernier, et à l'heure actuelle, six centres d'appel composés de centaines de médecins et de personnel médical fournissent une expertise médicale abordable à quelques six millions de personnes.
Par cet engagement, le Ghana l'affirme sans détour : la télémédecine détient la clé de l'expansion de la couverture de santé universelle, l'un des principaux Objectifs de développement durable des Nations unies, que le Ghana espère réaliser d'ici 2020, dix ans avant la date butoir. Plus excitant encore, le programme mis en œuvre par le Ghana offre un modèle dont peuvent s'inspirer d'autres pays en développement pour étendre leurs propres soins de santé.
Dans les pays développés également, la télémédecine révolutionne la manière dont les patients interagissent avec le corps médical. Aux États-Unis, les chirurgiens sont connectés en ligne avec des hôpitaux pour conseiller des traitements. En Europe, les médecins proposent des téléconsultations à leurs patients pour les soins immédiats et à long terme. Et en Afrique, Médecins sans frontières a recours à la télémédecine pour relier des patients difficiles à traiter et son réseau d'experts médicaux de différents pays.
Pour tout système de télémédecine, une collaboration multisectorielle est indispensable. Au Ghana, nos organisations ont établi des partenariats avec l'université Columbia, l'ONG Millenium Promise, Ericsson et Airtel, associant les compétences locales et internationales en matière de soins médicaux novateurs à la capacité à prendre des risques financiers.
Au Ghana même, le Service de santé, le ministère de la Santé, la Caisse nationale d'assurance maladie et le ministère des Communications ont étendu le programme pilote et l'ont intégré à la stratégie nationale de e-santé du ministère de la Santé. En finale, ce nouveau programme pourrait être élargi au-delà du triage primaire des patients pour offrir des consultations en gestion thérapeutique, santé mentale et d'autres services.
Les Ghanéens doivent être fiers du système de télémédecine qu'ils ont déployé et qui n'est pas seulement l'une des initiatives sanitaires la plus globale de la région, mais également un exemple de ce qui peut être accompli au moyen de partenariats dans ce secteur. Quel que soit le pays, la prospérité commence par des soins médicaux de qualité et le Ghana a aujourd'hui adopté une approche hautement efficace pour faire en sorte que ces soins soient accessibles.
Koku Awoonor-Williams est le directeur de la division politiques, planification, suivi et évaluation du Service de santé du Ghana. Ann Aerts dirige la fondation Novartis.