Chiméra francouzsko-německé reformy
CAMBRIDGE – Ve Spojených státech je trvalou pravdou, že veškerá politika je lokální. Stejné pravidlo lze (do jisté míry) vztáhnout i na Evropskou unii, jejíž agenda v konečném důsledku závisí na národních politikách klíčových členských států.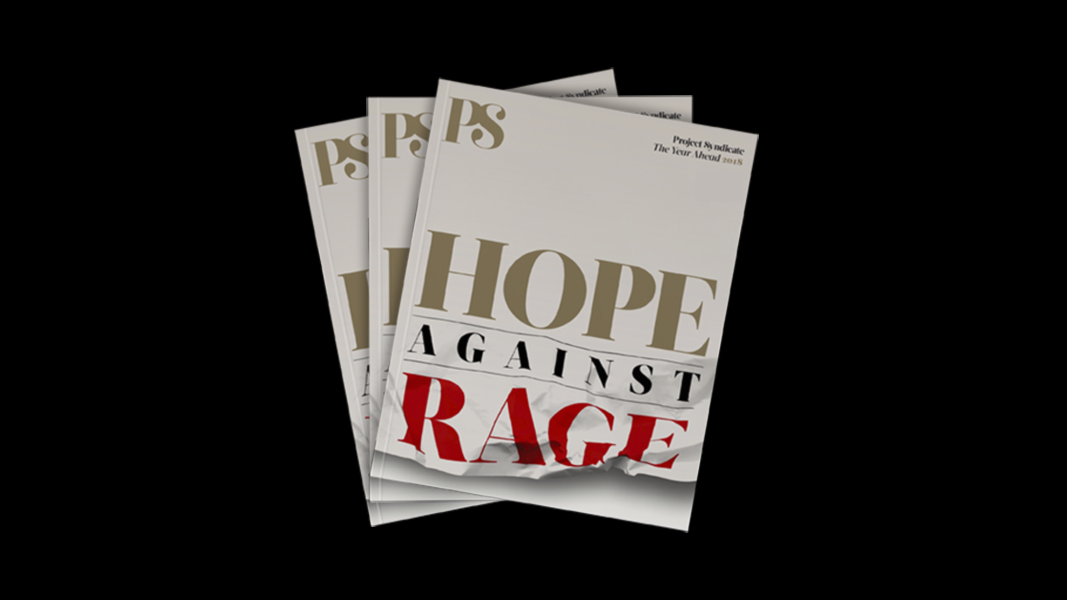 The Year Ahead 2018
The world's leading thinkers and policymakers examine what's come apart in the past year, and anticipate what will define the year ahead.
Zejména to platí ve vztahu k institucím eurozóny, u nichž se téměř všichni shodují, že naléhavě potřebují reformu. Posílení eurozóny bylo ostatně společným tématem významných zářijových projevů předsedy Evropské komise Jeana-Claudea Junckera a francouzského prezidenta Emmanuela Macrona.
Juncker ve svém projevu o stavu EU směle nastínil svou ambiciózní vizi evropské budoucnosti. Vyzval EU, aby dokončila bankovní unii, zavedla evropské ministerstvo financí (plně začleněné do komise) a rozšířilo unijní rozpočet.
Macron se zase v projevu v Sorbonně dotkl řady různých otázek, od obrany a bezpečnosti až po reformu eurozóny a politická štěpení v Evropě. Mnohé však zůstalo nevyřčeno. A v souladu s prezidentovou rolí vedoucího představitele státu nabídl pohled z perspektivy vlád, nikoliv společenství jako celku.
Oba projevy byly přitom zjevně zacílené na Německo, kde dnes probíhá politická debata a kde se Křesťanskodemokratická unie (CDU) kancléřky Angely Merkelové snaží vytvořit novou koaliční vládu. Mnozí pozorovatelé doufali, že nedávné volby v Německu otevřou "okno příležitosti" pro reformy na úrovni EU. Nyní se však začíná zdát, že už se toto okno uzavřelo.
Osud jakékoliv unijní agendy – Junckerovy či Macronovy – závisí na Merkelové, u níž jsou významné politické kroky nepravděpodobné. Odvážný postup toho typu, jaký navrhli Juncker s Macronem, by byl pro Merkelovou nejen netypický, ale zároveň by vyžadoval, aby do něj investovala všechen svůj zbylý politický kapitál.
Merkelová se – nikoliv nerozumně – během celé své kariéry chová tak, jako by jejím hlavním cílem bylo znovuzvolení. A protože by CDU nejraději měla ve vládě hlavní slovo – a kdyby to bylo možné, pak i vládla bez koaličních partnerů –, vždy se snažila získat většinu tím, že oslovovala německé voliče stojící uprostřed politického spektra.
Merkelová má dobře vyvinutý čich na to, kde se tento střed nachází a jak a kdy by se mohl posouvat. V souladu s tím často přejímá nápady svých protivníků. Během působení v úřadu zavedla minimální mzdu, snížila věkovou hranici pro odchod do důchodu na 63 let (pro ty, kdo do systému přispívali 45 let) a legalizovala manželství osob stejného pohlaví – tyto kroky sice stojí v protikladu k tradičnímu konzervatismu, ale dnes se těší široké podpoře obyvatel.
Jak v roce 1929 vysvětlil americký ekonom Harold Hotelling, ti, kdo soupeří o politický střed, mají "nepatřičný sklon napodobovat jeden druhého". A tak je stále obtížnější odlišit CDU od jejího hlavního konkurenta v podobě sociálních demokratů (SPD). To má i další důsledek: menší strany snažící se najít voličskou základnu se musí zaměřovat na politické menšiny, z nichž mnohé mají značně vyhraněné preference a názory.
Jelikož CDU i SPD ztratily v nedávných volbách podporu, přičemž SPD se rozhodla, že stráví následující volební období v opozici, bude Merkelová muset vytvořit koalici právě s těmito menšími stranami. Žádná německá partaj hlavního proudu, natožpak strana Angely Merkelové, nebude vládnout s třetím nejsilnějším uskupením v Bundestagu, totiž s Alternativou pro Německo (AfD), krajně pravicovou protiunijní stranou, která získala 13% hlasů.
Zbývají tedy Svobodní demokraté (FDP), kteří jsou liberální v evropském smyslu, ale také frustrovaní z malátnosti eurozóny. FDP propůjčuje hlas německé "únavě z transferů" a neoblomně se staví proti jakékoliv politice, která převádí německé peníze členským státům s horší hospodářskou výkonností.
Během kampaně se proto FDP ostře vymezila proti tomu, aby se EU poskytovaly fiskální pravomoci v jakékoliv podobě. Dva další návrhy FDP – totiž mechanismus restrukturalizací suverénního dluhu, jenž by nutil věřitele, aby přijímali zodpovědnost za vlastní rozhodnutí, a dočasný odchod od společné měny pro předlužené členské státy – by mohly situaci reformátorů eurozóny ještě více zkomplikovat.
Nápady FDP se těší v Německu široké podpoře, a to i mezi ekonomy (a sdílí je i řada jiných evropských ekonomů). Odpovídají také postojům, které v předchozí vládě zastávalo německé ministerstvo financí. Politika, která by možná fungovala v ideálním světě efektivních a pružných finančních trhů, by však mohla být nebezpečná, pokud by se použila na vysoce nedokonalých trzích reálného světa. Jak jsme viděli před deseti lety, finanční instituce působící v prostředí nejistoty se mohou stát křehkými a zhroutit se, což zatíží společnost vysokými náklady.
Zejména myšlenka dočasného odchodu od eura je pomýlená. Pokud by se tato varianta formalizovala, trhy by ji promítly do cen a členské státy bez hlubokých kapitálových trhů by platily prémii. Jejich úrokové sazby by byly strukturálně vyšší. A v nestálých podmínkách jsou tyto státy náchylné na runy vrtošivých institucionálních investorů, kteří se mají na pozoru před prodlužováním svých úvěrových linek.
FDP založila na možnosti exitu kampaň a její předáci, kteří stáli čtyři roky mimo parlament, nebudou chtít riskovat vlastní důvěryhodnost tím, že nyní tuto myšlenku opustí. Někteří poslanci CDU i mnozí členové její sesterské bavorské Křesťansko-sociální unie navíc s postoji FDP sympatizují. Třetí pravděpodobný člen nové koalice Angely Merkelové, totiž Zelení, jen stěží dokáže být těmto vnitřním silám dostatečnou protiváhou.
Dalším problémem je skutečnost, že Juncker ani Macron nenabídli mnoho podrobností. Skutečná podoba budoucího rozpočtu eurozóny – i typy výdajů, které by zahrnoval – stále není zřejmá. Stejně tak není zřejmý proces zajištění zodpovědnosti ministra financí eurozóny a jeho demokratické legitimity. A jasná není ani otázka, jak velkou část státní suverenity by členské země ve jménu společné fiskální politiky ztratily.
Vyřešení těchto otázek bude vyžadovat takovou míru politické odvahy, jakou Merkelová nikdy neprojevila. Pokud by se chtěla připojit k Macronovu evropskému projektu, musela by zaujmout zcela novou roli a vystavit se značným politickým rizikům. Německo by muselo převzít iniciativu: místo aby návrhy odmítalo, muselo by s nimi samo přicházet.
Takové chování lze jen těžko očekávat od vlády, která s ohledem na průměrného německého voliče hraje na jistotu. Německý politický střed se posouvá a míří jiným směrem než Juncker s Macronem. V důsledku toho zůstane institucionální uspořádání eurozóny pravděpodobně nedokončené.
Z angličtiny přeložil Jiří Kobělka.