Hay que liberar la democracia alemana
BERLÍN – El espectáculo de las recientes conversaciones para la formación de un nuevo gobierno de coalición en Alemania es una señal de descontento de los votantes. Los juegos de poder, el reparto discrecional de fondos a cambio de apoyo y los acuerdos no surgidos del debate público ponen de manifiesto la desconexión entre los grandes partidos alemanes y el electorado, que arroja a los votantes en brazos del populismo.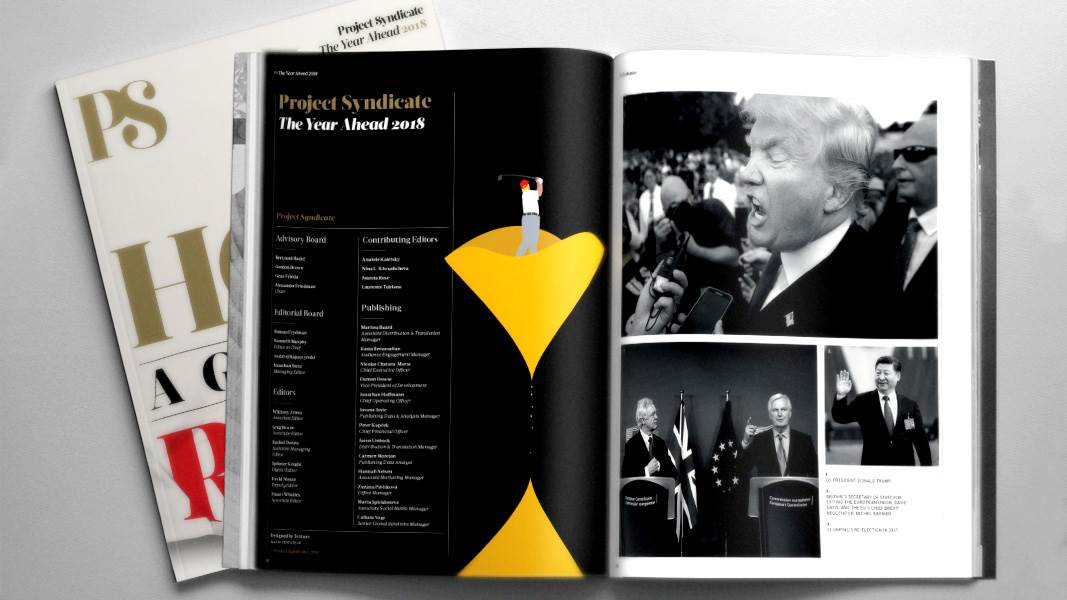 The Year Ahead 2018
The world's leading thinkers and policymakers examine what's come apart in the past year, and anticipate what will define the year ahead.
El resultado es un auge de los extremos políticos. La ultraderechista Alternative für Deutschland y la izquierdista Die Linke tienen, entre las dos, cerca de una cuarta parte de los escaños del Bundestag. La gran coalición en formación, que incluye a la conservadora Unión Demócrata Cristiana (CDU), a su rama bávara la Unión Social Cristiana (CSU) y al centroizquierdista Partido Socialdemócrata (SPD) sólo posee algo más del 50%, de modo que es considerablemente menos "grande" que en los dos gobiernos anteriores.
La AfD, en particular, no puede creer la suerte que ha tenido. El partido (cuya lealtad a la democracia es, en el mejor de los casos, parcial) parece ir camino de convertirse en el principal grupo opositor en el Bundestag; una posición sencillamente inimaginable para un partido que hasta la última elección en septiembre ni siquiera podía aspirar a la representación parlamentaria.
Si, tal como se prevé, la gran coalición asume el gobierno, el parlamento de la rica y económicamente estable Alemania se enfrentará a la misma clase de conflictividad que, al trasladar el poder hacia los extremos y menguar el centro político, ha debilitado la democracia en otros países. Ya ocurrió en Estados Unidos, donde la aparición de voces más extremistas obstaculizó la cooperación entre los republicanos y los demócratas; y también en el Reino Unido, los Países Bajos y Bélgica.
No quiere decir que el Bundestag se volverá de pronto tan disfuncional como el Congreso de los Estados Unidos en la actualidad. Pero se están sembrando las semillas de la parálisis democrática.
Puede decirse que esta situación viene de mucho tiempo atrás. En las grandes coaliciones anteriores, el Bundestag actuó menos como una plataforma de discusión abierta entre distintas visiones y preferencias que como una máquina de aprobar leyes. Las 167 páginas del acuerdo de la coalición en formación, que describen con asombroso detalle la agenda del futuro gobierno, son señal de que durante los próximos cuatro años las autoridades se limitarán otra vez a implementar políticas ya acordadas, en vez de promover la deliberación y la reflexión en torno de los temas públicos.
Esta política de puertas cerradas profundizó la división entre la clase política y los votantes. En cuanto a sus razones, hay dos: el auge de los acuerdos de coalición y los cambios en el sistema de partidos.
Los primeros en usar un acuerdo de coalición con el detalle de algunos de los principales elementos del período legislativo inminente fueron la CDU y el Partido Democrático Libre (FDP) a principios de los sesenta. En aquel momento se instituyó un comité de coalición encargado de asegurar que las medidas acordadas fueran aprobadas en el parlamento.
Pero con el tiempo, los acuerdos se volvieron cada vez más detallados y complejos; lo que antes era un programa general se convirtió en un contrato, y el comité de coalición fue adquiriendo más poder detrás de escena. Estos cambios, pese a ser controversiales, no fueron disputados; por el contrario, se volvieron la norma de la política legislativa alemana, y el Bundestag pasó de ser un ámbito de debate abierto a otro de aprobación de decisiones ya acordadas.
Hasta hace unos años, este cambio en el funcionamiento del Bundestag no había sido muy problemático. Pero en los últimos tiempos, los grandes partidos políticos perdieron arraigo en las comunidades locales; la cantidad de afiliados a la alianza CDU/CSU y al SPD disminuyó considerablemente. Esto llevó a que sus decisiones se hayan alejado cada vez más de la voluntad de la gente.
Las dirigencias de la CDU y la CSU, que no dependen de un voto partidario, ya dieron señales de que aceptarán el pacto de coalición. Pero es de esperar que los afiliados del SPD rechazarán el acuerdo sobre el cual están votando (el plazo para el envío de las papeletas por correo termina el 2 de marzo). Un fracaso del acuerdo traerá consigo más inestabilidad política, pero a la larga la democracia alemana resultará fortalecida.
Si el acuerdo fracasa, una alternativa sería que Alemania celebre una nueva elección; una propuesta arriesgada, sin duda, ya que encuestas recientes señalan que es posible que AfD obtenga más votos todavía y que disminuya el apoyo a la CDU y el SPD. La otra, que la canciller Angela Merkel lidere un gobierno de minoría (el primero en los casi setenta años de historia de la República Federal), que debería someter cada propuesta al debate parlamentario (con riesgo de no ser aprobada).
Un gobierno de minoría se jugaría la continuidad en cada debate. Pero puede funcionar bien con muchas de las propuestas menos discutidas, y al mismo tiempo crearía una nueva tradición de coaliciones mudables en vez de fijas. Con el tiempo, este sistema puede traer ventajas significativas, incluso innovaciones institucionales, y tal vez termine con la asfixiante práctica de forjar acuerdos de coalición y luego garantizar su implementación por medio de comités cerrados.
Los contratos de coalición inmutables están estrangulando a la democracia alemana. Para que pueda respirar, y así salvar el abismo entre la clase política y el electorado, los alemanes debemos concentrarnos en crear agendas legislativas más abiertas y flexibles que demanden un auténtico debate público en el Bundestag.
Traducción: Esteban Flamini