Die Krise der politischen Rechten in Deutschland
LONDON – Ein Erdbeben erschüttert derzeit die normalerweise beschauliche politische Szene in Deutschland. Die Landtagswahl vom Oktober in Thüringen hatte ein Patt hervorgebracht, das bis Anfang dieses Monats Bestand hatte. Dann wurde ein FDP-Kandidat, dem zuvor kaum Chancen eingeräumt wurden, mit Hilfe der rechtsextremen AfD und örtlicher CDU-Politiker zum Ministerpräsidenten gewählt. Die Zusammenarbeit der CDU mit der AfD stellte einen gravierenden Verstoß gegen den Nachkriegskonsens dar, der eine Zusammenarbeit der großen Volksparteien mit der extremen Rechten ausschloss, und sorgte für Bitterkeit im gesamten politischen Spektrum.
In der Folge legten mehrere thüringische Funktionsträger ihre Ämter nieder; die größte Erschütterung jedoch kam am 10. Februar, als die CDU-Bundesvorsitzende und designierte Nachfolgerin von Angela Merkel, Annegret Kramp-Karrenbauer, abrupt zurücktrat. AKK, wie Kramp-Karrenbauer weithin genannt wird, stürzte, weil sie die CDU-Politiker in Thüringen nicht gestoppt hatte. Doch hatte sie sich seit ihrer Wahl zur Parteivorsitzenden 2018 (u. a. durch eine Bemerkung über die Notwendigkeit einer Zensur des Internets) und als Merkels Verteidigungsministerin (durch einen Lösungsvorschlag zur Beilegung des syrisch-türkischen Konflikts ohne Rücksprache mit dem Außenminister) bereits mehrere grobe Schnitzer geleistet. Infolgedessen war sie in den Meinungsumfragen lange vor der Abstimmung in Thüringen abgestürzt.
AKKs Rücktritt hat die Suche nach einem potenziellen Nachfolger für Merkel neu eröffnet. Zu denen, die bereits Morgenluft wittern, gehören Gesundheitsminister Jens Spahn, der von der Politik in die Finanzbranche gewechselte Friedrich Merz und Armin Laschet, der Ministerpräsident des bevölkerungsreichsten deutschen Bundeslandes, Nordrhein-Westfalen. Angesichts der 2021 anstehenden Bundestagswahlen muss die CDU bis Jahresende einen neuen Vorsitzenden wählen – und AKK hat klargestellt, dass der oder die Betreffende auch Kanzlerkandidat der Partei sein sollte.
Doch eine sogar noch drängendere Frage ist, ob Merkels Koalitionsregierung mit den Sozialdemokraten nun zusammenbrechen wird, was Deutschland in eine ernste politische Krise stürzen würde. Das CDU-SPD-Bündnis ist bestenfalls eine angespannte, unbequeme Ehe und wurde durch die Welle der Unterstützung für die AfD bei den Bundestagswahlen im September 2017 erforderlich. Abgesehen von der Vereinbarung eines Pakets klimapolitischer Maßnahmen im vergangenen Herbst hat die Regierung kaum Erfolge zu verbuchen.
Zudem folgt die Krise innerhalb der CDU auf die Implosion der SPD selbst. Finanzminister und Vizekanzler Olaf Scholz erlitt bei seiner Kandidatur um den SPD-Co-Vorsitz Ende letzten Jahres eine schmachvolle Niederlage. Das Ergebnis scheint Scholz' ehrgeizigem Plan für eine Bankenunion in der Eurozone ein Ende bereitet zu haben. Die Lage wird zudem noch dadurch verschlimmert, dass die Unterstützung für die SPD auf ein Nachkriegstief von 13% gefallen ist – was der Partei kaum noch Chancen auf eine Beteiligung an der nächsten Regierung lässt.
Die SPD dürfte vermutlich durch die wieder erstarkenden Grünen ersetzt werden, die seit den Europawahlen im Mai 2019 bemerkenswerte Zuwächse in den Meinungsumfragen verzeichnen konnten. Während des letzten Jahres wurden Annalena Baerbock und Robert Habeck – das Führungsduo der Partei – zunehmend als potenzielle künftige Regierungsführer gehandelt. Habeck ist derzeit zweitpopulärster deutscher Politiker gleich nach Merkel.
Subscribe now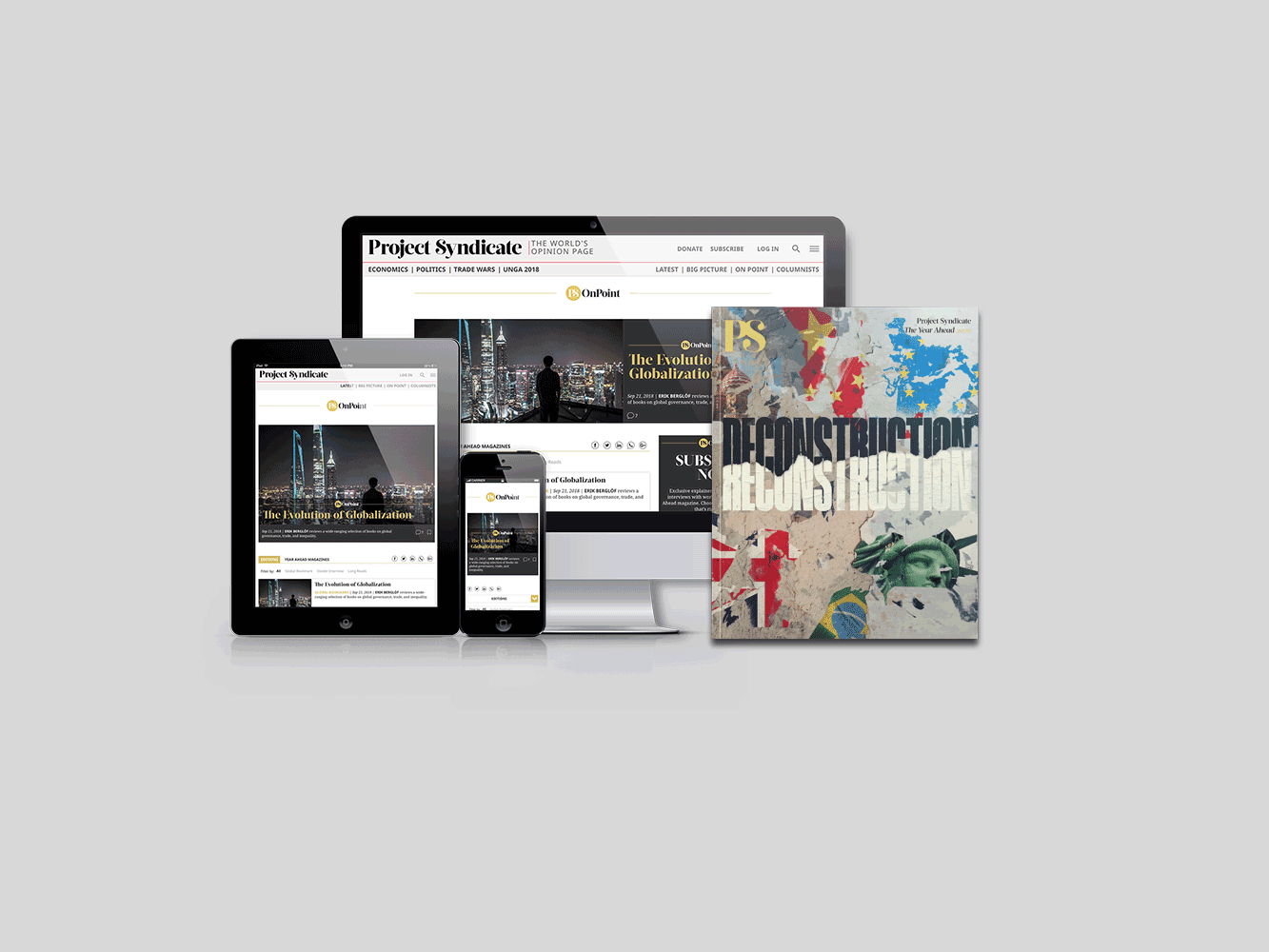 Subscribe now
Subscribe today and get unlimited access to OnPoint, the Big Picture, the PS archive of more than 14,000 commentaries, and our annual magazine, for less than $2 a week.
Falls sich die Krise der CDU fortsetzt und die Partei bei der nächsten Bundestagswahl nicht den größten Anteil der Stimmen erzielt, wird das begehrte Recht, den Kanzler zu stellen, höchstwahrscheinlich den Grünen zufallen. Eine grün-schwarze Koalitionsregierung mit der CDU als Juniorpartner wäre ein politisches Novum in Deutschland und würde der Partei gar nicht schmecken.
Angesichts dieser Aussichten haben führende Köpfe innerhalb der CDU vor internen Querelen gewarnt und die Notwendigkeit einer stabilen Führung und fortgesetzten Zusammenarbeit mit der SPD bis zur Wahl 2021 betont. Bereits die Bildung der CDU-SPD-Regierung hatte unnötig lange gedauert, die Wähler verärgert und in Deutschland ein Gefühl politischer Paralyse befeuert. Ein Zusammenbruch der Koalition würde beiden Parteien schwer schaden und die Wähler noch weiter verärgern.
Andere europäische Regierungen beobachten diese Entwicklungen mit Besorgnis. Die Hoffnungen waren hoch, dass Deutschland, das in der zweiten Jahreshälfte 2020 die rotierende Präsidentschaft der Europäischen Union übernimmt, insbesondere in Bezug auf den Klimawandel, die Migration und die künftige Handelsbeziehung des Blocks zum Vereinigten Königreich für andere Mitgliedstaaten ein Leitstern sein könnte. Doch wenn Deutschlands Spitzenpolitiker mit Verschiebungen des internen Machtgefüges beschäftigt sind, werden sie den Problemen auf EU-Ebene vermutlich sehr wenig Energie widmen.
Zu guter Letzt hat das in Thüringen ausgelöste politische Debakel auch Auswirkungen auf Merkels Erbe. Angesichts der Tatsache, dass ihre 16-jährige Herrschaft als Kanzlerin 2021 enden wird, gab es bereits zuvor Befürchtungen, dass Deutschland politisch ruderlos, visionslos und innerhalb der EU nicht mehr jene Stimme der Vernunft sei, die es einst war. Merkel genießt noch immer hohe Zustimmungsraten und Respekt im In- und Ausland, und das ungeachtet ihrer kontroversen Entscheidung aus dem Jahre 2015, mehr als eine Million überwiegend syrische Flüchtlinge nach Deutschland zu lassen. Zuletzt hatte sie sich jedoch deutlich aus der Innenpolitik zurückgezogen; ihre Absicht war, AKK ins Rampenlicht zu schieben. Diese Entscheidung ist nun offensichtlich nach hinten losgegangen. Indem sie die falsche Kandidatin als Nachfolgerin unterstützte, hat Merkel etwas von ihrer schwer verdienten Autorität verloren.
Deutschland steht daher am Scheideweg. Seine Wirtschaft ist ins Stottern geraten – das BIP wuchs im letzten Jahr nur um 0,6% – und braucht verzweifelt neuen Schwung. Tatsächlich ist Deutschland, trotz seiner technischen Leistungsstärke und seines Rufs für Effizienz, bei der Digitalisierung, Elektrifizierung und auch bei seinen Klimazielen in Rückstand geraten. Die nächste Bundesregierung steht vor der Aufgabe, die Wirtschaft wieder in Gang zu bringen, die Digitalisierung und den Einsatz der künstlichen Intelligenz zu beschleunigen und das Land zugleich auf Kurs zu halten, damit es sein Ziel der Kohlenstoffneutralität bis 2050 erreicht.
Angesichts der Tatsache, dass beide Regierungsparteien in Deutschland derzeit in Turbulenzen stecken, ist eine schnelle Beilegung der Führungskrise der CDU unverzichtbar. Eine anhaltende Paralyse wäre sowohl für Deutschland als auch für Europa hochgradig schädlich.
Aus dem Englischen von Jan Doolan