La complaciente gran coalición de Alemania
MÚNICH – Los Socialdemócratas de Alemania (SPD), la Unión Demócrata Cristiana (CDU) y el partido hermano bávaro de la CDU, la Unión Social Cristiana (CSU), acordaron buscar otro gobierno de "gran coalición", y han publicado un acuerdo de 28 páginas que describe la agenda de políticas que proponen.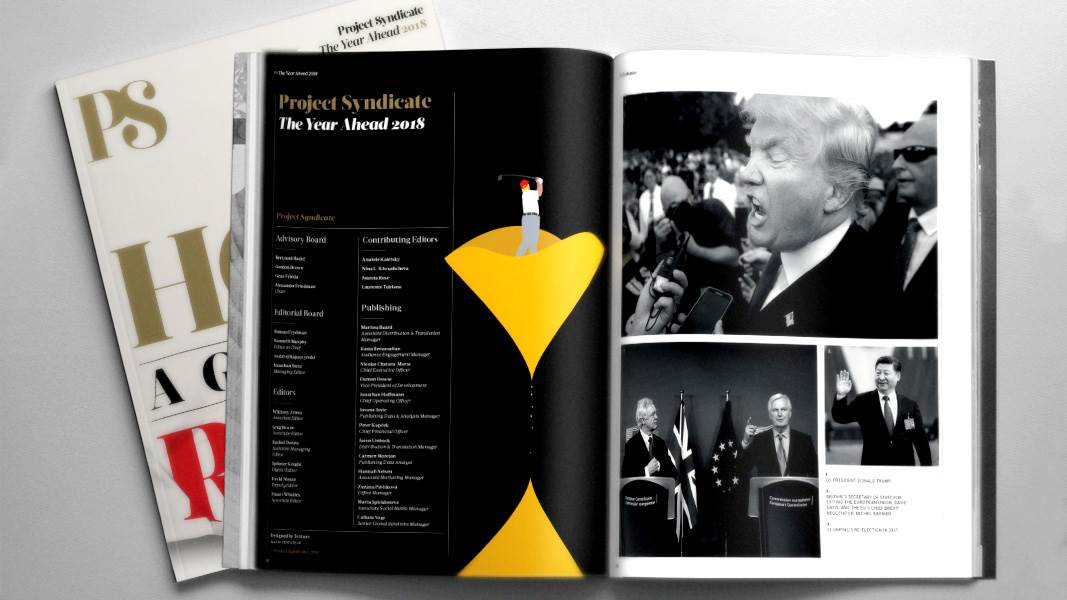 The Year Ahead 2018
The world's leading thinkers and policymakers examine what's come apart in the past year, and anticipate what will define the year ahead.
El acuerdo llega meses después de una elección en la que el SPD y la CDU/CSU propusieron puntos de vista de política económica bastante diferentes. Mientras que el SPD se centró en la necesidad de una mayor redistribución y gasto público, la CDU/CSU prometió "recortes de impuestos para todos" y una política de refugiados más restrictiva. La pregunta ahora es si una coalición que comprenda tales fuerzas ideológicamente divergentes puede realmente preparar a Alemania para los desafíos que le esperan.
En los próximos meses y años, las autoridades alemanas tendrán que gestionar la transición a la era digital, con el fin de preservar la competitividad del país. También deben estabilizar el Estado de bienestar en un momento de rápido envejecimiento de la población. Y, deben desarrollar una política migratoria racional. De manera adicional a la totalidad de la agenda doméstica, muchos esperan que Alemania sea quien mantenga unida a la Unión Europea.
Como muchos comentaristas han señalado, el nuevo gobierno de Alemania se beneficiará de un superávit presupuestario, debido a que la economía en auge, junto a las peculiaridades del código tributario alemán, han sido los factores que han impulsado los ingresos del gobierno en los últimos cuatro años. Incluso aplicando la política de presupuesto equilibrado descrita en su acuerdo de coalición provisional, el gobierno tendrá espacio para más gastos o más recortes impositivos que alcanzan un valor de €46 mil millones – alrededor de 0.3% del PIB – a lo largo de cuatro años.
Según el acuerdo de coalición, €36 mil millones del superávit se destinarán a gastos diversos, como ser transferencias a familias, mayores subsidios agrícolas y regionales, incentivos a la construcción de viviendas, carreteras e infraestructura relacionada, universidades y edificios escolares, e incluso a gastos militares.
Eso deja solo €10 mil millones para recortes de impuestos, que tomarán la forma de reducciones en el recargo de solidaridad (Solidaritätszuschlag), un impuesto especial a la renta que se introdujo en el año1991 para financiar la reunificación alemana. La gran coalición prevé la abolición de este impuesto para todos, excepto para el 10% de los que más ganan, que son quienes generan más de la mitad de los ingresos por dicho recargo de solidaridad.
Pero cuando uno considera los efectos de una situación en la que la inflación empuja los ingresos hacia tramos impositivos más altos, sin incrementar el poder de compra, es decir "un incremento de banda impositiva sin ajuste inflacionario", la perspectiva para los contribuyentes empeora. A diferencia de la mayoría de los demás países desarrollados, el sistema impositivo de Alemania carece de un mecanismo de ajuste automático para evitar que la inflación empuje a los hogares a mayores niveles impositivos. Y, si bien se realizan ajustes discrecionales, difícilmente estos proporcionan una compensación completa a innumerables familias que terminan pagando más impuestos de lo que deberían.
De hecho, a la velocidad actual de subida de banda impositiva, los ingresos fiscales de Alemania aumentarán en aproximadamente €50 mil millones durante los próximos cuatro años. Reducir a la mitad los ingresos por el recargo de solidaridad no antes del año 2021, ni  se acercará a un nivel en que se pueda contrarrestar dicha subida.
Considerando todo lo antedicho, nadie está particularmente entusiasmado con el acuerdo de coalición, incluido el SPD. A pesar del énfasis del acuerdo de coalición en el gasto, el SPD teme que participar en otra gran coalición dañará aún más su posición pública y llevará a más votantes a los brazos de la extrema izquierda o de la extrema derecha: la Alternative für Deutschland (AfD).
Para otros, el problema no es las políticas, sino la agenda misma: considerando todas sus disposiciones específicas, el acuerdo logra muy poco. Cuando se distribuya a lo largo de cuatro años, un gasto adicional de €2 mil millones en defensa, €600 millones en universidades, y €4 mil millones en vivienda marcará poca diferencia.
Y, si bien el plan de la coalición también promete mayores contribuciones al presupuesto de la UE y más gasto en las pensiones para madres y hogares de bajos ingresos, no especifica cómo se conciliarán esos aumentos con un presupuesto equilibrado.
Lo que es más fundamental, la agenda carece de ambición y dirección. No proporciona un alivio significativo a la clase media a través de recortes de impuestos, ni asigna una inversión adecuada para la investigación, la infraestructura o la educación. Y, ni menciona los impuestos a las empresas, a pesar de que los recortes de tasas en Estados Unidos, y los recortes previstos en Francia y el Reino Unido, inevitablemente atraerán inversiones y empleos, alejándolos de Alemania.
Una agenda de políticas verdaderamente audaz requeriría que el nuevo gobierno se concentre en prioridades específicas y acepte que no todos pueden obtener lo que quieren. En lugar de modificar los márgenes en un intento fútil por complacer a todos, el gobierno debería poner su mirada en reformas estructurales más profundas, para sentar las bases del crecimiento y la estabilidad en el futuro.
Por ejemplo, Alemania gasta miles de millones de euros cada año subsidiando la energía verde. Pero, como reconoce el acuerdo provisional de la coalición, Alemania probablemente no alcanzará su objetivo fijado con respecto a la reducción de emisiones de dióxido de carbono hasta el año 2020, lo que sugiere que dichos subsidios no han funcionado. Reformas fundamentales en esta área podrían hacer que las políticas climáticas de Alemania sean más baratas y más eficaces. Pero, ello exigiría que Gobierno abandone su posición ideológica y desafíe a poderosos grupos de interés.
Sin embargo, el acuerdo de coalición incluye algunas ideas prometedoras. Por ejemplo, propone un programa para atraer a trabajadores calificados y alinear las políticas de inmigración de Alemania con sus intereses económicos. Y, si bien el nuevo gobierno debería adjuntar condiciones a la mayor contribución al presupuesto de la UE, con el fin de evitar gastos inútiles, se debería acoger de buena manera el claro compromiso que tiene Alemania con la UE.
Todavía hay tiempo para que los socios de coalición revisen su programa. Sin lugar a dudas, ellos deberían querer hacer algo más que tan sólo usar el actual crecimiento económico para proporcionar limosnas irrisorias a varios grupos de seguidores (excepto a aquellos grupos que pagan la porción mayor de los impuestos, por supuesto). Ahora es el momento de comenzar a preparar a Alemania para sus desafíos futuros.
Traducción del inglés: Rocío L. Barrientos.