Große Koalition: Aufbruch sieht anders aus
MÜNCHEN – Die Sozialdemokratische Partei Deutschlands (SPD), die Christlich-Demokratische Union (CDU) und ihre bayerische Schwesterpartei, die Christlich-Soziale Union (CSU), haben sich geeinigt eine Neuauflage der "Großen Koalition" anzustreben und ein 28-seitiges Papier mit ihrer politischen Agenda vorgelegt.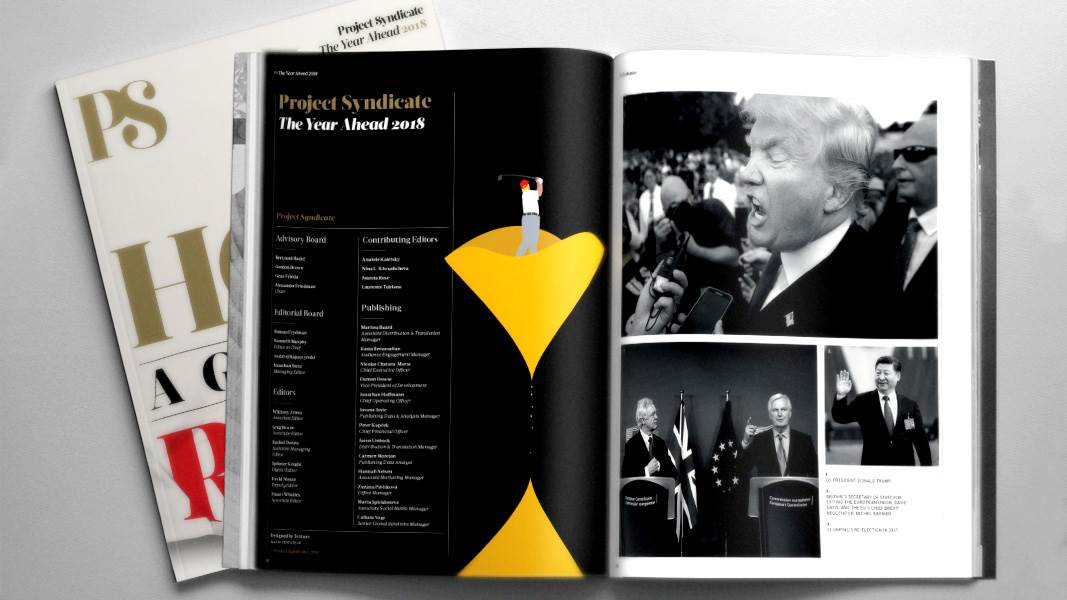 The Year Ahead 2018
The world's leading thinkers and policymakers examine what's come apart in the past year, and anticipate what will define the year ahead.
Die Einigung erfolgt Monate nach einer Bundestagswahl, in der die SPD und CDU/CSU recht unterschiedliche wirtschaftspolitische Ansichten vertreten haben. Während sich die SPD auf das Bedürfnis nach mehr Umverteilung und öffentlichen Ausgaben konzentrierte, haben die Unionsparteien "Steuersenkungen für alle" und eine restriktivere Flüchtlingspolitik versprochen. Jetzt stellt sich die Frage, ob eine Koalition aus ideologisch so unterschiedlichen Kräften Deutschland wirklich auf die anstehenden Herausforderungen vorbereiten kann.
In den kommenden Monaten und Jahren werden politische Entscheidungsträger in Deutschland den Übergang ins digitale Zeitalter bewältigen müssen, um die Wettbewerbsfähigkeit des Landes zu erhalten. Außerdem müssen sie in Zeiten einer rasch alternden Bevölkerung den Sozialstaat stabilisieren. Und sie müssen eine rationale Migrationspolitik entwickeln. Zusätzlich zu dieser umfangreichen innenpolitischen Agenda bauen viele darauf, dass Deutschland die Europäische Union zusammenhalten wird.
Wie viele Kommentatoren hervorgehoben haben, wird Deutschlands neue Regierung von einem Haushaltsüberschuss profitieren, weil die Staatseinnahmen dank der boomenden Wirtschaft sowie Eigenheiten der deutschen Abgabenordnung in den vergangenen vier Jahren kräftig gestiegen sind. Selbst wenn die Regierung einen ausgeglichenen Haushalt anstrebt, wie im vorläufigen Sondierungspapier vereinbart, wird sie in den nächsten vier Jahren Spielraum haben für höhere Ausgaben oder Steuersenkungen in Höhe von 46 Milliarden Euro – rund 0,3 des BIP.
Dem Sondierungspapier zufolge sollen 36 Milliarden Euro des Überschusses für Ausgaben in verschiedenen Bereichen genutzt werden, wie etwa Transferleistungen für Familien, höhere landwirtschaftliche und regionale Subventionen, Anreize für den Wohnungsbau, Straßen und damit verbundene Infrastruktur, Universitäten und Schulgebäude und sogar für das Militär.
Damit bleiben lediglich 10 Milliarden Euro für Steuersenkungen, die in Form eines Abbaus des Solidaritätszuschlages erfolgen sollen, einer Ergänzungsabgabe zur Einkommensteuer, die 1991 eingeführt wurde, um die deutsche Wiedervereinigung zu finanzieren. Der Großen Koalition schwebt eine Abschaffung dieser Abgabe für alle vor, mit Ausnahme der einkommensreichsten 10 Prozent der Bevölkerung, die mehr als die Hälfte des Solidaritätszuschlages zahlen.
Wenn man jedoch die Auswirkungen der "kalten Progression" berücksichtigt, verschlechtern sich die Aussichten für den Steuerzahler. Anders als in den meisten anderen entwickelten Ländern gibt es im deutschen Steuersystem keinen automatischen Anpassungsmechanismus, der verhindert, dass Haushalte durch die Inflation in höhere Steuertarife rutschen. Es finden zwar diskretionäre Anpassungen statt, die jedoch kaum einen vollen Ausgleich für unzählige Haushalte bedeuten, die letztlich mehr Steuern zahlen als sie sollten.
Tatsächlich werden die Steuereinnahmen in Deutschland in den kommenden vier Jahren um rund 50 Milliarden Euro steigen, wenn die gegenwärtige kalte Progression unverändert bleibt. Eine Halbierung des Solidaritätszuschlages frühestens 2021 wird nicht einmal annähernd für einen Ausgleich sorgen.
Alles in allem ist niemand sonderlich begeistert über die Ergebnisse der Sondierung für eine große Koalition, auch nicht die SPD. Obwohl Ausgaben einen Schwerpunkt des Sondierungspapiers bilden, befürchtet die SPD, dass eine erneute Beteiligung an einer großen Koalition ihrem öffentlichen Ansehen weiteren Schaden zufügen wird und weitere ihrer Wählerinnen und Wähler in die Arme der radikalen Linken oder der rechtsextremen Alternative für Deutschland (AfD) getrieben werden.
Für andere ist das Problem nicht die Politik, sondern die Agenda selbst: Allen konkreten Bestimmungen zum Trotz, wird wenig bewirkt. Über vier Jahre verteilt werden zusätzliche Ausgaben in Höhe von 2 Milliarden Euro für Verteidigung, 600 Millionen für Universitäten und 4 Milliarden für Wohnungsbau kaum ins Gewicht fallen.
Außerdem werden zwar höhere Beiträge zum EU-Haushalt und Mehrausgaben für die Mütterrente und einkommensschwache Haushalte versprochen, aber die Sondierer machen keine konkreten Angaben, wie diese Erhöhungen mit einem ausgeglichen Haushalt in Einklang gebracht werden sollen.
Grundsätzlich mangelt es der Agenda an Ehrgeiz und an einem klaren Kurs. Sie sorgt weder für eine bedeutende Entlastung der Mittelschicht durch Steuersenkungen, noch für ausreichende Investitionen in Forschung, Infrastruktur oder Bildung. Die Besteuerung von Unternehmen bleibt ebenfalls unerwähnt, obwohl Steuersenkungen für Konzerne in den USA und geplante Steuersenkungen in Frankreich und im Vereinigten Königreich unweigerlich Investitionen und Arbeitsplätze aus Deutschland weglocken werden.
Ein wirklich mutiges politisches Programm würde der neuen Regierung abverlangen, sich auf konkrete Prioritäten zu konzentrieren und hinzunehmen, dass nicht alle bekommen können, was sie wollen. Anstatt in dem vergeblichen Versuch, es allen recht machen zu wollen an Haushaltsspielräumen herumzudoktern, würde sich die Regierung tiefgreifende Strukturreformen zum Ziel setzen, um so die Voraussetzungen für künftiges Wachstum und Stabilität zu schaffen.
Deutschland gibt jedes Jahr Milliarden für die Subvention erneuerbarer Energien aus. Doch wie im vorläufigen Sondierungspapier zu lesen ist, wird Deutschland sein Reduktionsziel für Kohlendioxidemissionen bis 2020 wahrscheinlich nicht erreichen, was darauf schließen lässt, dass diese Subventionen nicht funktioniert haben. Grundlegende Reformen auf diesem Gebiet könnten Deutschlands Klimapolitik sowohl günstiger als auch wirksamer werden lassen. Dafür müsste die Regierung allerdings ihre ideologische Position aufgeben und mächtige Interessengruppen herausfordern.
Gleichwohl enthält das Sondierungspapier durchaus einige vielversprechende Ideen. So wird etwa ein Programm für den Zuzug qualifizierter Arbeitskräfte ebenso vorgeschlagen, wie eine Orientierung der deutschen Einwanderungspolitik an den volkswirtschaftlichen Interessen des Landes. Und obwohl die neue Regierung Deutschlands höheren Beitrag zum EU-Haushalt an Bedingungen knüpfen sollte, um Verschwendung zu verhindern, ist ihr klares Bekenntnis zur EU zu begrüßen.
Den Koalitionspartnern in spe bleibt immer noch Zeit, ihr Programm zu überarbeiten. Sie wollen doch bestimmt mehr tun, als den gegenwärtigen Konjunkturaufschwung für lächerliche Zuwendungen an verschiedene Wählerschichten (ausgenommen diejenigen, die am meisten Steuern zahlen natürlich) zu nutzen. Es ist an der Zeit, Deutschland auf seine künftigen Herausforderungen vorzubereiten.
Aus dem Englischem von Sandra Pontow.