Nemastná neslaná německá velká koalice
MNICHOV – Sociálnědemokratická strana Německa (SPD), Křesťanskodemokratická unie (CDU) a její bavorská sesterská strana s názvem Křesťansko-sociální unie (CSU) se dohodly na vytvoření další "velké koalice" a zveřejnily osmadvacetistránkovou dohodu, která nastiňuje jejich navrhovanou politickou agendu.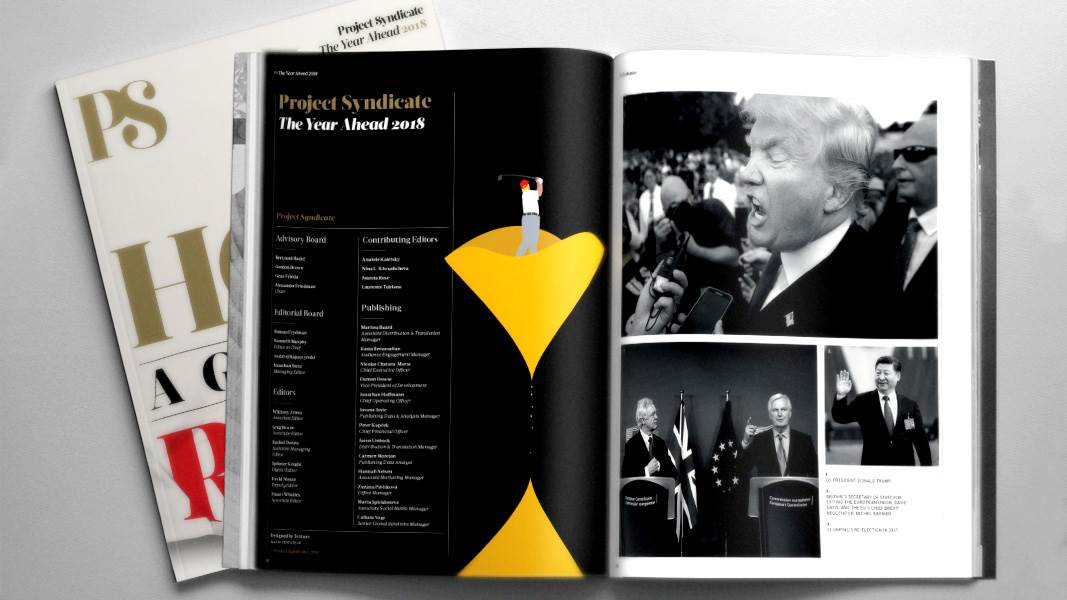 The Year Ahead 2018
The world's leading thinkers and policymakers examine what's come apart in the past year, and anticipate what will define the year ahead.
Dohoda přichází několik měsíců po volbách, v nichž SPD a CDU/CSU prosazovaly poněkud odlišné postoje k hospodářské politice. Zatímco SPD se zaměřovala na potřebu většího přerozdělování a vyšších veřejných výdajů, CDU/CSU slibovala "daňové škrty pro všechny" a restriktivnější uprchlickou politiku. Otázka dnes zní, zda koalice složená z tak ideologicky odlišných sil skutečně může připravit Německo na výzvy, které ho čekají.
V nadcházejících měsících a letech budou muset němečtí politici zvládnout přechod na digitální éru, aby zachovali konkurenceschopnost země. Kromě toho musí stabilizovat sociální stát právě v době, kdy populace rychle stárne. A musí realizovat rozumnou migrační politiku. Vedle této kompletní domácí agendy navíc mnozí lidé vzhlížejí k Německu s nadějí, že právě ono udrží Evropskou unii pohromadě.
Jak poznamenala řada komentátorů, nová německá vláda bude těžit z rozpočtového přebytku, protože ekonomický boom v kombinaci s některými zvláštnostmi německých daňových zákonů zvýšil v posledních čtyřech letech vládní příjmy. I když bude vláda podle své prozatímní koaliční dohody usilovat o vyváženou rozpočtovou politiku, bude mít prostor na vyšší výdaje nebo na daňové škrty v objemu 46 miliard eur – což je zhruba 0,3% HDP – během čtyř let.
Podle koaliční dohody se 36 miliard eur přebytku vyčlení na různé výdaje, jako jsou transfery rodinám, vyšší zemědělské a regionální dotace, pobídky v oblasti výstavby bytů, silnice a související infrastruktura, univerzity a školní budovy, a dokonce i armáda.
Na daňové škrty tak zbývá pouhých 10 miliard eur, jež budou mít podobu snížení solidárního příplatku (Solidaritätszuschlag), což je zvláštní typ daně z příjmu, který byl zaveden v roce 1991 za účelem financování sjednocení Německa. Velká koalice si představuje, že tuto daň zruší všem s výjimkou poplatníků v pásmu 10% nejvyšších příjmů, tedy lidí, kteří se na jejím celkovém výnosu už dnes podílejí více než z poloviny.
Zamyslíme-li se však nad dopady tohoto "plíživého zdaňování", pak se vyhlídky pro daňové poplatníky zhoršují. Na rozdíl od většiny jiných rozvinutých zemí postrádá německá daňová soustava mechanismus automatických úprav, který by bránil tomu, aby inflace vytlačovala domácnosti do vyšších daňových pásem. K jednorázovým úpravám sice dochází, ale ty mohou jen stěží zajistit plnou kompenzaci bezpočtu domácností, které v důsledku toho platí vyšší daň, než by platit měly.
Při současném tempu plíživého zdaňování se německé daňové příjmy zvýší v příštích čtyřech letech zhruba o 50 miliard eur. Snížení solidárního příplatku na polovinu ne dříve než v roce 2021 to ani zdaleka nevyváží.
Ve výsledku tak není z koaliční dohody příliš nadšený nikdo, dokonce ani SPD. Navzdory tomu, že koaliční dohoda klade důraz na výdaje, se SPD obává, že účast v další velké koalici dále poškodí její veřejný obraz a vžene ještě více jejích voličů do náručí radikální levice či pravicové Alternativy pro Německo (AfD).
Pro jiné není problémem politika, nýbrž samotná agenda: navzdory všem konkrétním ustanovením toho bude dosaženo jen velmi málo. Když se celkové částky rozprostřou do čtyř let, pak dodatečné dvě miliardy eur na obranu, 600 milionů na univerzity a čtyři miliardy na bydlení situaci příliš nezmění.
Koaliční plán sice slibuje také vyšší příspěvky do rozpočtu EU a vyšší výdaje na mateřskou dovolenou a nízkopříjmové domácnosti, avšak nijak nespecifikuje, jak tato zvýšení půjdou dohromady s vyrovnaným rozpočtem.
Ještě zásadnější je, že tato agenda postrádá ambice a směr. Neposkytuje ani výraznou úlevu střední vrstvě prostřednictvím daňových škrtů, ani nevyčleňuje dostatečný objem investic na výzkum, infrastrukturu nebo vzdělání. A vůbec se nezmiňuje o zdanění firem, přestože daňové škrty ve Spojených státech a plánované škrty ve Francii a Velké Británii zákonitě odlákají z Německa investice a pracovní místa.
Skutečně smělá politická agenda by vyžadovala, aby se nová vláda soustředila na konkrétní priority a smířila se s faktem, že ne všichni mohou dostat, co chtějí. Namísto okrajového navyšování v marné snaze vyhovět všem by se zaměřila na hlubší strukturální reformy, aby položila základy budoucího růstu a stability.
Německo například každoročně vynakládá miliardy eur na dotace zelené energie. Jak přitom uznává i samotná prozatímní koaliční dohoda, země pravděpodobně nesplní cíl v oblasti snižování emisí oxidu uhličitého do roku 2020, což naznačuje, že zmíněné dotace nefungují. Zásadní reformy v této oblasti by mohly německou klimatickou politiku zlevnit a současně zefektivnit. To ovšem předpokládá, aby vláda opustila svůj ideologický postoj a postavila se mocným zájmovým skupinám.
Na druhou stranu koaliční dohoda obsahuje i některé slibné nápady. Například navrhuje program, který by přilákal kvalifikované zaměstnance a uvedl německou imigrační politiku do souladu s ekonomickými zájmy země. A přestože by vyšší příspěvek Německa do rozpočtu EU měla nová vláda navázat na splnění určitých podmínek, aby zabránila rozhazovačným výdajům, je třeba uvítat, že se k Evropské unii jednoznačně přihlásila.
Ještě stále je čas, aby koaliční partneři svůj program revidovali. Rozhodně by měli chtít vykonat více než jen využít současného hospodářského vzedmutí k tomu, aby rozdali bezvýznamné almužny různým voličským skupinám (pochopitelně kromě těch, které na daních platí nejvíce). Nyní je vhodná doba začít připravovat Německo na budoucí výzvy.
Z angličtiny přeložil Jiří Kobělka.