Los gasoductos como caminos al poder de Putin
MOSCÚ – Durante el año pasado, las predicciones sobre las pugnas serias que iría a enfrentar el presidente ruso Vladimir Putin, o incluso sobre su muerte política, se tornaron cada vez más frecuentes. Un artículo reciente en The Economist titulado "An awful week for Vladimir Putin", es sólo un ejemplo de lo antedicho. Sin embargo, es la evaluación de Steven Lee Myers, quien es biógrafo de Putin y corresponsal del New York Times, la que resuena como la más certera, él dijo en repetidas ocasiones: "Putin siempre gana".
Tal vez la palabra "siempre" no es del todo cierta. Se espera que la economía de Rusia crezca sólo un 1% este año, debido a la rezagada diversificación de las exportaciones, la fuga a gran escala de capitales y los bajos niveles de inversión extranjera directa vinculados a las sanciones occidentales impuestas tras la anexión de Crimea por parte de Rusia en el año 2014. Como resultado, el índice de aprobación de Putin ha disminuido un poco después de alcanzar en julio de 2014 su máximo del 83%, mismo que fue impulsado por la antedicha anexión.
Pero el 61% de los rusos aún califica el desempeño de Putin como positivo. La mayoría de los líderes democráticos sólo pueden soñar con tal aprobación por parte del público. Por ejemplo: menos del 43% de los estadounidenses aprueban al presidente Donald Trump. De hecho, son las propias políticas estadounidenses incoherentes y combativas hacia Europa, China, Turquía y otros países las que han contribuido a la impopularidad de Trump y han alimentado la popularidad de Putin, dándole una serie de victorias tácticas.
Por ejemplo, la falta de una participación eficaz por parte de Estados Unidos en Siria ha empujado a Turquía a los brazos de Rusia. En particular, en octubre de 2015, Estados Unidos retiró sus misiles Patriot del sureste de Turquía, mismos que habían sido desplegados después de que este país exhortara a sus aliados de la OTAN a que se protegieran contra las amenazas de misiles de la vecina Siria. En el año 2017, Estados Unidos ofreció vender misiles Patriot a Turquía, pero sin la tecnología subyacente.
Consecuentemente, Turquía alcanzó un acuerdo multimillonario de armas con Rusia, a pesar de la indignación de sus socios de la OTAN. (Además de tener envidia de los índices de aprobación de Putin, Trump el autoproclamado gran maestro negociador estadounidense, debería envidiar también las habilidades de negociación de su homólogo ruso). En represalia por la decisión de Turquía de adquirir sistemas de misiles rusos S-400, Estados Unidos ha amenazado con sanciones y ha bloqueado a Turquía de obtener cazas furtivos F-35, suspendiendo la participación del país en un programa para construirlos.
Pero Turquía sabe que es Rusia, no Estados Unidos, el país que está dando forma al conflicto sirio, y es el país que desempeñará un papel de liderazgo en el potencialmente lucrativo esfuerzo de reconstrucción del país, lo que convierte a Rusia en un socio mucho más deseable allí. Fortaleciendo aún más la relación bilateral, Putin y el presidente turco, Recep Tayyip Erdoğan, están a punto de inaugurar el gasoducto TurkStream que conecta sus dos países.
Subscribe now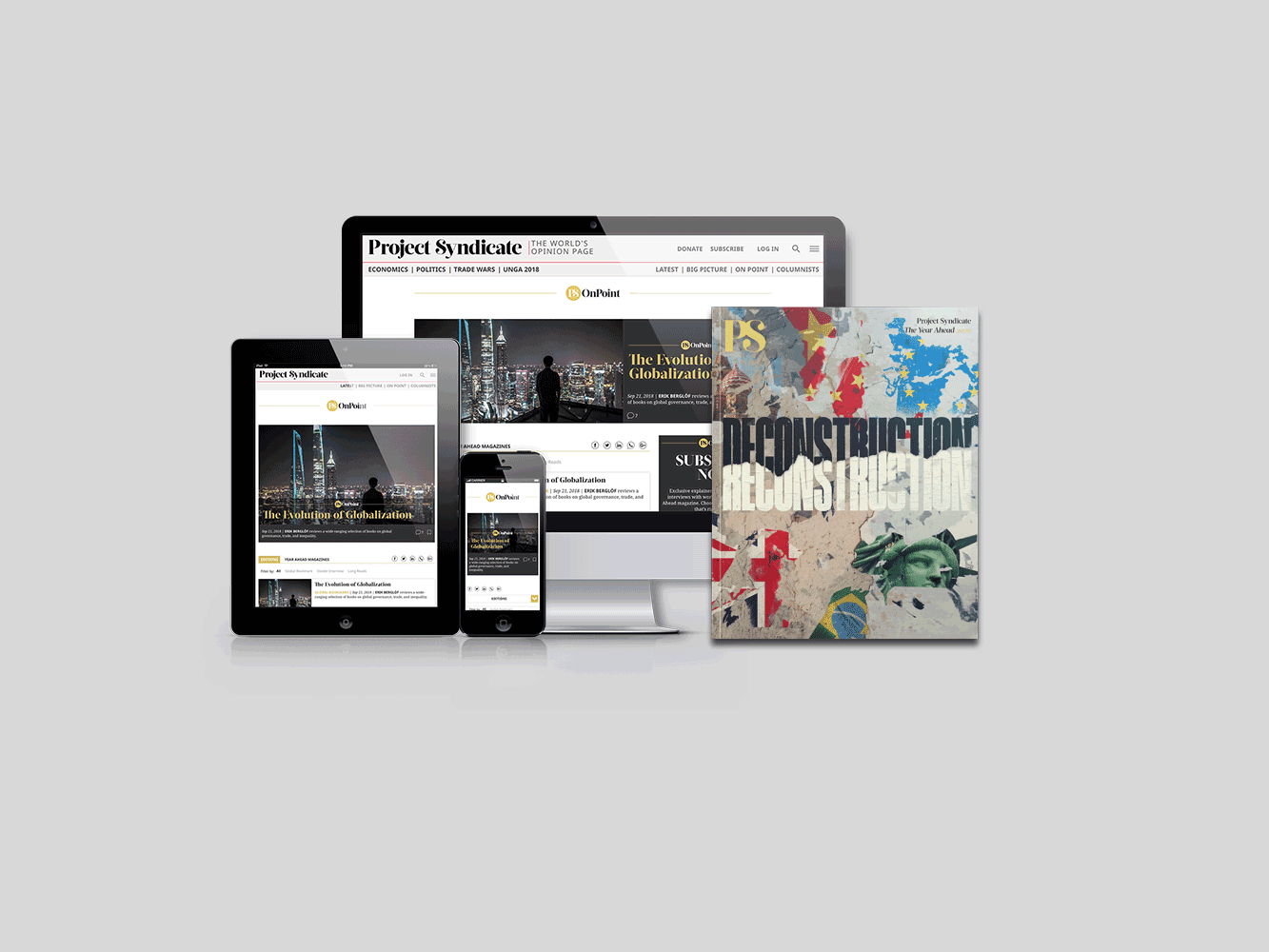 Subscribe now
Subscribe today and get unlimited access to OnPoint, the Big Picture, the PS archive of more than 14,000 commentaries, and our annual magazine, for less than $2 a week.
Rusia también ha lanzado un nuevo proyecto masivo de gasoductos con China, valorado en $400 mil millones a invertirse a lo largo de 30 años, y también está negociando otro proyecto. Asimismo en este punto las acciones del gobierno de Trump crearon una apertura lucrativa – en especial, su guerra comercial amarga (y contraproducente) contra China, que bien puede continuar, a pesar del reciente acuerdo de "fase uno" entre los dos países – que Putin se apresuró a aprovechar.
El proyecto del oleoducto, según Putin, lleva la "cooperación estratégica bilateral en energía a un nuevo nivel cualitativo" y apoya el avance hacia la meta, establecida con el presidente chino Xi Jinping: "de llevar el comercio bilateral a $200 mil millones hasta el año 2024", que es el año en que Putin termina su período presidencial "final". Quizás Putin espera que los frutos de tal acuerdo fortalezcan su posición lo suficiente como para permitirle permanecer en el poder, ya sea como presidente o en otro puesto, como por ejemplo en el puesto de jefe de seguridad dotado de mayores poderes.
Putin ha obtenido otra victoria relacionada con el gas con respecto a Ucrania, cuya compañía nacional de petróleo y gas Naftogaz acaba de recibir un pago de 2.9 mil millones de dólares de la empresa rusa Gazprom para resolver un fallo arbitral dictado en Estocolmo el año 2017. El acuerdo financiero fue parte de un acuerdo más amplio entre las dos compañías: un plan de cinco años, a partir del 1 de enero, para enviar gas ruso a Europa a través de gasoductos ucranianos. Naftogaz también accedió a retirar otro litigio contra Gazprom.
Aunque los temores de estar bajo el control de Putin incentivaron las protestas que derrocaron al presidente pro-ruso de Ucrania, Viktor Yanukovich, en el año 2014 – lo que condujo directamente a la anexión de Crimea por parte de Rusia y la toma de la región oriental de Ucrania por parte de los separatistas respaldados por Rusia– el temor de enfrentar solo a Rusia es incluso mayor. Y, con Ucrania en el centro del juicio político de impeachment de Trump que acaba de concluir en la Cámara de Representantes de Estados Unidos y el próximo juicio en el Senado, Estados Unidos no puede ser considerado un socio confiable.
Esto no significa que el presidente ucraniano, Volodymyr Zelensky, vaya a someterse a Rusia. Zelensky acordó con el Kremlin un intercambio de 200 prisioneros en la guerra en curso en la región oriental de Ucrania – el segundo intercambio de prisioneros del año 2019. El reciente acuerdo sobre gasoductos también puede considerarse una victoria para Ucrania: Gazprom había insistido previamente en un acuerdo de un año, porque ya tiene el gasoducto Nord Stream-1, que cruza el mar Báltico hacia Alemania, y pronto se concluirá el gasoducto Nord Stream- 2.
Sin embargo, los negociadores rusos suavizaron su posición, en parte quizás con la esperanza de aliviar la resistencia al proyecto Nord Stream. Esa resistencia incluye sanciones, incluidas en el presupuesto de defensa estadounidense del año 2020, impuestas a las empresas que trabajan en Nord Stream-2, las que según Estados Unidos darían a Rusia demasiada influencia sobre los aliados europeos de Estados Unidos, así como sobre aquellos que trabajan en TurkStream.
No es sólo Rusia la que quiere que Nord Stream funcione. Alemania, el principal receptor del gas ruso, sostiene que su política energética debería decidirse en Europa, no en Estados Unidos. Cuando un contratista suizo suspendió obedientemente (aunque reticentemente) su trabajo en respuesta a las sanciones, los alemanes de manera inmediata sugirieron que encontrarían otra manera de completar la obra lo antes posible.
Los funcionarios rusos hicieron eco de este sentimiento, señalando que Gazprom ya ha alineado a otras compañías preparadas para hacerse cargo. "No hay nada de qué preocuparse", afirma el primer ministro Dmitry Medvedev, especialmente dado el acuerdo de tránsito de gas con Ucrania. Al igual que en Medio Oriente y China, Putin sabe que un momento en que las relaciones de Europa con Estados Unidos están severamente tensas es el momento ideal para fortalecer su posición frente a su  Europa, su vecina.
Puede que Putin no tenga una estrategia ganadora a largo plazo para salvar la economía de Rusia, pero su política de gasoductos ha llevado a Putin a una serie de impresionantes victorias en política exterior. Este enfoque puede darle suficiente prestigio como para continuar su larga racha ganadora.
Traducción del inglés al español: Rocío L. Barrientos