Putins Pipelines zur Macht
MOSKAU – Im letzten Jahr wurde immer häufiger prophezeit, der russische Präsident Wladimir Putin werde in ernsthafte Schwierigkeiten geraten oder gar politisch scheitern. Ein aktueller Artikel im Economist mit dem Titel "Eine schlimme Woche für Wladimir Putin" ist dafür nur ein Beispiel. Aber die Einschätzung, die der Wahrheit am nächsten zu kommen scheint, ist die des Putin-Biografen und New York Times-Korrespondenten Steven Lee Myers: "Putin", sagte Myers wiederholt zu mir, "gewinnt immer".
Vielleicht ist "immer" nicht ganz richtig: Die russische Wirtschaft soll dieses Jahr um nur 1% wachsen. Die Gründe dafür sind die schwache Diversifizierung der Exporte, massive Kapitalflucht und ein niedriges Niveau ausländischer Direktinvestitionen nach der russischen Besatzung der Krim im Jahr 2014. Daher sind Putins Zustimmungsraten seit ihrem besatzungsbedingten Hoch im Juli 2014 von 83% auch etwas gefallen.
Aber 61% der Russen bewerten Putins Leistung immer noch positiv. Von einer solchen öffentlichen Beliebtheit können die meisten demokratischen Politiker nur träumen. Beispielsweise sind weniger als 43% der Amerikaner mit Präsident Donald Trump einverstanden. Zu Trumps Unbeliebtheit haben seine unzusammenhängenden und aggressiven US-Maßnahmen gegen Europa, China, die Türkei und andere Länder beigetragen. Aber genau diese sind auch für Putins Beliebtheit verantwortlich, da sie ihm eine Reihe taktischer Siege beschert haben.
Beispielsweise wurde die Türkei durch das wenig effektive US-Engagement in Syrien in die Arme Russlands getrieben. Insbesondere haben die Vereinigten Staaten im Oktober 2015 ihre Patriot-Raketen aus der Südosttürkei abgezogen. Diese waren nach einem türkischen Appell an die NATO dort stationiert worden, um das Land vor drohenden Raketenangriffen aus dem benachbarten Syrien zu schützen. 2017 boten die USA der Türkei dann an, ihr Patriot-Raketen zu verkaufen, aber ohne die zugrunde liegende Technologie.
Daraufhin schloss die Türkei – trotz der Empörung ihrer NATO-Partner – statt dessen ein Multi-Milliarden-Dollar-Waffengeschäft mit Russland ab. (Also sollte Donald Trump, Amerikas selbsternannter Meisterverhandler, Putin nicht nur um dessen Zustimmungswerte beneiden, sondern auch um sein Verhandlungsgeschick.) Als Vergeltung für die türkische Entscheidung, russische S-400-Raketensysteme zu kaufen, haben die USA der Türkei nicht nur mit Sanktionen gedroht, sondern ihr auch den Zugang zu F-35-Tarnkappenbombern verwehrt, indem sie sie von der Teilnahme an einem Programm zu ihrem Bau ausgeschlossen haben.
Aber die Türkei weiß, dass Russland den Syrien-Konflikt prägt und nicht die USA. Und Russland wird auch eine führende Rolle beim potenziell lukrativen Wiederaufbau des Kriegslandes spielen, was es in dieser Hinsicht zu einem viel attraktiveren Partner macht. Weiterhin stärken Putin und der türkische Präsident Recep Tayyip Erdoğan ihre Partnerschaft, indem sie planen, ihre beiden Länder mit der TurkStream-Gaspipeline zu verbinden.
Subscribe now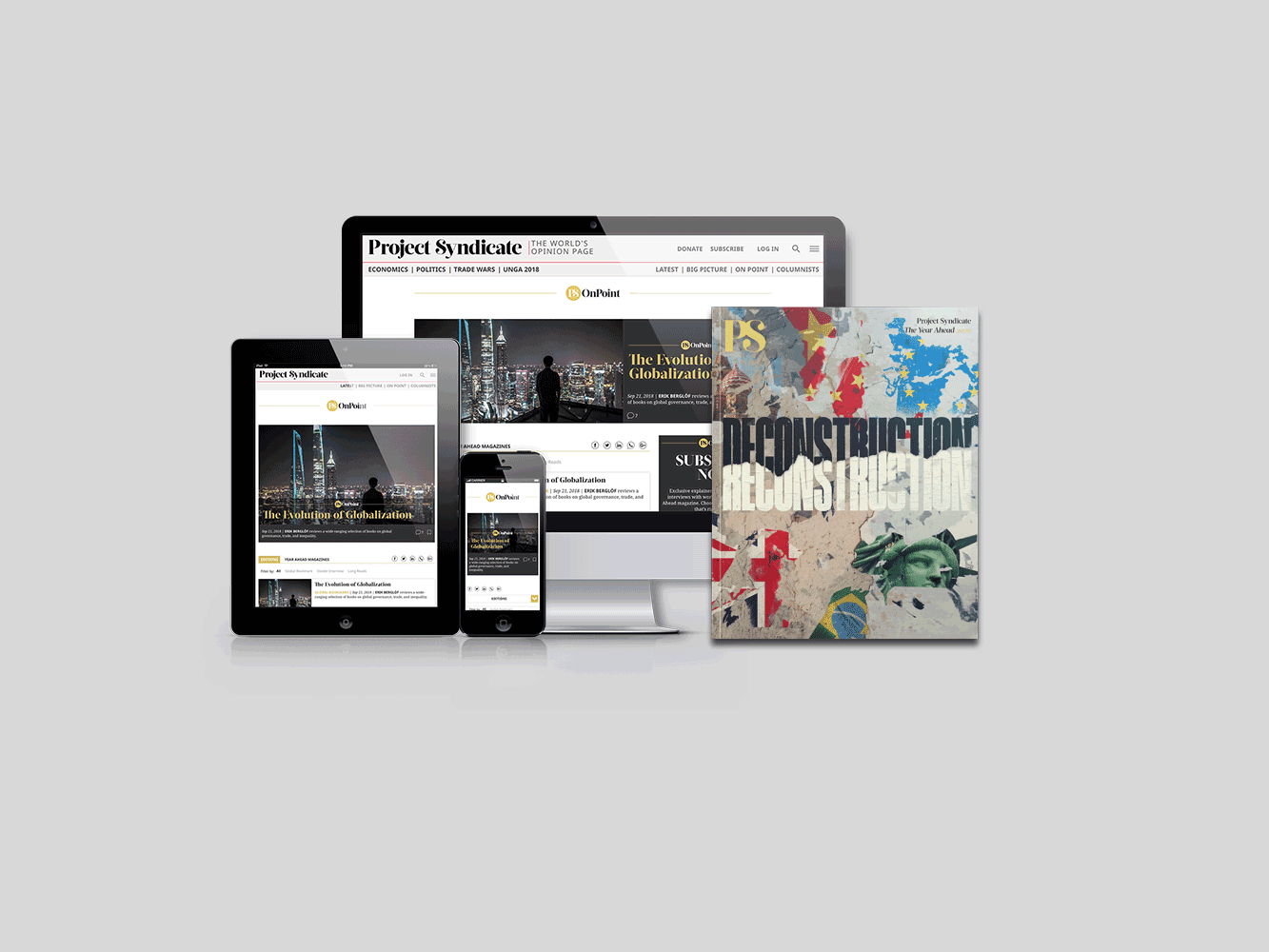 Subscribe now
Subscribe today and get unlimited access to OnPoint, the Big Picture, the PS archive of more than 14,000 commentaries, and our annual magazine, for less than $2 a week.
Außerdem haben Russland und China gemeinsam ein großes neues Gaspipelineprojekt im Wert von 400 Milliarden Dollar über 30 Jahre ins Leben gerufen, und über ein weiteres wird gerade verhandelt. Auch hier hat Putin schnell ein lukratives Vakuum ausgefüllt, das die Trump-Regierung geschaffen hatte – insbesondere durch ihren schlimmen (und selbstzerstörerischen) Handelskrieg gegen China, der trotz der jüngsten "Phase-Eins"-Vereinbarungen durchaus weitergehen könnte.
Laut Putin bringt das Pipelineprojekt die bilaterale "strategische Zusammenarbeit im Energiebereich qualitativ auf ein neues Niveau" und unterstützt das vom chinesischen Präsidenten Xi Jinping aufgestellte Ziel, "den bilateralen Handel bis 2024 auf 200 Milliarden Dollar zu steigern" – also bis zu dem Jahr, in dem Putins "letzte" Amtszeit als Präsident endet. Vielleicht hofft er, die Frucht eines solchen Engagements könne seine Position genug stärken, um ihn an der Macht zu halten – ob nun als Präsident oder in einer anderen Position wie der eines Sicherheitschefs mit erweiterten Befugnissen.
Einen weiteren Sieg aus einem Gasgeschäft konnte Putin gegenüber der Ukraine verbuchen, deren staatlicher Öl- und Gaskonzern Naftogaz gerade eine Zahlung in Höhe von 2,9 Milliarden Dollar von der russischen Gazprom erhalten hat, die im Rahmen einer Stockholmer Schiedsgerichtsentscheidung von 2017 fällig war. Der finanzielle Vergleich war Teil eines größeren Geschäfts zwischen den beiden Unternehmen: eines Fünf-Jahres-Plans ab dem ersten Januar zum Transport russischen Gases durch ukrainische Pipelines nach Europa. Außerdem hat sich Naftogaz einverstanden erklärt, einen weiteren Prozess gegen Gazprom fallen zu lassen.
Obwohl die Proteste, durch die der russlandfreundliche ukrainische Präsident Viktor Janukowitsch 2014 gestürzt wurde und die zur russischen Annektierung der Krim und der Übernahme der Ostukraine durch von Russland unterstützte Separatisten führten, auch durch Besorgnis vor einer Kontrolle durch Putin bestimmt waren, ist die Angst, Russland allein zu konfrontieren, noch größer. Und angesichts dessen, dass die Ukraine im Mittelpunkt des Impeachment-Verfahrens gegen Trump steht, das gerade von US-Repräsentantenhaus beschlossen wurde und bald im Senat verhandelt wird, kann die USA nicht als verlässlicher Partner gesehen werden.
Dies bedeutet nicht, dass sich der ukrainische Präsident Volodymyr Selensky für Russland überschlagen wird. Er einigte sich mit dem Kreml auf einen Austausch von 200 Gefangenen des andauernden Kriegs in der Ostukraine – den zweiten Gefangenenaustausch in diesem Jahr. Der jüngste Pipeline-Deal kann auch als Sieg für die Ukraine betrachtet werden: Bisher hatte Gazprom auf einem Einjahresvertrag bestanden, da der Konzern bereits über die Pipeline Nord Stream 1 verfügt, die durch die Ostsee nach Deutschland führt, und bald auch Nord Stream 2 fertigstellen wird.
Aber die russischen Verhandlungsführer rückten von dieser Forderung ab – vielleicht teilweise in der Hoffnung, den Widerstand gegen das Nord-Stream-Projekt zu lockern. Dazu gehören auch Sanktionen im Rahmen des US-Verteidigungshaushalts von 2020 gegen Unternehmen, die an Nord Stream 2 beteiligt sind. Die Pipeline, so argumentieren die USA, gäbe Russland zu viel Macht über die europäischen Verbündeten Amerikas. Die Sanktionen richten sich auch gegen TurkStream.
Nicht nur Russland möchte, dass Nord Stream funktioniert. Deutschland, der größte Abnehmer des russischen Gases, argumentiert, über seine Energiepolitik sollte nicht in den USA, sondern in Europa entschieden werden. Als ein Schweizer Auftragsunternehmen aufgrund der Sanktionen gehorsam (aber widerstrebend) seine Arbeit einstellte, meldeten die Deutschen sofort, sie würden einen anderen Weg finden, um die Arbeit so schnell wie möglich zu beenden.
Dies wurde von russischen Politikern bestätigt, die betonten, Gazprom habe dafür bereits andere Unternehmen an der Hand. Es gäbe "keinen Grund zur Besorgnis", behauptete Ministerpräsident Dmitrî Medwedew, insbesondere über die Gastransitvereinbarung mit der Ukraine. Wie auch beim Nahen Osten und China weiß Putin, dass jetzt, wo Europas Verhältnis zu den USA erheblich belastet ist, der ideale Zeitpunkt ist, um seine Position gegenüber seinem Nachbarn zu stärken.
Putin mag eine gute Langfriststrategie zur Rettung der russischen Wirtschaft haben oder nicht –seine Pipeline-Politik hat jedenfalls zu einer Reihe eindrucksvoller außenpolitischer Erfolge geführt. Und dieser Ansatz könnte ihm genug Prestige verschaffen, um seine lange Siegesserie fortzusetzen.
Aus dem Englischen von Harald Eckhoff