Europas Problem mit dem harten Kern
PRINCETON – Die Wahl des französischen Präsidenten Emmanuel Macron und die Wiederwahl von Angela Merkel, die voraussichtlich vier weitere Jahre deutsche Bundeskanzlerin bleiben wird, stehen in krassem Widerspruch zu den Entwicklungen im übrigen Europa, das immer instabiler und weniger vorhersehbar geworden ist. Es stellt sich die Frage, ob der harte deutsch-französische Kern der Europäischen Union allmählich zu hart für die übrigen Mitgliedsländer wird. Wenn dem so sein sollte, müssen sich diejenigen, die von einer "immer engeren Union" träumen, womöglich mit einer etwas erweiterten deutsch-französischen Achse begnügen.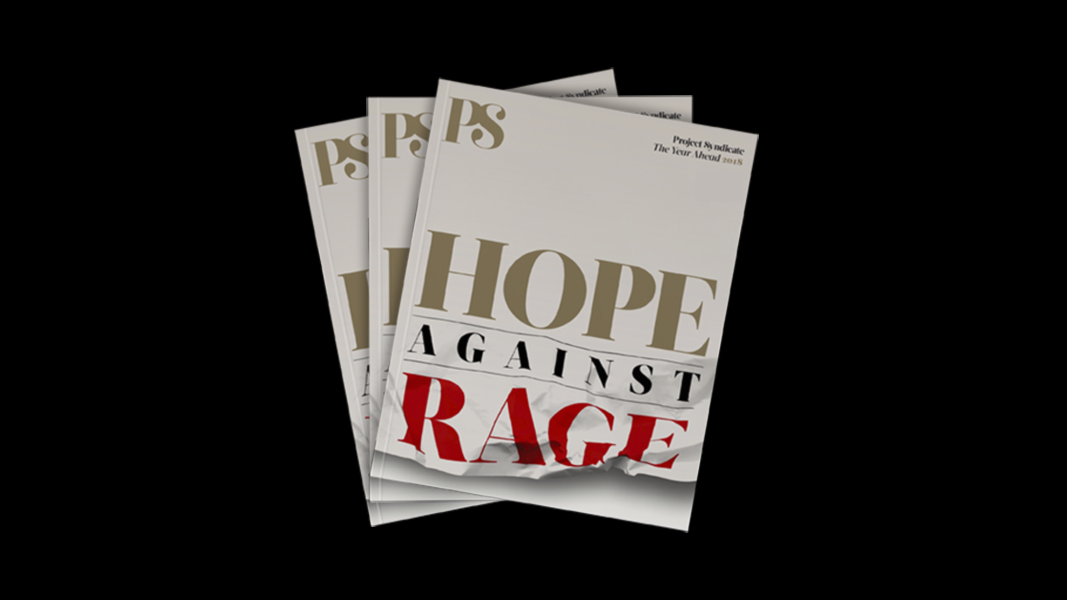 The Year Ahead 2018
The world's leading thinkers and policymakers examine what's come apart in the past year, and anticipate what will define the year ahead.
Europa wird heute von Zentrifugalkräften auseinandergerissen, unter anderen von der Unabhängigkeitsbewegung in Katalonien und den zurückhaltenderen Autonomiebestrebungen der italienischen Regionen Lombardei und Venetien. In Ungarn und Polen regieren Rechtspopulisten und auch in Österreich könnte es dazu kommen. In Griechenland sind Linkspopulisten an der Macht und in der Tschechischen Republik, wo der Multimilliardär Andrej Babiš bald das Amt des Ministerpräsidenten antreten wird, übernimmt der Populismus der Mitte.
Offensichtlich erzeugt die EU eine herbe Gegenreaktion bei Wählerinnen und Wählern im gesamten politischen Spektrum, wie es der Name der siegreichen Partei von Andrej Babiš, "Aktion unzufriedener Bürger", vermuten lässt. Weniger offensichtlich ist, welche Ursache dieser Unzufriedenheit zugrunde liegt.
Oft heißt es, Populismus sei die unweigerliche Antwort der Opfer der Globalisierung. Diese Behauptung wird jedoch durch die starke Wirtschaftsleistung in der Tschechischen Republik, Ungarn und Polen widerlegt. Und sie erklärt auch nicht, warum die Katalonien-Krise zu einem Zeitpunkt ausgebrochen ist, an dem Spanien eine kräftige Konjunkturerholung verzeichnet oder warum Griechenland anfällig bleibt. Der ebenfalls gern als Übeltäter ausgemachte Zustrom von Flüchtlingen hat ein überzeugendes Alibi: Tatsächlich gibt es sehr wenige Asylsuchende in den Ländern, die an vorderster Front gegen die EU-Migrationspolitik wettern.
Um herauszufinden, welche Ursache der europäischen Unzufriedenheit zugrunde liegt, müssen wir uns genauer mit der seit langem bestehenden Erwartung befassen, dass die Führung in Europa ausschließlich aus der deutsch-französischen Partnerschaft hervorgehen kann, die über Jahrzehnte die treibende Kraft der europäischen Integration gewesen ist. In der Nachkriegszeit hat der französische Präsident Charles de Gaulle eng mit dem westdeutschen Bundeskanzler Konrad Adenauer zusammengearbeitet, was sich bis in die 1990er-Jahre fortsetzte, als François Mitterrand und Helmut Kohl zu Freunden wurden.
Aufgrund dieser Entwicklungen ging man lange davon aus, dass das übrige Europa einfach gleichziehen sollte, wenn sich Frankreich und Deutschland einig sind. Aber während der Schuldenkrise, die Ende 2009 in der Eurozone einsetzte, hat sich die Macht weg von Frankreich hin zu Deutschland verschoben und viele in Europa begannen, beide als Raufbolde zu betrachten. In Meinungsumfragen beurteilen andere Europäer Franzosen und Deutsche heutzutage als wenig vertrauenswürdig.
Angela Merkel hat sicherlich polarisiert. Vor September 2015 waren viele Europäer der Meinung, dass sie zu sehr auf eine Sparpolitik fixiert ist, die zur Verschärfung der Euro-Krise geführt hat. Anschließend gab sie Europas humanitäre Antwort auf die Flüchtlingskrise, was ihr Lob von ehemaligen Kritikern, aber die scharfe Missbilligung von Populisten und anderen EU-feindlichen Nationalisten einbrachte, vor allem aus dem Vereinigten Königreich, Frankreich und Mitteleuropa. Heute machen Populisten sie nicht nur für Flüchtlinge verantwortlich, sondern auch für Terrorismus.
Macron hat sich in Mittel- und Osteuropa ebenfalls keinen Gefallen getan. Seine Kritik an der Entsenderichtlinie – die es Arbeitskräften aus diesen Regionen ermöglicht, für weniger Lohn und geringere Lohnnebenkosten zu arbeiten als ihre westeuropäischen Kollegen – hat ihn in einigen Ländern ebenso zum Bösewicht werden lassen wie Angela Merkel.
Während der Euro-Krise haben viele griechische, italienische und spanische Politiker Frankreich als Gegengewicht zu Deutschland betrachtet. Sie dachten, Frankreich würde Deutschlands Drängen auf eine Politik der Austerität zügeln können und sich für höhere Investitionen des öffentlichen Sektors einsetzen. Diese Hoffnung erwies sich jedoch als trügerisch und als Missverständnis der Rolle Frankreichs in der deutsch-französischen Partnerschaft. Gemäß der traditionellen Arbeitsteilung sorgt Frankreich für die Sicherheit Europas und verfügt über die Mittel, Europas Macht im Ausland Geltung zu verschaffen, während Deutschland über die Finanzen und die Wirtschaft im Haus Europa wacht.
Der Konflikt mit Russland nach der Annexion der Krim 2014 war eine sicherheitspolitische Herausforderung für Europa, die das deutsch-französische Duo wirksam bewältigt hat. Doch den Kritikern der EU gefällt die Vorstellung einer aufeinander abgestimmten Außenpolitik ebenso wenig wie ihnen die Vorstellung eines haushalts- und finanzpolitischen Spardiktats mitten in der Rezession gefallen hat.
Die deutsch-französische Partnerschaft ist zwar unter Beschuss geraten, hat aber aufgrund der Entscheidung der Briten, die EU zu verlassen dennoch an Bedeutung gewonnen. Vor dem Brexit-Referendum 2016 betrachteten viele Länder an der Peripherie der EU das Vereinigte Königreich als Schutz vor französischem Dirigismus und deutschen Griffen nach der Macht. Heute ist das Vereinigte Königreich Deutschland und Frankreich in den Austrittsverhandlungen ausgeliefert.
Die Pressefotos, die die britische Premierministerin Theresa May am 20. Oktober beim Besuch in Brüssel zeigen, sind vielsagend und erinnern an den EU-Gipfel im November 2011, als Angela Merkel und der ehemalige französische Präsident Nikolas Sarkozy für den italienischen Ministerpräsidenten Silvio Berlusconi nur ein Augenrollen übrig hatten. Innerhalb weniger Wochen trat Berlusconi von seinem Amt zurück.
Mit Blick auf die Zukunft müssen Frankreich und Deutschland dringend eine gemeinsame Vision entwickeln, die über ihre eigene nationale Politik hinausgeht und echte Reformen auf EU-Ebene propagiert. Im Hinblick auf die Notwendigkeit einer verstärkten Koordination der Verteidigungspolitik und eine Steuerharmonisierung herrscht bereits Einigkeit. Aber das ist nicht genug. Frankreich und Deutschland müssen sich, neben Themen wie eine gemeinsame Finanzpolitik oder die Umstrukturierung von Staatsschulden, vielen weiteren grundsätzlichen Fragen widmen.
Und unabhängig davon, ob es Frankreich und Deutschland gelingt gemeinsame Positionen in bestimmten Bereichen zu finden, müssen alle Politikbereiche für einen Verhandlungsprozess geöffnet werden, an dem alle übrigen EU-Mitgliedsstaaten beteiligt sind. Das übrige Europa muss das Gefühl haben, mit am Tisch zu sitzen. Das ließe sich erreichen, indem Kandidatenlisten für das Europaparlament EU-weit aufgestellt werden, wie von Macron unlängst vorgeschlagen, oder indem europäische Regionen und Städte mit formellen Verfahren einbezogen werden, sodass der Europäische Rat nicht ausschließlich Mitgliedsstaaten vorbehalten ist.
Eine Weiterentwicklung der EU ist immer noch möglich, aber nur wenn sie sich von eng gefassten französischen und deutschen Prioritäten befreit. Was Europa jetzt braucht ist kein harter Kern, sondern ein gemeinsam durchdachter Kurs.
Aus dem Englischen von Sandra Pontow.