A frágil hegemonia do dólar
CAMBRIDGE – O poderoso dólar dos EUA continua a reinar soberanamente nos mercados mundiais. Mas o domínio do dólar pode muito bem ser mais frágil do que parece, porque as mudanças futuras esperadas no regime cambial da China provavelmente desencadearão uma transformação significativa na ordem monetária internacional.
Por muitas razões, as autoridades chinesas irão, provavelmente, um dia, parar de fixar o renminbi à cotação de um cabaz de moedas e mudar para um regime moderno de metas de inflação, sob o qual permitem que a taxa de câmbio flutue muito mais livremente, especialmente em relação ao dólar. Quando isso acontecer, prevê-se que a maior parte da Ásia siga a China. Na devida altura, o dólar, atualmente a moeda âncora para cerca de dois terços do PIB mundial, poderá perder quase metade da sua importância.
Considerando o quanto os Estados Unidos dependem do estatuto especial do dólar – ou do que o então ministro das Finanças francês, Valéry Giscard d'Estaing, apelidou de "privilégio exorbitante" dos EUA – para financiar imensos empréstimos públicos e privados, o impacto de tal mudança pode ser significativo. Dado que os EUA têm usado agressivamente o financiamento do défice para combater a devastação económica resultante da COVID-19, a sustentabilidade da sua dívida pode ser questionada.
O argumento de longa data para uma moeda chinesa mais flexível é que a China é simplesmente demasiado grande para deixar a sua economia dançar ao som da Reserva Federal dos EUA, mesmo que os controlos de capital chineses forneçam alguma medida de afastamento. O PIB da China (medido a preços internacionais) ultrapassou o dos EUA, em 2014, e ainda está a crescer muito mais rápido do que os EUA e a Europa, tornando a ideia de maior flexibilidade da taxa de câmbio cada vez mais irresistível.
Um argumento mais recente é que a centralidade do dólar dá ao governo dos EUA muito acesso às informações sobre transações internacionais. Esta também é uma grande preocupação na Europa. Em princípio, as transações em dólares poderiam ser liquidadas em qualquer parte do mundo, mas os bancos e câmaras de compensação dos EUA têm uma vantagem natural significativa, porque podem ser implícita (ou explicitamente) apoiados pela Fed, que tem capacidade ilimitada de emitir moeda durante uma crise. Em comparação, qualquer câmara de compensação de dólares fora dos Estados Unidos estará sempre mais sujeita a crises de confiança – um problema com o qual até mesmo a zona euro se tem debatido.
Além disso, as políticas do ex-presidente dos Estados Unidos, Donald Trump, para controlar o domínio comercial da China não irão desaparecer tão cedo. Esta é uma das poucas questões em que democratas e republicanos concordam amplamente e há poucas dúvidas de que a desglobalização do comércio enfraquece o dólar.
Subscribe to Project Syndicate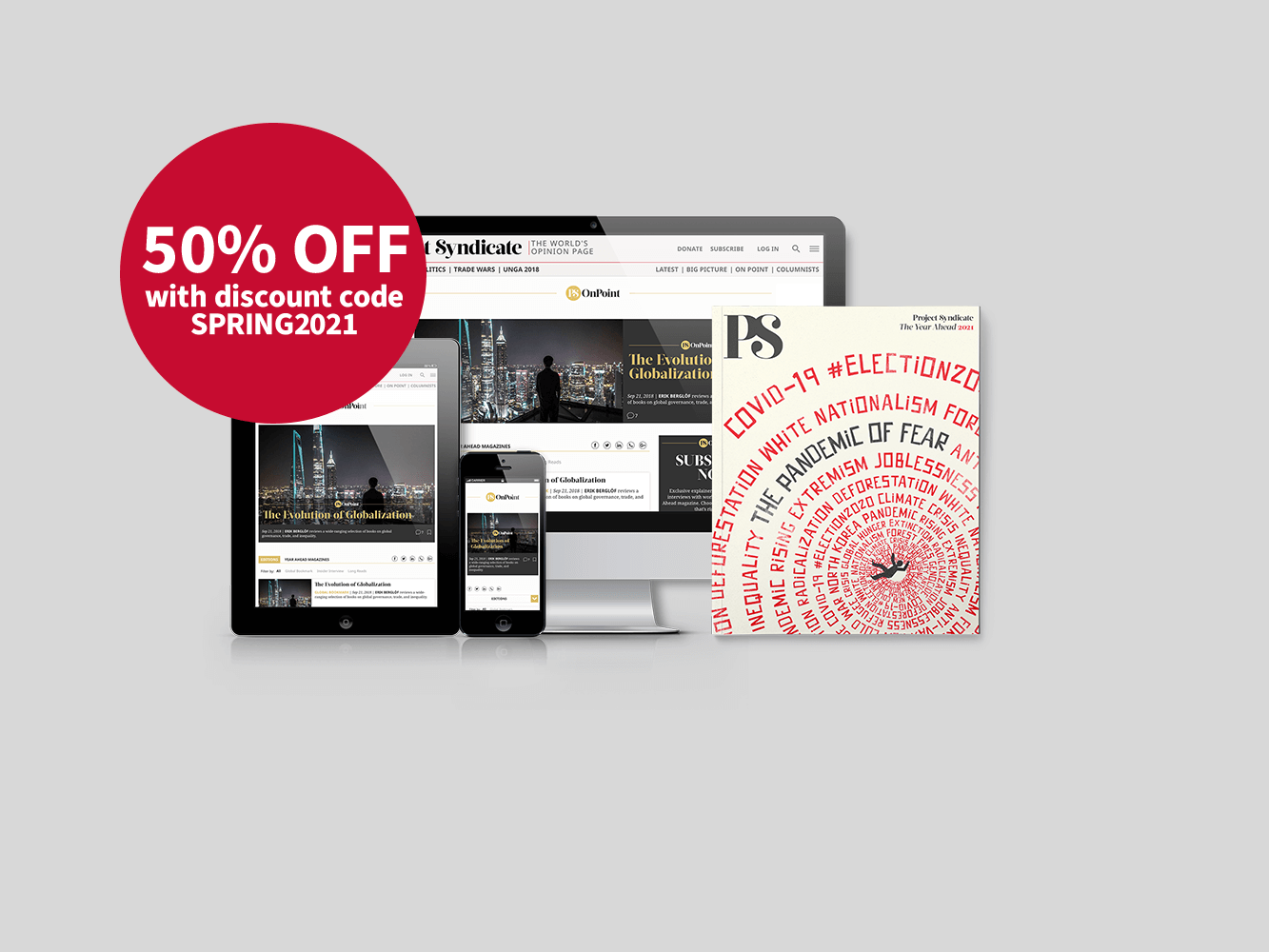 Subscribe to Project Syndicate
Enjoy unlimited access to the ideas and opinions of the world's leading thinkers, including weekly long reads, book reviews, topical collections, and interviews; The Year Ahead annual print magazine; the complete PS archive; and more. All for less than $5 a month.
Os governantes chineses enfrentam muitos obstáculos ao tentarem romper com a atual indexação do renminbi. Mas, num estilo característico, eles foram lentamente lançando as bases em muitas frentes. A China tem permitido gradualmente que investidores institucionais estrangeiros comprem títulos em renminbi e, em 2016, o Fundo Monetário Internacional adicionou o renminbi ao cabaz das principais moedas que determina o valor dos Direitos Especiais de Saque (o ativo de reserva global do FMI).
Além disso, o Banco Popular da China (PBOC) está muito à frente de outros grandes bancos centrais no desenvolvimento de uma moeda digital de banco central. Embora atualmente seja apenas para uso interno, a moeda digital do PBOC acabará por facilitar o uso internacional do renminbi, principalmente em países que gravitem em torno do eventual bloco monetário da China. Isto dará ao governo chinês uma abertura para aceder às transações dos utilizadores do renminbi digital, tal como o sistema atual fornece aos EUA bastante informação semelhante.
Irão os outros países, de facto, seguir a China? Os EUA irão, certamente, esforçar-se bastante para manter o maior número possível de economias a girar em torno do dólar, mas será uma árdua batalha. Assim como os EUA eclipsaram a Grã-Bretanha no final do século XIX como o maior país comercial do mundo, há muito que a China ultrapassou os EUA com a mesma medida.
É verdade que o Japão e a Índia podem seguir os seus próprios caminhos. Mas se a China tornar o renminbi mais flexível, é provável que, no mínimo, concedam à moeda um peso comparável ao do dólar nas suas reservas cambiais.
Hoje, existem paralelos notáveis ​​entre o estreito alinhamento da Ásia com o dólar e a situação na Europa na década de 1960 e início da década de 1970. Mas essa era terminou com uma inflação alta e o colapso do sistema de taxas de câmbio fixas da Bretton Woods do pós-guerra. A maior parte da Europa reconheceu então que o comércio intraeuropeu era mais importante do que o comércio com os EUA. Isso levou ao surgimento de um bloco do marco alemão que décadas depois se transformou na moeda única, o euro.
Isso não significa que o renminbi chinês se irá tornar a moeda mundial da noite para o dia. As transições de uma moeda dominante para outra podem levar muito tempo. Durante as duas décadas entre a Primeira e a Segunda Guerras Mundiais, por exemplo, o novo estreante, o dólar, tinha aproximadamente a mesma importância nas reservas do banco central do que a libra esterlina, que tinha sido a moeda mundial dominante durante mais de um século após as Guerras Napoleónicas no início dos anos de 1800.
Então, qual é o problema de as três moedas mundiais – o euro, o renminbi e o dólar – partilharem o centro das atenções? Nenhum, com a exceção de que nem os mercados nem os governantes parecerem estar de maneira alguma preparados para essa transição. As taxas de empréstimos do governo dos EUA quase certamente seriam afetadas, embora o grande impacto pudesse realmente recair sobre os mutuários corporativos, especialmente as pequenas e médias empresas.
Hoje, parece haver uma forte crença entre os legisladores dos EUA e muitos economistas de que o apetite mundial por dívidas em dólares é quase insaciável. Mas uma modernização dos acordos cambiais da China poderia desferir um golpe doloroso no estatuto do dólar.