Cinq étapes pour 2011
MILAN – Le pire de la crise économique et financière semble être passé. Les marchés d'actifs se sont raisonnablement bien comportés en 2010. Les Etats-Unis et une partie de l'Europe ont renoué avec la croissance. Le désendettement du secteur privé se poursuit, mais est contrebalancé par des déficits et un endettement croissants du secteur public. La croissance des marchés émergents s'est quant à elle rétablie aux niveaux d'avant la crise et semble être durable, grâce à des politiques non orthodoxes destinées à « stériliser » les afflux massifs de capitaux.
Mais pour que les pays émergents continuent à bénéficier d'une croissance forte, il faut que les économies avancées, qui continuent à absorber une partie importante (quoiqu'en déclin) de leurs exportations, ne subissent pas une nouvelle récession importante. Une croissance anémique est gérable. Une croissance négative, ou récession, ne l'est pas.
Les risques récessionnistes des pays avancés et les retombées économiques de leurs politiques de relance sont donc les principales préoccupations des économies émergentes. Dans plusieurs économies avancées, dont les Etats-Unis, les perspectives de croissance et de l'emploi commencent à diverger fortement, mettant en péril la cohésion sociale et l'ouverture économique.
La situation est en grande partie le résultat de dynamiques économiques d'après crise prévisibles, et tient au rétablissement des bilans des ménages et des entreprises des économies avancées. Mais elle reflète également des choix politiques non coopératifs. En fait, les tentatives de coordination de la politique économique des pays du G20, qui représentent 85 pour cent du PIB mondial, n'ont pas donné les résultats escomptés pour 2010.
A quoi pourrait donc ressembler un ensemble coordonné de politiques économiques mondiales ?
La première étape devrait comprendre des plans crédibles de rétablissement de l'équilibre budgétaire en Europe et aux Etats-Unis. Dans le cas de l'Europe, nous parlons d'une solidarité qui permette de recapitaliser les pays dont les déficits et l'endettement leur ont coupé l'accès aux marchés ou les obligent à emprunter à des taux prohibitifs.  Les mesures de restructurations font du tort à l'euro et la consolidation budgétaire des pays en difficulté, bien que nécessaire, ne sera sans doute pas suffisante. Les pays les plus solides au plan économique, notamment l'Allemagne, se retrouvent à assumer le passif résiduel. Une centralisation fiscale et une unification politique plus grandes semblent inévitables, mais il faudra probablement du temps pour parvenir tant bien que mal à ce résultat.
Subscribe to Project Syndicate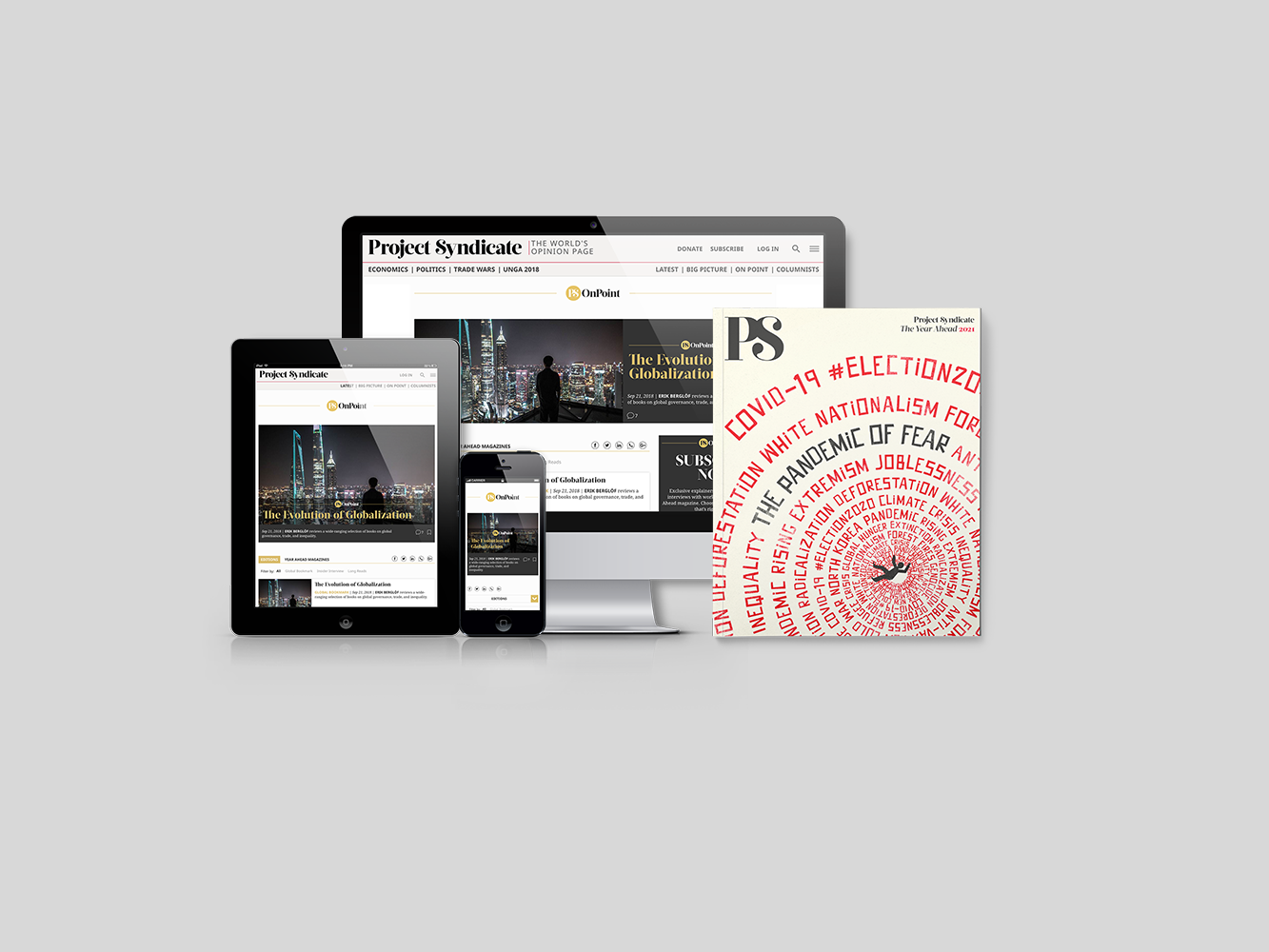 Subscribe to Project Syndicate
Enjoy unlimited access to the ideas and opinions of the world's leading thinkers, including weekly long reads, book reviews, topical collections, and interviews; The Year Ahead annual print magazine; the complete PS archive; and more – for less than $9 a month.
Dans le cas des Etats-Unis, la principale difficulté consiste à rétablir un équilibre budgétaire sans compromettre la reprise économique et la croissance future. Établir un juste équilibre est compliqué par le fait que les républicains craignent que les démocrates n'utilisent les plans de relance pour mettre en place un gouvernement plus large de manière permanente, une voie que la droite (et semble-t-il l'opinion publique en général) ne sont pas prêts à suivre.
La deuxième étape est pour les Etats-Unis de mettre un terme aux mesures d'assouplissement quantitatif qui soumettent les économies émergentes à un tsunami de capitaux, à une augmentation du prix des matières premières, à des poussées inflationnistes et à la création de bulles spéculatives. Des interventions seront peut-être nécessaires dans certains secteurs fragiles de l'économie américaine, comme l'immobilier, où les mauvais résultats pourraient être à l'origine d'une nouvelle récession. Mais ces interventions peuvent et doivent être bien plus ciblées que la politique monétaire QE2. La réticence américaine à cibler des secteurs faibles ou fragiles donne l'impression à l'étranger que l'objectif véritable de la politique monétaire QE2 est d'affaiblir le dollar.
Il n'est par ailleurs pas évident de voir comment cette politique QE2 est sensée produire une croissance sérieuse. Ses partisans affirment qu'elle est le principal instrument politique restant et qu'elle fera la preuve de son efficacité en améliorant le crédit ou en abaissant le taux d'escompte, ce qui devrait à son tour relever le prix des actifs et donc la consommation par le biais des effets de bilan. Mais voulons-nous à nouveau voir les Etats-Unis endettés jusqu'au cou ? Probablement pas.
Du côté bilan, même si une baisse temporaire des taux d'intérêts à long terme pousse les actifs à la hausse, il est peu probable que les ménages, endettés et avec des perspectives d'emploi incertaines, se lancent dans une consommation effrénée. Après tout, l'effet richesse ne produit des résultats que lorsque les gens pensent que la richesse est durable.
La troisième étape consiste pour les économies avancées et émergentes disposant d'excédents chroniques à s'en défaire. Les politiques à mettre en ouvre varient d'un pays à l'autre et comprennent des ajustements structurels.
Dans le cas de la Chine, un élément essentiel de son 12e Plan quinquennal consiste à transférer les revenus vers le secteur des ménages, dont le taux d'épargne est élevé, mais toujours inférieur à celui des entreprises. L'économie pourra ensuite disposer de l'épargne des ménages (par le biais d'institutions financières appropriées) pour financer les investissements privés et publics, au lieu de financer le gouvernement américain. Cet ajustement structurel, combiné à une hausse effective du taux de change réel du renminbi face au dollar, due à l'inflation et à l'augmentation rapide des salaires dans les secteurs à l'exportation, devrait permettre de réduire l'excédent commercial de la Chine.
La quatrième étape a trait au fait que l'économie mondiale sera déséquilibrée tant que les Etats-Unis accusent des déficits importants de leurs comptes courants. Avec la réinitialisation d'après-crise  de la consommation et de l'épargne intérieures, la demande agrégée américaine restera déprimée. A plus long terme, le déficit doit être comblé par une demande plus forte de l'étranger et le développement du potentiel à l'exportation.
Le secteur américain commercialisable est en plein croissance. Ses principaux sous-secteurs – de plus en plus, les services à forte valeur ajoutée (par personne employée) – sont compétitifs et se développent rapidement. Mais ils ne suffisent pas pour combler l'écart. Si la croissance de l'emploi marque le pas dans le secteur non commercialisable – essentiellement le gouvernement et les soins médicaux – le secteur commercialisable devra prendre la relève. Le problème est qu'il ne le peut pas, même avec une monnaie qui se déprécie. Pour que les exportations augmentent de manière substantielle, il faut que le secteur commercialisable se développe.
Enfin, la cinquième étape serait que les principaux pays détenteurs de réserves de change importantes acceptent de les allouer de manière à préserver la stabilité financière mondiale et à empêcher des taux de change trop volatils et des mouvements de capitaux excessifs.
Compte tenu des épisodes de contagion financière dans la zone euro et de l'incertitude persistante concernant la volonté des Etats-Unis à maintenir un dollar fort et une discipline budgétaire, les principaux détenteurs de réserves de change d'Asie et des pays du Golfe doivent faire office de poids stabilisateur.
Aucune de ces étapes n'est simple et chacune d'entre elles prendra du temps. Mais, ensemble, elles devraient contribuer à réduire l'incertitude et à rétablir une stabilité et une croissance inclusive de l'économie mondiale, soutenant l'ouverture de celle-ci. En évitant les choix de deuxième et troisième zones et les accidents de parcours politiques, une politique de coordination économique internationale, bien que difficile à mettre en ouvre, a un rôle vital à jouer.