Cómo explicar la reacción de Europa
TURÍN/NUEVA YORK – ¿Cómo se explica la drástica, costosa e incluso revolucionaria respuesta de Europa a la invasión rusa de Ucrania?
El novedoso compromiso de Alemania con el rearme (que por décadas hubiera causado un escándalo internacional) hoy ha sido muy elogiado. Y ahora que dos países tradicionalmente neutrales como Finlandia y Suecia contemplan unirse a la OTAN, de pronto ya no parece que la Alianza tenga «muerte cerebral». Incluso Suiza abandonó quinientos años de neutralidad para imponer sanciones financieras a Rusia; y aunque la medida causó asombro en todo el mundo, la opinión pública suiza se la tomó con calma. Tal vez lo más sorprendente haya sido el anuncio de Países Bajos y otros estados europeos de que enviarán armas para ayudar a los ucranianos a matar soldados rusos, pese a la rugiente amenaza del presidente ruso Vladímir Putin de que cualquier país que interfiera con su «operación militar especial» pagará un alto precio.
La indignación europea contra la guerra de Putin no se limita a los gobiernos. Cuatro de cada cinco ciudadanos alemanes apoyan la decisión del canciller Olaf Scholz de dar armas a los ucranianos. La oleada actual de solidaridad en la sociedad civil europea refuta la pobre retórica de los putinistas, según la cual un libertinaje decadente ha debilitado el espíritu de lucha de Europa. Por todas partes surgen iniciativas de recaudación de fondos para ayudar a Ucrania. Países a los que se suele catalogar de xenófobos, como Polonia y Hungría, reciben a los refugiados ucranianos con los brazos abiertos. La bandera ucraniana y sus colores pueden verse por todo el continente, en páginas web, en mascotas pintadas, en estadios de fútbol.
Europa ha mostrado más unidad y determinación en los últimos diez días que en los últimos diez años. Pero ¿por qué?
Las democracias, como sostuvo Alexis de Tocqueville hace casi dos siglos, tienden a reaccionar con lentitud a las agresiones. Pero una vez provocadas, tienen una capacidad de movilización militar que ya querrían tener las autocracias. Las capitales europeas se pasaron años sin dar una respuesta decidida al manual de operaciones encubiertas de Putin: ciberataques, noticias falsas, asesinatos, manipulación electoral, financiación de partidos extremistas y de candidatos populistas. Rusia trabaja asiduamente desde 2007 para desestabilizar y dividir a Europa. Los gobiernos europeos ladraron, pero no mordieron. Incluso terminaron aceptando a regañadientes que se anexara Crimea y organizara un movimiento separatista violento en el este de Ucrania (claros actos de guerra y violaciones del derecho internacional).
Tal vez el mundo no pudo prever la fuerte reacción de Europa a la invasión porque supuso que la opinión pública europea, amante de la paz, jamás podría dar un vuelco drástico y abandonar la tibieza con que respondió a los asaltos previos de Putin contra las reglas y normas de una conducta internacional decente y civilizada. Y sin embargo es lo que ocurrió.
Subscribe to PS Digital Now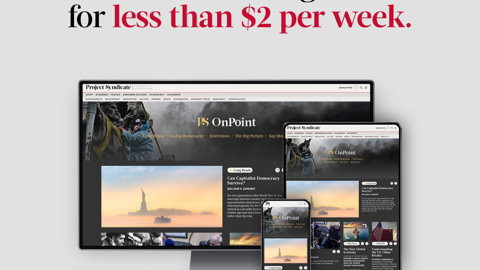 Subscribe to PS Digital Now
Access every new PS commentary, our entire On Point suite of subscriber-exclusive content – including Longer Reads, Insider Interviews, Big Picture/Big Question, and Say More – and the full PS archive.
El horror causado por las imágenes desgarradoras de la barbarie del asalto, y por el sufrimiento de tantos civiles inocentes en suelo europeo, evocador del trauma de la Segunda Guerra Mundial, es parte indudable de la explicación. Pero lo que generó las condiciones para la respuesta actual fue la COVID‑19.
Para empezar, los europeos se han habituado al gobierno de crisis, a enormes gastos públicos en respuesta a situaciones de emergencia y al cierre de las fronteras internacionales. Dos años de medidas de seguridad pública extremas prepararon a la población para el tipo de cambios radicales y repentinos que los gobiernos están haciendo en respuesta a la agresión rusa.
Además (aunque hasta cierto punto se contradiga con el factor antedicho), la población europea lleva tiempo añorando un regreso a la normalidad. Ahora que la crisis de la COVID‑19 parecía estar acercándose a su fin (aunque tal vez no sea así), los europeos esperaban poder trabajar, estudiar y divertirse como a principios de 2020. Pero justo cuando esas esperanzas comenzaban a echar raíces, la guerra electiva de Putin nos hundió a todos otra vez en un estado de emergencia. A diferencia de la pandemia, este último golpe a nuestras vidas no fue un fenómeno natural, sino el plan intencional de un hombre retorcido, vengativo y violento que reemplazó la cada vez más débil amenaza viral contra Europa con una amenaza atómica en formación.
En este sentido, el momento que eligió Rusia para su calculado delito de agresión fue totalmente errado. Como hubiera predicho Tocqueville, cuando en una democracia los ciudadanos se están haciendo esperanzas, frustrarlas en forma deliberada es el modo más seguro de enfurecerlos y estimular su espíritu de lucha.
Estos dos factores, reforzados por la simpatía hacia las víctimas, han creado un estado de ánimo público, de hecho una presión pública, que al menos por un tiempo libera a los gobiernos europeos del temor a una reacción pacifista contra la decisión de responder sin medias tintas a la agresión rusa. El apoyo público mayoritario les dio el margen que necesitaban para actuar sin demora y con una firmeza nunca antes vista.
Pero la dinámica de la pandemia no basta para explicar por qué la dirigencia europea reaccionó en forma tan audaz y decidida, a pesar de las amenazas creíbles del Kremlin. La razón tiene que ser que está conmocionada y temerosa de lo que Rusia pueda hacer a continuación si logra adueñarse de Ucrania. En la práctica, Rusia ya se anexó Bielorrusia, y ha dado claras señales de su intención de situar misiles nucleares en las fronteras con Polonia y Lituania, y tal vez en Kaliningrado, desde donde podrían alcanzar cualquier capital europea en minutos. Ahora parece estar posicionándose para obtener toda clase de concesiones de los gobiernos europeos, que deben tratar con poblaciones que, aunque deseosas de apoyar a Ucrania, tal vez vacilen ante el riesgo de una guerra nuclear.
El razonable temor de los gobiernos a perder apoyo político si Putin apelara a la amenaza nuclear para librar una guerra de nervios contra la población europea tal vez explique su entusiasmo a la hora de entregar armamentos a Ucrania, un acto claramente hostil que desafía las advertencias rusas. Es de suponer que el riesgo de provocar a Putin ahora es preferible a tener que enfrentar a Rusia más tarde, después de que (en el peor escenario) haya conseguido quebrar la voluntad de los defensores de Ucrania.
Es evidente que a Europa le conviene mantener las tropas rusas empantanadas contra una insurgencia implacable (o acaso una guerra abierta) hasta que las fuertes sanciones que ya están dañando la economía rusa erosionen la capacidad de los invasores para sostener una ocupación prolongada.
Mientras tanto, cabe preguntarse hasta cuándo los soldados rusos, cada vez peor alimentados, mal pertrechados y desmotivados, seguirán dispuestos a masacrar a sus hermanos y arrasar sus ciudades. ¿No habrá aunque sea algunos que se sientan tentados a volver al lugar de donde vinieron, para saldar cuentas con el autócrata sanguinario que los envió a combatir una guerra sin sentido?