Europas Reaktion erklären
TURIN/NEW YORK – Wie lässt sich die dramatische, kostspielige und sogar revolutionäre Reaktion Europas auf Russlands Einmarsch in der Ukraine erklären?
Deutschlands neu entdecktes Engagement für die Wiederaufrüstung, das jahrzehntelang einen internationalen Aufschrei ausgelöst hätte, fand großen Beifall. Und da das traditionell neutrale Finnland und Schweden nun erwägen, der NATO beizutreten, sieht das Bündnis plötzlich alles andere als "hirntot" aus. Sogar die Schweiz hat ihre 500 Jahre währende Neutralität aufgegeben, um Finanzsanktionen gegen Russland zu verhängen – und während in der ganzen Welt die Kinnlade herunterfiel, nahm die öffentliche Meinung in der Schweiz dies gelassen hin. Am verblüffendsten war vielleicht die Ankündigung der Niederlande und anderer europäischer Staaten, Waffen zu schicken, um den Ukrainern bei der Tötung russischer Truppen zu helfen, obwohl der russische Präsident Wladimir Putin knurrend gedroht hatte, dass jedes Land, das in seine "spezielle Militäroperation" eingreift, einen grausamen Preis zahlen würde.
Die europäische Empörung über Putins Krieg ist nicht auf die Regierungen beschränkt. Vier von fünf deutschen Bürgern unterstützen die Entscheidung von Bundeskanzler Olaf Scholz, den Ukrainern bei der Bewaffnung zu helfen. Die derzeitige Welle der Solidarität in der europäischen Zivilgesellschaft widerlegt die unverfrorene Rhetorik der Putinisten, wonach verweichlichte Ausschweifungen den Kampfgeist Europas unheilbar geschwächt hätten. Überall schießen Spendeninitiativen zur Unterstützung der Ukraine wie Pilze aus dem Boden. Länder, die oft als fremdenfeindlich bezeichnet werden, wie Polen und Ungarn, nehmen ukrainische Flüchtlinge mit offenen Armen auf. Die ukrainische Flagge und ihre Farben sind nun überall auf dem Kontinent zu sehen, von Webseiten über bemalte Haustiere bis hin zu Fußballstadien.
Europa hat in den letzten zehn Tagen mehr Einigkeit und Entschlossenheit gezeigt als in den letzten zehn Jahren. Aber warum?
Demokratien, so erklärte Alexis de Tocqueville vor fast zwei Jahrhunderten, neigen dazu, auf Aggressionen langsam zu reagieren. Sobald sie jedoch provoziert werden, verfügen sie über eine Fähigkeit zur militärischen Mobilisierung, um die sie Autokratien nur beneiden können. Jahrelang reagierten die europäischen Hauptstädte unentschlossen auf Putins Maschirowka-Taktik mit Cyberangriffen, Fake News, Attentaten, Wahlmanipulation und der Finanzierung extremistischer Parteien und populistischer Kandidaten. Seit 2007 hat Russland unermüdlich daran gearbeitet, Europa zu destabilisieren und es gegen sich selbst aufzubringen. Die europäischen Regierungen haben gebellt, aber nicht gebissen. Selbst die Annexion der Krim und die Schaffung einer gewalttätigen Separatistenbewegung in der Ostukraine – offene Kriegshandlungen und Verstöße gegen das Völkerrecht – wurden letztlich widerwillig hingenommen.
Dass die Welt die heftige Reaktion Europas auf die Invasion nicht vorhergesehen hat, ist wohl auf die Annahme zurückzuführen, dass eine friedliebende europäische Öffentlichkeit niemals eine dramatische Kehrtwende vollziehen würde und ihre eher milde Reaktionsweise auf Putins frühere Angriffe auf die Regeln und Normen eines anständigen, zivilisierten internationalen Verhaltens aufgeben könne. Und doch hat sie genau das getan.
Subscribe to PS Digital Now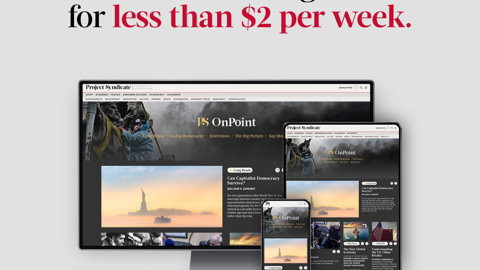 Subscribe to PS Digital Now
Access every new PS commentary, our entire On Point suite of subscriber-exclusive content – including Longer Reads, Insider Interviews, Big Picture/Big Question, and Say More – and the full PS archive.
Das blanke Entsetzen über die grausamen Bilder des Angriffs und das Leid so vieler unschuldiger Zivilisten auf europäischem Boden, das an das Trauma des Zweiten Weltkriegs erinnert, ist zweifellos eine Erklärung für diese Reaktion. Aber es war COVID-19, das den Weg ebnete.
Zunächst einmal sind die Europäer inzwischen an Krisenregierungen, enorme öffentliche Ausgaben als Reaktion auf Notfälle und die Schließung internationaler Grenzen gewöhnt. Zwei Jahre extremer Maßnahmen für die Sicherheit haben die Öffentlichkeit auf genau die Art von radikalen Veränderungen über Nacht vorbereitet, die die Regierungen jetzt als Reaktion auf die russische Aggression vornehmen.
Darüber hinaus – und das steht in gewissem Widerspruch zu diesem Faktor – sehnt sich die europäische Öffentlichkeit intensiv nach einer Rückkehr zur Normalität. Da sich die COVID-19-Krise scheinbar (wenn auch vielleicht nicht) dem Ende zuneigt, erwarteten die Europäer, dass sie wieder so arbeiten, studieren und feiern können wie vor 2020. Doch gerade als diese Hoffnung aufkeimte, hat Putins Krieg der Wahl uns alle wieder in den Ausnahmezustand gestürzt. Anders als die Pandemie war dieser jüngste Schock für unser Leben kein natürliches Ereignis, sondern der vorsätzliche Plan eines verdrehten, rachsüchtigen und gewalttätigen Mannes, der Europas schwindende Viruswolke durch eine sich aufbauende atomare Wolke ersetzt hat.
In diesem Sinne war der Zeitpunkt für Russlands kalkulierte kriminelle Aggression hoffnungslos falsch gewählt. De Tocqueville hätte vorausgesagt, dass das absichtliche Konterkarieren steigender Erwartungen ein sicheres Rezept wäre, um die Bürger der Demokratien zu erzürnen und ihren Kampfeswillen zu wecken.
Diese beiden Faktoren, verstärkt durch die Sympathie für die Opfer, haben eine öffentliche Stimmung und einen öffentlichen Druck erzeugt, der die europäischen Regierungen zumindest vorübergehend von der Furcht vor einer pazifistischen Gegenreaktion auf ihre Entscheidung, kompromisslos auf die russische Aggression zu reagieren, befreit hat. Die überwältigende öffentliche Unterstützung gab ihnen den nötigen Spielraum, um schnell und mit beispielloser Hartnäckigkeit zu handeln.
Doch die Dynamik der Pandemie allein kann nicht erklären, warum die europäischen Staats- und Regierungschefs angesichts der glaubwürdigen Drohungen des Kremls so mutig und entschlossen reagiert haben. Der Grund muss darin liegen, dass sie zutiefst erschüttert sind und Angst davor haben, was Russland als nächstes tun könnte, wenn es die Ukraine übernimmt. Russland hat Weißrussland bereits faktisch annektiert und nachdrücklich angedeutet, dass es atomar bewaffnete Raketen an der polnischen und litauischen Grenze und vielleicht in Kaliningrad stationieren wird, von wo aus sie alle europäischen Hauptstädte innerhalb weniger Minuten erreichen könnten. Russland scheint sich nun in Position zu bringen, um den europäischen Regierungen alle möglichen Zugeständnisse abzuringen, die sich mit Bevölkerungen konfrontiert sehen, die zwar die Ukraine unterstützen wollen, aber vermutlich vor der Gefahr eines Atomkriegs zurückschrecken würden.
Die begründete Furcht der Regierungen, ihre politische Unterstützung zu verlieren, falls Putin die europäische Öffentlichkeit mit einer nuklearer Brinkmanship verunsichert, mag die Bereitschaft erklären, Waffen an die Ukraine zu liefern – ein zweifellos feindseliger Akt, der den russischen Warnungen trotzt. Das Risiko, Putin jetzt zu provozieren, ist vermutlich einer späteren Konfrontation mit Russland vorzuziehen, nachdem es ihm im schlimmsten Fall gelungen ist, den Willen der Verteidiger der Ukraine zu brechen.
Es liegt offensichtlich im Interesse Europas, die russischen Truppen in einem unerbittlichen Aufstand – wenn nicht gar in einem offenen Krieg – zu halten, bis die heftigen Sanktionen, die Russlands Wirtschaft derzeit zermürben, die Fähigkeit der Invasoren untergraben, eine längere Besetzung aufrechtzuerhalten.
In der Zwischenzeit können wir uns fragen, ob die zunehmend schlecht ernährten, schlecht versorgten und unmotivierten russischen Soldaten weiterhin ihre Brüder abschlachten und ihre Städte verwüsten werden. Könnten nicht zumindest einige von ihnen versucht sein, zurück nach Osten zu marschieren, um mit dem blutrünstigen Autokraten abzurechnen, der sie in einen sinnlosen Krieg geschickt hat?
Übersetzung: Andreas Hubig