As notícias falsas vieram para ficar?
CAMBRIDGE – O termo "notícias falsas" (NdT: no original, "fake news") transformou-se num epíteto que o presidente dos EUA, Donald Trump, associa a qualquer relato desfavorável. Mas, além disso, é também um termo analítico que descreve a desinformação deliberada apresentada na forma de um relatório noticioso convencional.
Este problema não é inteiramente inédito. Em 1925, a Harper's Magazine publicou um artigo sobre os perigos das "notícias falsas". Mas actualmente dois terços dos americanos adultos recebem parte das suas notícias nas redes sociais, que se apoiam num modelo de negócio que se presta à manipulação exterior, e onde os algoritmos podem ser facilmente explorados para obter lucros ou para fins nefastos.
Independentemente da sua natureza amadora, criminosa, ou governamental, muitas organizações – tanto nacionais como estrangeiras – são experientes na retroengenharia necessária para saber como as plataformas tecnológicas analisam as informações. À Rússia deve ser dado o mérito de ter sido um dos primeiros governos que compreendeu como as redes sociais podem ser usadas como armas (NdT: no original, "weaponize"), e como usar as próprias empresas americanas contra a América.
Esmagadas pelo enorme volume de informações disponíveis on-line, as pessoas têm dificuldade em saber onde se devem concentrar. A atenção, mais do que a informação, torna-se no recurso escasso que deve ser capturado. Os "big data" e a inteligência artificial permitem o microdireccionamento da comunicação, para que as informações recebidas pelas pessoas sejam limitadas a uma "bolha-filtro" formada por quem pensa de forma igual.
Os serviços "gratuitos" disponibilizados pelas redes sociais baseiam-se num modelo de lucro em que as informações e a atenção dos utilizadores são os verdadeiros produtos, que são depois vendidos aos anunciantes. Os algoritmos são concebidos para conhecerem os assuntos que mantém os utilizadores interessados, para que possam receber mais anúncios e produzir mais receitas.
Emoções como a indignação estimulam o envolvimento, e provou-se que as notícias escandalosas, mesmo sendo falsas, envolvem mais visualizadores do que as notícias verdadeiras. Um estudo concluiu que a probabilidade de partilha dessas falsidades no Twitter era 70% superior à de notícias verdadeiras. Do mesmo modo, um estudo sobre manifestações na Alemanha realizado no início do ano concluiu que o algoritmo do YouTube dirigia sistematicamente os utilizadores para conteúdos extremistas, porque eram esses conteúdos que geravam a maior quantidade de "cliques" e de receitas. A confirmação de factos por parte dos órgãos convencionais de comunicação social é muitas vezes difícil, e pode mesmo ser contraproducente, ao dar ainda mais atenção à falsidade.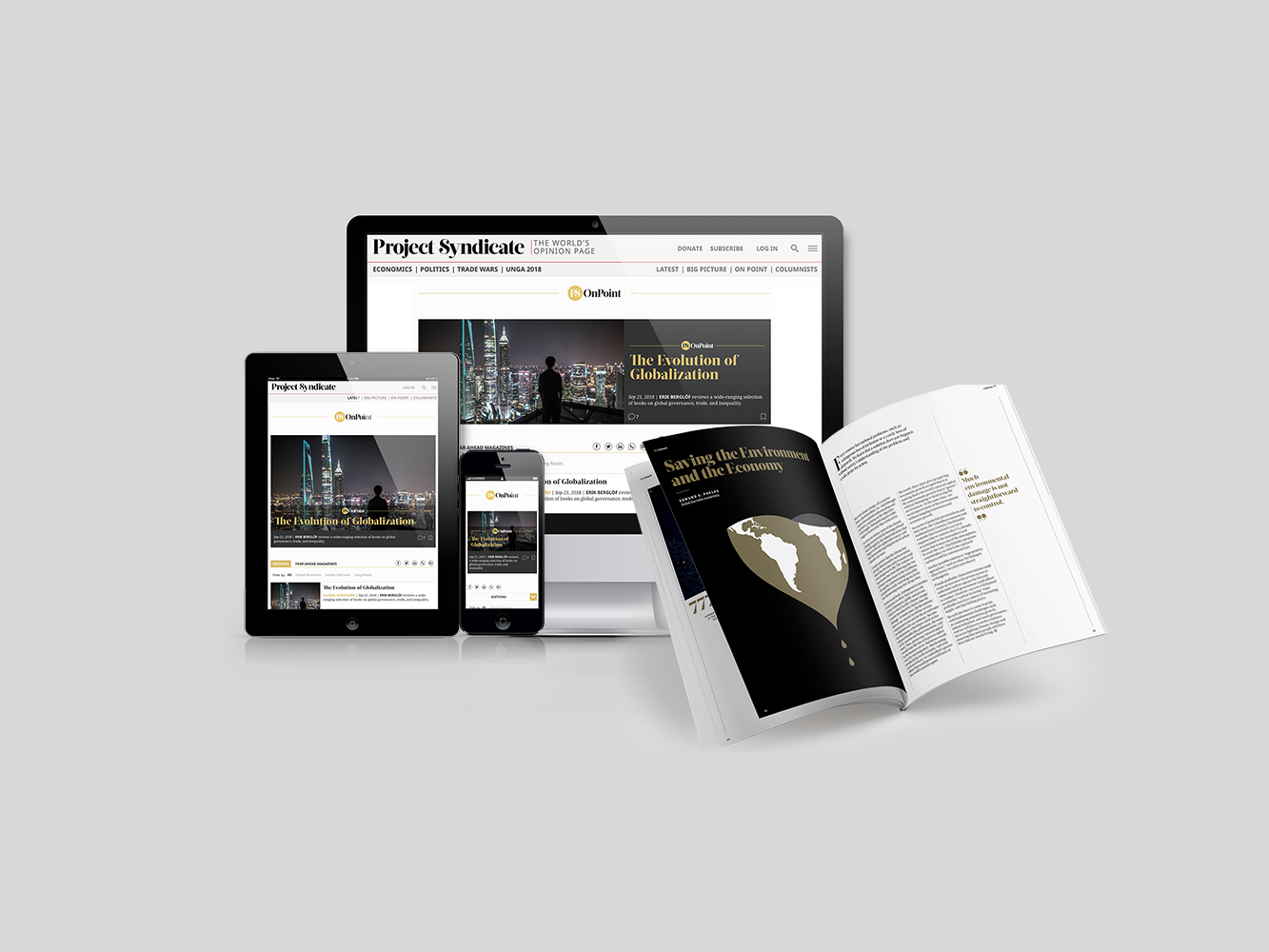 Subscribe now
For a limited time only, get unlimited access to On Point, The Big Picture, and the PS Archive, plus our annual magazine, for less than $2 a week.
Pela sua natureza, o modelo de lucro das redes sociais pode ser usado como arma tanto por intervenientes estatais como não-estatais. Recentemente, o Facebook tem sido alvo de duras críticas devidas à sua histórica sobranceria relativa à protecção da privacidade dos utilizadores. O CEO Mark Zuckerberg admitiu que, em 2016, o Facebook "não estava preparado para as operações de informação coordenadas que enfrentamos regularmente". Contudo, desde então a empresa "aprendeu muito, e desenvolveu sistemas sofisticados que combinam tecnologia e pessoas para evitar interferências eleitorais nos nossos serviços".
Esses esforços incluem a utilização de programas automáticos para descobrir e eliminar contas falsas, a apresentação menos proeminente de páginas do Facebook que disseminem desinformação, a publicação de um relatório sobre transparência que informe o número de contas falsas removidas, a confirmação da nacionalidade dos utilizadores que publicam anúncios políticos, a contratação de mais 10 000 pessoas para tarefas de segurança, e a melhoria da coordenação com as forças de manutenção da lei e com outras empresas para tratar actividades suspeitas. Mas o problema não está resolvido.
Continuará a existir uma corrida ao armamento entre as empresas das redes sociais e os intervenientes estatais e não-estatais que invistam em modos para explorarem os seus sistemas. As soluções tecnológicas, como a inteligência artificial, não constituem uma solução milagrosa. Como são frequentemente mais sensacionistas e escandalosas, as notícias falsas viajam mais e mais depressa que as notícias verdadeiras. As informações falsas são reencaminhadas no Twitter por muito mais pessoas e muito mais depressa que as informações falsas, e a sua repetição, mesmo num contexto de confirmação de factos, pode aumentar a probabilidade de uma pessoa aceitá-las como verdadeiras.
Na preparação para as eleições presidenciais de 2016 nos EUA, a Agência de Investigação da Internet em S. Petersburgo, na Rússia, passou mais de um ano a criar dúzias de contas em redes sociais, disfarçadas de serviços noticiosos locais americanos. Por vezes, os relatórios favoreciam um determinado candidato, mas frequentemente foram concebidos apenas para dar uma impressão de caos e de aversão à democracia, e para reduzir a afluência dos eleitores.
Quando o Congresso aprovou em 1996 a Lei de Decência nas Comunicações, as então jovens empresas das redes sociais foram consideradas fornecedores neutrais de telecomunicações, que permitiam que os seus clientes interagissem entre si. Mas este modelo está hoje claramente ultrapassado. Sob pressão política, as principais empresas começaram a policiar as suas redes com maior cautela e a retirar as notícias obviamente falsas, nomeadamente as propagadas por botnets (NdT: botnet – rede de computadores criada para realização de tarefas automáticas).
Mas a imposição de limites à liberdade de expressão, que está protegida pela Primeira Emenda à Constituição dos EUA, levanta problemas práticos complicados. Embora as máquinas e os intervenientes fora dos EUA não tenham direitos ao abrigo da Primeira Emenda (e, de qualquer forma, as empresas privadas não estão vinculadas à Primeira Emenda), existem grupos e indivíduos abjectos que os têm, e que podem servir de intermediários a influenciadores estrangeiros.
De qualquer forma, o mal feito por intervenientes estrangeiros pode ser inferior ao mal que fazemos a nós próprios. O problema das notícias falsas e da personificação de fontes noticiosas verdadeiras por estrangeiros é de difícil resolução, já que envolve comprometermos os nossos valores mais importantes. As empresas das redes sociais, atentas à possibilidade de serem alvo de ataques por censura, pretendem evitar serem regulamentadas por legisladores que as critiquem simultaneamente pelos pecados da omissão e da comissão.
A experiência obtida durante as eleições europeias sugere que o jornalismo de investigação e o alerta prévio ao público poderão ajudar a vacinar os eleitores contra as campanhas de desinformação. Mas a batalha contra as notícias falsas continuará, muito provavelmente, a ser um jogo do gato e do rato entre os seus fornecedores e as empresas que detêm as plataformas que estes exploram. Tornar-se-á parte do ruído de fundo em eleições por toda a parte. A vigilância constante será o preço para protegermos as nossas democracias.