Seis características da Era da Desinformação
MENLO PARK, CALIFÓRNIA – A preocupação sobre a proliferação da desinformação, da informação errada e da propaganda atingiu um tal ponto, que muitos governos começaram a propor legislação nova. Mas as soluções apresentadas reflectem um entendimento inadequado do problema, e podem ter consequências negativas imprevistas.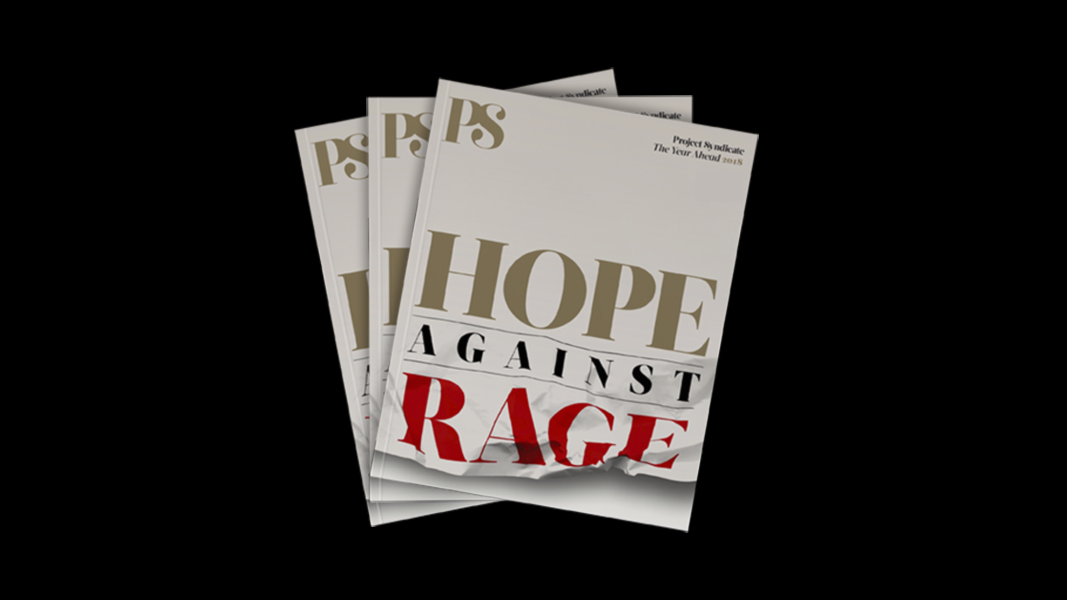 The Year Ahead 2018
The world's leading thinkers and policymakers examine what's come apart in the past year, and anticipate what will define the year ahead.
No passado mês de Junho, o parlamento alemão adoptou uma lei que inclui uma provisão para aplicar multas até 50 milhões de euros (59 milhões de dólares) a sítios populares, como o Facebook e o YouTube, se estes não removerem conteúdos "obviamente ilegais", como discursos de promoção do ódio e incentivos à violência, no prazo de 24 horas. Singapura anunciou planos para implementação, no próximo ano, de legislação similar para lutar contra as "notícias falsas".
Em Julho, o Congresso dos EUA aprovou um conjunto de sanções radicais contra a Rússia, em parte numa resposta ao seu alegado patrocínio de campanhas de desinformação destinadas a influenciar as eleições nos EUA. O diálogo entre o Congresso dos EUA e a Facebook, a Twitter e a Google intensificou-se nas últimas semanas, por terem surgido provas inequívocas de compras de anúncios de campanha por entidades Russas.
Estas acções são vitais para que interrompamos o círculo vicioso da desinformação e da polarização política, que enfraquece a capacidade de funcionamento das democracias. Mas apesar destas intervenções legislativas serem todas dirigidas a plataformas digitais, são frequentemente insuficientes para lidar com seis características que tornam a desinformação e a propaganda de hoje diferentes das de ontem.
Primeiro, temos a democratização da criação e da distribuição de informação. Como notou recentemente Rand Waltzman, que pertencia à Agência de Projectos de Pesquisa Avançada de Defesa (NdT: Defense Advanced Research Projects Agency, ou DARPA), actualmente qualquer indivíduo ou grupo pode comunicar on-line (e, consequentemente, influenciar) com uma grande quantidade de pessoas. Isto traz alguns benefícios, mas também comporta riscos sérios, a começar pela perda dos padrões de excelência jornalística, como os que normalmente existem nas organizações de comunicação social já consagradas. Sem os tradicionais guardiões da comunicação social, o discurso político deixa de basear-se num conjunto comum de factos.
A segunda característica da era da informação digital, subproduto directo da democratização, é a socialização da informação. Hoje, em vez de recebermos a nossa informação directamente de guardiões institucionais que, apesar da execução muitas vezes imperfeita, se encontravam fundamentalmente comprometidos com os padrões editoriais, recebemo-la através da partilha entre pares (NdT: no original, peer-to-peer sharing).
Estas redes formadas pelos pares podem salientar conteúdos com base em factores como os cliques ou as reacções dos amigos, em vez da veracidade ou da importância. Além disso, as informações filtradas através de redes ou de amigos podem constituir uma câmara de eco de notícias que reforça os enviesamentos de cada um (embora exista incerteza considerável quanto à seriedade deste problema). Isso também significa que as pessoas, que de outra forma seriam consumidores moderados de notícias, estão a ser inundadas com polémicas e debates políticos, incluindo posições extremas e inverdades, que aumentam o risco de desinformação ou de polarização de faixas mais amplas do público.
O terceiro elemento da paisagem informativa actual é a atomização: o divórcio entre as notícias individuais e as suas marcas ou fontes. Anteriormente, os leitores conseguiam distinguir facilmente entre as fontes não credíveis, como os tablóides coloridos e sensacionistas à venda nas caixas dos supermercados, e as credíveis, como os jornais locais ou nacionais de longa data. Agora, em contrapartida, um artigo do The New York Times partilhado por um amigo ou um familiar pode não deferir muito de um artigo originário do blogue de um teórico da conspiração. E, como concluiu um estudo recente do American Press Institute, os leitores prestam menos atenção à fonte original de um artigo do que à pessoa que partilha a ligação na sua rede.
O quarto elemento que a luta contra a desinformação deve considerar é o anonimato na criação e distribuição de informações. Às notícias on-line falta frequentemente não só uma marca, mas também uma autoria. Isto encobre conflitos de interesse potenciais, permite a possibilidade de negação aos agentes estatais que intervenham em ambientes informacionais estrangeiros, e cria um terreno fértil à proliferação de bots.
Um estudo de 2015 concluiu que os bots geram cerca de 50% de todo o tráfego na web, com perto de 50 milhões de utilizadores do Twitter e de 137 milhões dos utilizadores do Facebook a exibirem comportamentos não-humanos. Evidentemente, existem bots "bons", que (por exemplo) prestam serviços a clientes ou fazem actualizações meteorológicas em tempo real. Mas também existem muitos intervenientes maus que "minam" os sistemas de informação on-line, para promoverem opiniões extremas e informações incorrectas, conferindo-lhes a aparência de popularidade e aceitação generalizadas.
Em quinto lugar, o ambiente informacional de hoje caracteriza-se pela personalização. Ao contrário das suas contrapartidas impressas, na rádio, ou mesmo na televisão, os criadores de conteúdos para a Internet podem fazer testes A/B (NdT: os testes A/B consistem na difusão de várias versões do mesmo conteúdo, para testar qual das versões tem melhor aceitação) e criar mensagens direccionadas em tempo real.
"Ao aproveitarem a manipulação emocional automatizada por enxames de bots, publicações anónimas no Facebook, testes A/B, e redes de notícias falsas", de acordo com uma exposição recente, grupos como o Cambridge Analytica conseguem criar propaganda personalizada, adaptável e, em última análise, viciante. Diariamente, a campanha de Donald Trump media as respostas a 40 ou 50 000 variantes de anúncios, para depois adaptar e enviar as suas mensagens em conformidade.
O elemento final que separa o actual ecossistema da informação do anterior, como observou Nate Persily, professor de direito em Stanford, é a soberania. Ao contrário da televisão, da imprensa, e da rádio, as plataformas de redes sociais como o Facebook ou o Twitter são auto-reguladas (e são-no de forma pouco eficaz). Apesar das controvérsias que envolveram nas últimas semanas os anúncios da campanha dos EUA, nenhuma destas plataformas consultou peritos especializados, tentando em vez disso procurar resolver estes problemas internamente. Só em meados de Setembro é que o Facebook concordou em revelar informações sobre os anúncios usados em campanhas políticas; ainda recusa ceder dados sobre outras formas de desinformação.
É esta falta de dados que enfraquece as respostas à proliferação da desinformação e da propaganda, para não falar da polarização política e do tribalismo por elas alimentado. O Facebook é o principal culpado: com uma média de 1,32 mil milhões de utilizadores diários activos, tem um impacto enorme, mas a empresa recusa conceder o acesso, a investigadores externos, às informações necessárias para compreender as questões mais importantes na intersecção da Internet com a política (o Twitter partilha dados com os investigadores, mas nisso continua a ser uma excepção).
Vivemos num admirável mundo novo de desinformação. Enquanto os dados de que precisamos para compreendê-lo só estiverem disponíveis para as entidades que os fornecem, as respostas que elaborarmos continuarão a ser inadequadas. E se essas respostas forem mal orientadas, poderão acabar por fazer mais mal do que bem.