Rejeitar a criptomoeda do Facebook
NOVA IORQUE – O Facebook e alguns dos seus aliados corporativos decidiram que aquilo de que o mundo realmente necessita é de outra criptomoeda, e que o lançamento de uma é a melhor maneira para aplicar os vastos talentos de que dispõem. O facto de o Facebook pensar assim revela muito do que está errado com o capitalismo americano do século XXI.
De certa forma, este é um momento curioso para se lançar uma moeda alternativa. No passado, a principal queixa sobre as moedas tradicionais era a sua instabilidade, com a inflação rápida e incerta a transformá-las em fracas reservas de valor. Mas o dólar, o euro, o iene e o renminbi têm-se apresentado notavelmente estáveis. Na verdade, o que hoje é preocupante é a deflação, e não a inflação.
O mundo também evoluiu no sentido da transparência fiscal, o que está a dificultar a utilização do sistema bancário para o branqueamento de capitais e outras actividades desonestas. E a tecnologia permitiu-nos realizar transacções de forma eficiente, transferindo dinheiro entre as contas dos clientes e as dos retalhistas em nano-segundos, com uma protecção contra fraudes notavelmente eficiente. A última coisa de que necessitamos é de um novo veículo que encoraje actividades ilegais e que branqueie os seus proveitos, que será aquilo em que quase certamente se tornará outra criptomoeda.
O verdadeiro problema com as nossas moedas e acordos financeiros existentes, que servem de meio de pagamento para além de reserva de valor, é a falta de regulação e de concorrência entre as empresas que controlam as transacções. Como consequência, os consumidores (especialmente nos Estados Unidos) pagam um múltiplo do que deveriam custar os pagamentos, enchendo assim os bolsos da Visa, da MasterCard, da American Express e dos bancos com dezenas de milhares de milhões de dólares em "rendas" (leia-se: lucros exorbitantes) todos os anos. A Emenda Durbin de 2010 à legislação reformista financeira Dodd-Frank restringe as comissões excessivas cobradas nos cartões de débito apenas de uma forma muito limitada, e não fez nada quanto ao problema muito maior das comissões excessivas associadas aos cartões de crédito.
Outros países, como a Austrália, têm feito um trabalho muito melhor, nomeadamente proibindo às empresas de cartões de crédito o recurso a provisões contratuais para restringir a concorrência, enquanto o Supremo Tribunal dos EUA, em mais uma das suas decisões de 5 a 4, pareceu fazer vista grossa aos efeitos anti-concorrenciais dessas provisões. Mas mesmo que os EUA decidam ter um sistema financeiro não-competitivo e de segunda categoria, a Europa e o resto do mundo deveriam dizer não: não é anti-americano ser a favor da concorrência, como Trump parece ter sugerido recentemente na sua crítica a Margrethe Vestager, a Comissária Europeia para a Concorrência.
É caso para perguntarmos: qual é o modelo de negócio do Facebook, e porque parece haver tantas pessoas interessadas no seu novo empreendimento? Poderá ser que pretendam uma parte dos rendimentos atribuídos às plataformas em que as transacções forem processadas. O facto de acreditarem que um aumento da concorrência não empurrará os lucros para um valor próximo de zero confirma a confiança do sector empresarial na sua capacidade de influenciar o poder do mercado – e no seu poder político, para garantir que o governo não intervenha de modo a refrear esses excessos.
Subscribe now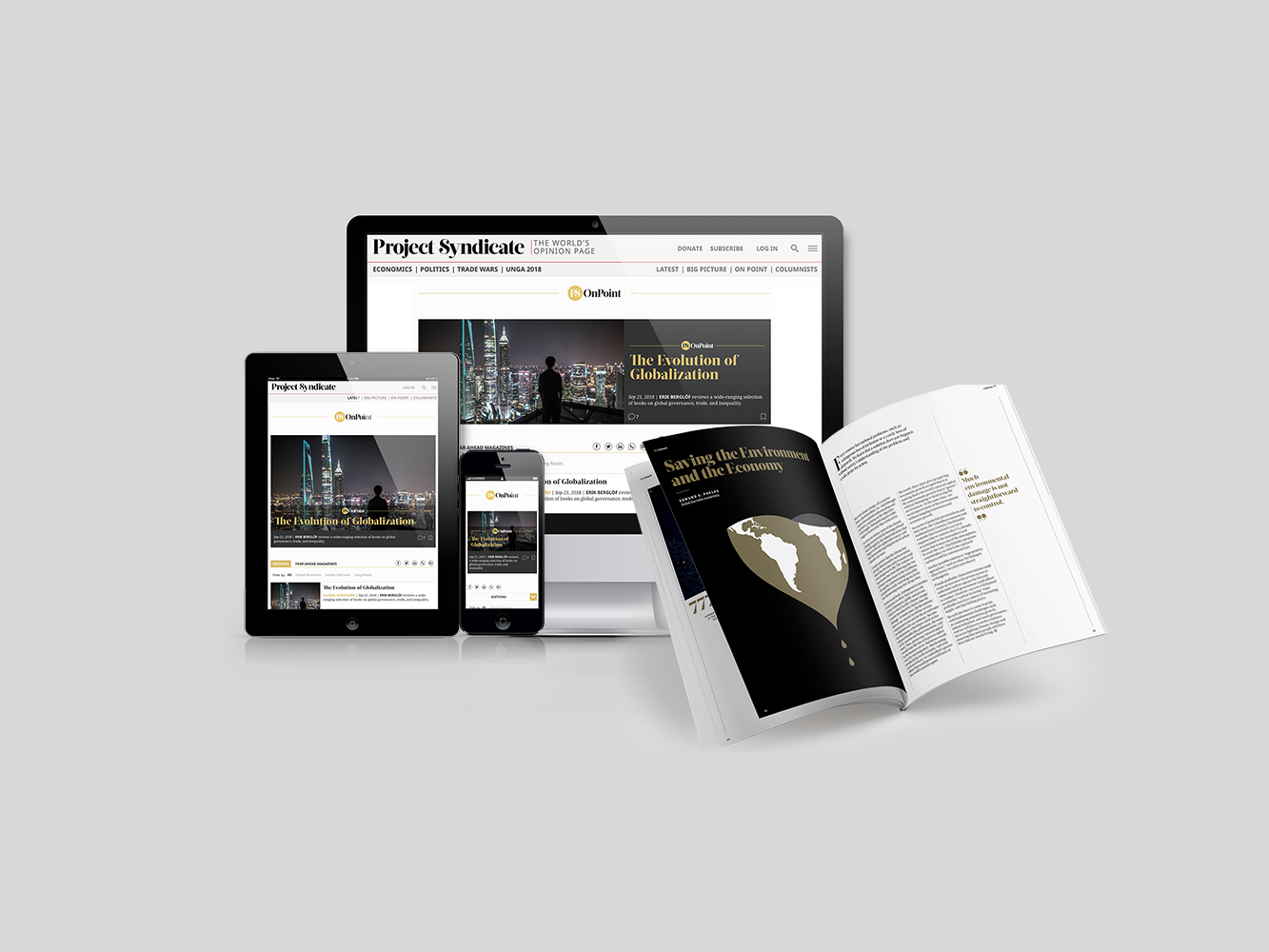 Subscribe now
Get unlimited access to OnPoint, the Big Picture, and the entire PS archive of more than 14,000 commentaries, plus our annual magazine, for less than $2 a week.
Com o compromisso renovado do Supremo Tribunal dos EUA no enfraquecimento da democracia americana, o Facebook e os seus amigos podem pensar que têm pouco a recear. Mas os reguladores, a quem foi confiada não apenas a manutenção da estabilidade, mas também a garantia da concorrência no sector financeiro, deveriam intervir. E noutras paragens do mundo existe menos entusiasmo pela dominação tecnológica da América, com as suas práticas anti-concorrenciais.
Supostamente, o valor da nova moeda denominada Libra será determinado por um cabaz global de moedas e financiado a 100%, presumivelmente por uma combinação de erários públicos. Eis aqui então uma outra fonte possível de receitas: ao não pagar juros por "depósitos" (representados pela troca das divisas tradicionais pela Libra), o Facebook poderá colher um lucro de arbitragem devido aos juros que recebe sobre estes "depósitos". Mas porque concederia alguém um depósito a taxa zero ao Facebook, quando poderia aplicar o seu dinheiro de forma ainda mais segura, como em títulos do tesouro dos EUA, ou num fundo do mercado monetário? (O registo dos ganhos e perdas de capital de cada vez que ocorrer uma transacção, quando a Libra é convertida novamente para a moeda local, e os impostos a pagar parecem ser um impedimento importante, a menos que o Facebook acredite que pode sobrepor-se ao nosso sistema fiscal, como já o fez relativamente a preocupações sobre a privacidade e a concorrência).
Existem duas respostas óbvias à questão do modelo de negócio: uma é que as pessoas que se dedicam a actividades desonestas (incluindo, possivelmente, o actual presidente da América) estão dispostas a pagar uma soma choruda para que as suas actividades desonestas – corrupção, evasão fiscal, tráfico de estupefacientes ou terrorismo – não sejam detectadas. Mas tendo conseguido tantos progressos no impedimento da utilização do sistema financeiro para facilitar actividades criminosas, porque toleraria alguém – e muito menos o governo ou os reguladores financeiros – uma tal ferramenta, apenas porque está rotulada como "tecnológica"?
Se for este o modelo de negócio da Libra, os governos deverão matá-la à nascença. No mínimo, a Libra deve ser sujeita às mesmas regras de transparência que se aplicam ao resto do sector financeiro. Mas nesse caso não seria uma criptomoeda.
Alternativamente, os dados fornecidos pelas transacções em Libras poderiam ser explorados, como todos os outros dados que entram na posse do Facebook – reforçando o seu poder de mercado e os seus lucros, e enfraquecendo ainda mais a nossa segurança e a nossa privacidade. O Facebook (ou a Libra) pode prometer não fazê-lo, mas quem acreditaria nisso?
Depois, existe a questão mais ampla da confiança. Todas as moedas se baseiam na confiança de que os dólares arduamente ganhos e nelas "depositados" serão reembolsáveis à vista. O sector bancário privado há muito que demonstrou que não é digno de confiança neste aspecto, e é por isso que têm sido necessárias novas regulamentações prudenciais.
Mas, em poucos anos, o Facebook alcançou um nível de desconfiança que o sector bancário demorou muito mais tempo a atingir. Repetidamente, os líderes do Facebook, forçados a escolher entre o dinheiro e o cumprimento das suas promessas, apropriaram-se do dinheiro. E nada poderia ter mais a ver com dinheiro do que a criação de uma nova moeda. Só um louco confiaria o seu bem-estar financeiro ao Facebook. Mas talvez seja essa a questão: com tantos dados pessoais sobre cerca de 2,4 mil milhões de utilizadores activos todos os meses, quem sabe melhor que o Facebook quantos tolos nascem em cada minuto?