Daumen runter für Facebooks Kryptowährung
NEW YORK – Facebook und einige verbündete Unternehmen haben beschlossen, dass was die Welt wirklich braucht eine weitere Kryptowährung ist und dass deren Einführung der beste Weg sei, die ihnen zur Verfügung stehenden enormen Talentressourcen zu nutzen. Die Tatsache, dass Facebook das glaubt, sagt viel darüber aus, was mit dem amerikanischen Kapitalismus des 21. Jahrhundert nicht stimmt.
In gewisser Weise ist dies eine merkwürdige Zeit, um eine alternative Währung einzuführen. In der Vergangenheit war die hauptsächliche Beschwerde in Bezug auf traditionelle Währungen deren Instabilität; eine hohe und schwer einschätzbare Inflation machte sie zu einem schlechten Wertspeicher. Doch Dollar, Euro, Yen und Renminbi sind inzwischen alle bemerkenswert stabil. Wenn überhaupt haben wir heute Deflations-, aber keine Inflationssorgen.
Die Welt hat zudem Fortschritte im Bereich der Finanztransparenz gemacht, was eine Nutzung des Bankensystems zum Zweck der Geldwäsche und anderer ungesetzlicher Aktivitäten erschwert. Und die Technologie erlaubt es uns, Transaktionen effizient umzusetzen und Geld innerhalb von Nanosekunden bemerkenswert betrugssicher von den Konten der Kunden auf die des Einzelhandels zu überweisen. Das Letzte, was wir brauchen, ist ein neuer Mechanismus, um illegale Aktivitäten zu erleichtern und die Erlöse daraus zu waschen. Und genau das wird eine weitere Kryptowährung fast mit Sicherheit sein.
Das wahre Problem unserer bestehenden Währungen und Finanzarrangements, die als Zahlungsmittel und auch als Wertspeicher dienen, sind der Mangel an Wettbewerb zwischen den die Transaktionen kontrollierenden Unternehmen sowie deren unzureichende Regulierung. Infolgedessen zahlen die Verbraucher – insbesondere in den USA – ein Mehrfaches von dem, was Zahlungen kosten sollten. Dadurch fließen jedes Jahr "Rentenerträge" (überzogene Gewinne) in zweistelliger Milliardenhöhe in die Taschen von Visa, Mastercard, American Express und den Banken. Der Durbin-Zusatz des Dodd-Frank-Finanzreformgesetzes von 2010 begrenzt die überzogenen Gebühren, die für Debitkarten berechnet werden, nur in sehr begrenztem Umfang, und das viel größere Problem überhöhter Gebühren für Kreditkarten geht es gar nicht an.
Andere Länder wie etwa Australien haben diesbezüglich sehr viel bessere Arbeit geleistet. Sie verbieten es Kreditkartenunternehmen u. a., durch ihre Vertragsbedingungen den Wettbewerb zu beschränken, während der US Supreme Court in einer weiteren seiner 5-zu-4-Entscheidungen über die wettbewerbsfeindlichen Auswirkungen derartiger Bestimmungen hinwegzusehen schien. Doch selbst wenn sich die USA für ein wettbewerbsfeindliches zweitrangiges Finanzsystem entscheiden, sollten Europa und die übrige Welt nein dazu sagen: Es ist nicht unamerikanisch, für mehr Wettbewerb zu sein, so wie Trump dies jüngst in seiner Kritik an EU-Wettbewerbskommissarin Margrethe Vestager nahezulegen schien.
Man könnte durchaus fragen: Worin besteht Facebooks Geschäftsmodell, und warum scheinen so viele an seinem neuen Unterfangen interessiert zu sein? Es könnte sein, dass sie einen Anteil an den Rentenerträgen abhaben wollen, die den die Transaktionen verarbeitenden Plattformen zufließen. Dass sie überzeugt sind, dass mehr Wettbewerb die Gewinne nicht auf nahe null drücken wird, ist ein Beleg für das Vertrauen des Unternehmenssektors in seine Fähigkeit, seine Marktmacht auszuspielen – und in seine politische Macht, sicherzustellen, dass die Regierung nicht eingreifen wird, um diese Exzesse zu begrenzen.
Subscribe now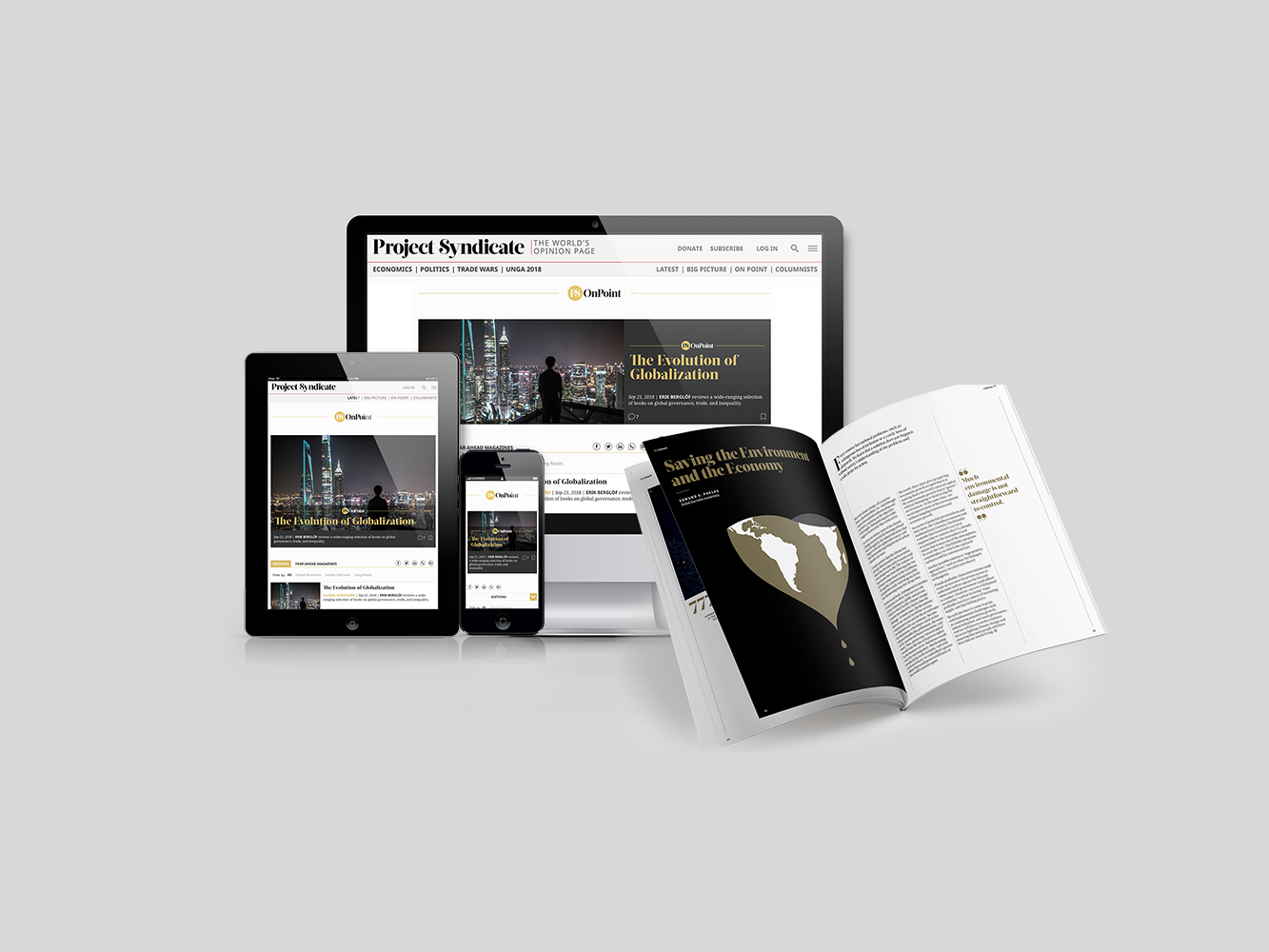 Subscribe now
Get unlimited access to OnPoint, the Big Picture, and the entire PS archive of more than 14,000 commentaries, plus our annual magazine, for less than $2 a week.
Angesichts des neuerlichen Bekenntnisses des US Supreme Court zur Schwächung der amerikanischen Demokratie denken Facebook und seine Freunde womöglich, dass sie kaum etwas zu befürchten haben. Doch sollten die Regulierungsbehörden, die nicht nur mit der Aufrechterhaltung von Stabilität, sondern auch mit der Sicherstellung des Wettbewerbs im Finanzsektor betraut sind, eingreifen. Und anderswo auf der Welt herrscht weniger Begeisterung über Amerikas technologische Dominanz mit ihren wettbewerbsfeindlichen Praktiken.
Es ist anzunehmen, dass der Wert der neuen Währung ("Libra") an einen Korb globaler Währungen gebunden sein und zu 100% mit vermutlich einer Mischung unterschiedlicher Staatsanleihen unterlegt sein wird. Hier also ist eine weitere mögliche Einnahmequelle: Da es keine Zinsen auf "Einlagen" (traditionelle Währungen, die gegen Libras eingetauscht werden) zahlt, kann Facebook einen Arbitrage-Gewinn in Gestalt der Zinsen erzielen, die es für diese "Einlagen" erhält. Doch warum würde irgendwer Facebook zinsfreie Einlagen überlassen, wenn er doch sein Geld in noch sicherere US-Schatzanleihen oder in einen Geldmarktfonds investieren könnte? (Die Erfassung von Kapitalerträgen und -verlusten bei jeder Transaktion, wenn die Libras wieder in die lokale Währung umgewandelt werden, und die fälligen Steuern erscheinen als ein wichtiges Hindernis, sofern Facebook nicht glaubt, dass es sich über unser Steuersystem genauso hinwegsetzen kann wie über Datenschutz- und Wettbewerbsanliegen.)
Es gibt zwei offensichtliche Antworten auf die Frage des Geschäftsmodells: Eine ist, dass diejenigen, die sich an illegalen Aktivitäten beteiligen (was möglicherweise Amerikas derzeitigen Präsidenten einschließt) bereit sind, eine hübsche Summe springen zu lassen, damit ihr schändliches Treiben – Korruption, Steuerhinterziehung, Drogenhandel oder Terrorismus – unentdeckt bleibt. Doch warum sollte irgendjemand – schon gar Regierungen oder Finanzregulierer – einen derartigen Mechanismus tolerieren, einfach weil er das Etikett "Technologie" trägt, nachdem wir so große Fortschritte dabei gemacht haben, die Nutzung des Finanzsystems zur Förderung von Verbrechen zu erschweren?
Wenn dies das Geschäftsmodell der Libra ist, sollte die Regierung dem sofort ein Ende setzen. Zumindest sollte die Libra denselben Transparenzbestimmungen unterliegen, die auf den Rest des Finanzsektors Anwendung finden. Aber dann wäre sie keine Kryptowährung.
Alternativ könnten die bei Libra-Transaktionen entstehenden Daten abgegriffen werden, so wie das mit all den anderen Daten passiert, die in Facebooks Besitz gelangen. Dies würde seine Marktmacht und Gewinne stärken und unsere Sicherheit und den Schutz unserer Privatsphäre weiter untergraben. Facebook (oder Libra) wird möglicherweise versprechen, das nicht zu tun, aber wer würde das schon glauben?
Dann ist da die allgemeinere Frage des Vertrauens. Jede Währung beruht auf der Zuversicht, dass das schwer verdiente Geld, das als "Einlage" in sie fließt, auf Anforderung wieder abrufbar ist. Der private Bankensektor hat schon vor langer Zeit bewiesen, dass er diesbezüglich nicht vertrauenswürdig ist; darum waren neue prudentielle Regeln erforderlich.
Facebook jedoch hat sich innerhalb weniger kurzer Jahre ein Maß an Misstrauen erworben, das zu erreichen der Bankensektor deutlich länger gebraucht hat. Facebooks Führung hat sich, vor die Wahl zwischen Geld und der Einhaltung ihrer Versprechen gestellt, immer wieder für das Geld entschieden. Und nichts könnte sich stärker um Geld drehen als die Schaffung einer neuen Währung. Nur ein Narr würde Facebook sein finanzielles Wohl anvertrauen. Aber vielleicht ist genau das der Punkt: Wer weiß angesichts derart vieler personenbezogener Daten über rund 2,4 Milliarden aktive Nutzer pro Monat besser als Facebook, wie viele Narren in jeder Minute geboren werden?
Aus dem Englischen von Jan Doolan