Duimen omlaag voor Facebooks cryptomunt
NEW YORK – Facebook en een paar van zijn bondgenoten hebben besloten dat wat de wereld écht nodig heeft een nieuwe cryptomunt is, en dat het lanceren ervan de beste manier is om het enorme talent dat zij tot hun beschikking hebben te gebruiken. Het feit dat Facebook dit denkt onthult veel van wat er mis is met het eenentwintigste-eeuwse Amerikaanse kapitalisme.
Op sommige manieren is het een merkwaardige tijd om een alternatieve munt te lanceren. In het verleden had de voornaamste klacht over traditionele munten betrekking op hun instabiliteit; een snelle en onzekere inflatie maakte hen tot een slechte opslagplaats voor waarde. Maar de dollar, de euro, de yen en de renminbi zijn allemaal opmerkelijk stabiel gebleken. Hoe dan ook gaan de zorgen vandaag de dag niet over inflatie, maar over deflatie.
De wereld heeft ook vooruitgang geboekt op het terrein van de financiële transparantie, waardoor het veel moeilijker is geworden om het bankenstelsel te gebruiken voor het witwassen van geld en andere laakbare activiteiten. En de technologie heeft het ons mogelijk gemaakt transacties op efficiënte wijze te voltooien, door geld van de rekeningen van klanten in nanoseconden op die van detailhandelaren over te boeken, met een opmerkelijk goede bescherming tegen fraude. Het laatste wat we nodig hebben is een nieuw vehikel voor het bevorderen van illegale activiteiten en het witwassen van de opbrengst daarvan, wat een nieuwe cryptomunt vrijwel zeker zal blijken te zijn.
Het echte probleem met onze bestaande munten en financiële arrangementen, die dienen als betaalmiddel en als opslagplaats voor waarde, is het gebrek aan concurrentie tussen en regulering van de bedrijven die de transacties controleren. Als gevolg daarvan betalen consumenten – vooral in de Verenigde Staten – een meervoud van wat deze transacties zouden moeten kosten, waardoor ze ieder jaar de portemonnees spekken van Visa, Mastercard, American Express en de banken, met tientallen miljarden dollars aan buitensporige winsten als gevolg. Het Durbin Amendment op de Dodd-Frank-wetgeving over financiële hervormingen uit 2010 beperkte de excessieve vergoedingen die voor debitcards werden gevraagd slechts in zeer beperkte mate, en deed niets aan het veel grotere probleem van de excessieve vergoedingen voor creditcards.
Andere landen, zoals Australië, hebben het veel beter aangepakt, onder meer door het de creditcardmaatschappijen te verbieden contractuele bepalingen te gebruiken om de concurrentie in te perken, terwijl het Amerikaanse Hooggerechtshof, bij een van zijn met vijf tegen vier stemmen genomen beslissingen, blind leek voor de anti-competitieve gevolgen van dergelijke bepalingen. Maar zelfs als de VS besluiten om een niet-competitief tweederangs financieel systeem te hebben zouden Europa en de rest van de wereld nee moeten zeggen: het is niet anti-Amerikaans om pro-concurrentie te zijn, zoals Trump onlangs lijkt te hebben geopperd in zijn kritiek op de Europese Commissaris voor Mededinging Margrethe Vestager.
Je zou je kunnen afvragen: wat is het bedrijfsmodel van Fcebook, en waarom lijken zo velen geïnteresseerd in deze nieuwe onderneming? Het zou kunnen dat zij een deel van de winsten willen opstrijken die voortvloeien uit de platforms die de transacties verwerken. Het feit dat zij denken dat meer concurrentie die winsten niet omlaag zal drijven naar bijna nul is een bewijs van het vertrouwen van het bedrijfsleven in zijn vermogen om marktmacht uit te oefenen – en in zijn politieke macht om ervoor te zorgen dat de overheid niet tussenbeide zal komen om deze excessen in te perken.
Subscribe now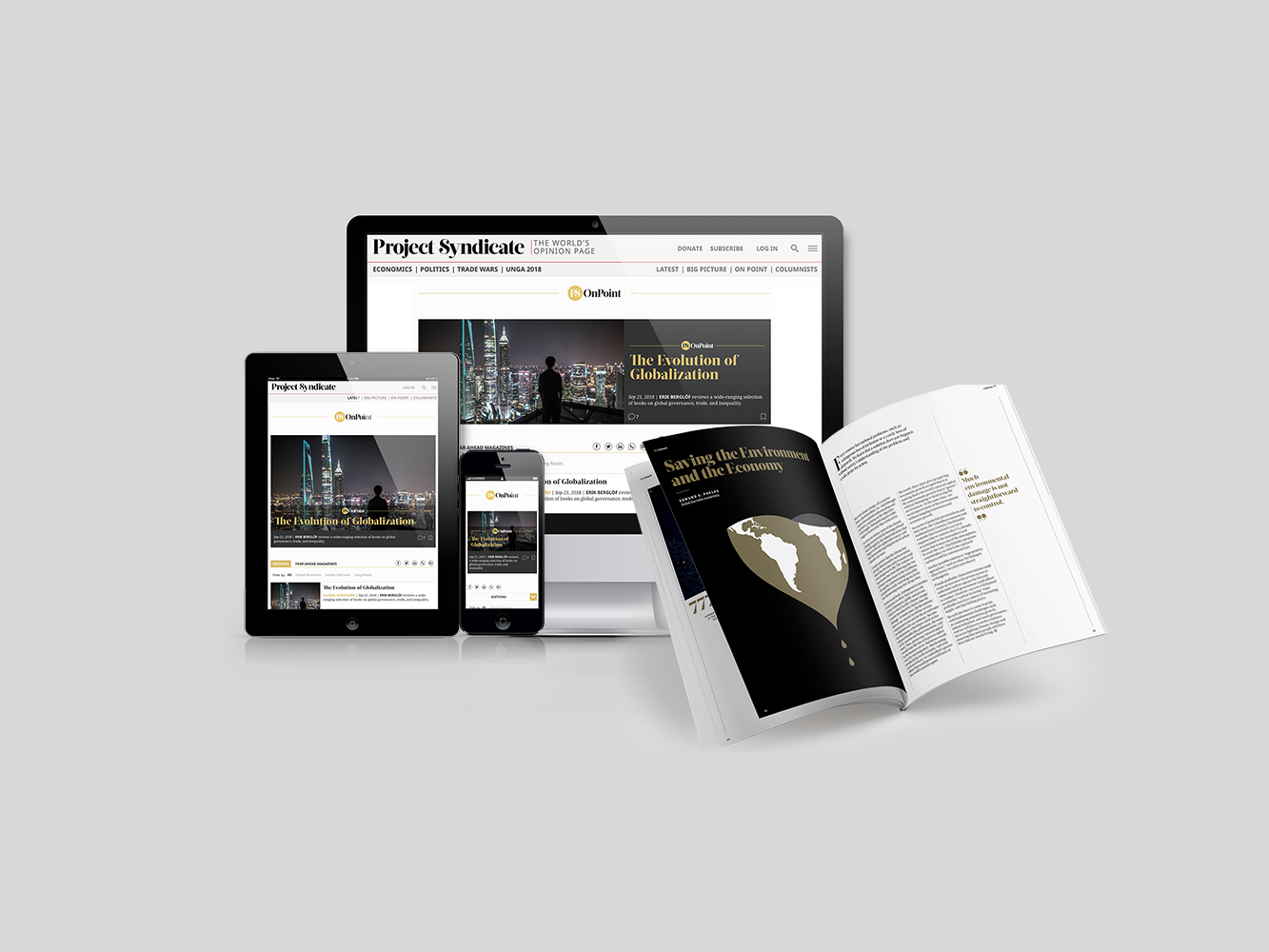 Subscribe now
Get unlimited access to OnPoint, the Big Picture, and the entire PS archive of more than 14,000 commentaries, plus our annual magazine, for less than $2 a week.
Nu het Amerikaanse Hooggerechtshof er opnieuw op gebrand lijkt de Amerikaanse democratie te ondermijnen, zouden Facebook en zijn vrienden kunnen denken dat ze weinig te vrezen hebben. Maar de toezichthouders, die niet alleen zijn belast met het behoud van de stabiliteit, maar ook met het garanderen van de concurrentie in de financiële sector, zullen moeten ingrijpen. En elders in de wereld is er minder enthousiasme voor de technologische dominantie van Amerika, met zijn anti-competitieve praktijken.
De waarde van de nieuwe cryptomunt Libra zal vermoedelijk worden vastgesteld aan de hand van een mondiaal mandje valuta's en voor 100% worden ondersteund – waarschijnlijk door een mix van staatsobligaties. Hier is dus nóg een mogelijke bron van inkomsten: door geen rente te betalen op "deposito's" (traditionele valuta's die worden ingeruild tegen Libra), kan Facebook een arbitragewinst ontlenen aan de rente die het op deze "deposito's" ontvangt. Maar waarom zou ook maar iemand Facebook een deposito met een nulrente gunnen, als het ook mogelijk is je geld te beleggen in een nog veiliger Amerikaanse staatsobligatie of in een geldmarktfonds? (De registratie van kapitaalwinsten en -verliezen, iedere keer dat zich een transactie voordoet als de Libra wordt omgezet in een lokale valuta, evenals de verschuldigde belastingen, lijken een belangrijk obstakel, tenzij Facebook denkt een loopje te kunnen nemen met ons belastingstelsel, net zoals het dat heeft gedaan met onze privacy- en mededingingszorgen.)
Er zijn twee voor de hand liggende antwoorden op de vraag over het bedrijfsmodel: een daarvan is dat mensen die zich inlaten met laakbare activiteiten (mogelijkerwijs ook de huidige Amerikaanse president) bereid zijn aardig wat geld neer te tellen om deze activiteiten – corruptie, belastingontduiking, drugshandel of terrorisme – aan het oog te onttrekken. Maar waarom zou iemand – laat staan de overheid of de financiële toezichthouders – zo'n instrument tolereren, simpelweg omdat er het label "tech" op staat, nu we zo veel vooruitgang hebben geboekt bij het belemmeren van het gebruik van het financiële stelsel om misdaad te faciliteren?
Als dit het bedrijfsmodel van Libra is  zouden regeringen het onmiddellijk de nek om moeten draaien. Op z'n minst moet Libra worden onderworpen aan dezelfde transparantieregels die gelden voor de rest van de financiële sector. Maar dan zou het geen cryptomunt meer zijn.
Andersom kunnen de data van de Libra-transacties worden geëxploiteerd, zoals alle andere data die in het bezit van Facebook komen – waardoor de marktmacht en de winst van Facebook worden vergroot en onze veiligheid en privacy nog verder worden ondermijnd. Facebook (of Libra) zouden kunnen beloven om dat niet te doen, maar wie zou dat geloven?
Dan is er nog het bredere vraagstuk van het vertrouwen. Iedere valuta is gebaseerd op het vertrouwen dat de zwaar verdiende dollars die erin worden "belegd" op ieder gewenst moment kunnen worden opgevraagd. De particuliere bankensector heeft lang laten zien in dit opzicht onbetrouwbaar te zijn, wat de reden is dat nieuwe prudentiële regelgeving noodzakelijk was.
Maar in een paar jaar tijd heeft Facebook een niveau van wantrouwen geoogst waar de bankensector veel langer over heeft gedaan. Telkens opnieuw hebben de leiders van Facebook, geconfronteerd met de keuze tussen geld of het nakomen van hun beloften, voor het geld gekozen. En niets gaat méér over geld dan het creëren van een nieuwe munt. Alleen een dwaas zou Facebook zijn of haar financiële welzijn toevertrouwen. Maar misschien is dat wel het punt: wie weet beter dan Facebook, op basis van de persoonlijke gegevens van zo'n 2,4 miljard maandelijks actieve gebruikers, hoeveel sukkels er iedere minuut geboren worden?
Joseph E. Stiglitz, hoogleraar economie aan de Columbia Universiteit, was in 2001 een van de winnaars van de Nobelprijs voor de Economie. Hij is een voormalig voorzitter van de Raad van Economische Adviseurs van de Amerikaanse president en een vroegere hoofdeconoom bij de Wereldbank. Zijn meest recente boek is People, Power, and Profits: Progressive Capitalism for an Age of Discontent.