Eine Finanzkrise made in China?
LONDON – Während sich der Internationale Währungsfonds und die Weltbank auf ihre Jahrestagung in der kommenden Woche vorbereiten, richten sich alle Augen auf Evergrande, Chinas zweitgrößten Immobilienentwickler, der offenbar nicht in der Lage ist, seine Schulden in Höhe von 300 Milliarden Dollar bei Banken, Anleihegläubigern, Mitarbeitern und Lieferanten zurückzuzahlen. Da der Immobilienriese am Rande des Bankrotts steht, ist die Welt gezwungen, ein Szenario in Betracht zu ziehen, das sie nie ernsthaft in Erwägung gezogen hat: eine Finanzkrise made in China.
Beobachter haben schnell Parallelen zwischen dem Evergrande-Debakel und früheren Krisen gezogen. Einige vergleichen es mit dem Zusammenbruch der US-Investmentbank Lehman Brothers 2008, der eine massive Banken- und Finanzkrise auslöste. Andere erinnern an den Beinahe-Zusammenbruch des Hedgefonds Long-Term Capital Management im Jahr 1998, der nur durch eine Rettungsaktion der US-Notenbank zum Schutz der Finanzmärkte abgewendet werden konnte. Wieder andere verweisen auf den Zusammenbruch der japanischen Immobilienblase in den 1990er Jahren.
In all diesen Fällen führte die Kombination aus übermäßiger Verschuldung und überbewerteten Vermögenswerten zu Instabilität. Aufgrund der Besonderheiten des chinesischen Banken- und Finanzsystems, das von der Politik und nicht von den Märkten bestimmt wird, bietet jedoch keiner dieser Fälle einen wirklichen Einblick in die Situation bei Evergrande.
Während ein Land wie die Vereinigten Staaten eine Rettungsaktion durchführen kann, wenn ein finanzieller Zusammenbruch bevorzustehen scheint, interveniert China regelmäßig auf den Kapitalmärkten und toleriert nur wenige Risiken für die finanzielle Stabilität. Chinas Währungsbehörden sind daher sehr versiert im Umgang mit den finanziellen Schwierigkeiten inländischer Unternehmen, schützen die in Not geratenen Unternehmen vor einer Ansteckung, sorgen für niedrige Kreditkosten und bieten selektive Rettungsmaßnahmen an.
Es ist unwahrscheinlich, dass sich die chinesischen Behörden bei der Planung solcher Rettungsaktionen mit der Frage herumschlagen, ob ein Unternehmen wirklich "too big to fail" ist, wie es die US-Behörden in den Tagen vor dem Konkurs von Lehman Brothers taten. China würde lieber ein moralisches Risiko eingehen, als die Finanzstabilität zu gefährden.
Daher kann man wohl davon ausgehen, dass China sich einschalten wird, um den Zusammenbruch von Evergrande zu verhindern. Dennoch wird dieser Vorfall in Chinas Wirtschaft zwei große Spuren hinterlassen.
Subscribe to Project Syndicate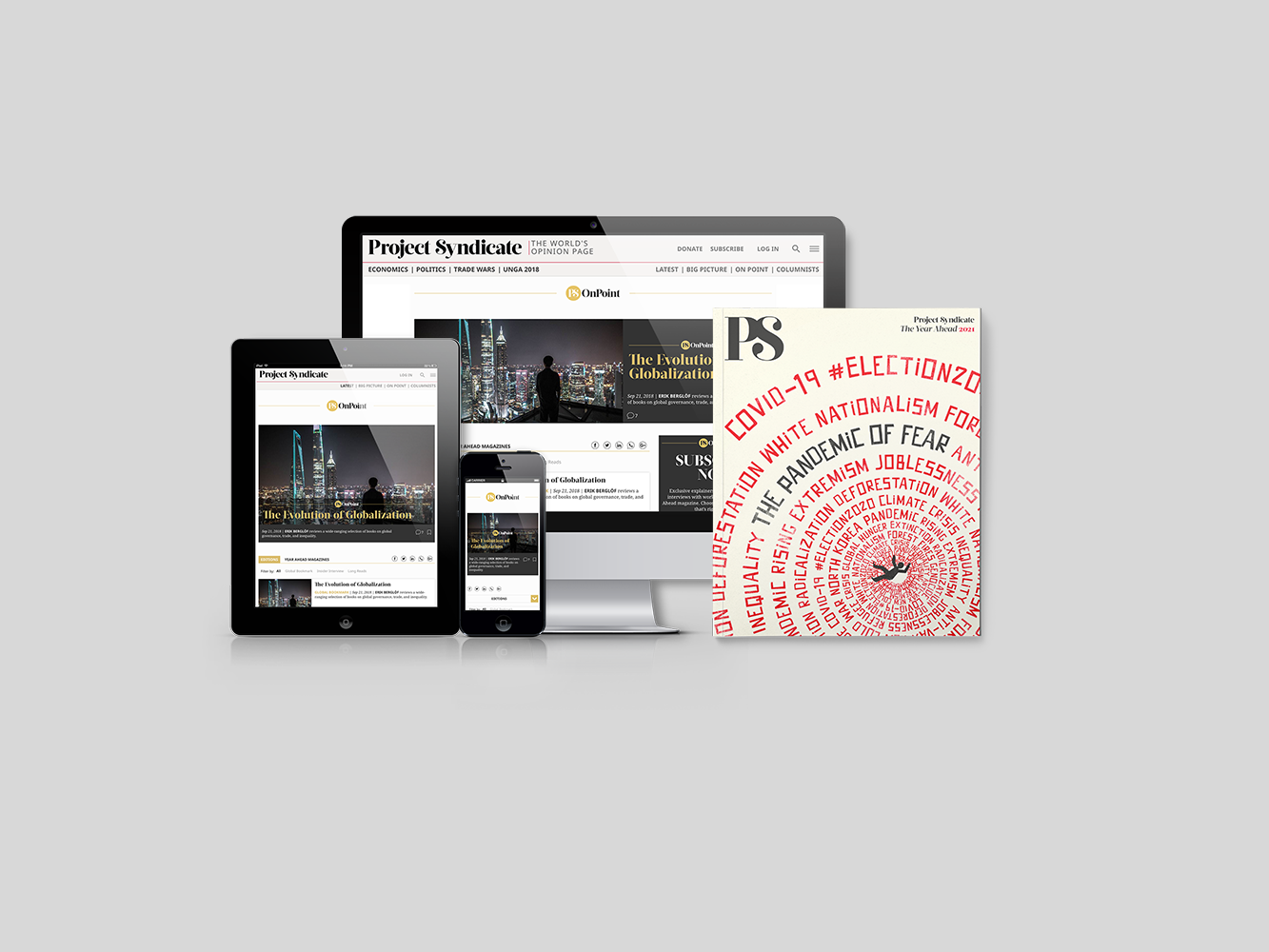 Subscribe to Project Syndicate
Enjoy unlimited access to the ideas and opinions of the world's leading thinkers, including weekly long reads, book reviews, topical collections, and interviews; The Year Ahead annual print magazine; the complete PS archive; and more – for less than $9 a month.
Erstens wird das Vertrauen ausländischer Investoren, die nicht geschützt sind, einen kleinen Schlag erleiden, insbesondere auf Chinas Offshore-Kreditmarkt, der den Risiken von Evergrande besonders ausgesetzt ist. Die Renditen von Chinas Junk-Dollar-Anleihen sind auf etwa 15 % gestiegen und damit auf den höchsten Stand seit etwa einem Jahrzehnt.
Seit seiner Einrichtung im Jahr 2010 ist der Offshore-Markt für Chinas Strategie, den Renminbi zu einer liquiden und frei verwendbaren internationalen Währung zu machen, von zentraler Bedeutung, da er die Umgehung der inländischen Kapitalkontrollen ermöglicht. Ausländische Investoren sind jedoch äußerst vorsichtig, was den Handel mit auf Renminbi lautenden Vermögenswerten auf diesem Markt angeht. Die Evergrande-Saga wird ihre Bedenken zumindest vorläufig noch verstärken und China zwingen, seine Renminbi-Strategie zu überdenken.
Die zweite Narbe wird sich Chinas Realwirtschaft zuziehen. Auf den Immobiliensektor entfallen fast 30 % des chinesischen BIP, verglichen mit 19 % in den USA. Und die Wertschöpfung des Immobiliensektors trägt etwa 6,5 % zum chinesischen BIP bei. (Berücksichtigt man die indirekten Beiträge, wie z. B. die Anlageinvestitionen, so ist der Beitrag des Sektors zum chinesischen Wachstum sogar noch größer).
Die Implosion von Evergrande könnte daher schwerwiegende Folgen für Beschäftigung und Wachstum haben. Sollte sie einen Rückgang der Aktien- und Immobilienpreise auslösen – Wohnimmobilien machen immerhin 78 % des chinesischen Vermögens aus, verglichen mit 35 % in den USA –, könnten auch das Vertrauen der Verbraucher und damit der Konsum Schaden nehmen.
Die Frage ist, ob China in der Lage sein wird, die Evergrande-Krise einzudämmen und zu verhindern, dass ihre Folgen auf die globalen Finanzmärkte übergreifen. Bislang hofft man jedenfalls, dass China das Problem einzudämmen vermag. Selbst wenn Evergrande zusammenbricht, so die Logik, ist das chinesische Banken- und Finanzsystem robust und widerstandsfähig genug, um dies zu verkraften. Darüber hinaus wäre die politische Reaktion auf eine etwaige Instabilität höchstwahrscheinlich wirksam und würde in Geschwindigkeit und Umfang dem Vorgehen der Fed im Jahr 2008 zur Stützung des US-Bankensystems entsprechen. Mehrere politische Instrumente, einschließlich geld- und fiskalpolitischer Lockerungen, stehen zur Verfügung.
Es gibt jedoch keine Garantie dafür, dass die politische Reaktion nicht hinter den Ereignissen zurückbleibt, da politische Erwägungen das Handeln behindern könnten. In diesem Fall würde der Rest der Welt die Auswirkungen zu spüren bekommen.
Seit der globalen Finanzkrise von 2008 hat sich Chinas Finanzsystem zu einem der größten der Welt entwickelt, mit Finanzanlagen in Höhe von fast 470 % des BIP. Und es hat sich durch Investitionsströme und direkte Kreditvergabe stärker mit dem Rest der Welt verflochten. Doch obwohl das chinesische Finanzsystem inzwischen systemrelevant ist, ist nicht klar, ob das internationale Finanzsicherheitsnetz – das von multilateralen Finanzinstitutionen, insbesondere dem IWF, bereitgestellt wird – ausreichend ausgeweitet wurde, um dies zu berücksichtigen.
Dieses Sicherheitsnetz beläuft sich derzeit auf schätzungsweise 2,7 Billionen Dollar (auf der Grundlage der sofort verfügbaren Finanzmittel, ohne die im Voraus gebundenen Mittel). Das ist weniger als die Devisenreserven Chinas, die sich derzeit auf etwa 3,2 Billionen Dollar belaufen. Würde dies ausreichen, um im Falle einer systemischen Krise made in China eine Katastrophe abzuwenden? Würden die USA – der Hauptanteilseigner des IWF – überhaupt zustimmen, dass der Fonds angemessene Hilfe und Mittel zur Verfügung stellt, um eine solche Krise zu bewältigen?
Zum Glück scheint dieses Szenario noch unwahrscheinlich. Aber man sollte es nicht von vornherein ausschließen. Denn wie viele unwahrscheinliche Ereignisse sind in den letzten zwei Jahrzehnten eingetreten? Zumindest sollte uns die Evergrande-Krise aus unserer Selbstgefälligkeit in Bezug auf globale Finanzrisiken aufrütteln. Wir müssen unsere Widerstandsfähigkeit verbessern, anstatt die multilaterale Finanzarchitektur zu politisieren. Und wenn China von einer systemischen Finanzkrise getroffen wird, müssen wir wissen, wer einspringen wird, um den Rest der Welt zu retten – und wie.
Übersetzung: Andreas Hubig