Europeos y japoneses aliados por la esperanza
TOKIO – Geografía aparte, Japón y la Unión Europea nunca estuvieron tan cerca. Con los antiguos vínculos transatlánticos europeos bajo presión y China, que plantea tanto un desafío como una oportunidad, la UE ha buscado aliados con ideas afines en el Pacífico. No hay ninguno mejor que Japón.
El vínculo entre la UE y Japón trasciende el mero interés: es una relación basada en valores compartidos de libertad, democracia y libre mercado. Hoy, esos valores están bajo amenaza. Estados Unidos ha decidido hacer negocios con el mundo en vez de liderarlo, mientras China desafía a la democracia en su entorno y reescribe las normas internacionales diseñadas para mantener la paz y la estabilidad mundial.
Frente al revisionismo chino y la retirada mundial de Estados Unidos, Europa carece de la fortaleza geopolítica y la unidad necesarias para asumir el lugar de Estados Unidos como defensora de un orden multilateral basado en normas. Europa necesita entonces amigos como Japón y es momento de acelerar la marcha en la relación bilateral.
Afortunadamente, la UE y Japón ya han realizado importantes preliminares. Su reciente acuerdo de libre comercio, junto con una creciente asociación estratégica, están enviando señales a los aislacionistas en todas partes. Unas 74 000 compañías de la UE — 78 % de ellas, pequeñas empresas— actualmente exportan a Japón y 550 000 personas en el bloque trabajan para empresas japonesas. El acuerdo comercial entre dos de los cuatro mayores mercados del mundo fortalecerá entonces una relación rentable para ambos.
Europa y Japón deben ahora aprovechar esto con de iniciativas conjuntas en áreas de interés compartido. En especial, destacan cuatro áreas: el comercio internacional, las normas sobre datos y tecnología digital, la inversión en África y la conectividad en Asia.
El primero de estos temas tiene que ver con la Organización Mundial del Comercio, que necesita urgentemente una reforma. Es cierto, los principios de la OMC siguen sólidos, a pesar de lo que manifiestan algunos líderes en el mundo. Pero la maquinaria de esa organización debe actualizarse frente a los intentos de China por reescribir las normas mundiales para que sus monolitos respaldados por el Estado puedan dominar sectores industriales a través de Asia, África y Europa. Estados Unidos, mientras tanto, respondió instigando guerras comerciales que sólo generaron perdedores económicos. El acuerdo comercial entre la UE y Japón, en cambio, muestra que existe un camino más positivo que mejorará el crecimiento.
Subscribe now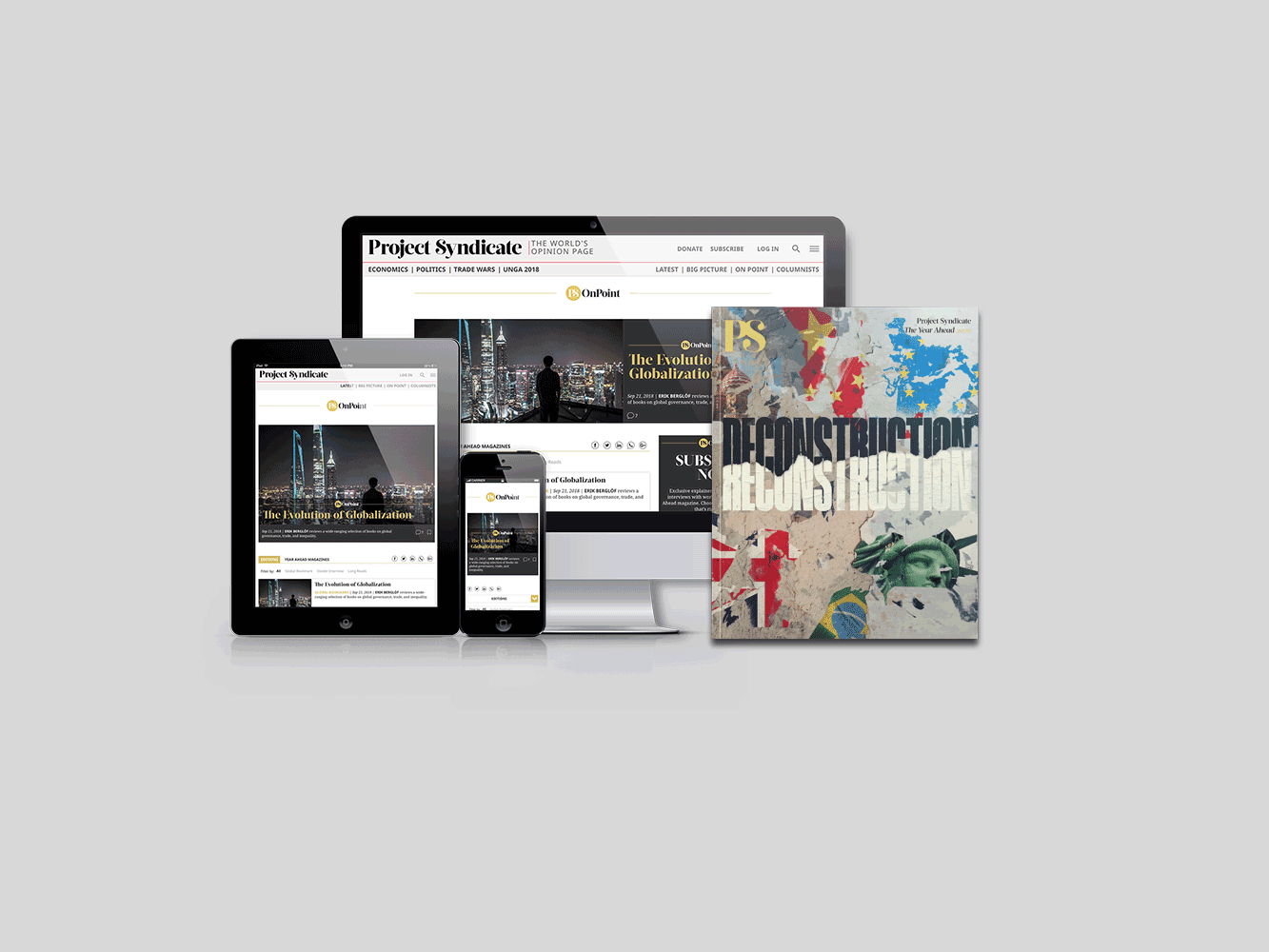 Subscribe now
Subscribe today and get unlimited access to OnPoint, the Big Picture, the PS archive of more than 14,000 commentaries, and our annual magazine, for less than $2 a week.
De hecho, la reciprocidad debiera sustentar las relaciones comerciales y de inversión de toda Europa. Queremos comerciar con China, pero en términos justos e igualitarios, y sin ingenuidades frente a la forma en que China está comprando activos estratégicos y conocimiento tecnológico para ampliar su influencia en varios estados miembros de la UE. En Europa, recién estamos empezando a tomar conciencia sobre este riesgo.
En cuanto a las normas para la tecnología digital, la UE y Japón han alineado sus estándares sobre flujos de datos. Esto ha dado como resultado una «decisión de adecuación» que permite el libre flujo de datos, al tiempo que ofrece a los ciudadanos control sobre sus información personal.
En las próximas décadas, la mayor difusión de la inteligencia artificial, la tecnología de reconocimiento facial y las redes móviles 5G harán que estos desafíos resulten existenciales. En el siglo XIX, quien controlaba los mares, controlaba el mundo. En este siglo, regirá el mundo quien fije las normas mundiales para la tecnología digital... y deben ser las democracias quienes lo hagan. En esto, nuevamente, la UE y Japón están exactamente donde deben: a la vanguardia para establecer estándares mundiales beneficiosos.
La UE debe, por lo tanto, abrazar la propuesta del primer ministro japonés, Shinzo Abe, de usar el acuerdo UE-Japón sobre flujos de datos como un patrón oro sobre el cual construir un consenso mundial. El gobierno del Reino Unido también está trabajando en una opción similar para sus acuerdos posbrexit, generando así la masa crítica necesaria para subir a bordo a EE. UU. Esta emergente «asamblea democrática digital» debiera funcionar para evitar que China recodifique la Internet para ajustarla a sus métodos autoritarios.
En África, China lleva una chequera, cuando Europa ofrece un reglamento. Mientras que la UE y el Fondo Monetario Internacional aplican condiciones estrictas a sus inversiones, las exigencias chinas son mucho menos transparentes. Así, China se ha convertido en prestamista en primera instancia para muchos países africanos, creando estados clientes en el proceso.
Muchos estados miembros de la UE tienen vínculos y compromisos históricos con África, pero también para Japón será beneficioso invertir en el desarrollo de ese continente. La UE y Japón tienen el deseo común de que África desarrolle economías abiertas de libre mercado, gobernadas según el estado de derecho. Debiéramos encontrar nuevas formas para cooperar en esta área.
Del mismo modo, Europa debiera apoyar los esfuerzos para mejorar la conectividad entre los aliados democráticos en la región Indopacífico. En particular, el importante proyecto del corredor económico indopacífico busca reafirmar las principales democracias asiáticas a través del fortalecimiento de la infraestructura para el comercio y el intercambio. Se presenta, entonces, claramente el contraste con la iniciativa china de La Franja y la Ruta, impulsada sólo por el interés propio. Así como invertir en África será beneficioso para Japón, lo mismo ocurre con la inversión de Europa en conectividad para la región Indopacífico.
La UE está tratando de ganar soberanía en un mundo donde se ve comprimida entre dos grandes potencias con modelos que compiten entre sí. Si tenemos en cuenta los grandes obstáculos geopolíticos, hay un creciente llamado a una «Fortaleza Europa» basada en el proteccionismo y el atrincheramiento estratégico. Pero debe suceder lo opuesto: Europa no puede ser soberana a menos que lidere uniendo aliados con ideas afines para defender nuestros intereses comunes.
Sostengo desde hace mucho que Japón es un socio fundamental en la lucha mundial por la libertad y la democracia. Como Secretario General de la OTAN, me enorgulleció firmar un acuerdo de asociación con Abe. Para mí, esto fue más que un simple acuerdo, fue un signo de que las democracias deben unirse en la lucha contra la autocracia.
Hoy, la UE y Japón deben adoptar esa postura. Profundizar nuestra mutua amistad representa la mejor oportunidad para el mundo democrático.
Traducción al español por www.Ant-Translation.com