Aufbau einer europäisch-japanischen Allianz der Hoffnung
TOKIO –-Abgesehen von der Geographie waren Japan und die Europäische Union einander noch nie so nah. Angesichts der Anspannung der traditionellen transatlantischen Beziehungen Europas und angesichts der Tatsache, dass China sowohl eine Herausforderung als auch eine Chance darstellt, hat die EU gleichgesinnte Verbündete im Pazifik gesucht. Und es gibt keinen Besseren als Japan.
Die Bindung zwischen der EU und Japan geht über bloße Interessen hinaus: Es handelt sich um eine Beziehung, die auf gemeinsamen Werten wie Freiheit, Demokratie und offenen Märkten beruht. Heute sind diese Werte bedroht. Die Vereinigten Staaten haben beschlossen, mit der Welt Geschäfte zu machen, anstatt sie zu führen, während China die Demokratie in seinen Nachbarländern herausfordert und das internationale Regelwerk zur Erhaltung von Frieden und globaler Stabilität neu schreibt.
Angesichts des chinesischen Revisionismus und des globalen Rückzugs der USA fehlt Europa die geopolitische Stärke und Einheit, um die amerikanische Rolle als Verteidiger der regelbasierten multilateralen Ordnung zu übernehmen. Europa braucht daher Freunde wie Japan, und es ist jetzt an der Zeit, die bilateralen Beziehungen zu intensivieren.
Glücklicherweise haben die EU und Japan bereits wichtige Grundlagen geschaffen. Ihr kürzlich abgeschlossenes Freihandelsabkommen und eine wachsende strategische Partnerschaft senden ein Signal an alle Isolationisten. Etwa 74.000 EU-Unternehmen – 78 Prozent davon sind kleinere Unternehmen - exportieren derzeit nach Japan, und 550.000 Menschen in der EU arbeiten für japanische Unternehmen. Das Handelsabkommen zwischen zwei der vier größten Märkten der Welt wird daher eine gegenseitig vorteilhafte Beziehung stärken.
Europa und Japan sollten nun durch gemeinsame Initiativen in Bereichen von gemeinsamem Interesse darauf aufbauen. Vor allem vier Bereiche treten hervor: globaler Handel, Daten und digitale Normen, Investitionen in Afrika und Vernetzung in Asien.
Das erste dieser Anliegen ist die Welthandelsorganisation, die dringend einer Reform bedarf. Zwar bleiben die Kernprinzipien der WTO bestehen, ungeachtet dessen, was einige führende Politiker der Welt sagen. Aber die Organisation muss modernisiert werden, um zu verhindern, dass China versucht, die globalen Regeln neu zu schreiben, damit seine staatlich unterstützten Monolithen die Industriesektoren in Asien, Afrika und Europa dominieren können. Amerika hat unterdessen mit Handelskriegen reagiert, die nur zu wirtschaftlichen Verlusten führen. Das Handelsabkommen zwischen der EU und Japan hingegen zeigt, dass es einen positiveren, wachstumsfördernden Weg gibt.
Subscribe now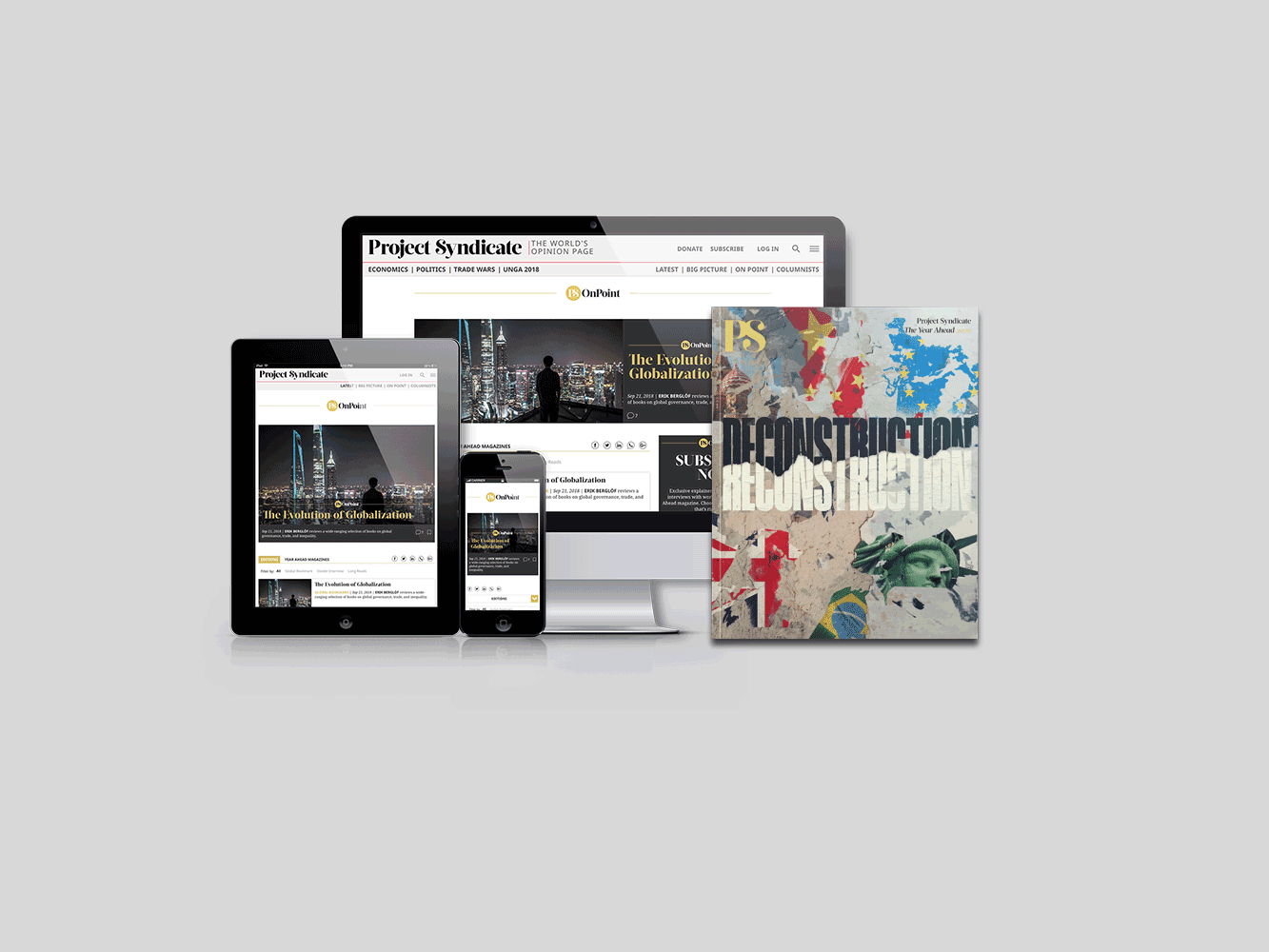 Subscribe now
Subscribe today and get unlimited access to OnPoint, the Big Picture, the PS archive of more than 14,000 commentaries, and our annual magazine, for less than $2 a week.
Tatsächlich sollte die Gegenseitigkeit die Grundlage für alle Handels- und Investitionsbeziehungen Europas bilden. Wir wollen mit China Handel treiben, aber zu fairen und gleichen Bedingungen und ohne uns Illusionen darüber zu machen, dass China strategische Vermögenswerte und technologisches Know-how kauft, um seinen Einfluss in mehreren EU-Mitgliedstaaten auszubauen. In Europa haben wir gerade erst begonnen, uns dieses Risikos bewusst zu werden.
Was die digitalen Vorschriften betrifft, so haben die EU und Japan ihre Normen für den Datenverkehr angeglichen. Dies hat zu einer "Angemessenheitsentscheidung" geführt, die den freien Datenfluss ermöglicht und den Bürgern gleichzeitig die Kontrolle über personenbezogene Daten gibt.
Die weitere Verbreitung von künstlicher Intelligenz, Gesichtserkennungstechnologie und 5G-Mobilfunknetzen wird diese Herausforderungen in den nächsten Jahrzehnten existentiell machen. Im neunzehnten Jahrhundert war derjenige, der die Meere kontrollierte, Herr der Welt. In diesem Jahrhundert wird die Welt von dem regiert, der globale digitale Normen festlegt - und es müssen Demokratien sein, die dies tun. Auch hier sind die EU und Japan genau dort, wo sie sein sollten: an vorderster Front bei der Festlegung vorteilhafter globaler Standards.
Die EU sollte daher den Vorschlag des japanischen Premierministers Shinzo Abe begrüßen, das Abkommen zwischen der EU und Japan über Datenflüsse als Blaupause für ein globales Abkommens zu nutzen. Die Regierung des Vereinigten Königreichs arbeitet auch an einer solchen Option für ihre Post-Brexit-Vereinbarungen und stellt damit eine kritische Masse für die Einbeziehung der USA bereit. Diese aufkommende "digital-demokratische Fraktion" sollte verhindern, dass China das Internet neu kodiert, um es seinen autoritären Methoden anzupassen.
In Afrika bringt China ein Scheckbuch mit, Europa ein Regelbuch. Während die EU und der Internationale Währungsfonds strenge Auflagen für ihre Investitionen stellen, sind die Forderungen Chinas weit weniger transparent. Infolgedessen ist China für viele afrikanische Länder zu einem Kreditgeber erster Wahl geworden, der dabei Kundenstaaten schafft.
Viele EU-Mitgliedstaaten haben historische Bindungen und Verpflichtungen gegenüber Afrika, aber es liegt auch im Interesse Japans, in die Entwicklung des Kontinents zu investieren. Die EU und Japan haben den gemeinsamen Wunsch, dass Afrika offene, freie und rechtsstaatliche Marktwirtschaften entwickelt. Wir sollten neue Wege der Zusammenarbeit in diesem Bereich finden.
Ebenso sollte Europa die Bemühungen um eine bessere Vernetzung der demokratischen Verbündeten im indisch-pazifischen Raum unterstützen. Insbesondere das wichtige Projekt des indisch-pazifischen Wirtschaftskorridors zielt darauf ab, die großen Demokratien Asiens durch die Stärkung der Infrastruktur für Handel und Austausch zu unterstützen. Sie steht damit in klarem Gegensatz zur chinesischen Belt and Road Initiative, die ausschließlich auf Eigeninteresse ausgerichtet ist. Genauso wie Investitionen in Afrika im Interesse Japans liegen, so liegen auch die Investitionen in die indisch-pazifische Anbindung im Interesse Europas.
Die EU versucht, in einer Welt, in der sie sich zwischen zwei Großmächten und konkurrierenden Modellen eingeklemmt fühlt, souveräner zu werden. Angesichts des starken geopolitischen Gegenwinds wächst die Forderung nach einer "Festung Europa", die auf Protektionismus und strategischem Rückbau basiert. Aber das Gegenteil muss der Fall sein: Europa kann nicht souverän sein, wenn es nicht durch die Vereinigung gleichgesinnter Verbündeter zur Verteidigung unserer gemeinsamen Interessen führt.
Ich argumentiere schon seit langem, dass Japan ein kritischer Partner im globalen Kampf für Freiheit und Demokratie ist. Als NATO-Generalsekretär war ich stolz darauf, ein Partnerschaftsabkommen mit Abe unterzeichnet zu haben. Für mich war dies mehr als ein einfaches Abkommen: Es war ein Zeichen dafür, dass die Demokratien im Kampf gegen die Autokratie zusammenstehen sollten.
Heute müssen die EU und Japan diesen Standpunkt vertreten. Die Vertiefung unserer gegenseitigen Freundschaft ist die beste Chance für die demokratische Welt.
Aus dem Englischen von Eva Göllner