Bâtir une alliance euro-japonaise de l'espoir
TOKYO – Géographiquement très éloignés, le Japon et l'Union européenne n'ont jamais été aussi proches. La relation transatlantique de longue date n'étant pas au beau fixe, et la Chine représentant un défi autant qu'une opportunité, l'UE se cherche des alliés sur la même longueur d'onde dans le Pacifique. Le Japon est un choix idéal.
Le lien entre UE et Japon transcende les simples intérêts, cette relation reposant sur des valeurs communes de liberté, de démocratie et d'ouverture des marchés, autant de valeurs aujourd'hui menacées. Les États-Unis ont décidé de conclure des accords avec le monde plutôt que d'en être le meneur, pendant que la Chine met à mal la démocratie dans son voisinage, et qu'elle réécrit les règles internationales destinées au maintien de la paix et de la stabilité mondiale.
Confrontée au révisionnisme chinois ainsi qu'au repli global américain, l'Europe manque de la puissance géopolitique et de l'unité qui lui permettraient de reprendre le flambeau des États-Unis en tant que défenseur de l'ordre multilatéral fondé sur des règles. L'Europe a par conséquent besoin d'amis tels que le Japon, et l'heure est venue de passer à la vitesse supérieure dans cette relation bilatérale.
Fort heureusement, l'UE et le Japon ont déjà bâti d'importantes fondations. Leur récent accord de libre-échange, qui s'accompagne d'un partenariat stratégique croissant, envoie un signal aux isolationnistes du monde entier. Près de 74 000 sociétés de l'EU – dont 78 % de petites entreprises – exportent aujourd'hui au Japon, de même que 550 000 Européens travaillent pour des sociétés japonaises. L'accord commercial entre ces deux puissances, qui comptent parmi les quatre plus grands marchés de la planète, est par conséquent voué à renforcer une relation mutuellement bénéfique.
Europe et Japon doivent désormais capitaliser sur ces initiatives conjointes, en se concentrant sur leurs intérêts communs. Quatre domaines se dégagent en particulier : commerce mondial, normes régissant les données et le numérique, investissement en Afrique, et connectivité en Asie.
Une première démarche nécessaire concerne l'Organisation mondiale du commerce, qui a sérieusement besoin d'être réformée. Certes, les fondamentaux de l'OMC demeurent sains, malgré tout le mal qu'en disent certains dirigeants mondiaux. Pour autant, la machine dans son ensemble doit être modernisée, face aux tentatives chinoises de réécriture des règles internationales, qui visent à permettre aux monolithes étatiques chinois de dominer les secteurs industriels d'Asie, d'Afrique et d'Europe. De son côté, l'Amérique déclenche des guerres commerciales qui ne produisent que des perdants économiques. L'accord commercial EU-Japon démontre au contraire qu'il existe une voie d'avenir plus positive en direction de la croissance.
Subscribe now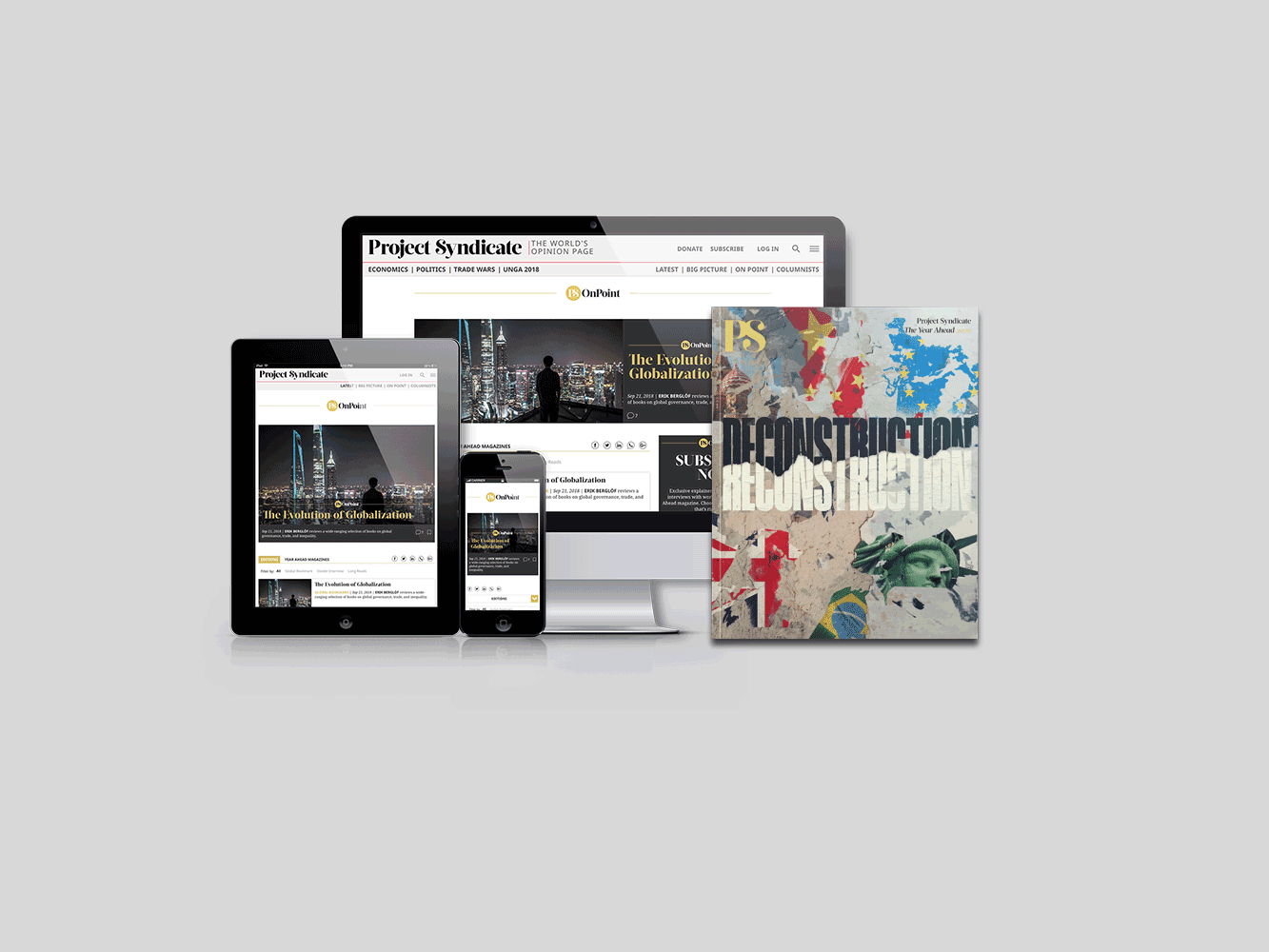 Subscribe now
Subscribe today and get unlimited access to OnPoint, the Big Picture, the PS archive of more than 14,000 commentaries, and our annual magazine, for less than $2 a week.
La réciprocité doit en effet sous-tendre toutes les relations qu'entretient l'Europe en matière de commerce et d'investissement. Nous voulons commercer avec la Chine, mais selon des modalités justes et équitables, et sans nous montrer naïf quant à la volonté de la Chine d'acquérir des actifs stratégiques et des savoir-faire technologiques dans le but de bâtir une influence dans plusieurs États membres de l'UE. En Europe, nous commençons tout juste à prendre conscience de ce risque.
En matière de règles numériques, l'UE et le Japon ont harmonisé leurs normes concernant les flux de données, ce qui a abouti à une « décision d'adéquation » permettant la libre circulation des données, tout en conférant aux citoyens un contrôle sur leurs données personnelles.
Au cours des prochaines décennies, la propagation de l'intelligence artificielle, des technologies de reconnaissance faciale, ainsi que des réseaux mobiles 5G rendront ces défis existentiels. Au XIXe siècle, celui qui contrôlait les mers contrôlait le monde. Dans le siècle actuel, le monde sera dominé par ceux qui fixeront les normes numériques internationales. Or, il devra s'agir de démocraties. Ici encore, l'UE et le Japon œuvrent précisément là où ils doivent agir : au premier plan de l'élaboration de normes mondiales bénéfiques.
C'est la raison pour laquelle l'UE doit adhérer à la proposition du Premier ministre japonais Shinzo Abe consistant à user de l'accord EU-Japon sur les flux de données comme d'un étalon-or sur la base duquel bâtir un accord planétaire. Le gouvernement du Royaume-Uni travaille lui aussi sur cette possibilité concernant ses accords post-Brexit, constituant ainsi une masse critique à laquelle rattacher les États-Unis. Ce « caucus numérique démocratique » émergent devra œuvrer pour empêcher la Chine de recoder Internet à des fins autoritaires.
En Afrique, la Chine apporte avec elle un carnet de chèque à endosser, l'Europe un manuel de règles à respecter. Tandis que l'UE et le Fonds monétaire international accompagnent leurs investissements de conditions strictes, les contraintes fixées par la Chine sont beaucoup moins transparentes. Résultat, le régime de Pékin est devenu un prêteur de premier recours pour de nombres pays africains, dont beaucoup deviennent ce faisant des États clients.
Si de nombreux États membres de l'UE entretiennent des liens et des obligations historiques avec l'Afrique, il est également dans l'intérêt du Japon d'investir dans le développement du continent. L'UE et le Japon partagent le souhait de voir l'Afrique développer des économies de marché ouvertes, régies par le droit. Nous devons trouver de nouveaux moyens de coopérer dans ce domaine.
De même, l'Europe doit soutenir les efforts d'amélioration de la connectivité entre les alliés démocratiques de la région indopacifique. L'important projet de corridor économique indopacifique vise en particulier à dynamiser les grandes démocraties d'Asie, en renforçant les infrastructures du commerce et des négociations. Cette démarche s'inscrit à l'inverse du projet chinois de Nouvelle route de la soie, qui n'est animé que par des intérêts propres. De la même manière qu'investir en Afrique s'inscrit dans l'intérêt du Japon, l'Europe gagnera à investir dans la connectivité indopacifique.
L'UE s'efforce de gagner en souveraineté, dans un monde où elle se sent écrasée entre deux grandes puissances aux modèles rivaux. À l'heure où soufflent de puissants vents de face géopolitiques, beaucoup en appellent à une « Europe forteresse », fondée sur le protectionnisme et le retranchement stratégique. Or, il s'agit précisément d'œuvrer de manière inverse : l'Europe ne pourra être souveraine que si elle conduit la marche en unissant des alliés aux valeurs communes autour de la défense de nos intérêts communs.   
Je défends depuis longtemps l'idée selon laquelle le Japon est un partenaire indispensable dans la lutte mondiale pour la liberté et la démocratie. Au poste de secrétaire général de l'OTAN, j'ai été fier de conclure un accord de partenariat avec Shinzo Abe. Cela signifiait pour moi bien plus que la signature d'une simple entente. Cela signifiait la reconnaissance par les démocraties de leur devoir consistant à s'unir dans la lutte contre le pouvoir autoritaire.
Telle est la position que doivent aujourd'hui adopter l'UE et le Japon. L'approfondissement de notre amitié constitue la meilleure promesse d'un monde démocratique.
Traduit de l'anglais par Martin Morel