Die Suche nach Europas Weg in der Welt
BERLIN – Die Europäische Union und insbesondere Deutschland sind der Herausforderung, die ihnen aus dem Rückzug der USA aus ihrer globalen Führungsrolle erwächst, bisher nicht gerecht geworden. Doch angesichts der neuen Konkurrenz durch China und Russlands neuerlicher Großmachtsansprüche müssen die westlichen Länder einen Weg finden, um enger zusammenzuarbeiten.
Fünf Probleme scheinen hierbei lebenswichtig. Das erste ist Deutschlands derzeit stark belastete Beziehung zu den USA. Das heiße Eisen dabei ist das Versäumnis Deutschlands, seine jährlichen Verteidigungsausgaben wie auf dem NATO-Gipfel in Wales 2014 vereinbart auf 2% vom BIP anzuheben. Deutschland zögert aus verständlichen historischen Gründen, zur faktischen Militärmacht Europas zu werden. Hielte es seine Ausgabenverpflichtung ein, würde es 80 Milliarden Euro jährlich für die Bundeswehr bereitstellen; das sind 46 Milliarden Euro mehr, als Frankreich ausgibt.
Allerdings könnte Deutschland, um innerhalb des Bündnisses sein Teil beizutragen, ohne in Osteuropa Ängste auszulösen, 1,5% seines BIP für Ausrüstung und Personal ausgeben und zugleich zusätzliche 0,5% zur Finanzierung von NATO-Operationen in den baltischen Staaten und in Polen aufwenden. Das würde die Fähigkeit der östlichen Mitgliedstaaten erhöhen, sich gegen eine russische Aggression zur Wehr zu setzen, und zugleich Deutschlands Bereitschaft unter Beweis stellen, mehr Verantwortung zu übernehmen.
Das zweite große Problem sind die Beziehungen zwischen den USA und der EU. Die unmittelbaren Herausforderungen, vor denen Amerika und Europa stehen, haben sich im Laufe der vergangenen sieben Jahrzehnte geändert. In jüngerer Zeit hat Russland seine Einflusssphäre auf die Krim, die Ost-Ukraine und das Asowsche Meer ausgeweitet, und China hat begonnen, seine wirtschaftliche und technologische Dominanz in Eurasien geltend zu machen.
Zugleich tun sich die westlichen Demokratien schwer, mit den von Globalisierung, Migration, Technologie und Klimawandel ausgehenden Störungen fertigzuwerden. Angesichts zunehmender wirtschaftlicher Unsicherheit und eines schwindenden gesellschaftlichen Zusammenhalts haben populistische und nationalistische Bewegungen die Ängste der Wähler ausgenutzt, indem sie versprachen, deren Heimat gegen die kosmopolitischen Eliten und multilateralen Institutionen zu verteidigen, die seit dem Zweiten Weltkrieg die politische und wirtschaftliche Entwicklung gestützt haben.
In Wahrheit hat die wirtschaftliche Globalisierung ungeachtet der populistischen Rhetorik Wohlstand geschaffen und die Armut verringert sowie neue Entwicklungschancen weltweit eröffnet. Doch lässt sich das System nicht ohne Unterstützung des Westens aufrechterhalten. Was wir jetzt zur Erschließung neuer Möglichkeiten für die Weltordnung brauchen ist eine Globalisierung der Zivilgesellschaft, und wir müssen Menschen und Gemeinschaften daran erinnern, dass der Staat noch immer zu wirksamem Handeln in der Lage ist. Das beginnt mit der Steigerung der Investitionen in Bildung, Forschung und Infrastruktur, und zwar unter Wahrung eines Gleichgewichts zwischen grenzüberschreitender Zusammenarbeit und dem Respekt für kulturelle Besonderheiten.
Subscribe now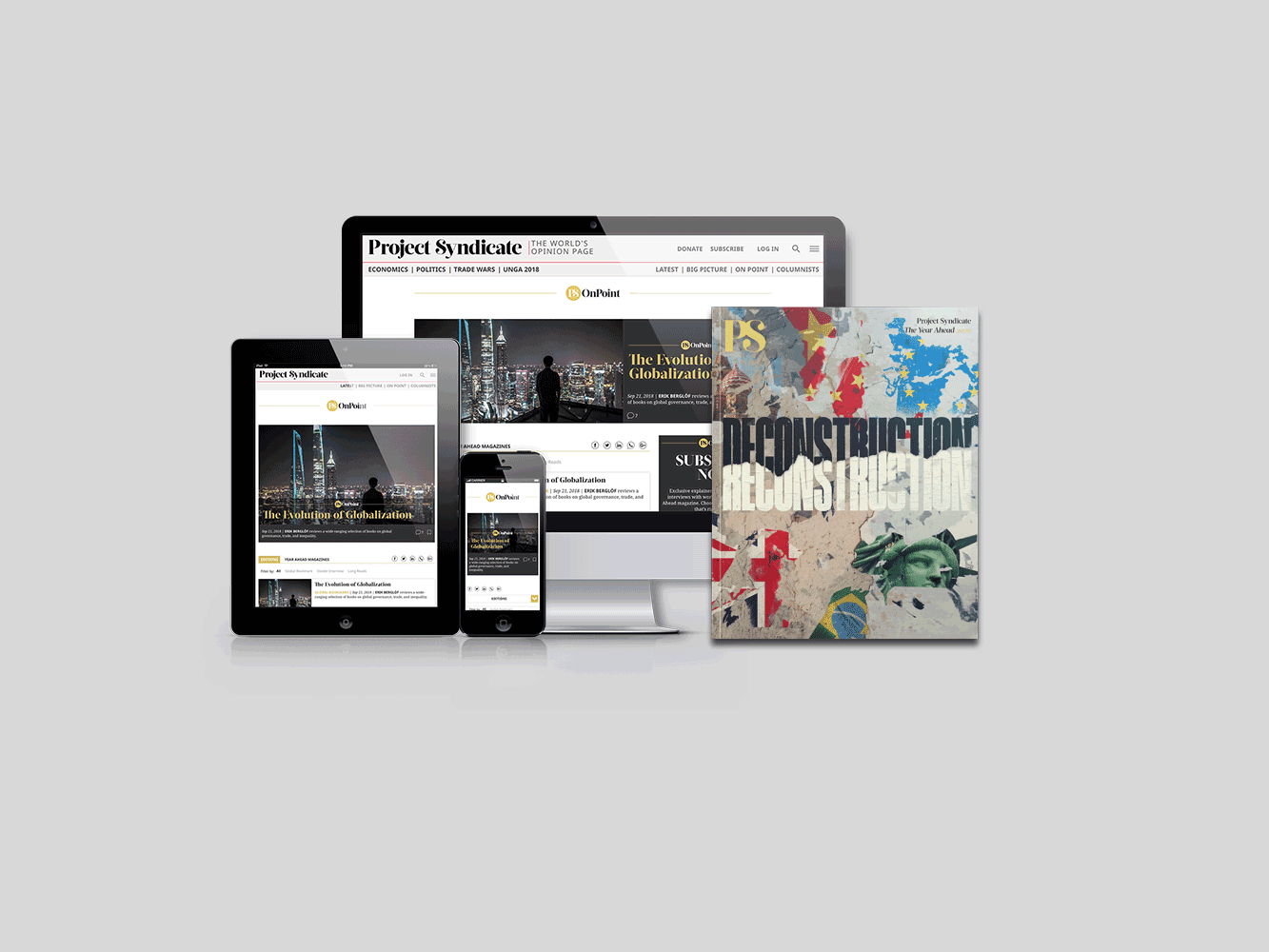 Subscribe now
Subscribe today and get unlimited access to OnPoint, the Big Picture, the PS archive of more than 14,000 commentaries, and our annual magazine, for less than $2 a week.
Dies bringt uns zum dritten Problem: Russland. Hier hat das Streben der EU nach einer ausgewogenen Politik Friktionen innerhalb des atlantischen Bündnisses hervorgerufen, wie sie beispielhaft durch die Spannungen in Bezug auf das gemeinsame russisch-deutsche Pipelineprojekt Nord Stream 2 verkörpert werden. Aus Sicht der Bundesregierung ist Nord Stream 2 im Wesentlichen ein wirtschaftliches Thema. Schließlich haben deutsche, französische und andere europäische Unternehmen hohe Summen in das Projekt investiert, und in jedem Falle wäre es ein gravierender politischer Fehler, auf dem privaten europäischen Gasmarkt zu intervenieren.
Tatsächlich hat die Liberalisierung des Gasmarktes eine enorme Ausweitung des europäischen Energieangebots ermöglicht. Letztlich sollten die Unternehmen, gestützt auf die Signale des Marktes, selbst entscheiden, von wem sie ihr Gas kaufen. Doch können die Europäer auch die Gefahren für die politische Unabhängigkeit benachbarter Länder wie der Ukraine, an der Nord Stream 2 vorbeiführt, nicht ignorieren. Alles in allem bestünde eine bessere Methode zur Sicherstellung von Europas Energieangebot in der Ausweitung und verstärkten Integration der europäischen Erdgas-Infrastruktur bei gleichzeitigem Bau zusätzlicher Terminals für Flüssigerdgas. Auf diese Weise könnte kein Land – egal ob Mitgliedstaat oder enger Partner – infolge seiner Abhängigkeit von russischer Energie in Geiselhaft genommen werden.
Das vierte Problem ist China, das deutlich gemacht hat, dass es eine Neuregelung des internationalen Machtgleichgewichts anstrebt. Die Trump-Regierung hat China beim Handel zu Recht die Stirn geboten. Es kann keinen "fairen Handel" geben, wenn ein Land, das nicht nach denselben Regeln spielt wie alle anderen, zwei Fünftel der Weltwirtschaft organisiert. China unterstützt seine Industrien durch üppige Subventionen, beschränkt den Zugang zu seinen Märkten und verstößt regelmäßig gegen geistige Eigentumsrechte. Zudem geht von Chinas Modell eines autoritären Staatskapitalismus gleich eine zweifache Herausforderung aus, denn es repräsentiert sowohl eine wirtschaftliche Konkurrenz als auch ein alternatives politisches Modell. Insofern müssen die EU und Amerika dringend klare, einvernehmlich vereinbarte Regeln für den Umgang mit China entwickeln.
Das fünfte wichtige Problem ist Europas Rolle in der Welt. Wenn Europa nicht aufwacht und sich die Realitäten der neuen chinesisch-amerikanischen Rivalität bewusst macht, könnte es sich in einer Position geopolitischer Bedeutungslosigkeit wiederfinden. Tatsächlich gibt es bereits Anzeichen für Europas schwindende globale Bedeutung. Kriege und Konflikte entlang der europäischen Peripherie werden zunehmend durch andere Mächte entschieden, und Europa spielt keine erkennbare Rolle bei ihrer Beilegung.
Europas Zögern, sich Geltung zu verschaffen, hat eine historische Dimension. Die EU hat sich aus gutem Grund lange unter den Sicherheitsschirm der USA gestellt und faktisch eine Zuschauerrolle eingenommen. Doch diese geopolitische Konzeption Europas ist eine amerikanische Schöpfung, die auf dem Marshall-Plan beruht. Der erste Generalsekretär der NATO, Hastings Ismay, hat es bekanntlich einmal so formuliert: Zweck der NATO sei es, "die Russen draußen, die Amerikaner drinnen und die Deutschen klein zu halten".
Es hat sich seit den 1950er Jahren eine Menge geändert. Wir Europäer sind erst allmählich dabei, zu begreifen, dass wir uns den geopolitischen Realitäten des 21. Jahrhunderts anpassen müssen. Die atlantische Ära macht der pazifischen Ära Platz. Die Europäer sollten sich nicht der Illusion hingeben, dass sich alles schon von allein zum Guten wenden werde. Es ist Zeit, den Mut und den Willen zur Übernahme der Verantwortung für unsere strategischen Interessen aufzubringen.
Aus dem Englischen von Jan Doolan
,