Brexit : Maintenant, éviter les dommages réciproques
PARIS – Rien ne peut être tenu pour certain au Royaume-Uni mais il semble désormais très probable que l'année 2020 sera finalement celle du Brexit. Dans leur majorité, les citoyens britanniques seront certainement soulagés de voir enfin s'achever ce feuilleton interminable. Pour la plupart, les responsables européens seront de leur côté contents de ne pas avoir à se disputer sur l'échéance d'un nouveau report. Mais pour le reste, les questions essentielles demeurent.
Tout d'abord, « qui a perdu le Royaume-Uni ? ». A cette question, on ne peut que répondre : avant tout les Britanniques eux-mêmes. Quelles que soient les erreurs commises par les 27, ceux-ci ne peuvent être tenus pour responsables de l'extravagant amateurisme des trois gouvernements que le pays a connus au cours des cinq dernières années.
D'autres leçons, cependant, doivent aussi être retenues. La première est, comme l'a déjà observé Wolfgang Münchau dans le Financial Times, qu'outre-Manche la bataille pour l'Europe a été perdue longtemps avant le début des combats. Dans les années 1990, déjà, l'Union était présentée, jour après jour, comme une bureaucratie asphyxiante, préoccupée avant tout de renforcer son propre pouvoir, et bien peu de responsables britanniques osaient contredire ces préjugés.
Malheureusement, des évolutions comparables s'observent sur le continent. En France, 56% des citoyens – autant qu'au Royaume-Uni – déclarent ne pas faire confiance à l'UE et ces sentiments négatifs sont particulièrement répandus dans les classes populaires. En Allemagne, la confiance en l'Union est plus élevée mais l'action de la Banque centrale européenne fait l'objet de vives attaques : des années durant, l'opinion a été abreuvée de sombres récits de transferts cachés vers les pays du Sud. Elle est à présent la cible d'un nouveau récit, promu par le tabloïd Bild, selon lequel les épargnants allemands auraient perdu 120 milliards d'euros pendant le mandat du « comte Draghila » à la tête de la BCE. Comme hier au Royaume-Uni, de nombreux responsables politiques choisissent la facilité en flattant ces penchants plutôt que d'y résister. C'est préparer les prochaines secousses.
L'Union européenne, cependant, ne peut pas se dispenser d'un examen de conscience. Quand le Premier ministre David Cameron a demandé la possibilité de brider temporairement l'arrivée de migrants d'Europe centrale et orientale, il aurait été habile de trouver une solution avec lui. Et après que les négociations de séparation eurent commencé avec son successeur à ce poste, Theresa May, il aurait été astucieux de répondre à ses demandes d'un accord « sur mesure ». Depuis le référendum de juin 2016 sur le Brexit, les 27 ont été étonnamment unis, remarquablement cohérents et parfaitement dépourvus de sens stratégique. Leur position a été commandée par la peur que toute attitude conciliante vis-à-vis de Londres favorise de nouvelles fragmentations, plutôt que par le souci de limiter les dommages mutuels. Leur force apparente cachait des failles internes.
Le passé est le passé. Désormais, les priorités sont de préserver la coopération quand elle est bénéfique et de faire obstacle à la tentation britannique d'une stratégie de concurrence réglementaire.
Subscribe now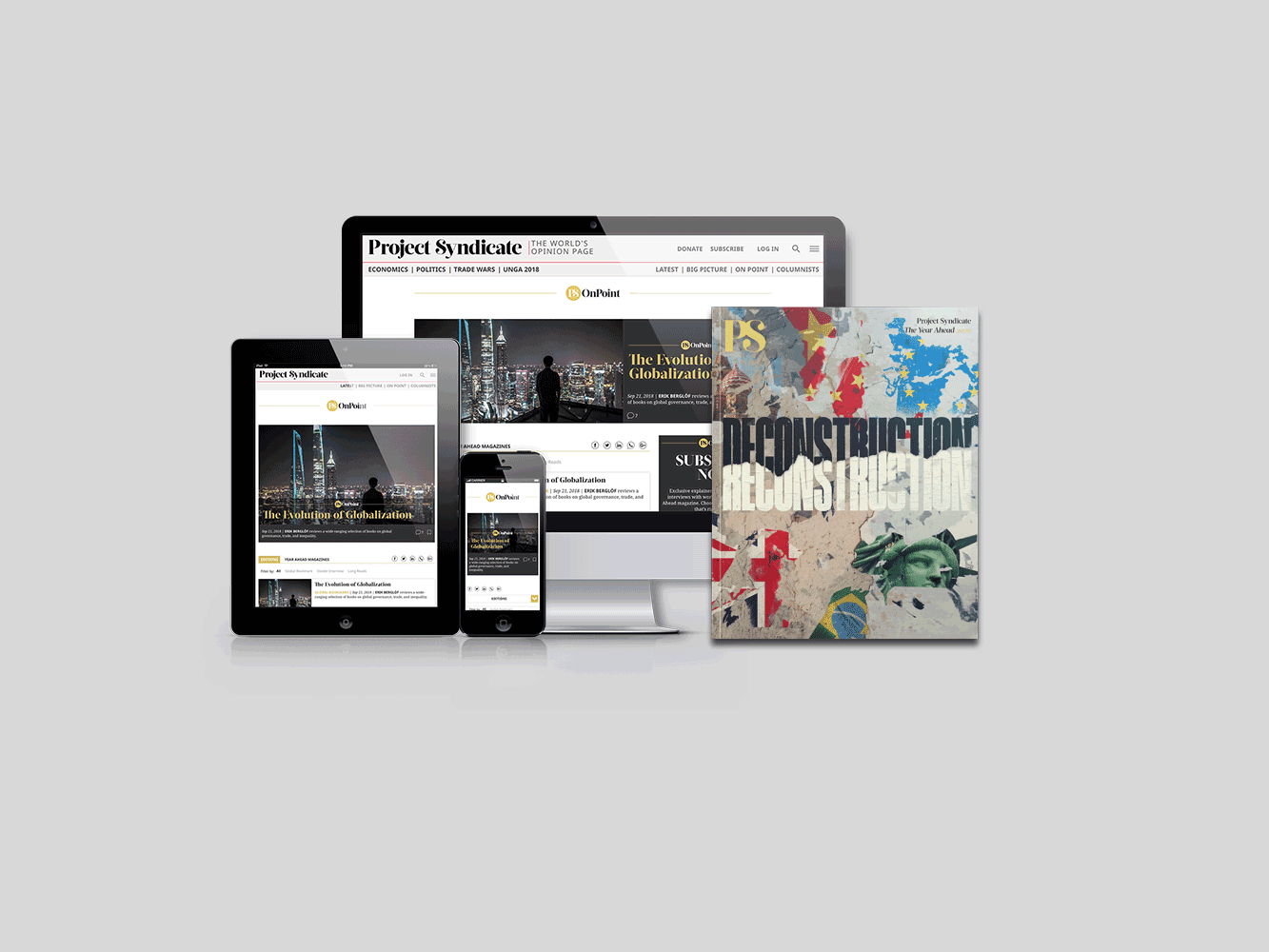 Subscribe now
Subscribe today and get unlimited access to OnPoint, the Big Picture, the PS archive of more than 14,000 commentaries, and our annual magazine, for less than $2 a week.
Les initiatives communes en matière de Défense continueront à fonctionner. La coopération dans le système multilatéral, comme à l'ONU, se poursuivra aussi certainement. Des projets ad hoc vont probablement voir le jour. Mais la grande victime sera l'intégration économique avec le marché unique européen.
Une vis est une vis et un boulon est un boulon. Mais le Royaume-Uni n'est plus un producteur de vis et de boulons, il exporte plutôt des produits bancaires, des produits d'assurance ou de comptabilité, des services de communications et des services aux entreprises, dont la moitié est destinée au marché européen. Or la plupart des services ont besoin d'un cadre réglementaire.
Si le slogan des Brexiters – « reprendre le contrôle » – signifie quelque chose, il implique de substituer des lois britanniques aux lois européennes. Le premier jour du Brexit, le système normatif britannique sera le même que celui de ses ex-partenaires européens (la loi de sortie de l'UE de 2018 a intégré toute la législation européenne dans le droit britannique). Progressivement cependant, le Parlement va amender ces lois, et de nouvelles dispositions seront introduites du côté européen par les 27. Les deux systèmes législatifs vont ainsi commencer à diverger. La question est de savoir à quel point ils peuvent s'éloigner l'un de l'autre avant de mettre en danger les liens économiques qui unissent Royaume-Uni et UE.
Il y a deux possibilités. La première est que le Royaume-Uni adopte des lois différentes de celles de l'UE tout en se fondant sur des principes identiques ou voisins. Il y a par exemple plusieurs manières de garantir qu'un contrat d'assurance offre un même haut degré de protection aux consommateurs, ou de faire respecter des normes exigeantes en matière de bioéthique. Auquel cas, les lois britanniques pourraient relever d'une approche différente de la régulation sans créer pour autant d'obstacle majeur aux échanges de biens et de services.
La seconde possibilité, en revanche, est que les Royaume-Uni s'engage dans une concurrence par le bas avec règles européennes. Dans ce cas – un scénario souvent nommé « Singapour-sur-Tamise », ce qui n'est pas très gentil pour Singapour – le Royaume-Uni imposerait des règles moins contraignantes pour la stabilité financière et la protection des données, ou abaisserait ses standards sociaux, avec l'espoir d'attirer les investisseurs et de vendre des services à prix cassé. Une telle évolution serait bien sûr considérée comme inamicale par ses partenaires européens, ce qui les conduirait à priver de l'accès au marché européen les exportateurs britanniques (dont la plupart actuellement fournissent directement leurs clients continentaux depuis le Royaume-Uni).
Quelle voie le Royaume-Uni choisira-t-il d'emprunter ? Dans l'idéal, il devrait s'accorder avec l'UE sur des principes communs et s'engager de manière crédible à les respecter. Mais quelques-uns des partisans les plus intransigeants du Brexit rêvent à voix haute d'achever la révolution thatchérienne en transformant leur pays en paradis normatif. L'Union observe la situation avec circonspection, tant le risque est grand de se faire aspirer dans une escalade négative de dérégulation britannique agressive et de durcissement européen, dont les conséquences seraient importantes sur les échanges.
L'UE ne doit pas demander aux Britanniques de copier servilement sa législation. Mais il faut qu'elle leur dise clairement qu'une concurrence réglementaire agressive serait inacceptable et qu'elle propose un choix binaire : soit Londres accepte de s'engager sur des principes communs et de faire preuve de retenue, comme prix à payer pour garder un bon accès au marché européen, soit les Britanniques refusent et devront faire face dans ce cas à une sévère limitation de la capacité de leurs acteurs économiques à exporter sur le continent.
L'histoire retiendra probablement l'année 2020 comme celle où une Europe affaiblie et vulnérable a choisi de s'affaiblir et de se rendre encore plus vulnérable. La tâche des responsables politiques est maintenant d'éviter d'aggraver la situation.