Europa muss sich selbst erfüllenden Pessimismus vermeiden
MADRID – In den letzten zehn Jahren sind die üblichen Überlegungen und Vorhersagen zum Jahresende immer düsterer geworden. Dieser Pessimismus ist verständlich: Die Ungleichheit ist in weiten Teilen der Welt stark gestiegen; demokratische Werte und Normen der Regierungsführung wurden ständig untergraben; und die Technologie hat unsere Gesellschaften und Wirtschaften so schnell verändert, dass viele Menschen sich überfordert und unsicher fühlen. Aber wir müssen darauf achten, dass düstere Vorhersagen nicht zu sich selbst erfüllenden Prophezeiungen werden.
Betrachten wir die Europäische Union. Mit dem Rückgang ihres internationalen Einflusses fühlen sich die Europäer zunehmend machtlos, als Individuen, als Nationen und als Block. Ohne eine einheitliche Zukunftsvision hat die EU ihren Elan verloren und ist unter dem Deckmantel der Nostalgie Opfer von Passivität und Angst geworden.
Aber die Vergangenheit wird allzu oft mit Weichzeichner betrachtet, während die Gegenwart nicht annähernd so schlimm ist, wie allgemeinhin angenommen: Europa bleibt eine wirtschaftliche und regulatorische Supermacht mit großem diplomatischen Potenzial. Wenn die Europäer dies erkennen und ihr kollektives Selbstvertrauen zurückgewinnen, kann ihre Zukunft positiv sein.
Die Aufforderung an die Europäer, "an sich selbst zu glauben", mag naiv und vereinfachend klingen. Aber genau das ist eine Voraussetzung für effektives Handeln. Das bedeutet nicht, dass man eine große föderalistische Plattform anstreben oder unrealistische Versprechungen machen soll, etwa was europäische Streitkräfte betrifft. Im Gegenteil, das Letzte, was die EU braucht, ist noch aggressivere Rhetorik oder unrealistische Projekte. Die Nichteinhaltung solcher Versprechen in der Vergangenheit hat zu dem überwältigenden Gefühl der Hilflosigkeit und des Zynismus beigetragen.
Stattdessen muss die EU konkrete, schrittweise Fortschritte machen, um ihre Glaubwürdigkeit zu erhöhen. Hier gibt es Grund zur Hoffnung - angefangen bei der neu bestätigten Europäischen Kommission unter der Leitung von Ursula von der Leyen. Die neue Kommission hat zwar in altbekannter Vollmundigkeit geschwelgt, steht aber auch für ein ungewöhnliches Maß an Realismus. Dies ist nirgendwo deutlicher zu erkennen als daran, dass seit den 1960er Jahren erstmals wieder ein deutscher Kommissionschef bzw. in diesem Fall eine Kommissionschefin gewählt wurde. Die EU tut nicht mehr so, als gäbe es innerhalb des Blocks keine herausragenden Mitglieder. Damit gibt sie zu, dass der einzige Weg, die Dinge in die Tat umzusetzen, darin besteht, die einflussreichsten Mitglieder in die Pflicht zu nehmen.
Darüber hinaus hat die EU ihre Bereitschaft bekundet, das Potenzial verschiedener Kooperationskonfigurationen zur Förderung der politischen Agenda zu prüfen. So gibt es beispielsweise eine wachsende Zustimmung für die Einrichtung eines Europäischen Sicherheitsrats, einen von Frankreich und Deutschland vorgelegten Vorschlag. Dieser soll die europäische Außenpolitik stärken und die Sicherheitskooperation mit Großbritannien nach dem Brexit unterstützen.
Subscribe now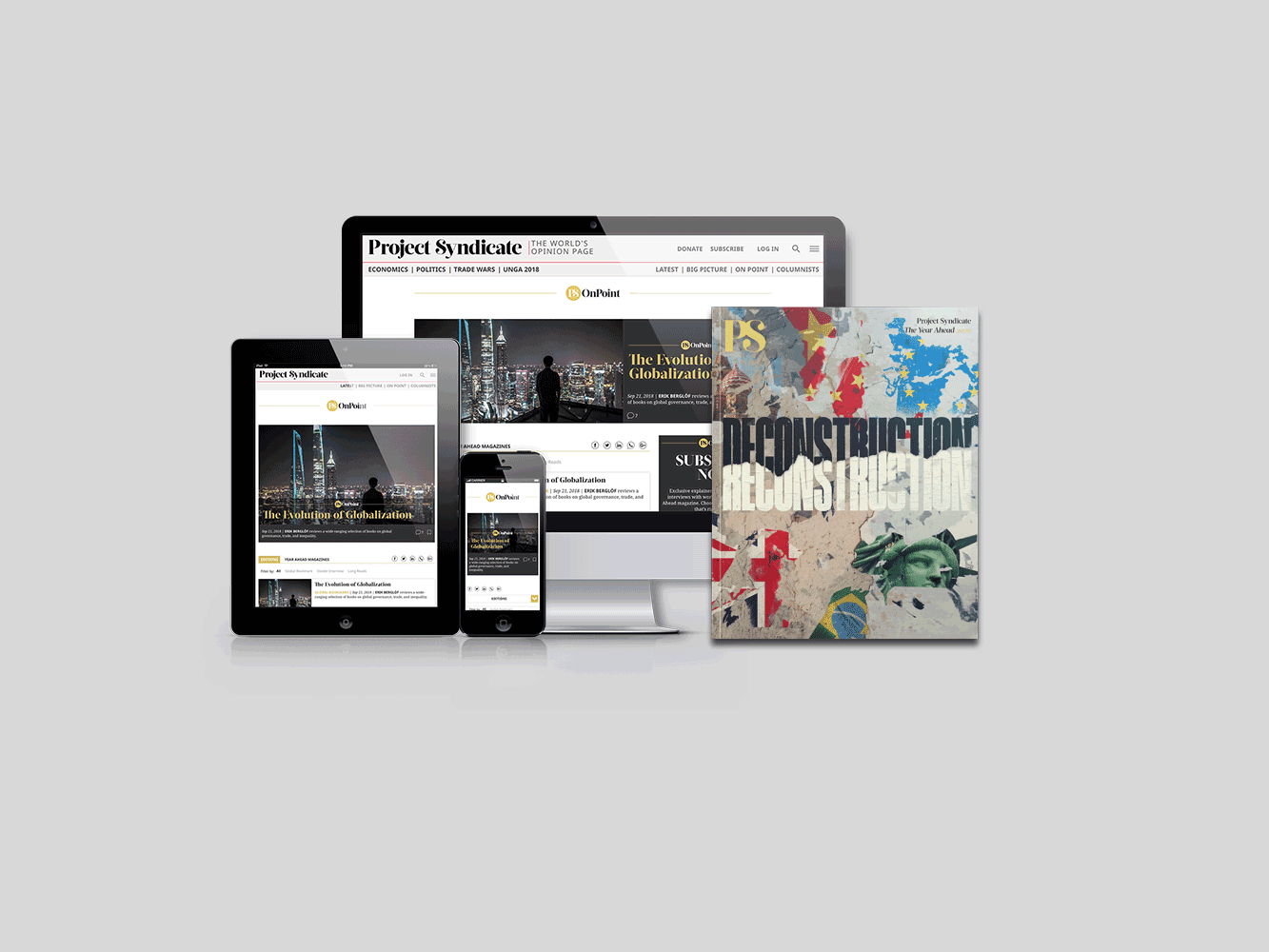 Subscribe now
Subscribe today and get unlimited access to OnPoint, the Big Picture, the PS archive of more than 14,000 commentaries, and our annual magazine, for less than $2 a week.
Angesichts des überwältigenden Sieges der Konservativen Partei von Premierminister Boris Johnson bei den jüngsten Wahlen wird sich Großbritannien sehr bald neu auftsellen. Johnsons Wahlkampf beruhte auf dem Versprechen, das Vereinigte Königreich bis zum 31. Januar aus der EU herauszuholen, und die Einhaltung dieser Frist wäre ein gutes Ergebnis. So unerwünscht der Brexit auch sein mag, das lange Hinziehen des Prozesses hat nichts Gutes bewirkt. Die endgültige Beendigung der dreieinhalbjährigen Saga wird für mehr strategische Klarheit sorgen.
Eine weitere wichtige Quelle der Unsicherheit könnte auch im nächsten Jahr beseitigt werden: US-Präsident Donald Trump. Vielleicht hat keine Entwicklung mehr dazu beigetragen, die Unsicherheit unter den Europäern zu erhöhen, als Trumps willkürliche Angriffe auf die transatlantischen Beziehungen in den letzten drei Jahren. Wenn er bei den Präsidentschaftswahlen im November besiegt wird, wird das Verhältnis nicht einfach wieder in den Zustand vor Trump zurückkehren, aber die Berechenbarkeit wird wiederhergestellt, und die Europäer werden erleichtert aufatmen können.
Selbst ein Sieg für Trump wird auch ein gewisses Maß an Klarheit schaffen. Es wird sich zeigen, dass man nicht mehr auf die Vereinigten Staaten als strategischen Partner zählen kann. Anstatt zu versuchen, Trump auszusitzen, geschweige denn auf ihn zu zählen, würde Europa allein weitergehen.
Ein letzter Grund zur Hoffnung auf positive Perspektiven für Europas im Jahr 2020 ist die wachsende Erkenntnis, welche Bedrohung ein aufstrebendes China für die liberale internationale Ordnung darstellt. Im März bezeichnete die EU China als "systemischen Rivalen". Anfang dieses Monats, auf dem Treffen der NATO-Führungskräfte in London, ging die EU noch weiter und räumte ein, dass der Aufstieg Chinas "Herausforderungen mit sich bringt, die wir gemeinsam als Allianz angehen müssen". Dies weckt die Hoffnung, dass Europa nicht so sehr von dem Versprechen der chinesischen Finanz- und Investitionstätigkeit geblendet wird, dass es seine Werte nicht wahrt und seine langfristigen Interessen nicht schützt.
Die Herausforderungen, vor denen Europa steht - einschließlich der Steuerung der Migration und der Entwicklung einer neuen Afrika-Strategie - mögen gewaltig sein, aber sie sind keineswegs unüberwindbar. Fortschritte erfordern strategische Weitsicht, politischen Willen und effektive Umsetzung. Aber braucht es viel mehr Selbstvertrauen.
Aus dem Englischen von Eva Göllner