Zeit für Europas Autonomie in der Vereidigung
PARIS – In einem aktuellen Interview mit der Zeitschrift TheEconomist präsentierte der französische Staatspräsident Emmanuel Macron seine geopolitische Vision der Zukunft der Europäischen Union. Dabei spräch er von einem "Hirntod der NATO", was vielen wie ein Widerhall von US-Präsident Donald Trumps Beschreibung der NATO als "obsolet" erschien.
Doch war Macrons Äußerung kein Echo seines amerikanischen Amtskollegen. Macrons Sorgen über den Zustand des Bündnisses spiegeln seine Anerkennung düsterer Tatsachen wider. Erstmals seit dem Zweiten Weltkrieg steht Europa ohne nennenswerten Verbündeten oder Partner da. Trumps Handelskriege und sein Verrat an Verbündeten sind alles andere als eine Anomalie; sie stellen eine neue Norm für die Weltordnung dar.
Bedingt durch demagogische Angriffe auf freiheitlich-demokratische Grundsätze und Trumps offene Unterstützung für autoritäre Herrscher sind Multilateralismus, Menschenrechte und der Respekt für das Völkerrecht inzwischen überall bedroht. Beiderseits des Atlantiks spotten populistische Politiker über die Vorstellung eines auf gemeinsamen Werten beruhenden Bündnisses, während China und Russland ihre Einflusssphären weiter ungehemmt ausbauen.
Die kürzliche Invasion der Türkei in Nordsyrien – ermöglicht durch den Verrat an den Kurden, die den Kampf gegen den Islamischen Staat (ISIS) angeführt hatten – unterhöhlte die Interessen der EU zusätzlich.
David Sassoli, der neue Präsident des Europäischen Parlaments, hat darauf verwiesen, dass der Einmarsch der Türkei – die weiterhin offiziell EU-Beitrittskandidat bleibt – in Syrien auf "eine von einem NATO-Staat ausgehende Kriegshandlung" darstelle. In ähnlicher Weise hat Macron gewarnt, dass die "einseitige Militäroffensive der Türkei … ein humanitäres Risiko für Millionen von Menschen" bedinge. Macron fügte hinzu, die türkische Regierung werde "vor der internationalen Gemeinschaft dafür verantwortlich sein, dass sie Daesh [ISIS] beim Aufbau eines Kalifats helfe". Bundesaußenminister Heiko Maas hat die türkische "Invasion" als empörenden, illegitimen Akt verurteilt, der ein Wiedererstarken des ISIS und eine neue Flüchtlingswelle auslösen würde.
Dies sind starke Worte. Die Frage ist, ob Europa darauf genauso starke konkrete Taten folgen lassen kann. Bisher hat es ein Embargo europäischer Waffenverkäufe an die Türkei verhängt. Doch braucht das türkische Militär – das zweitstärkste innerhalb der NATO – EU-Waffen nicht dringend. Zudem scheint der türkische Präsident Recep Tayyip Erdoğan inzwischen russische Waffen vorzuziehen, darunter das Raketenabwehrsystem S-400, das die Türkei unter Missachtung von NATO-Einwänden gekauft hat. Auch ist die EU selbst weiterhin davon abhängig, dass die Türkei die Welle der Flüchtlinge aus Syrien und anderswo im Mittleren Osten zurückhält. Erdoğan ist seit langem der Ansicht, dass die bloße Drohung mit einer Öffnung der türkischen Grenzen zur EU die europäischen Regierungen auf Linie halten wird.
Subscribe now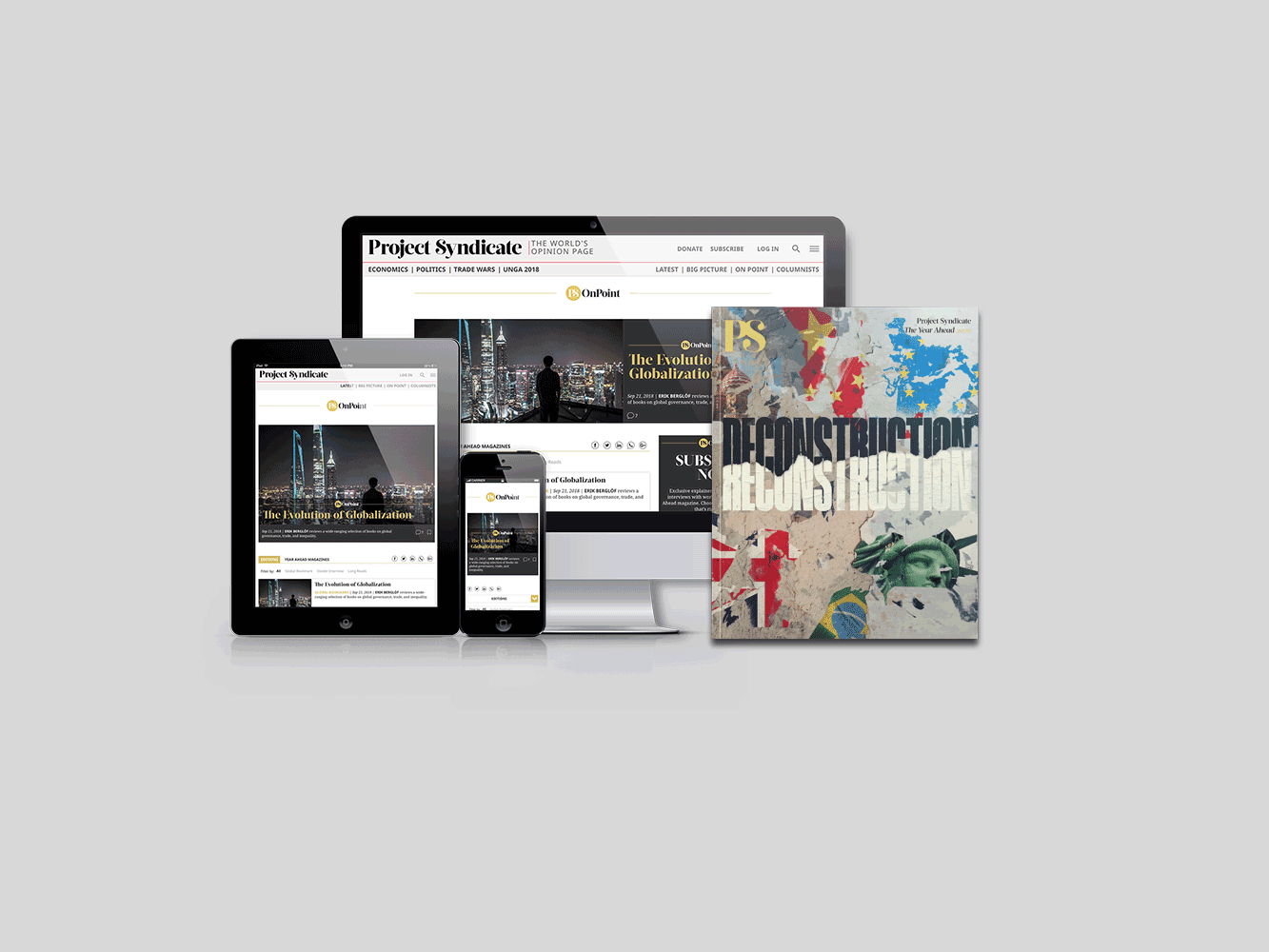 Subscribe now
Subscribe today and get unlimited access to OnPoint, the Big Picture, the PS archive of more than 14,000 commentaries, and our annual magazine, for less than $2 a week.
Oder man denke an die Ukraine und Georgien, wo Russland der EU weiterhin eine lange Nase zeigt. Angesichts der Tatsache, dass der Daseinszweck des europäischen Projekts darin besteht, Angriffskriege und Nationalismus in Europa auszumerzen, sagt die Unfähigkeit der EU, das Geschehen in der Ukraine oder Georgien beeinflussen, eine Menge aus. Das Versagen der EU, ihre eigene Sicherheit gegen eine feindselige benachbarte Macht zu schützen, zeigt das Ausmaß, indem sie institutionell geschwächt wurde.
Natürlich hat die EU einen enormen Binnenmarkt errichtet und den Schutz für bürgerliche, wirtschaftliche und soziale Rechte auf einst unter sowjetischer totalitärer Herrschaft stehende Länder und Gemeinschaften ausgeweitet. Doch so wichtig diese politischen und wirtschaftlichen Erfolge sind: Sie haben sich als unzureichend dabei erwiesen, die Dauerhaftigkeit Europas sicherzustellen.
Daher sind Macron (und viele andere) zu dem Schluss gelangt, dass Europa sein Schicksal annehmen muss, eine "souveräne Macht" zu werden. Mehr als alles andere bedeutet dies, eine europäische Armee aufzubauen und eine völlig eigenständige Fähigkeit zur Selbstverteidigung zu entwickeln. Bis in die allerjüngste Vergangenheit war diese Idee tabu, insbesondere im Vereinigten Königreich, das seine "besondere Beziehung" zu den USA nicht gefährden wollte. Zwar einigten sich der britische Premierminister Tony Blair und der französische Staatspräsident Jacques Chirac 2003, die Waffenbeschaffung zu koordinieren und militärische Ressourcen zum Aufbau eines kampfbereiten Flugzeugträgerverbands zu poolen, doch wurden keine weiteren Maßnahmen ergriffen – möglicherweise, wie einige glauben, aufgrund von Einwänden der USA.
Inzwischen jedoch beginnt selbst Deutschland, die Notwendigkeit einer Autonomie Europas im Verteidigungsbereich anzuerkennen. Im November 2018 hielt Bundeskanzlerin Angela Merkel eine Rede vor dem Europäischen Parlament, in der sie sich für "eine echte europäische Armee" aussprach. Und in einem kaum beachteten Vortrag an der Universität der Bundeswehr München hat zuletzt Verteidigungsministerin Annegret Kramp-Karrenbauer, die als mögliche Nachfolgerin Merkels gehandelt wird, eine deutliche Erhöhung der deutschen Militärausgaben sowie die Schaffung eines neuen nationalen Sicherheitsrates gefordert, um eine durchsetzungsstärkere Verteidigungspolitik anzuleiten.
Diese Stimmung ist durchaus nicht auf Deutschland beschränkt. Das Eurobarometer, eine Meinungsumfrage der Europäischen Kommission, gibt an, dass 75% der Europäer eine gemeinsame Verteidigungs- und Sicherheitspolitik der EU befürworten und dass eine Mehrheit die Schaffung einer EU-Armee in naher Zukunft erwartet. Darüber hinaus bietet der Brexit der EU eine perfekte Gelegenheit, den Schritt hin zu mehr gemeinsamer Militärausrüstung, gemeinsamen Forschungsprogrammen und Truppenschulungen sowie letztlich einer gemeinsamen Verteidigungsstrategie zu tun.
Frankreich und Deutschland haben sich deshalb zur Stärkung ihrer industriellen Zusammenarbeit durch Programme wie das Zukünftige Luftkampfsystem, die Seefernaufklärung und den Bau eines gemeinsamen Kampfpanzers (Main Ground Combat System) bekannt. Aber diese werden erst 2035 einsatzbereit sein. Wenn Europa ein militärisches Dispositiv anstrebt, das nicht "hirntot" ist, darf es angesichts wachsender Bedrohungen nicht länger zaudern.
Es gibt jede Menge Hinweise darauf, dass eine europäische Armee selbst in unmittelbarer Zukunft ein effektives Mittel zum Schutz europäischer Sicherheitsinteressen wäre. Die Dschihadis, die 2012 Nord-Mali eroberten, wurden durch eine von Frankreich geleitete Militärintervention vertrieben. Diese Mission war bisher ein Erfolg. Doch kann sie ohne ein breiter angelegtes europäisches Engagement Bestand haben?
Aus dem Englischen von Jan Doolan