Trois bonnes résolutions pour le Royaume-Uni et l'Europe
BRUXELLES – C'est souvent en fin d'année que l'on tourne la page, pour en débuter une nouvelle. L'année 2019 touchant à sa fin, cette pensée prend tout son sens avec le Brexit. Car après la victoire du Premier ministre Boris Johnson et des conservateurs aux élections législatives de ce mois de décembre, il est désormais certain que le Royaume-Uni quittera l'Union européenne le 31 janvier 2020.
Pour beaucoup, comme pour moi-même, cette sortie sera teintée de regret. Elle nous confère cependant l'opportunité de forger un nouveau partenariat entre l'UE et le Royaume-Uni. Par ailleurs, les choses auraient beaucoup plus mal tourner. Grâce à l'accord de sortie conclu en octobre dernier, un « Brexit dur » absolument destructeur a pu être évité.
Depuis le début des négociations sur le Brexit, nous ne nous sommes du côté de l'UE (les 27 États membres et le Parlement européen) jamais détournés des intérêts fondamentaux du bloc, et avons toujours gardé à l'esprit la nécessité d'unité et de solidarité. Notre priorité a d'abord et avant tout résidé dans la préservation des droits des citoyens européens, à travers notamment l'élaboration d'une solution pour les populations d'Irlande du Nord et d'Irlande, pour lesquelles les négociations étaient une question de paix et de stabilité, et pas seulement de commerce et d'économie. Tout au long du processus, nous avons protégé le marché unique de l'UE, ainsi que ses garanties pour les consommateurs, la santé publique et les normes de santé animale, de même que les garde-fous contre la fraude et le trafic. Mais nous avons également fourni tous les efforts pour préserver un climat de confiance entre l'UE et le Royaume-Uni, ainsi que pour établir les fondations solides d'un partenariat nouveau.
Conformément à son propre souhait, le Royaume-Uni ne participera plus aux institutions de l'UE à compter du 1er février 2020. Le pays demeurera toutefois membre du marché unique et de l'union douanière, au moins jusque fin 2020. La libre circulation des personnes entre l'UE et le Royaume-Uni sera également maintenue, ce qui signifie pour l'an prochain la poursuite du cours normal de l'existence pour les citoyens, consommateurs, entreprises, étudiants et chercheurs des deux côtés de la Manche.
Cette période de transition conférera par ailleurs le temps nécessaire à la mise en œuvre de mesures pratiques visant à garantir les droits des citoyens de l'UE et du Royaume-Uni, à la mise en place des accords douaniers et frontaliers convenus avec l'Irlande du Nord, ainsi qu'à l'ouverture de négociations autour d'un accord sur la relation future. En l'absence toutefois d'une décision du Royaume-Uni consistant à prolonger la période de transition et intervenant avant juillet 2020 – une possibilité exclue par Johnson – un accord autour de la future relation devra être conclu en moins de 11 mois.
Il s'agira d'un défi immense, que nous tenterons de toutes nos forces de relever, même si nous ne parvenons pas à atteindre tous les objectifs. Jamais l'UE n'échouera par manque d'ambition commune.
Subscribe now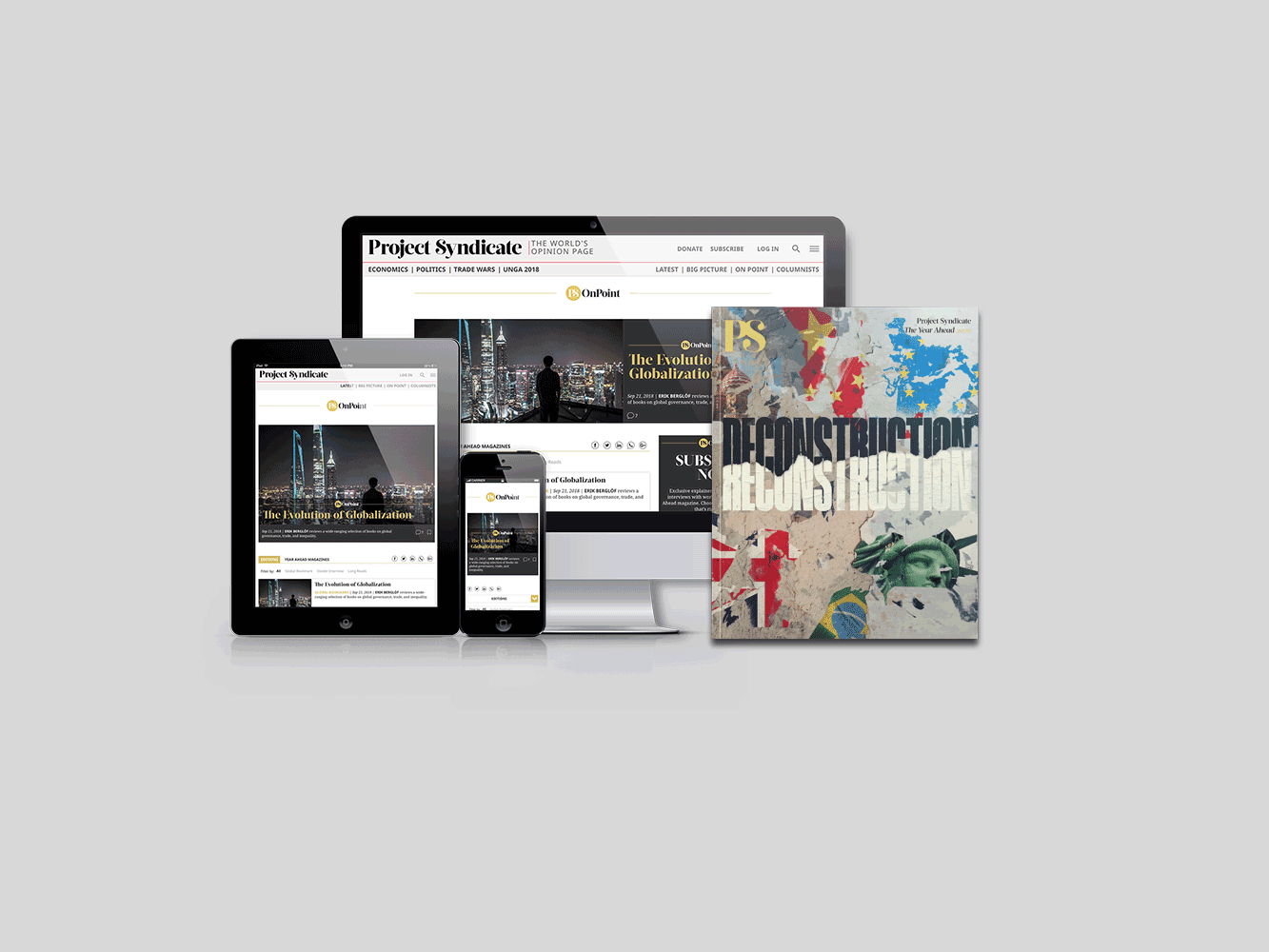 Subscribe now
Subscribe today and get unlimited access to OnPoint, the Big Picture, the PS archive of more than 14,000 commentaries, and our annual magazine, for less than $2 a week.
En cette période de bonnes résolutions pour la nouvelle année, il convient de fixer trois objectifs à atteindre d'ici la fin de l'an prochain. Premièrement, l'UE et le Royaume-Uni doivent veiller à disposer des moyens de travailler ensemble et de discuter des solutions aux défis mondiaux. Le Royaume-Uni quitte certes l'UE, mais pas l'Europe. Comme l'a récemment déclaré la présidente de la Commission européenne, Ursula von der Leyen, « Quoi que l'avenir nous réserve, les liens et l'amitié qui existent entre nos peuples sont indestructibles ». Que ce soit dans la lutte contre le changement climatique, la promotion d'un multilatéralisme efficace, la défense de nos territoires, ou la volonté de l'emporter sur ceux qui préfèrent la violence aux solutions pacifiques, nous partageons des valeurs et des intérêts essentiels.
C'est pourquoi l'UE restera positivement engagée auprès du Royaume-Uni, à la fois sur le plan bilatéral et dans le cadre de forums mondiaux tels que les Nations Unies, l'Organisation mondiale du commerce, et le G20. Prenons la question du changement climatique. L'an prochain, la Conférence des Nations Unies sur les changements climatiques (COP26) se tiendra à Glasgow, en Écosse. La fixation d'objectifs ambitieux exigera une solide position commune. Si l'UE et le Royaume-Uni ne se montrent pas en phase sur une problématique aussi critique, il y a peu d'espoir que les autres pays du monde y parviennent.
Deuxièmement, nous devons bâtir une solide relation en matière de sécurité. Ici encore, le départ du Royaume-Uni n'est pas sans conséquences. L'étroite coopération de sécurité que les États membres de l'UE ont mise en place est liée à la libre circulation des personnes. Si cette coopération fonctionne, c'est parce que nous disposons de règles communes, de mécanismes communs de surveillance, et d'une Cour de justice commune. Parce que nous avons confiance les uns dans les autres, et parce que nous sommes assurés de voir nos droits fondamentaux protégés, nous pouvons partager de nombreux renseignements, et mettre en œuvre des solutions intégrées.
Ce même degré de coopération est tout simplement impossible avec un pays tiers extérieur à l'espace Schengen. Or, ni l'UE, ni le Royaume-Uni ne pourront assurer leur sécurité sans raisonner au-delà de leurs frontières, en construisant des alliances. La lutte contre le terrorisme, les cyberattaques, et autres tentatives de mise à mal de nos démocraties, exigera un effort conjoint. La vie de nos citoyens dépend de notre capacité à pouvoir compter les uns sur les autres. C'est la raison pour laquelle aucun compromis n'est permis concernant notre sécurité mutuelle. Ce doit être engagement inconditionnel de la part des deux camps. Je sais que le haut représentant de l'UE pour les Affaires étrangères et la politique de sécurité, Josep Borrell, est du même avis.
Troisièmement, l'an prochain à la même période, nous devrons avoir conclu un partenariat qui reflète nos intérêts communs, notre proximité géographique, et notre interdépendance. Dans la « déclaration politique » convenue en octobre parallèlement à l'accord de sortie, le gouvernement britannique a clairement fait savoir qu'il entendait poursuivre un accord de libre-échange avec l'UE, et a rejeté l'idée d'un maintien du Royaume-Uni dans l'union douanière de l'UE. Cela signifie que le Royaume-Uni et l'Union européenne deviendront deux marchés distincts.
L'UE et son commissaire au Commerce, Phil Hogan, entreprendront ces négociations dans un esprit positif, forts d'une volonté de tirer pleinement parti du court délai à disposition. Pour autant, à l'instar du Royaume-Uni, nous défendrons également nos intérêts stratégiques. Nous savons combien la compétition autour des normes sociales et environnementales – plutôt qu'autour des compétences, de l'innovation et de la qualité – conduit toujours à une course vers le bas, qui pousse les travailleurs, les consommateurs et la planète vers le bord du chemin. Tout accord de libre-échange devra par conséquent établir une pied d'égalité sur les questions de normes, d'aide publique et de fiscalité.
Tels sont nos trois objectifs pour 2020 : maintenir une capacité d'étroite coopération au niveau mondial, forger un solide partenariat en matière de sécurité, et négocier un nouvel accord économique (qui devra probablement être développé dans les prochaines années). Si nous parvenons à honorer ces trois résolutions, nous aurons tiré le meilleur parti de l'année à venir. Dès que nous aurons obtenu notre mandat de la part des 27 États membres de l'UE, notre équipe sera prête négocier dans un esprit constructif avec le Royaume-Uni – pays que nous considérerons toujours comme un ami, un allié et un partenaire.
Traduit de l'anglais par Martin Morel