Europas Selbstzufriedenheit
LONDON – CORONA hat fast jedem entwickelten Land geschadet, aber in Wahrheit stagniert oder sinkt der Lebensstandard in vielen von ihnen seit Jahren. Viele Kennzahlen deuten auf diesen Trend hin, aber die vielleicht aussagekräftigste stammt von der OECD, die in ihren Mitgliedsländern einen Rückgang des mittleren Nettovermögens der Haushalte um 4 Prozent seit 2010 meldet.
Kein Wunder, dass die fortgeschrittenen Volkswirtschaften in den letzten Jahren immer wieder regelrechte Wutexplosionen erlebt haben - von der Wahl Donald Trumps und dem Brexit-Referendum 2016 bis hin zu den anschließenden so genannten Gelbwesten-Protesten in Frankreich und einer Wahl in Italien, die zwei Parteien an die Macht brachte, die sich gegen das Establishment stellen. Trotz dieser Umwälzungen haben sich die Vorhersagen eines demokratischen Zusammenbruchs nicht bewahrheitet. Im Gegenteil: Das Establishment hat sich bewährt.
Wann immer eine wütende Öffentlichkeit politische Abenteurer an die Macht bringt, ist es nur eine Frage der Zeit, bis diese offenbaren, dass sie keine wirklichen Lösungen für die Probleme der Menschen haben. Man sollte daher nicht zu viel in Misserfolge "populistischer" Regierungen hineininterpretieren. Historisch gesehen sind Populisten tendenziell effektiver ohne Regierungsverantwortung, so können sie dazu beitragen, die Gedanken der Mainstream-Politiker auf Fragen zu lenken, die diese lieber vermeiden würden.
Selbst bei Revolutionen, die alles umzuwälzen schienen, verdeckte ihr Chaos oft eine ungebrochene Kontinuität. Die Französische Revolution begann zwei Jahre nachdem es der Finanzminister von Ludwig XVI, Charles-Alexandre de Calonne, versäumt hatte, die Steuerbefreiungen der privilegierten Klassen abzuschaffen. Im Rückblick 60 Jahre später kam Alexis de Tocqueville zu dem Schluss, dass die scheinbare Katastrophe von 1789 in Wirklichkeit wenig an der Regierungsform des Landes geändert hatte.
Kultur, so scheint es, übertrumpft Revolution. In Russland ergriffen die Bolschewiki die Macht mit dem fanatischen millenarischen Ziel, die Gesellschaft neu zu erfinden, aber am Ende regierten sie wie eine traditionelle Autokratie - wenn auch mit einzigartig grausamen und mörderischen Methoden.
Aber obwohl Revolutionen oft keine großen Veränderungen bewirken, bedeutet das nicht, dass wir sie nicht fürchten sollten, denn die menschlichen Kosten sind in der Regel hoch. Selbst wenn ein abrupter institutioneller Wandel ohne Gewalt erfolgt, ist es fast sicher, dass er Existenzen schädigt. Vielleicht sollten diejenigen, die für die Demokratie so schwarzsehen, doch mehr Beachtung finden, besonders in Europa.
Subscribe to Project Syndicate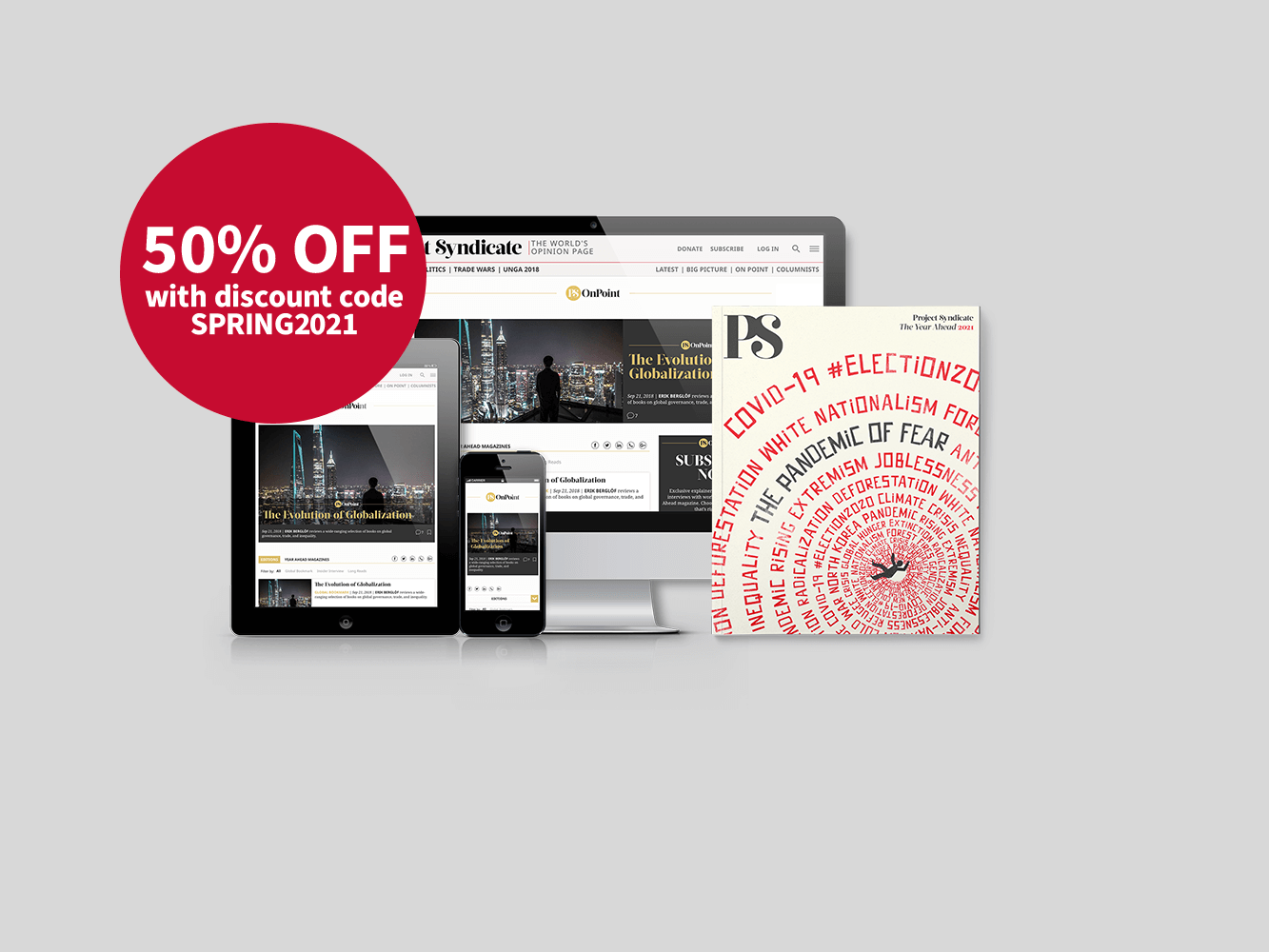 Subscribe to Project Syndicate
Enjoy unlimited access to the ideas and opinions of the world's leading thinkers, including weekly long reads, book reviews, topical collections, and interviews; The Year Ahead annual print magazine; the complete PS archive; and more. All for less than $5 a month.
Eine erstarrte Regierungsführung und chronisch gesunkene Lebensstandards haben die Bedingungen für weitere Störungen und Veränderungen geschaffen. Es ist kein Geheimnis, dass Technologien, die Arbeitskräfte ersetzen, und die Globalisierung der Arbeit die Arbeitsplätze mit mittleren Qualifikationen und Gehältern ausgehöhlt haben, die lange Zeit die Grundlage für den Lebensstandard und die soziale Stabilität in den entwickelten Ländern bildeten. Doch im letzten Jahrzehnt verschärfte sich dieses Problem durch die finanzielle Repression aufgrund einer Kombination aus fiskalischer Sparsamkeit und historisch niedrigen Zinssätzen.
Vor diesem Hintergrund hat die Vertiefung der institutionellen Sollbruchstellen in der Europäischen Union das Gefühl erzeugt, dass irgend etwas unweigerlich wird nachgeben müssen. Das heutige hybride Arrangement aus Föderalismus (durch die Europäische Zentralbank), Supranationalismus (durch die Europäische Kommission) und traditioneller nationaler Regierungsführung hat sowohl Stärken als auch Schwächen. Es ist zwar Ausdruck der Präferenz der meisten Europäer für ein gewisses Maß an gemeinsamer Regierung, schließt jedoch wirklich effektives politisches Handeln aus.
Nehmen wir das Impf-Fiasko der EU. Als Zeichen europäischer Solidarität einigten sich die EU-Länder darauf, ihre Handlungskompetenz auf diesem Gebiet an die Europäische Kommission zu delegieren. Die Absicht war edel. Aber die Kommission war nie in der Lage, ein umfassendes Beschaffungsprogramm für das Gesundheitswesen zu leiten, und nationale Regulierungsbehörden und Politiker unterliefen bald die Bemühungen (und das öffentliche Vertrauen), indem sie den Impfstoff von AstraZeneca aussetzten - und damit die Kompetenz der Regulierungsbehörde auf EU-Ebene (der Europäischen Arzneimittelagentur) in Frage stellten.
Wenn derartige Probleme auftauchen, lautet der allgemeine Konsens, Europa möge sich weiter durchwursteln. Selten gibt es die Bereitschaft, etwas zu verändern, sei es durch die Schaffung einer echten europäischen Regierung mit der notwendigen fiskalischen Stärke, um die relative wirtschaftliche Leistungsschwäche des Kontinents umzukehren, oder durch eine Umkehrung des Integrationsprozesses.
Stattdessen macht das institutionelle Fegefeuer Europa zu einem armen Vetter seiner Freunde und Verbündeten. Wenn die Zinsen in den USA aufgrund einer relativ guten Konjunktur steigen, wird die EZB wieder einmal auf eine mittlerweile vertraute Position reduziert. Der Kapitalfluss in höher verzinste Dollar-Instrumente wird den Euro schwächen, und Europa wird diese Abwertung nutzen, um so viel Wachstum wie möglich zu erzielen, indem es die Auslandsnachfrage anzapft, anstatt die Binnennachfrage wesentlich zu steigern. Selbst wenn die europäischen Bürger bereit sind, unter diesen ermüdenden Bedingungen zu leben, kann nicht erwartet werden, dass die Vereinigten Staaten und andere Länder sie für immer tolerieren.
Die Lähmung auf europäischer Ebene steht im Gegensatz zur nationalen Politik der einzelnen EU-Mitgliedsstaaten. In Frankreich brach das politische Establishment zusammen, nachdem die aufeinanderfolgenden Regierungen (von links und rechts) jahrzehntelang versagt hatten, mehrere grundlegende Probleme zu lösen, nicht zuletzt die himmelhohe Arbeitslosigkeit. Infolgedessen wurden die beiden traditionellen Parteien bei den Wahlen 2017 von einer einzigen Mainstream-Bewegung unter der Führung von Emmanuel Macron verdrängt, die eine Reihe von zersplitterten Herausforderern auf der Anti-Establishment-Seite mit Leichtigkeit besiegte.
Macrons Sieg hat gezeigt, dass die langjährigen Blockaden auf nationaler Ebene überwunden werden können. Aber das neue französische Establishment hat sich seitdem selbst blockiert, indem es versucht hat, Links und Rechts zu überwinden. Macrons berühmtes Schlagwort "en même temps" ("gleichzeitig") klingt inzwischen wie ein Versuch, es allen Recht machen zu wollen. Ein typisches Beispiel ist die Sackgasse im Umgang mit COVID-19. Anstatt sich zwischen einer robusten Abriegelung und einem leichteren, schwedischen Ansatz zur sozialen Distanzierung zu entscheiden, flickte Macrons Regierung ein Sammelsurium von Ausgangssperren und anderen Maßnahmen, die das Schlechteste aus beiden Welten lieferten.
Wenn das Pendel bei den nächsten Präsidentschaftswahlen - in etwas mehr als einem Jahr – wieder ausschlägt, würde dies der größten Herausforderin des Anti-Establishments in die Hände spielen: Marine Le Pen von der rechtsextremen Rallye Nationale. Jüngste Umfragen zeigen, dass Macron Le Pen nur mit einer knappen Mehrheit von 52 Prozent besiegen würde (im Vergleich zu seinem Zweidrittel-Vorsprung im Jahr 2017), was den Élysée-Palast für Le Pen in erreichbare Nähe bringt.
Aber selbst, wenn Le Pen Frankreich und die Welt schockieren sollte, würde ihre Präsidentschaft, wie frühere "populistische" Intermezzos, wahrscheinlich mehr Lärm als Substanz erzeugen. Jenseits ihrer eigenen Grenzen würden sich Europas institutionelle Verflechtungen erneut als das entscheidende Hindernis für Veränderungen erweisen, insbesondere innerhalb der Währungsunion. Europas vor sich hin gärende Leistungsschwäche kann und wird höchstwahrscheinlich noch einige Zeit andauern. Doch diese Aussicht ist zwar wenig einladend, aber letztlich ebenso wenig gefährlich.
Aus dem Englischen von Eva Göllner