Europa in den Zeiten von Trump
BRÜSSEL – Das transatlantische Bündnis, das Jahrzehnte lang weltweit für Stabilität gesorgt, die Demokratie gestärkt und den Westen, so wie wir ihn kennen, geschützt hat, steht derzeit schwer unter Druck, und es droht ihm ein dauerhafter Niedergang. US-Präsident Donald Trump, der Amerikas traditionelle Bündnisse – unter anderem durch Angriffe auf die NATO – wiederholt in Frage gestellt hat, trägt unzweifelhaft erhebliche Mitschuld an dieser negativen Entwicklung. Doch hat Europa durch eigene Untätigkeit ebenfalls zu diesem Zustand beigetragen und muss nun etwas dafür tun, ihn zu beheben.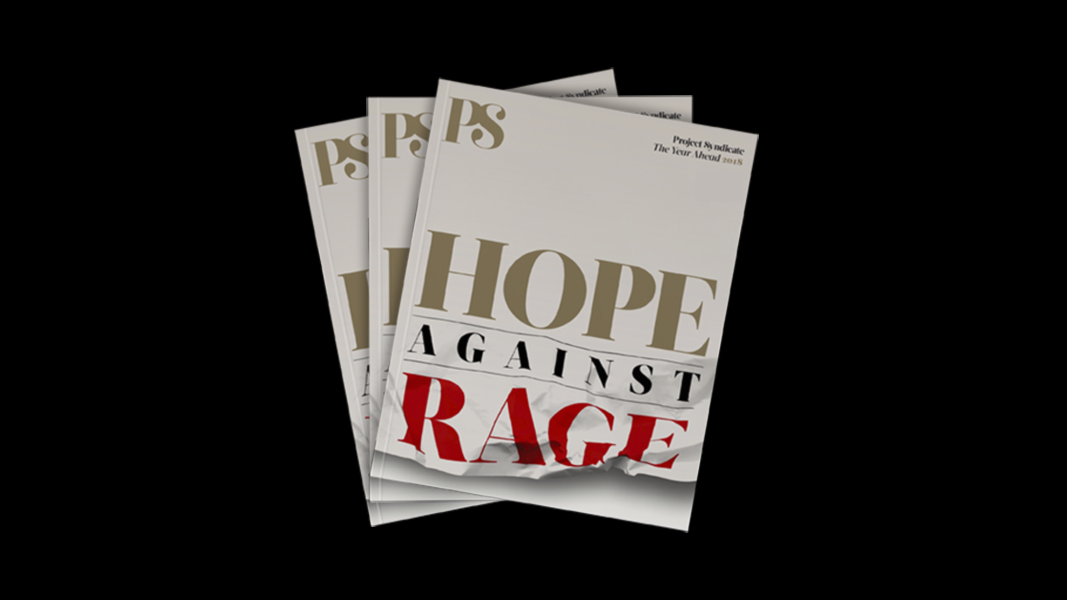 The Year Ahead 2018
The world's leading thinkers and policymakers examine what's come apart in the past year, and anticipate what will define the year ahead.
Die Malaise des Westens ist zweifellos ein Ergebnis der anhaltenden, bisher unbewältigten globalisierungsbedingten Herausforderungen im Bereich der Wirtschaftslenkung. Diese Herausforderungen sind besonders akut in der Europäischen Union, wo eine politische Paralyse die Regierungen hindert, die zur Bewältigung der Finanzkrise, die vor einem Jahrzehnt begann, erforderlichen Reformen vollständig umzusetzen.
Die europäischen Politiker wissen, dass der derzeitige institutionelle Rahmen der Eurozone Mängel aufweist, und sie wissen auch, was zu tun ist. Doch sie bleiben geplagt von Beharrungsträgheit, gelähmt vom Konservatismus und zwanghaft vertieft in die Innenpolitik, und viele führende Politiker lassen sich durch einen populistischen Euroskeptizismus in Geiselhaft nehmen. Infolgedessen haben sie es versäumt, die erforderlichen Schritte zu ergreifen, um die langfristige Stabilität der EU zu gewährleisten, darunter eine vollständige Bankenunion, um Europas Finanzen zu stützen, und ein echtes System einer EU-weiten Wirtschaftslenkung.
Das derzeitige Fehlen eines überzeugungsstarken US-Präsidenten, der bereit und imstande ist, die EU zu weiteren Fortschritten im Bereich der Integration zu ermutigen, macht die Sache nicht besser. Doch die europäische Politik muss die Verantwortung für ihre eigene Widerspenstigkeit übernehmen und selbst tätig werden, um die Union zu retten.
Die gute Nachricht ist, dass die öffentliche Unterstützung für die EU seit dem britischen Brexit-Votum vom Juni 2016 deutlich zugenommen hat, was ein Zeitfenster zur Umsetzung bedeutsamer Reformen schafft. Doch wird dieses Zeitfenster nicht lange offen bleiben. Und bisher haben es die Führer der EU versäumt, die neuerliche Unterstützung für das europäische Projekt zu nutzen, um für Veränderungen zu argumentieren.
Ich will damit nicht sagen, dass keine positiven Schritte unternommen wurden. Im begrüßenswerten Gegensatz zu Trumps ignorantem Protektionismus hat die EU den Freihandel weiter vorangetrieben, indem sie Handelsabkommen mit Kanada und Japan geschlossen und Verhandlungen mit Australien, dem lateinamerikanischen Mercosur-Block und Neuseeland aufgenommen hat.
Angesichts des Potenzials der europäischen Handelsabkommen, einen progressiveren Ansatz in Bezug auf die Globalisierung mit herbeizuführen – was zentral ist, um sie zu retten –, sollte man diese Bemühungen intensivieren. Doch der Fokus muss sich vom Freihandel auf einen fairen Handel verlagern. Und die europäische Politik muss bessere Arbeit dabei leisten, denjenigen, die davon profitieren würden, die potenziellen Vorteile einer EU-Regelsetzung im Welthandel nahezubringen.
Dasselbe gilt für andere Bereiche, in denen die EU eine wertvolle Führungsrolle übernimmt. So ist die Europäische Kommission etwa ein Vorreiter bei der Begrenzung des Missbrauchs bei transnationalen Finanzströmen – insbesondere durch ein strenges Vorgehen gegen die Steuervermeidung durch multinationale Konzerne in der EU und anderswo.
Die europäischen Politiker sollten derartige Bemühungen herausstellen. Kaum mehr als ein Jahr, nachdem die "Panama Papers" das Ausmaß der Steuerhinterziehung durch die Reichen dieser Welt zeigten, entlarvt die Veröffentlichung der sogenannten "Paradise Papers" einmal mehr jene – darunter viele Mitglieder von Trumps Kabinett –, die große Mengen Geldes in ausländische Steueroasen gepumpt haben. Für die EU ist jetzt die Zeit gekommen, ein komplett öffentliches Register der wirtschaftlichen Eigentümer von Treuhandvermögen zu entwickeln und zugleich verstärkt auf eine globale Reform zu dringen.
Ein weiterer positiver Schritt der EU, der für den Sozialgipfel in Göteborg in diesem Monat erwartet wird, ist die Billigung der Europäischen Säule sozialer Rechte durch den Europäischen Rat, die Europäische Kommission und das Europäische Parlament. Die Säule konzentriert sich darauf, Chancengleichheit und Gleichheit beim Zugang zum Arbeitsmarkt, faire Arbeitsbedingungen sowie soziale Absicherung und Inklusion zu gewährleisten. Auch diese Bemühungen – die Behauptungen widerlegen, die EU sei nichts weiter als ein Club neoliberaler kapitalistischer Eliten – müssen effektiver publiziert werden.
Falls die EU es versäumt, den Moment zu ergreifen, um wirksame Reformen umzusetzen, könnte das illiberale politische Trends innerhalb des Blocks wiederbeleben, insbesondere wenn sich bereits in diese Richtung entwickelnden Mitgliedsländern – namentlich Polen und Ungarn – gestattet wird, ihren aktuellen Kurs weiterzuverfolgen. Und unmittelbar jenseits der EU-Grenzen müssen die Führer des Blocks der Türkei, wo Präsident Recep Tayyip Erdoğan die politische Macht in seinen eigenen Händen konzentriert hat, rasch eine neue Art von Beziehung anbieten, die nicht auf einem letztlichen EU-Beitritt beruht.
Europa hat keine Wahl; es muss handeln. Fast täglich sind neue Belege dafür erkennbar, dass Trump seinem Ansatz des "America First" treu bleibt, der der traditionellen Rolle der USA als wichtigster Verteidiger der freiheitlichen Demokratie in der Welt abschwört. Rechtspopulisten und autoritäre Regime in Europa und anderswo werden weiter danach streben, das sich hieraus ergebende globale Führungsvakuum auszunutzen. Der einzige Weg zum Schutz der freiheitlichen Weltordnung besteht darin, dass andere Mächte – angefangen mit der EU – in die Bresche springen.
Die politischen Führer der Welt müssen dem Druck eines kurzfristigen politischen Tribalismus widerstehen und sich den vor uns liegenden geopolitischen und wirtschaftlichen Herausforderungen stellen. Populisten und Protektionisten auf der Rechten und auf der Linken werden unweigerlich dabei scheitern, ihre simplistischen Versprechen einzuhalten. Doch zentristische und progressive Kräfte in Europa und anderswo müssen bereit sein.
Aus dem Englischen von Jan Doolan