Cómo evitar la próxima recesión
WASHINGTON, DC – A pesar de los pronunciamientos oficiales confiados, el deterioro de la economía global figura alto en la agenda internacional de políticas. La OCDE recientemente revisó para la baja su pronóstico de crecimiento a 1,5% en las economías avanzadas del G20 en 2020, comparado con casi 2,5% en 2017. Y su economista jefe, Laurence Boone, advirtió sobre el riesgo de un mayor deterioro –una manera cifrada de indicar una creciente amenaza de recesión.
Los cambios estructurales en la industria automotriz, las miserables alzas de productividad en las economías avanzadas, la reducción de la capacidad excedente y el aumento de las fragilidades financieras serían motivos suficientes de preocupación inclusive en tiempos normales. Pero, hoy, una combinación de fisuras en el sistema de comercio global y una escasez sin precedentes de políticas agudizan los temores.
Como enfatizó la OCDE, una buena parte de la desaceleración se puede atribuir a la disputa comercial en curso entre Estados Unidos y China. Chad Bown del Instituto Peterson estima que, sobre la base de los anuncios realizados, el arancel promedio de Estados Unidos a las importaciones de China aumentará del 3% hace dos años al 27% para fin de este año, mientras que los aranceles chinos a los productos estadounidenses aumentarán del 8% al 25% en el mismo período. Se trata de incrementos lo suficientemente pronunciados como para alterar las cadenas de suministro. Las ansiedades por una mayor escalada inevitablemente afectarán la inversión.
Es más, la política arancelaria errática del presidente norteamericano, Donald Trump, es sintomática de una revaloración más amplia de las redes de producción globales. Aún si Trump no fuera reelegido en 2020, ya prácticamente no quedan defensores del libre comercio en Estados Unidos. El daño al régimen comercial global generado por un creciente nacionalismo probablemente lo sobreviva. Y los reclamos relacionados con el clima en relación a la búsqueda ilimitada de menores costos de producción seguramente aumentarán.
La otra gran preocupación es la falta de herramientas políticas para contrarrestar una desaceleración. En una recesión normal, los bancos centrales cortan agresivamente las tasas de interés para apuntalar la demanda. La Reserva Federal de Estados Unidos, por ejemplo, redujo las tasas cinco puntos porcentuales en cada una de las tres últimas recesiones.
Hoy, en cambio, la Fed apenas tiene la mitad del margen habitual para reducir las tasas, mientras que el margen del Banco Central Europeo es muy limitado. Las tasas libres de riesgo en la eurozona ya son negativas, aún en los bonos a 30 años. Y después de que el BCE recientemente relajara la política en el mandato del presidente saliente Mario Draghi, su sucesora, Christine Lagarde, heredará una caja de herramientas prácticamente vacía.
Subscribe now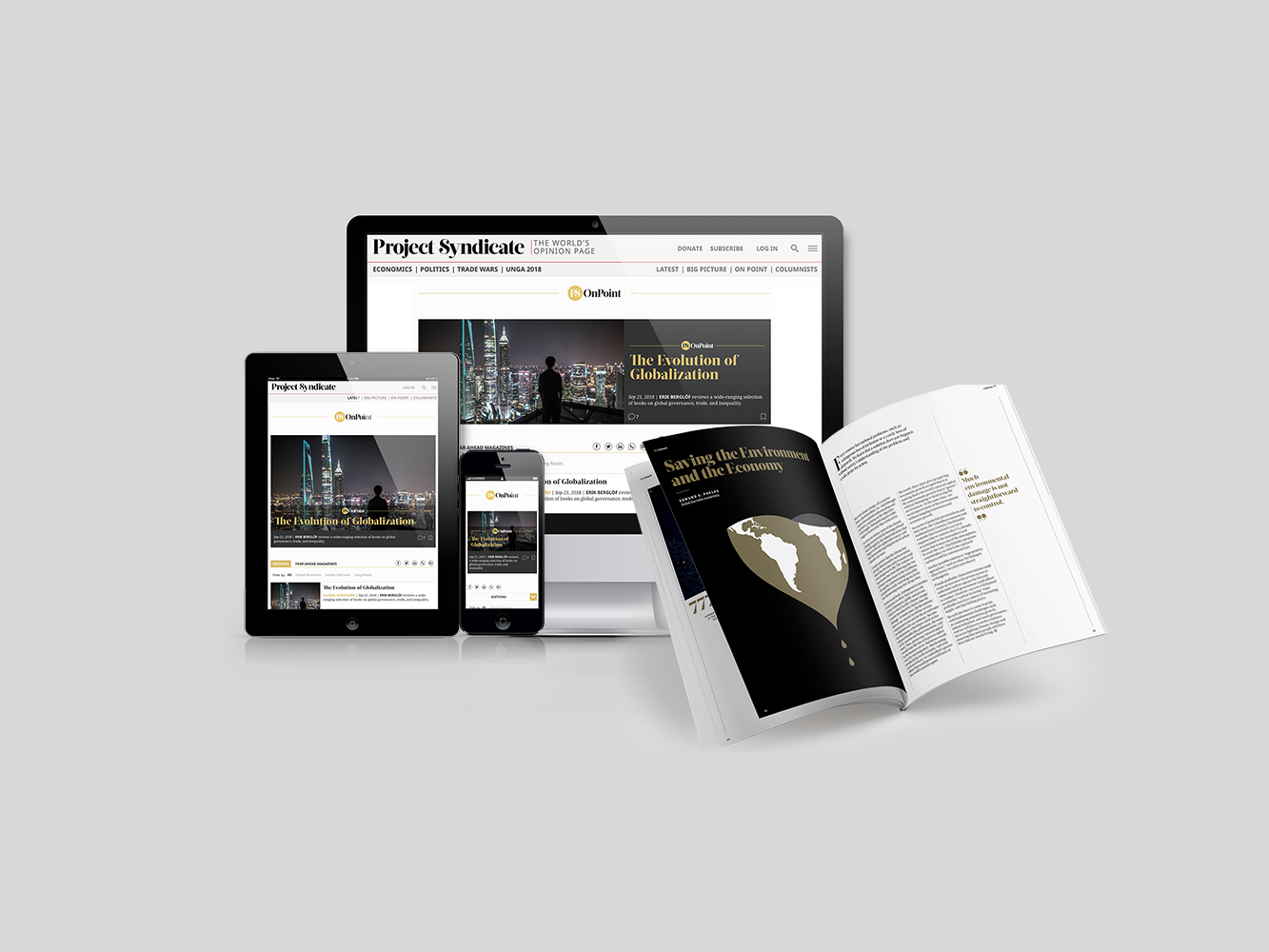 Subscribe now
Subscribe today and get unlimited access to OnPoint, the Big Picture, the PS archive of more than 14,000 commentaries, and our annual magazine, for less than $2 a week.
Como ha dicho Lagarde, "los bancos centrales no son la única alternativa posible". Tanto ella como Draghi han instado a los gobiernos de la eurozona a brindar un mayor estímulo fiscal. En los papeles, parece algo factible: mientras que el déficit presupuestario ajustado cíclicamente de Estados Unidos supera el 6% del PIB, el déficit promedio en la eurozona sigue estando por debajo del 1%. Por otro lado, el ratio deuda-PIB en la eurozona, si bien es alto, es más bajo que en Estados Unidos. Es más, como ha destacado Olivier Blanchard, ex economista jefe del Fondo Monetario Internacional, los déficits temporarios no implican un incremento duradero en el ratio deuda-PIB cuando la tasa de interés está muy por debajo de la tasa de crecimiento, como ahora.
Sin embargo, los ministros de Finanzas europeos ni siquiera tuvieron en cuenta planes fiscales contingentes en su reunión más reciente de septiembre. Y Alemania, que tiene espacio para actuar, sigue oponiéndose a relajar sus requerimientos "black zero", según los cuales el parlamento debe aprobar un presupuesto equilibrado, con déficits permisibles sólo si el crecimiento no cumple con las expectativas. Si bien los pedidos para levantar esta limitación autoimpuesta se están haciendo oír cada vez más, el "freno de deuda" separado consagrado en la constitución de Alemania limita el déficit federal ajustado cíclicamente a 0,35% del PIB.
Los gobiernos de la eurozona, por lo tanto, sólo tienen un margen de maniobra fiscal limitado y pueden no tener el coraje político para ampliarlo. Por ende, es más factible que Europa salga del paso con cierto alivio fiscal inducido por la recesión, pero sin una respuesta agresiva.
Ahora bien, una década después de la Gran Recesión, la economía de Europa todavía está convaleciente, y otro período de dificultades prolongadas causaría un daño económico y político serio y potencialmente peligroso. Los responsables de las políticas deberían, por lo tanto, explorar opciones alternativas.
Esto nos lleva a la idea extravagante de dotar al BCE de nuevas herramientas. A fines de los años 1960, Milton Friedman, el padre del monetarismo, imaginó que un banco central podía arrojar billetes desde un helicóptero –una metáfora que Ben Bernanke, el ex presidente de la Fed, más tarde utilizó para explicar que la Fed siempre podía hacer algo más para contrarrestar la deflación.
Para transformar este experimento de pensamiento en una opción de política real, el Eurosistema podría otorgar préstamos perpetuos sin interés a bancos en los países miembro, con la condición de que trasladen el dinero a los clientes en los mismos términos. Concretamente, los hogares recibirían un crédito de 1.000 euros (1.094 dólares) que nunca tendrían que devolver –en efecto, una transferencia que financiaría un mayor consumo-. El banco central de cada país miembro podría mantener un activo ficticio en su balance o, desde un punto de vista más realista, recuperaría con el tiempo las pérdidas correspondientes reduciendo el dividendo anual que le paga a su accionista público.
Sin embargo, una iniciativa de estas características enfrentaría obstáculos considerables. El primero es legal: ¿el BCE estaría actuando dentro de su mandato? Probablemente, sí, siempre que una operación de ese tipo se utilizara para ayudar a alcanzar el objetivo de estabilidad de precios del BCE. La inflación de la eurozona actualmente es baja, y una recesión la agravaría.
El segundo problema es operativo: algunos hogares de la eurozona no tienen cuenta bancaria, mientras que otros tienen varias. ¿Y si se otorgara el mismo importe a hogares en Luxemburgo que en Latvia, donde el ingreso per capita es cuatro veces menor? Tal vez no sea algo que importe desde un punto de vista macroeconómico, pero sí importa en términos de equidad.
El obstáculo final es político: el BCE sería acusado de quebrantar el muro chino que separa la política monetaria y fiscal, porque la operación equivaldría a una transferencia administrada por el Estado y financiada por emisión monetaria. Dada la acrimonia actual sobre la estrategia monetaria del BCE, podría ser una controversia excesiva.
El tiempo dirá si una situación económica en deterioro y la falta de opciones alternativas justifican entrar en territorio inexplorado. Es poco probable que Europa tenga las agallas para hacerlo y, aunque las tuviera, el camino será peligrosamente estrecho y estará plagado de obstáculos. Pero el riesgo de actuar, en definitiva, podría ser menor que el riesgo de patear la pelota para adelante.