Naar een geprivilegieerd partnerschap tussen de EU en Groot-Brittannië
BERLIJN – Na de enorme overwinning van Boris Johnson bij de algemene verkiezingen begin december ligt Groot-Brittannië op koers om de Europese Unie op 31 januari 2020 te verlaten. Johnson heeft een duidelijke meerderheid in het parlement waarmee hij een deal kan regelen voor een ordelijk vertrek uit het handelsblok. Hoewel Groot-Brittannië en de EU nu voor lange en moeilijke onderhandelingen staan om tot een wederzijds bevredigende oplossing te komen is de Brexit zelf inmiddels een zekerheid.
Wat zal dit voor Europa betekenen? Groot-Brittannië is de op één na grootste economie van Europa, een van de twee Europese kernmachten en (net als Frankrijk) een permanent lid van de Veiligheidsraad van de Verenigde Naties, uitgerust met het vetorecht. Het land is altijd heel belangrijk geweest voor Europa, zowel in culturele als in historische zin. Als de vrijheid en veiligheid van Europa op het spel stonden is Groot-Brittannië altijd te hulp geschoten.
Wat de Brexit voor Groot-Brittannië zelf zal betekenen staat nog te bezien. Veel zal niet zozeer afhangen van de vertrekovereenkomst, maar van de vraag hoe het land zal omgaan met de veranderende omstandigheden van de 21e eeuw. En wat de EU aangaat: het vertrek van Groot-Brittannië zal het blok duidelijk verzwakken. Een geopolitieke en militaire zwaargewicht trekt de deur achter zich dicht en doet dat op een moment dat de Amerikaanse president Donald Trump twijfel heeft gezaaid over de reeds lang bestaande Amerikaanse veiligheidsgarantie.
Niettemin zal de Brexit weinig gevolgen hebben voor het Europese veiligheidsbeleid. De respectievelijke veiligheidsbelangen van de twee partijen zijn tijdens het Brexit-drama onveranderd gebleven. De Europese integratie is gebaseerd op de gemeenschappelijke markt van de EU (de douane-unie en een gemeenschappelijke justitiële ruimte), niet op gezamenlijke militaire arrangementen. In de context van de Brexit kan dit onderscheid voordelig blijken, omdat – ook al zullen beide partijen in economisch opzicht uiteenlopende belangen vertegenwoordigen – ze nog steeds dezelfde veiligheidszorgen zullen delen.
Maar als Groot-Brittannië of de EU veiligheidskwesties in de Brexit-onderhandelingen zou willen inbrengen, zou dit de omstandigheden creëren voor een dubbel verlies. Alles wat de veiligheid of stabiliteit van continentaal Europa bedreigt, is ook in strijd met de Britse belangen. Ongeacht de vraag of Groot-Brittannië een lidstaat van de EU is, zal het land samen met de EU moeten optrekken in kwesties als die van de migratie en het terrorisme.
Op dezelfde manier lijkt een gezamenlijke benadering van Rusland en China onvermijdelijk. De enige echte vraag is welk soort institutioneel raamwerk een op vertrouwen gebaseerde samenwerking op het gebied van deze steeds belangrijker geopolitieke fronten zou kunnen faciliteren. Eén instrument dat daarbij in aanmerking komt is dat van een "geprivilegieerd partnerschap," een concept dat voorheen door de Duitse christendemocraten werd voorgesteld voor het onderhouden van constructieve betrekkingen tussen de EU en Turkije, bij ontstentenis van de toetreding van dat land tot het blok.
Subscribe now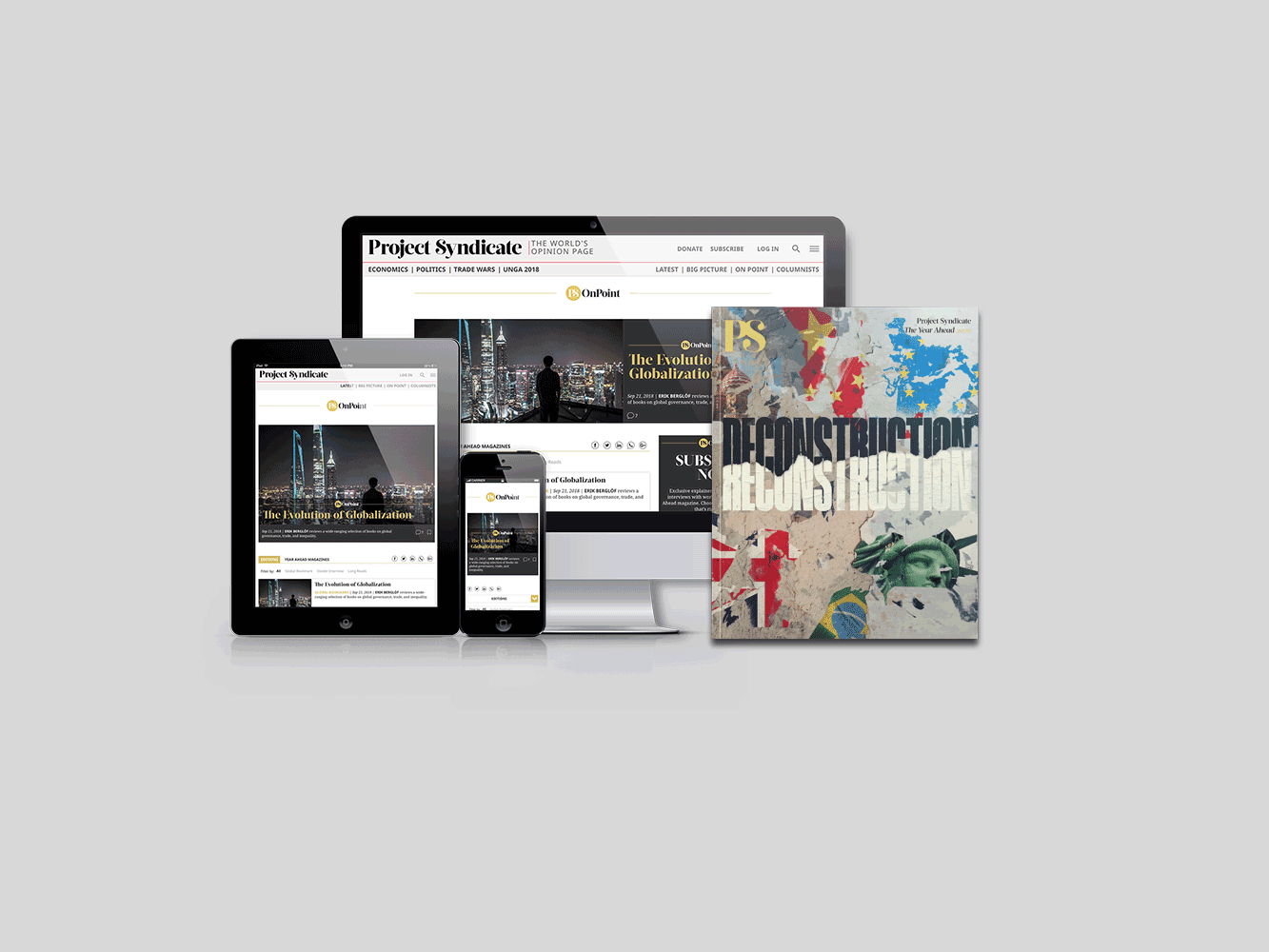 Subscribe now
Subscribe today and get unlimited access to OnPoint, the Big Picture, the PS archive of more than 14,000 commentaries, and our annual magazine, for less than $2 a week.
De eerlijkheid gebiedt te zeggen dat dit idee ten aanzien van Turkije niet zo goed is uitgepakt, eenvoudigweg omdat de voorwaarden ervoor aan de Turkse kant niet bestonden. Maar het geval van Groot-Brittannië is volledig anders, omdat dit land de EU net zal hebben verlaten, na tientallen jaren lid te zijn geweest. Nu de belangen van beide partijen overeenkomen, hoeven ze alleen maar te beslissen hoe nauw de toekomstige coöperatieve partnerschap zal moeten zijn. Ik persoonlijk geloof dat die zo nauw mogelijk moet zijn, en dat beide partijen zich daarin ruimhartig moeten opstellen. Bij het ontwerpen van een nieuwe relatie moeten we volledig gebruik maken van onze nauwe betrekkingen en intieme kennis van elkaar.
Een geprivilegieerd partnerschap tussen de EU en Groot-Brittannië moet alle gebieden van gezamenlijk belang omvatten – van wetenschappelijke samenwerking, klimaatverandering en handel tot migratie, terrorisme, cyberveiligheid en gezamenlijke initiatieven op het gebied van het buitenlands en het ontwikkelingsbeleid. Iedere kwestie die raakt aan gemeenschappelijke belangen moet in het toekomstige arrangement worden opgenomen en onderworpen worden aan samenwerkingsprocedures.
Het staat te bezien of Groot-Brittannië zijn veiligheidsbeleid zal structureren rond zijn gemeenschappelijke belangen met Europa, of dat het land zich weer meer op de Verenigde Staten zal gaan richten. Het met elkaar in evenwicht brengen van de respectievelijke belangen van iedere speler in het Noord-Atlantisch gebied zal niet makkelijk zijn, vooral niet zolang Trump president is. Maar in ieder geval moeten de EU en Groot-Brittannië een geïnstitutionaliseerde formule nastreven die is gestructureerd langs de lijnen van de Europese Raad of de belangrijke specialistische raden binnen de EU. Dit zou iedere partij de kans bieden de ander volledig op de hoogte te houden van zijn standpunt inzake veiligheidskwesties.
Een andere vraag is of de toekomstige economische ontwikkeling van Groot-Brittannië het huidige niveau van zijn defensie-uitgaven binnen de NAVO mogelijk zal blijven maken. Vanuit Europees perspectief zal dit waarschijnlijk de belangrijkste geopolitieke vraag zijn die uit de Brexit voortvloeit.
Na heel veel pijn en verwarring ligt het Brexit-besluit nu feitelijk achter ons. Vooruitkijkend zullen beide partijen manieren moeten zien te vinden om nauwer samen te werken, vooral als het aankomt op het vormgeven van een gezamenlijk veiligheids- en buitenlands beleid. De geopolitieke posities van China en Rusland zijn door de Brexit niet veranderd, en evenmin is de dreiging van het terrorisme afgenomen. De collectieve uitdagingen van migratie, klimaatverandering en vele andere vraagstukken zullen blijven bestaan, en het is aan de EU en Groot-Brittannië om daar effectief mee om te gaan.
Vertaling: Menno Grootveld