Die strategische Autonomie Europas nach Afghanistan
MADRID – Dafür, den amerikanischen Abzug aus Afghanistan zu kritisieren, gibt es gute Gründe: Waren die Bilder verzweifelter Afghanen, die massenhaft zum Kabuler Flughafen strömten, noch nicht verstörend genug, sollte es zumindest der tödliche Angriff auf die versammelte Menschenmenge gewesen sein. Das chaotische und demütigende Ende eines unpopulären Krieges mit seinen furchtbaren humanitären Folgen war der Höhepunkt einer langen Reihe politischer Fehleinschätzungen vieler amerikanischer Politiker.
In Europa hat der schnelle Zusammenbruch der westlich unterstützten afghanischen Regierung viel Kritik und Schuldzuweisungen ausgelöst. Aber insgesamt wurde durch die Rückkehr der Taliban an die Macht auch ein wachsendes Gefühl der Unsicherheit verstärkt, das hinsichtlich der Zukunft der NATO und der transatlantischen Beziehungen bereits bestand. Ob diesem Gefühl auch Taten folgen, ist allerdings keinesfalls sicher.
Für die Europäische Union ist die geopolitische Sinnsuche zu einer Art chronischer Krankheit geworden. Ein Symptom davon sind allgemeine, mutige Absichtserklärungen und Visionen strategischer Autonomie – einer Idee, die bereits seit den 1990ern in der Luft liegt und in den letzten Jahren an Bedeutung gewonnen hat.
Immer wieder folgen diesen Visionen vehemente Forderungen nach Reformen, bei denen sich normalerweise Frankreich an die Spitze stellt. Aber diese Aufrufe verstummen normalerweise schnell wieder. Die Unstimmigkeiten zwischen den EU-Mitgliedern – und, wichtiger noch, den NATO-Mitgliedern – denen teilweise eine kulturell bedingte Abneigung gegen Verteidigungsausgaben zugrunde liegt, sind ein unüberwindliches Hindernis.
Dies war auch das Schicksal der EU-Einsatztruppen: den Streitkräften in Batallionsgröße, zusammengesetzt aus Einheiten mehrerer Mitgliedstaaten, die der Gemeinsamen Sicherheits- und Verteidigungspolitik unterstehen. Obwohl sie bereits seit 2007 "voll einsatzfähig" sind, wurden sie aufgrund interner Differenzen nie eingesetzt.
Die aktuelle Reflexionsrunde scheint bis jetzt einem ähnlichen Muster zu folgen: Bevor die letzten Evakuierungsflüge Kabul verließen, riefen die europäischen Politiker wieder zu strategischer Autonomie auf. Josep Borrell, der Hohe EU-Vertreter für Außen- und Sicherheitspolitik, sagte, der Abzug solle ein "Weckruf" sein und die EU dazu veranlassen, "mehr in ihre Sicherheitsfähigkeiten zu investieren und die Möglichkeit zu entwickeln, in strategischen Begriffen zu denken und zu handeln".
Subscribe to Project Syndicate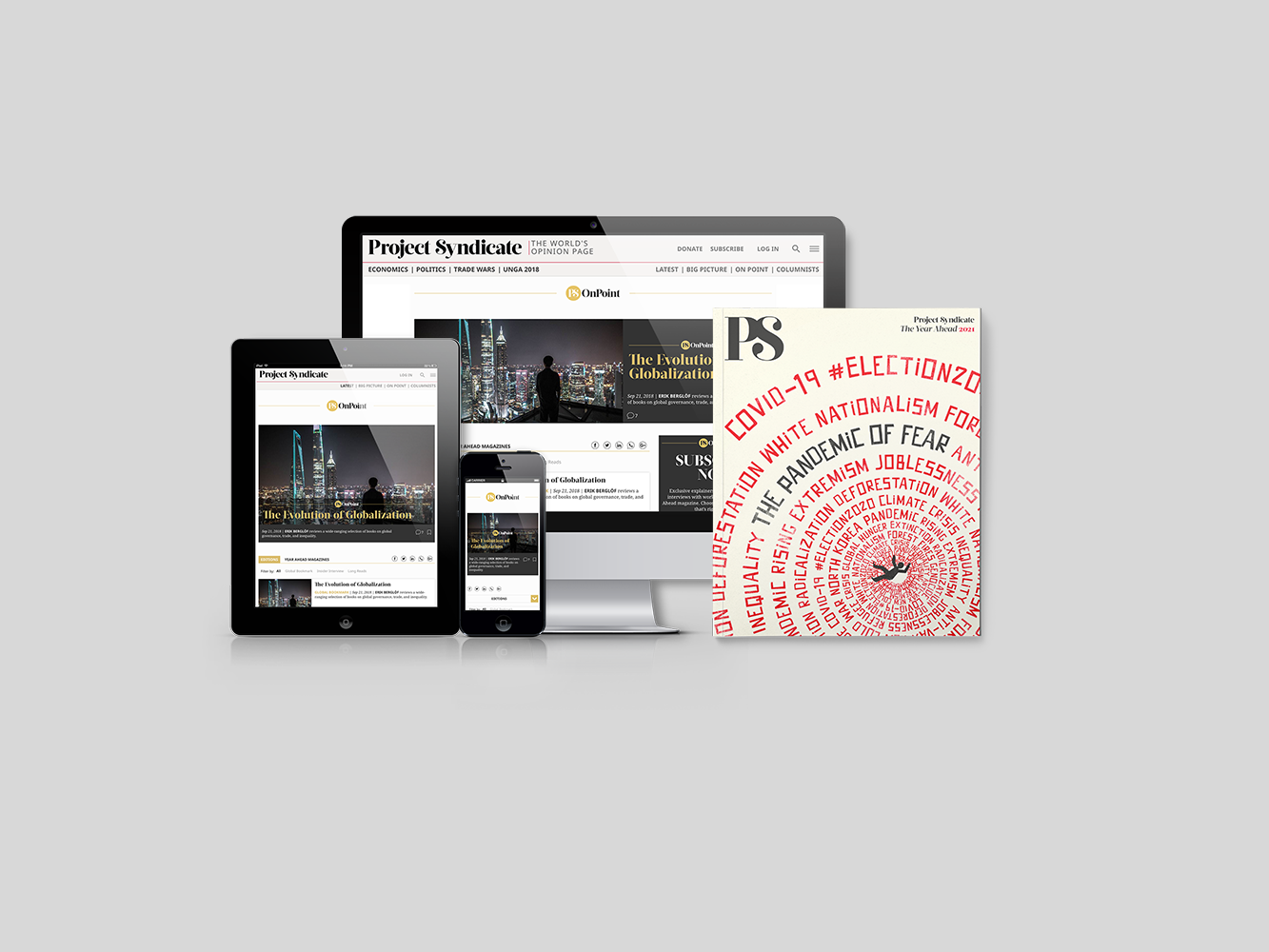 Subscribe to Project Syndicate
Enjoy unlimited access to the ideas and opinions of the world's leading thinkers, including weekly long reads, book reviews, topical collections, and interviews; The Year Ahead annual print magazine; the complete PS archive; and more – for less than $9 a month.
Das Afghanistan-Debakel steigert auf jeden Fall den Anreiz, dies zu tun. Immerhin wurden, wie Borrell bemerkte, der Zeitplan und die Art des dortigen Rückzugs ausschließlich von den Vereinigten Staaten bestimmt. Mit anderen Worten, Präsident Joe Biden scheint trotz seiner Versprechen, Amerikas internationale Verpflichtungen und Beziehungen zu seinen Verbündeten zu erneuern, die interne Nabelschau seines Landes fortzusetzen.
Offenbar akzeptieren die Europäer – anstatt wie zu Beginn seiner Präsidentschaft weiterhin für Biden zu schwärmen – allerdings nun die Tatsache, dass Amerika auf der Weltbühne erst wieder die Führung übernehmen kann, wenn seine inneren Wunden geheilt sind. Die Biden-Regierung verfolgt eine "Außenpolitik für die Mittelklasse", die fest in einem tief gespaltenen innenpolitischen Umfeld verankert ist. Und da sich in den USA nur wenige für ein stärkeres internationales Engagement einsetzen, wird sich dies wahrscheinlich so bald nicht ändern.
Aber auch wenn Bidens unilaterale Afghanistan-Entscheidung den Forderungen nach einer umfassenderen strategischen Abkopplung neues Leben einhauchen könnte, befreit sie die EU nicht von ihrer Verantwortung für den chaotischen Rückzug. Amerikas europäische Verbündete hatten genug Gelegenheiten, den Rückzugsplänen der Biden-Regierung zu widersprechen – nicht zuletzt auf dem NATO-Gipfel vom Juni. Diese haben sie nicht genutzt.
Aber selbst wenn sie es getan hätten, hätten sie nicht die nötigen Fähigkeiten gehabt, die Stellung zu halten. Europäische Streitkräfte könnten ohne US-Unterstützung nicht einmal den Kabuler Flughafen betreiben. Es gibt keine Illusionen mehr: Die EU ist nicht in der Lage, eine unabhängige strategische Vision zu verfolgen. Dies liegt vor allem an mangelndem politischen Willen – der unter anderem dazu geführt hat, dass viel zu wenig finanzielle Ressourcen verfügbar sind.
Das Thema läuft darauf hinaus, dass die EU-Politiker – und ihre Wähler – ausrechnen müssen, wie viel ihnen ihre strategische Unabhängigkeit wert ist und was sie kostet. Zur Frage nach dem Wert gehen die Wahrnehmungen europaweit erheblich auseinander. Unumstritten ist, dass die Kosten etwa 818 Milliarden Dollar jährlich betragen würden. Dies ist nämlich die Differenz zwischen dem NATO-Haushalt in Höhe von einer Billion Dollar und dem, was die EU 2019 für Verteidigung ausgegeben hat.
Momentan ist dies ein Preis, den die EU nicht bezahlen kann: Ihr Haushalt von 2021-27 sieht für Sicherheit und Verteidigung nur 13 Milliarden Euro vor. Um echte strategische Autonomie zu erreichen, müsste die Union in den nächsten Jahren viel mehr politischen Willen aufbieten. Dies scheint durchaus möglich, da die EU-Politiker vor der Möglichkeit einer weiteren Migrationswelle und Afghanistans erneutem Rückfall hin zu einer Brutstätte des Terrors stehen – was Europas Grenzsicherheit, politische Stabilität und Fähigkeit zu humanitären Missionen auf die Probe stellen könnte.
Auf jeden Fall bleibt echte strategische Autonomie eher ein langfristiges Ideal als ein realistisches Kurzfristziel. Glücklicherweise kann die EU stärkere Autonomie parallel zu einer verstärkten Verteidigungszusammenarbeit mit den USA erreichen – und sogar durch diese. Trotz Amerikas verstärkter Beschäftigung mit sich selbst – ein Wandel, der China oder Russland nicht entgangen ist – haben beide Seiten eindeutig viele strategische Interessen gemeinsam. Daran sollte die EU die USA auf jeden Fall erinnern und sie von ihrem isolationistischen Kurs abbringen.
Deswegen muss sich die EU auch weiterhin bemühen, ihre sicherheits- und verteidigungspolitische Planung voranzutreiben, die als Strategischer Kompass bekannt ist und von der bisher nur wenige Details bekannt geworden sind. Und dies sollte auch die Handlungen der Union vor und während dem NATO-Gipfel in Madrid im nächsten Juni prägen, auf dem ein neues strategisches Konzept verabschiedet wird – ein einst geheimes Dokument, das nun jedes Jahrzehnt aktualisiert wird, um den übergeordneten Zielen der Organisation zu entsprechen.
Letztlich kann Europa allerdings erst dann ein außenpolitisches Schwergewicht werden, dessen weltpolitischer Einfluss seiner Wirtschaftsmacht entspricht, wenn es seine Haushaltsprioritäten anpasst und Ressourcen von seinem geliebten Wohlfahrtsstaat abzieht. Ob die Europäer eine solche Neuausrichtung aber tolerieren, bleibt abzuwarten.
Aus dem Englischen von Harald Eckhoff