Une Organisation des Nations Unies, version européenne
BERLIN/WASHINGTON, DC – En septembre dernier, à l'occasion du 75e anniversaire des Nations Unies, l'Assemblée générale a adopté une déclaration historique affirmant son engagement à « mobiliser des ressources » et à « faire preuve d'une volonté politique et d'un leadership sans précédent », afin d'assurer « l'avenir auquel nous aspirons ». Cette Déclaration UN75 a enthousiasmé l'auditoire. Mais va-t-elle conduire pour autant à des changements d'importance ?
L'histoire nous laisse penser que cela pourrait bien être le cas. Après tout, les commémorations antérieures de la fondation de l'ONU ont apporté d'importantes réformes structurelles. À l'occasion du 60e anniversaire de l'ONU, par exemple, les dirigeants mondiaux ont créé une Commission de consolidation de la paix, pour aider les pays à passer de la guerre à la paix, ont amélioré la Commission des droits de l'homme en vue de la renforcer et ont adopté la doctrine de la « responsabilité de protéger » pour aider à protéger les civils dans les zones de conflit.
Une amélioration confirmée des perspectives de la Déclaration UN75 reflète la volonté de la société civile. En prévision de l'Assemblée générale de l'année dernière, l'ONU a mené une enquête mondiale pour connaître précisément les préoccupations du citoyen lambda. Sur plus de 1,3 million de personnes interrogées, 87 % ont déclaré que la coopération internationale était essentielle pour relever les défis actuels.
L'ONU a également encouragé plus de 3 000 dialogues dans 120 pays sur « l'avenir que nous voulons, l'ONU qu'il nous faut ». Les résultats de ces dialogues – qui ont eu lieu dans « les salles de classe, les conseils d'entreprises, les parlements et les associations communautaires » – ont contribué à donner forme à la déclaration.
Dans le même temps, les gouvernements nationaux se sont employés à relancer la coopération multilatérale. Par exemple, en avril 2019, le ministre allemand des Affaires étrangères Heiko Maas et le ministre français des Affaires étrangères Jean-Yves Le Drian ont lancé l'Alliance pour le multilatéralisme afin de promouvoir la coopération mondiale à une époque de résurgence nationaliste. L'Alliance bénéficie à ce jour du soutien de plus de 50 pays.
De même, en février dernier, les dirigeants du G7, dont le président américain Joe Biden, ont déclaré qu'ils collaboreraient pour « faire de 2021 un tournant vers le multilatéralisme ». La coopération sur la reprise post-pandémie et la « reconstruction en mieux » étaient alors tenues pour des priorités absolues.
Subscribe to Project Syndicate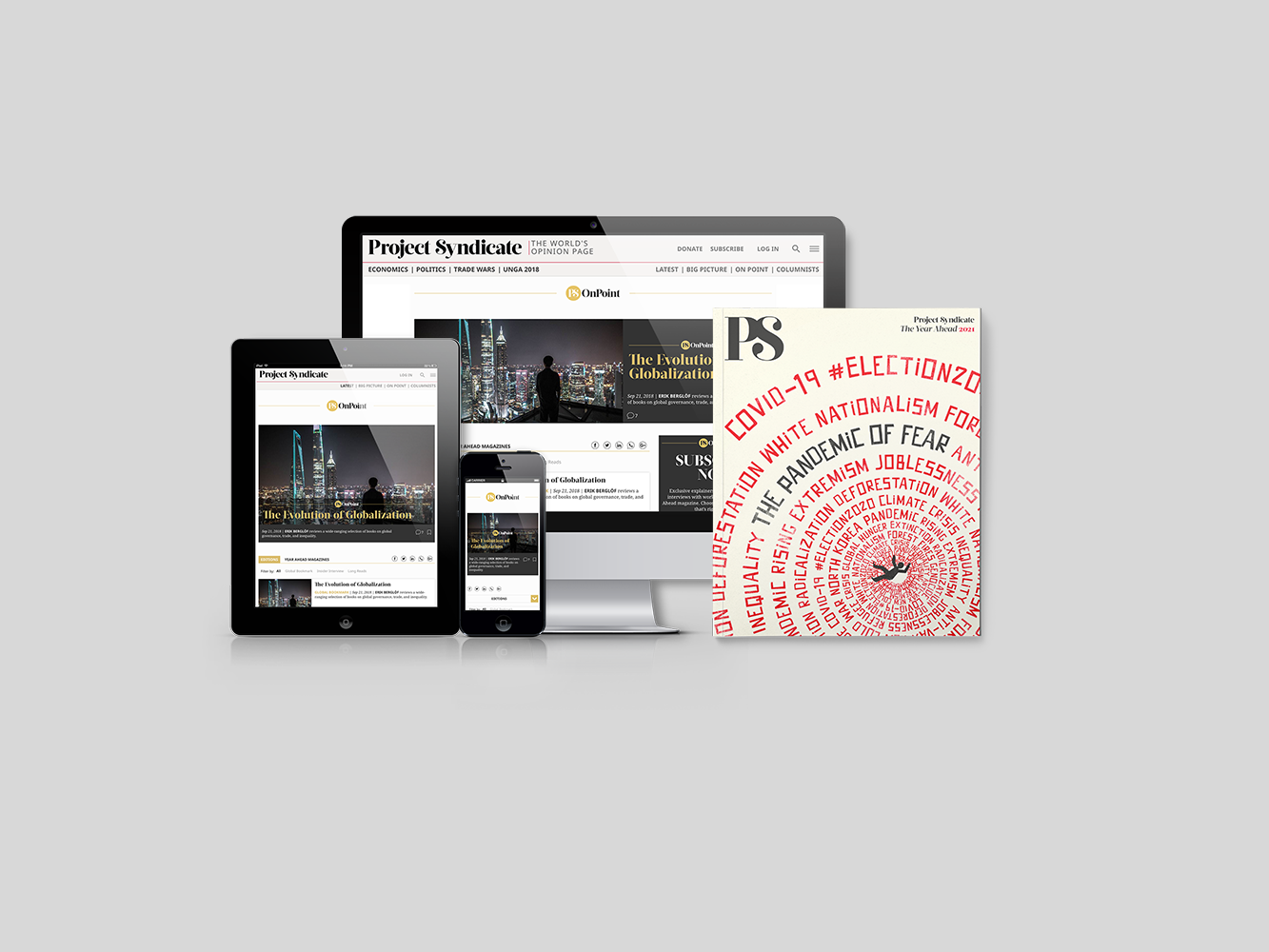 Subscribe to Project Syndicate
Enjoy unlimited access to the ideas and opinions of the world's leading thinkers, including weekly long reads, book reviews, topical collections, and interviews; The Year Ahead annual print magazine; the complete PS archive; and more. All for less than $9 a month.
Les pays soutiennent également la Déclaration UN75, en particulier. Deux mois après son adoption unanime, dix chefs d'État et de gouvernement, convoqués par l'Espagne et la Suède, ont publié une déclaration conjointe réitérant leur engagement à l'égard de la Déclaration et de l'ambition qu'elle incarne et appelant à des réformes des trois principaux organes de l'ONU, afin de créer « une organisation plus agile, plus efficace et plus responsable », à même de « fournir de meilleurs résultats ».
Tout cela est de bon augure pour l'avenir du multilatéralisme. Mais il y a souvent une grande différence entre les simples déclarations et leur traduction en action concrètes, en particulier lorsqu'il s'agit de faire valoir les intérêts d'acteurs si nombreux, ayant chacun des perspectives et des intérêts divergents. À l'heure où les factions nationalistes et populistes sont puissantes dans de nombreuses régions du monde, le défi à venir est d'autant plus redoutable. Pour être en mesure de le relever, nous devons nous tourner vers l'Europe.
L'Union européenne a été un champion fiable du multilatéralisme. En février, par exemple, la Commission européenne et le Haut Représentant de l'UE pour les affaires étrangères et la politique de sécurité, Josep Borrell, ont publié une communication conjointe sur le renforcement de la contribution de l'UE au multilatéralisme fondé sur des règles.
De même, la Chancelière allemande Angela Merkel, le président français Emmanuel Macron, le président du Conseil européen Charles Michel et la présidente de la Commission européenne Ursula von der Leyen se sont joints au Secrétaire général des Nations unies António Guterres et au président sénégalais Macky Sall pour appeler à un multilatéralisme plus inclusif.
Le leadership de l'Europe en ce domaine nous paraît sensé. Bien que l'UE ait souvent une mauvaise réputation quant à sa lenteur, à son faible penchant à prendre des risques et à son inflexibilité, elle se distingue par ailleurs par sa capacité à forger un régime supranational efficace et à mettre en commun les ressources nécessaires pour relever des défis communs. Les Européens sont également particulièrement favorables à la coopération internationale. Dans l'enquête de l'ONU, plus de 90 % des Européens – soit plusieurs points de pourcentage au-dessus de la moyenne mondiale – ont considéré la coopération internationale comme étant « très importante » ou « essentielle ».
En prenant exemple sur le multilatéralisme actif en Europe, nos organisations, la Robert Bosch Stiftung GmbH et le Stimson Center, ainsi que d'autres partenaires, ont récemment réuni des responsables politiques et des experts européens et du monde entier, pour débattre de la manière de concrétiser la Déclaration UN75. Nous avons relevé plusieurs impératifs clés.
Par exemple, afin de relâcher la pression qui pèse sur le Conseil de sécurité de l'ONU et sur le système humanitaire mondial, les dirigeants mondiaux doivent prendre des mesures pour s'attaquer aux causes profondes des conflits. Cela signifie, par exemple, s'assurer que les besoins collectifs de base sont satisfaits, améliorer la représentation politique et renforcer les institutions de gouvernance de niveau national et régional.
Nous devons également nous attaquer à la « crise de l'expertise » – notamment au scepticisme croissant à l'égard de la science – qui compromet les programmes de vaccination contre la COVID-19 et les initiatives d'atténuation des changements climatiques. Cela sera possible grâce à des campagnes de sensibilisation internationales et nationales visant à favoriser la confiance et à lutter contre la désinformation.
Un troisième impératif consiste à modifier l'architecture et l'approche des institutions financières mondiales et régionales, afin de réduire les écarts en termes de participation numérique, de renforcer l'éducation et de progresser en matière d'égalité des sexes. Des réformes tout aussi essentielles sur les cadres juridiques et normatifs nous aideront à relever les défis du monde actuel, aussi bien en ligne que « hors ligne ».
La conception de solutions multilatérales n'est pas une tâche aisée, sans parler de trouver un accord à leur propos, ou encore de leur mise en œuvre. Cela peut les rendre inefficaces et peu économiques, les acteurs pouvant supposer alors qu'ils peuvent tirer un meilleur profit de la situation en faisant cavalier seul. Et pourtant, comme l'Europe l'a prouvé maintes fois, les solutions issues de processus multilatéraux ont tendance à être plus inclusives, plus efficaces et plus durables. C'est à des processus de ce genre que l'Europe doit sa plus longue période de paix et de stabilité.
Ce fait à lui seul devrait permettre à l'UE de fournir des enseignements appréciables pour le renouvellement de l'ONU. Une ONU inclusive, adaptative et autonome et tenant compte de l'expérience de l'UE peut constituer une base solide pour un ordre international fondé sur des règles, qui promeut la paix et la stabilité mondiales, tout en facilitant l'action sur des défis communs. Une institution de ce genre ne pouvait pas être plus digne de notre engagement et de notre soutien sans faille.
Sandra Breka, membre du conseil d'administration de la Robert Bosch Stiftung GmbH.