El progreso de fin de año de Europa y China
NUEVA YORK – Felicitaciones a la Comisión Europea por concretar un nuevo acuerdo de inversión con China. La diplomacia activa de Europa también tuvo que ver en el reciente compromiso de China de alcanzar una neutralidad de carbono en 2060 –una decisión que rápidamente fue seguida por la promesa de Japón de descarbonizarse en 2050-. Ahora ha generado un nuevo éxito importante.
El nuevo acuerdo de inversión entre la UE y China beneficiará a Europa, a China, al mundo y hasta a Estados Unidos, a pesar de las advertencias que este último profirió en su contra. En términos generales, el acuerdo implica la intención de la UE y de China de seguir profundizando las relaciones económicas, al otorgarle a cada parte un acceso más garantizado a inversiones en la economía del otro. La industria europea ganará un mejor acceso al gigantesco mercado doméstico de China en tanto China se embarca en una década de reestructuración económica verde y digital, y en un momento en que Europa se esfuerza por mantenerse en la vanguardia tecnológica en estas áreas.
El acuerdo se produce frente a los intentos profundamente desacertados –y, de hecho, peligrosos- por parte de la administración del presidente norteamericano, Donald Trump, no sólo por cortar los lazos económicos con China en las industrias de alta tecnología, sino también por contener el crecimiento de China forjando una alianza liderada por Estados Unidos que, Trump esperaba, sería respaldada por los países de la UE y de Asia-Pacífico, entre ellos Australia, India, Japón y Corea del Sur. Parece que la administración Biden entrante tal vez se incline en la misma dirección, aunque ciertamente con más sutileza y menos grandilocuencia que Trump.
El objetivo ostensible de la política estadounidense consiste en restringir la beligerancia y las violaciones de los derechos humanos de China, o por lo menos eso dice Estados Unidos. Pero vale la pena destacar que la política está propiciada por un establishment bipartidario de política exterior en Estados Unidos que mantiene unas 800 bases militares en el exterior, y que en repetidas ocasiones ha iniciado guerras ilegales, ha impuesto sanciones unilaterales ilegales y por lo demás se ha negado a cumplir con la Carta de las Naciones Unidas, tratados y decisiones del Consejo de Seguridad. Decididamente cuesta sostener que China sea la parte beligerante en todo esto.
China, sin duda, debería mejorar su historial en materia de derechos humanos –particularmente para abordar las cuestiones planteadas por el Alto Comisionado de las Naciones Unidas para los Derechos Humanos con relación a la situación en la Región Autónoma Uigur de Sinkiang-. Pero seamos claros: Estados Unidos, Europa, India y muchas naciones occidentales deberían hacer mejoras similares. En los últimos 20 años, en particular, las poblaciones musulmanas de Oriente Medio y el sur y centro de Asia han sufrido repetidamente guerras brutales entabladas por potencias occidentales, represiones domésticas, sanciones norteamericanas unilaterales y otros abusos.
La realidad es que son pocos los países que cumplen como corresponde con la Declaración Universal de Derechos Humanos; y Estados Unidos, para gran vergüenza propia, todavía no ha ratificado el Pacto de Naciones Unidas sobre Derechos Económicos, Sociales y Culturales, mientras que China y los 27 estados miembro de la UE lo han hecho hace mucho tiempo. La respuesta correcta a los temores genuinos en materia de derechos humanos es plantearlos de una manera seria y constructiva, sin acusaciones hipócritas, exageración o disrupciones en el diálogo, la diplomacia y las relaciones económicas. Que el país libre de pecado arroje la primera piedra.
Subscribe to Project Syndicate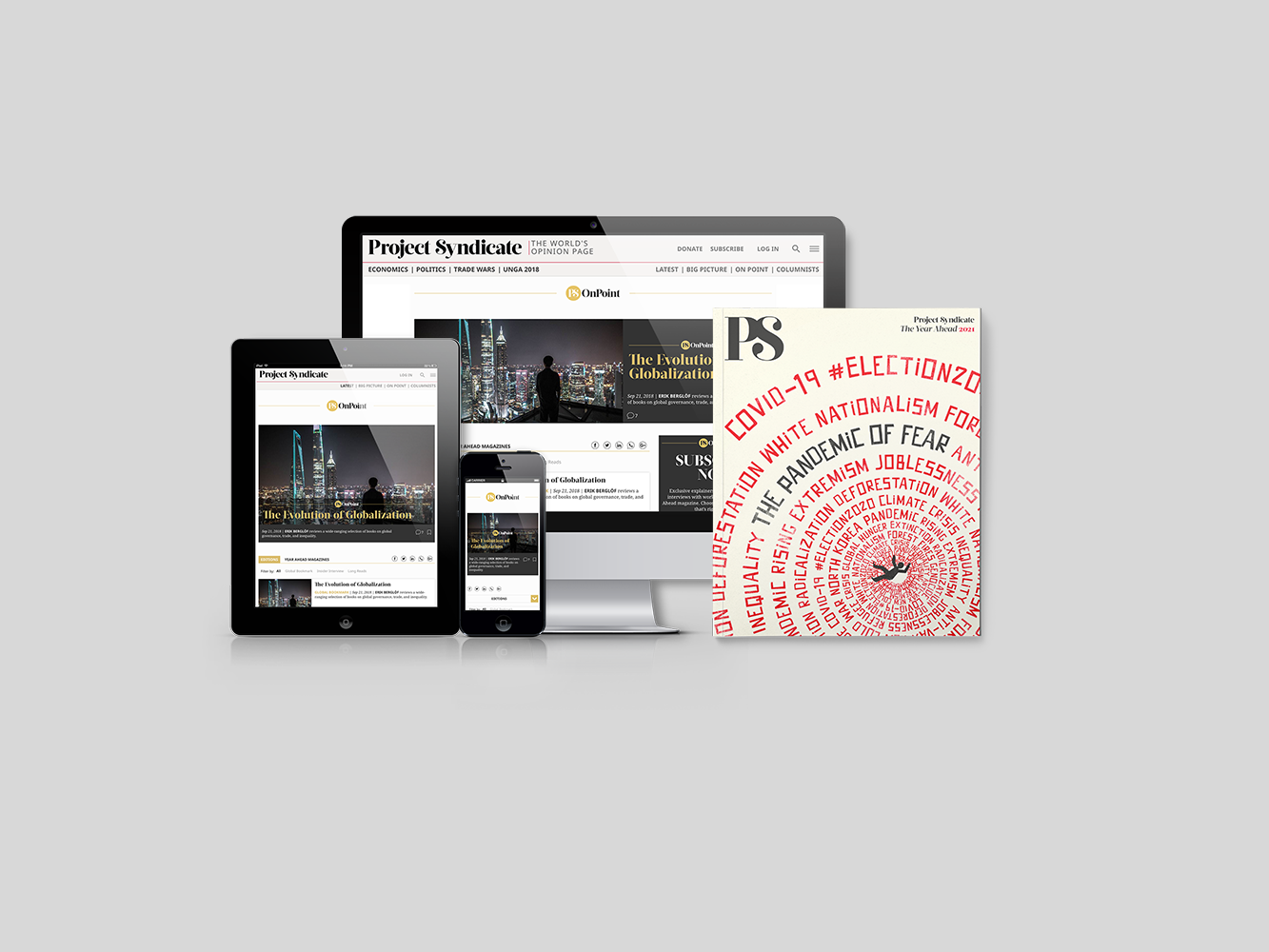 Subscribe to Project Syndicate
Enjoy unlimited access to the ideas and opinions of the world's leading thinkers, including weekly long reads, book reviews, and interviews; The Year Ahead annual print magazine; the complete PS archive; and more – All for less than $9 a month.
Pero la verdadera intención de Estados Unidos al enfrentarse a China no tiene nada que ver con los derechos humanos. Particularmente durante la administración anárquica de Trump las políticas de Estados Unidos han estado motivadas, lisa y llanamente, por una sed de dominio. Estados Unidos está intentando frenar el ascenso tecnológico y económico de China para preservar su propio predominio. Sin embargo, el sistema económico mundial no puede y no debe operar en beneficio de la hegemonía norteamericana, teniendo en cuenta especialmente que Estados Unidos representa un mero 4% de la población global.
Luego de las tragedias de 2020, el mundo necesita una cooperación global renovada, no una nueva guerra fría atizada por Estados Unidos. Es hora de controlar la pandemia y trazar un nuevo curso hacia la recuperación y un desarrollo sostenible. China puede y debe estar involucrada como socio pleno en la resolución de estos desafíos.
Después de todo, China, a diferencia de Estados Unidos y Europa, superó exitosamente su epidemia de COVID-19 en 2020 (como lo hizo la mayoría de sus vecinos en la región Asia-Pacífico). Ahora, China y sus vecinos deberían ayudar al resto del mundo a implementar las intervenciones no farmacéuticas (testeos, rastreo de contactos y cuarentena) que han resultado exitosas donde las políticas estadounidense y europea han fracasado. Y siempre que las nuevas vacunas de Sinovac y Sinopharm demuestren ser seguras y efectivas con datos revisados por pares, China debería empezar a producir y distribuir de maniera masiva estas vacunas a nivel mundial.
La UE, China y la administración del presidente electo de Estados Unidos, Joe Biden, también deberían aunar fuerzas para mapear una recuperación global verde y digital. Ahora que los principales emisores persiguen una neutralidad de carbono, y Biden planea que Estados Unidos regrese al acuerdo climático de París y se comprometa a una descarbonización en 2050, están reunidas las condiciones para una verdadera recuperación verde generalizada.
Asimismo, el desarrollo y despliegue de nuevas tecnologías verdes –energía renovable, vehículos eléctricos (VE) y almacenamiento de baterías- se beneficiarán enormemente de la cooperación global. Por ejemplo, apenas esta semana, el Grupo Yahua de China, un importante productor de hidróxido de litio, firmó un acuerdo para entregar insumos para cinco años para la producción de baterías en Tesla, un fabricante de VE con sede en Estados Unidos.
En el terreno de las tecnologías digitales existen oportunidades similares. En un mundo en el que el acceso digital es crucial para la participación económica, las tecnologías basadas en 5G prometen soluciones innovadoras para una serie de desafíos, desde mejorar la eficiencia energética hasta incrementar el comercio electrónico y la salud electrónica. Afortunadamente, el tratado de inversión entre la UE y China ayudará a impulsar la cooperación digital, lo que podría implicar un inmenso impulso para el desarrollo sostenible.
Aun así, será importante que Europa siga resistiendo la presión de Estados Unidos contra China. El arma principal de Trump contra China ha sido recortar la exportación de tecnologías avanzadas con la esperanza de poner de rodillas a Huawei y a otras firmas tecnológicas importantes de China. Esta medida surge directamente del manual de hegemonía de Estados Unidos, y fue aplicada contra la Unión Soviética durante la Guerra Fría.
El gobierno de Trump justifica su estrategia frente a Huawei con el argumento de que China podría espiar a otros utilizando equipos 5G de Huawei. Una razón más factible es que los equipos de Huawei harían que a Estados Unidos le resultara más difícil espiar a los demás, inclusive a los ciudadanos norteamericanos. Una razón aún más probable es que Estados Unidos ingenuamente piense que puede mantener eternamente la superioridad tecnológica recortando insumos avanzados a China. Aun así, China probablemente pueda cerrar rápidamente las brechas de tecnología restantes en la producción avanzada de semiconductores.    
Europa tiene razón de involucrase activa, profunda y constructivamente con China, atendiendo al mismo tiempo sus preocupaciones constantes y admirables por los derechos humanos en todo el mundo. La administración Biden debería resistir el impulso hegemónico y, por el contrario, restablecer relaciones constructivas con China.
Por ahora, el nuevo acuerdo de inversión entre la UE y China es una buena manera de terminar un año sombrío. La UE está aseverando sus prerrogativas apropiadas de política exterior independientemente de Estados Unidos. Pero nos esperan más desafíos en 2021, cuando el mundo necesita con urgencia cambiar el curso para poner fin a la pandemia y pasar a transitar un camino hacia un desarrollo sostenible.