O revolucionário final de ano para Europa e China
NOVA YORK – Parabéns à Comissão Europeia por finalizar um novo acordo de investimento com a China. A diplomacia ativa da Europa também desempenhou importante papel no recente compromisso da China de alcançar a neutralidade de carbono até 2060 – decisão que foi rapidamente seguida pela promessa do Japão de se descarbonizar até 2050. A diplomacia apresenta agora mais um grande sucesso.
O novo acordo de investimento UE-China beneficiará a Europa, a China, o mundo e até os Estados Unidos, apesar de suas advertências contrárias. Em termos gerais, o acordo significa a intenção da UE e da China de continuar a aprofundar as relações econômicas, assegurando a cada uma das partes acesso mais garantido a investimentos na economia entre elas. A indústria europeia terá melhor acesso ao enorme mercado interno da China no momento em que a China embarca em uma década de reestruturação econômica verde e digital, e em um momento em que a Europa se esforça para permanecer na vanguarda tecnológica nessas áreas. 
O acordo vem diante de tentativas profundamente equivocadas – na verdade, perigosas – do governo do presidente dos Estados Unidos, Donald Trump, não apenas de cortar laços econômicos com a China nas indústrias de alta tecnologia, como também de conter o crescimento da China, forjando uma aliança liderada pelos EUA que Trump esperava ser apoiada pela UE e países da Ásia-Pacífico, incluindo Austrália, Índia, Japão e Coreia do Sul. Parece que o novo governo Biden pode muito bem se inclinar na mesma direção, embora certamente com mais sutileza e tom menos bombástico do que Trump. 
O objetivo ostensivo da política dos EUA é restringir a beligerância da China e as violações dos direitos humanos, ou assim dizem os EUA. Mas é importante notar que a política é fortalecida por um estabelecimento bipartidário da política externa dos EUA que mantém cerca de 800 bases militares no exterior e que repetidamente deflagrou guerras ilegais, impôs sanções unilaterais ilegais e se recusou a cumprir a Carta das Nações Unidas, tratados e decisões do Conselho de Segurança. Certamente, fica difícil argumentar que a China é a parte beligerante aqui. 
A China, sem dúvida, deveria melhorar seu histórico em direitos humanos – especialmente para lidar com as questões levantadas pelo Alto Comissariado das Nações Unidas para os Direitos Humanos com relação à situação na Região Autônoma Uigur de Xinjiang. Mas vamos ser claros: EUA, Europa, Índia e muitos países ocidentais deveriam fazer melhorias semelhantes. Nos últimos 20 anos, em especial, as populações muçulmanas no Oriente Médio e na Ásia do Sul e Central sofreram repetidamente com guerras brutais travadas por potências ocidentais, repressões internas, sanções unilaterais dos EUA e outros abusos.
O fato é que poucos países acatam adequadamente a Declaração Universal dos Direitos Humanos e os EUA, para sua enormevergonha, ainda não ratificaram o Pacto das Nações Unidas sobre Direitos Econômicos, Sociais e Culturais, enquanto a China e os 27 Estados membros da UE o fizeram há muito tempo. A resposta correta às preocupações genuínas sobre  direitos humanos é abordá-las de maneira séria e construtiva, sem acusações hipócritas, exageros ou interrupções no diálogo, na diplomacia e nas relações econômicas. Que o país sem pecado atire a primeira pedra.
Subscribe to Project Syndicate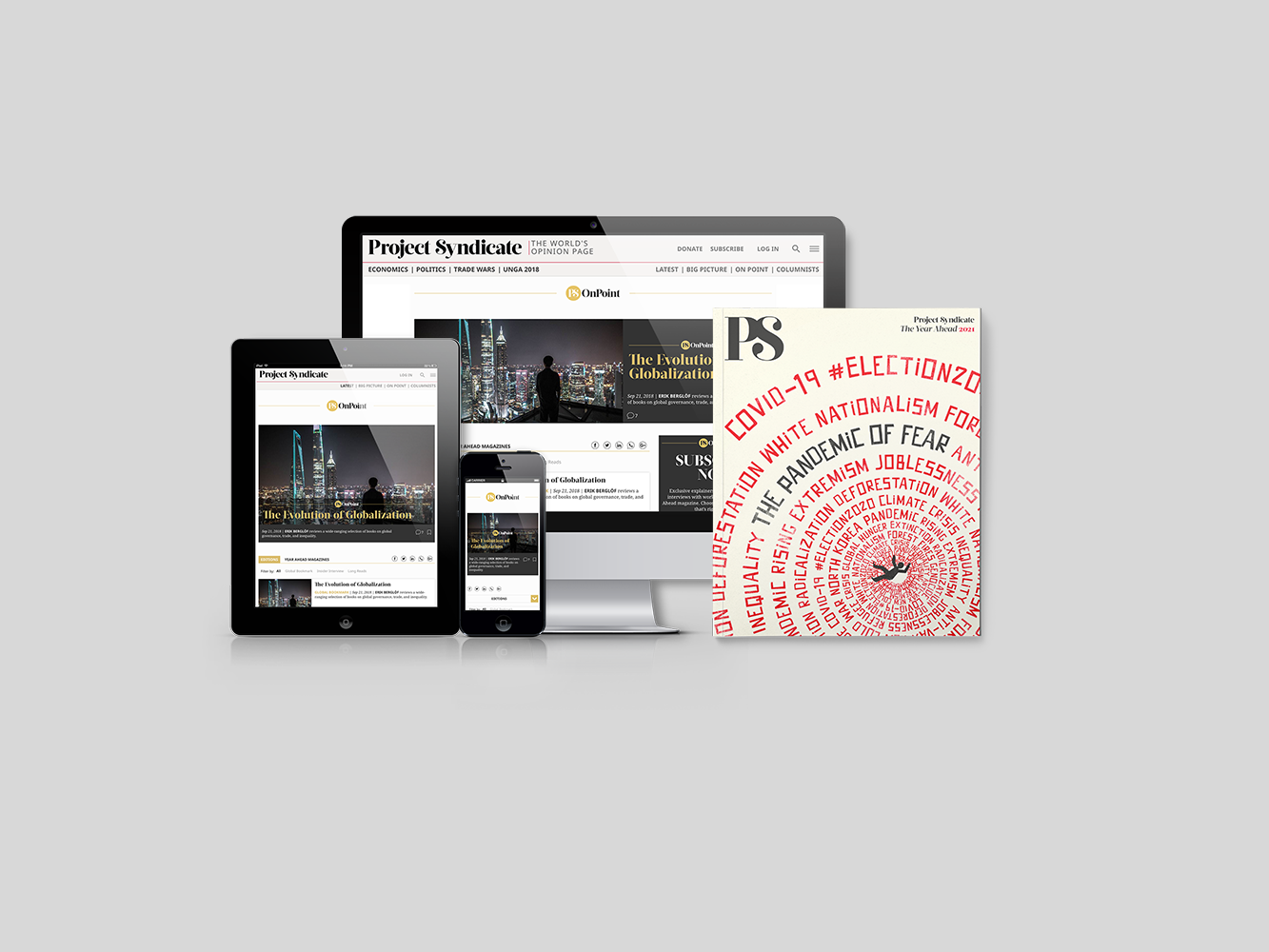 Subscribe to Project Syndicate
Enjoy unlimited access to the ideas and opinions of the world's leading thinkers, including weekly long reads, book reviews, and interviews; The Year Ahead annual print magazine; the complete PS archive; and more – All for less than $9 a month.
Mas a real intenção dos EUA em se opor à China não tem nada a ver com direitos humanos. Particularmente sob a administração sem lei de Trump, as políticas dos EUA foram motivadas pura e simplesmente por sua fome de domínio. Os Estados Unidos estão tentando impedir a ascensão tecnológica e econômica da China para preservar a própria predominância. O sistema econômico mundial, no entanto, não pode e não deve operar em benefício da hegemonia dos EUA, especialmente considerando-se que os EUA representam apenas 4% da população global.
Após as tragédias de 2020, o mundo precisa de uma renovada cooperação global, não de uma nova guerra fria alimentada pelos EUA. É hora de colocar a pandemia sob controle e traçar um novo curso em direção à recuperação e ao desenvolvimento sustentável. A China pode e deve estar envolvida como um parceiro pleno no enfrentamento desses desafios.
Afinal, a China, ao contrário dos EUA e da Europa, foi bem sucedida em conter sua epidemia de COVID-19 em 2020 (assim como a maioria de seus vizinhos na região da Ásia-Pacífico). Agora, a China e seus vizinhos devem ajudar o resto do mundo a implementar as intervenções não farmacêuticas (teste, rastreamento de contato e quarentena) que tiveram sucesso onde as políticas dos EUA e da Europa falharam. E desde que as novas vacinas da Sinovac e da Sinopharm sejam comprovadamente seguras e eficazes com dados revisados ​​por colegas, a China deveria começar a produzir e distribuir em massa essas vacinas em todo o mundo. 
A EU, a China e a administração do presidente eleito, Joe Biden, dos EUA também deveriam unir forças para mapear uma recuperação global verde e digital. Com os principais emissores agora buscando a neutralidade de carbono e com Biden planejando levar os EUA de volta ao acordo climático de Paris e comprometer o país com a descarbonização até 2050, temos os ingredientes para uma recuperação verdadeiramente verde de base ampla. 
Além disso, o desenvolvimento e a implantação de novas tecnologias verdes – energia renovável, veículos elétricos (VE) e armazenamento de bateria – se beneficiarão imensamente da cooperação global. Por exemplo, apenas esta semana, o Grupo Yahua da China, grande produtor de hidróxido de lítio, assinou contrato para fornecer cinco anos de insumos para a produção de baterias na Tesla, fabricante de veículos elétricos com sede nos Estados Unidos. 
Oportunidades semelhantes estão disponíveis com tecnologias digitais. Em um mundo onde o acesso digital é crucial para a participação econômica, as tecnologias baseadas em 5G prometem soluções inovadoras para uma série de desafios, desde melhorar a eficiência energética até expandir o comércio eletrônico e a saúde eletrônica. Felizmente, o tratado de investimento UE-China ajudará a impulsionar a cooperação digital, o que pode dar um grande impulso ao desenvolvimento sustentável.
Ainda assim, será importante para a Europa continuar resistindo à pressão dos EUA contra a China. A principal arma de Trump contra a China tem sido interromper a exportação de tecnologias avançadas na esperança de colocar de joelhos a Huawei e outras grandes empresas chinesas de tecnologia. Esse movimento vem diretamente do manual de hegemonia dos EUA e foi aplicado contra a União Soviética durante a Guerra Fria.
A administração de Trump justifica sua abordagem em relação à Huawei com o argumento de que a China pode espionar terceiros usando o equipamento 5G da Huawei. Um motivo mais plausível é que o equipamento da Huawei tornaria mais difícil para o governo dos EUA espionar terceiros, incluindo cidadãos americanos. Uma razão ainda mais provável é que os EUA ingenuamente pensam que podem manter a superioridade tecnológica indefinidamente cortando os insumos avançados para a China. Entretanto, a China provavelmente será capaz de rapidamente fechar as lacunas tecnológicas restantes na produção de semicondutores avançados. 
A Europa está certa em se engajar ativa, profunda e construtivamente com a China, ao mesmo tempo que atende às suas permanentes e admiráveis preocupações ​​sobre os direitos humanos em todo o mundo. O governo Biden deve resistir ao impulso hegemônico e, em  vez disso, reiniciar relações construtivas com a China. 
Por enquanto, o novo acordo de investimento UE-China é uma boa maneira de encerrar um ano sombrio. A UE está expressando suas adequadas, prerrogativas de política externa independentemente dos EUA. Porém, mais desafios nos aguardam em 2021, quando o mundo precisa urgentemente mudar de rumo para acabar com a pandemia e entrar no caminho do desenvolvimento sustentável. 
Tradução de Anna Maria Dalle Luche, Brazil