Europas und Chinas Durchbruch zum Jahresende
NEW YORK – Der Europäischen Kommission gebührt ein großes Lob dafür, dass sie ein neues Investitionsabkommen mit China abgeschlossen hat. Europas aktive Diplomatie spielte bereits bei der jüngsten chinesischen Verpflichtung eine Rolle, bis 2060 Kohlenstoffneutralität zu erreichen – eine Entscheidung, der schnell das japanische Versprechen einer Dekarbonisierung bis 2050 folgte. Und nun konnte sie noch einen weiteren großen Erfolg erzielen.
Das neue europäisch-chinesische Investitionsabkommen wird Europa, China, der Welt und sogar den Vereinigten Staaten nützen – obwohl letztere davor gewarnt hatten. Insgesamt wird durch das Abkommen die Absicht der EU und Chinas verdeutlicht, weiterhin die wirtschaftlichen Beziehungen zu vertiefen. Jede Vertragspartei kann so einfacher in die Wirtschaft der jeweils anderen investieren. Während China vor einem Jahrzehnt grüner und digitaler Umstrukturierung der Wirtschaft steht, bekommt die europäische Industrie einen besseren Zugang zum enormen chinesischen Binnenmarkt – zu einer Zeit, in der Europa versucht, in diesen Bereichen technologisch an der Spitze zu bleiben.
Das Abkommen folgt auf die zutiefst falschen und sogar gefährlichen Versuche der Regierung von US-Präsident Trump, nicht nur die wirtschaftlichen Verbindungen zur chinesischen High-Tech-Industrie zu kappen, sondern auch Chinas Wachstum einzudämmen – durch die Bildung einer US-geführten Allianz, die, wenn es nach Trump geht, von der EU und den asiatisch-pazifischen Ländern wie Australien, Indien, Japan und Südkorea unterstützt werden sollte. Es könnte sein, dass die neue Biden-Regierung in dieselbe Richtung steuert, aber sicherlich mit mehr Geschick und weniger Bombast als Trump.
Vordergründig zielt die US-Politik – jedenfalls nach eigenen Angaben – darauf ab, Chinas Kriegslust und Menschenrechtsverletzungen einzudämmen. Aber dazu muss gesagt werden, dass dieses Ziel von einer parteiübergreifenden US-Außenpolitik verfolgt wird, die etwa 800 Übersee-Militärbasen unterhält und wiederholt illegale Kriege geführt, illegale unilaterale Sanktionen verhängt und sich auf andere Weise geweigert hat, die Charta der Vereinten Nationen sowie die Abkommen oder Entscheidungen des Sicherheitsrats zu respektieren. Da kann man sicherlich schwer argumentieren, der Kriegstreiber hier sei China.
Zweifellos muss China die Menschenrechte stärker beachten – insbesondere um die Einwände der Hohen UN-Kommissarin für Menschenrechte hinsichtlich der Lage in der Autonomen Uigurischen Region von Xinjiang zu entkräften. Aber eins ist klar: Auch die USA, Europa, Indien und viele westliche Nationen müssen ähnliche Verbesserungen anstreben. Insbesondere in den letzten zwanzig Jahren litt insbesondere die muslimische Bevölkerung im Nahen Osten und in Zentralasien immer wieder unter brutalen Kriegen der westlichen Mächte, innenpolitischer Unterdrückung, unilateralen US-Sanktionen und anderen Misshandlungen.
Tatsache ist, dass sich nur wenige Länder wirklich an die Allgemeine Erklärung der Menschenrecht halten, und die USA haben – im Gegensatz zu China und den 27 Mitgliedstaaten der EU – schändlicherweise immer noch nicht den UN-Pakt über wirtschaftliche, soziale und kulturelle Rechte ratifiziert. Die richtige Antwort auf echte Menschenrechtsprobleme besteht darin, sie auf ernsthafte und konstruktive Weise zu thematisieren – ohne scheinheilige Schuldzuweisungen und Übertreibungen oder den Abbruch von Dialog, Diplomatie oder wirtschaftlichen Beziehungen. Wer hier selbst im Glashaus sitzt, sollte nicht mit Steinen werfen.
Subscribe to Project Syndicate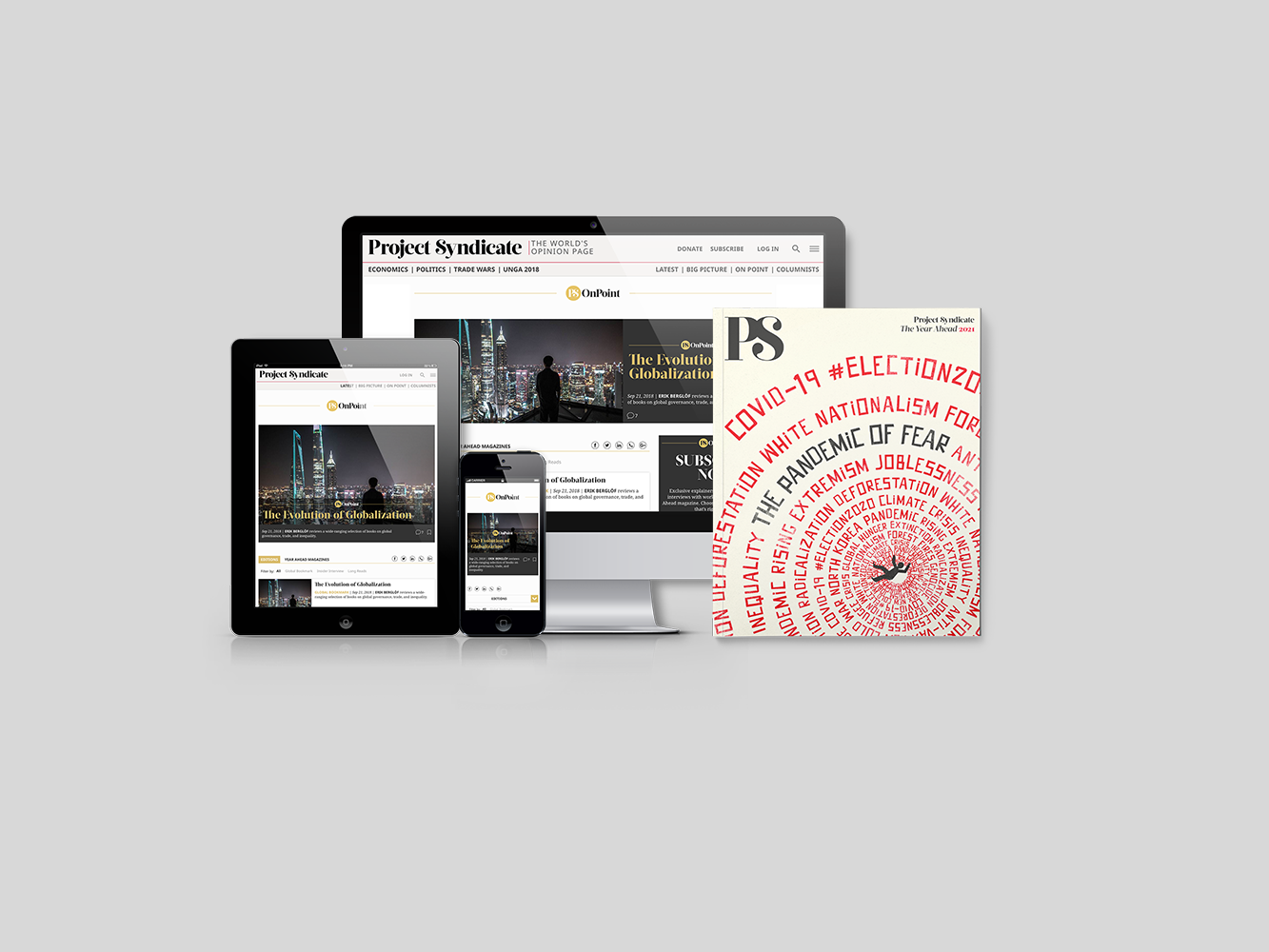 Subscribe to Project Syndicate
Enjoy unlimited access to the ideas and opinions of the world's leading thinkers, including weekly long reads, book reviews, and interviews; The Year Ahead annual print magazine; the complete PS archive; and more – All for less than $9 a month.
Aber Amerikas wahre Absichten gegenüber China haben nichts mit Menschenrechten zu tun. Insbesondere unter Trumps gesetzloser Regierung war die US-Politik schlicht und einfach durch das Streben nach Dominanz bestimmt. Die USA versuchen, Chinas technologischen und wirtschaftlichen Aufstieg zu stoppen, um ihre eigene Vorherrschaft zu bewahren. Das weltweite Wirtschaftssystem kann und darf sich allerdings nicht in den Dienst einer US-Hegemonie stellen – insbesondere angesichts dessen, dass in den USA nur vier Prozent der Weltbevölkerung lebt.
Nach den Tragödien des Jahres 2020 braucht die Welt keinen neuen amerikanischen Kalten Krieg, sondern eine neue globale Zusammenarbeit. Es ist Zeit, die Pandemie unter Kontrolle zu bekommen und einen Kurs in Richtung Erholung und nachhaltiger Entwicklung einzuschlagen. Und an der Bewältigung dieser Herausforderungen kann und muss China als vollwertiger Partner beteiligt werden.
Immerhin konnte das Reich der Mitte (ebenso wie seine Nachbarn in der asiatisch-pazifischen Region) im Gegensatz zu den USA und Europa seine COVID-19-Pandemie im Jahr 2020 erfolgreich eindämmen. Und jetzt müssen China und seine Nachbarn dem Rest der Welt helfen, die nicht-pharmazeutischen Interventionen (Tests, Kontaktverfolgung und Quarantäne) umzusetzen, die dort erfolgreich umgesetzt wurden und an denen die USA und Europa gescheitert sind. Und vorausgesetzt, dass sich die neuen Sinovac- und Sinopharm-Impfstoffe anhand geprüfter Daten als sicher und effektiv erweisen, sollte China diese massenhaft produzieren und in aller Welt verteilen.
Die EU, China und die Regierung des zukünftigen US-Präsidenten Joe Biden müssen sich außerdem zusammentun, um global eine grüne und digitale Erholung anzustreben. Angesichts dessen, dass nicht nur die weltweit führenden Emittenten jetzt Kohlenstoffneutralität anstreben, sondern dass Biden auch die USA wieder in das Pariser Klimaabkommen eingliedern und sein Land bis 2050 dekarbonisieren will, bestehen die Voraussetzungen für eine umfassende und wahrhaft grüne Erholung.
Darüber hinaus werden die Entwicklung und Verbreitung neuer grüner Technologien – erneuerbarer Energie, elektrischer Fahrzeuge und Batteriespeicherung – enorm von einer globalen Zusammenarbeit profitieren. Beispielsweise hat gerade in dieser Woche die chinesische Yahua-Gruppe, eine große Produzentin von Lithiumhydroxid, einen Fünfjahresvertrag über Vorprodukte zur Batterieherstellung beim Elektrofahrzeughersteller Tesla abgeschlossen.
Ähnliche Möglichkeiten ergeben sich bei den Digitaltechnologien. In einer Welt, in der digitale Zugänge für die wirtschaftliche Teilhabe entscheidend sind, bieten Technologien auf 5G-Basis wegweisende Lösungen für eine Vielzahl von Problemen – von der Verbesserung der Energieeffizienz bis hin zur Förderung von E-Kommerz und E-Gesundheit. Glücklicherweise wird das Investitionsabkommen zwischen der EU und China zu einer digitalen Zusammenarbeit beitragen, die der nachhaltigen Entwicklung einen enormen Schub geben könnte.
Trotzdem wird es für Europa weiterhin wichtig sein, dem Druck der USA gegen China zu widerstehen. Trumps größte Waffe gegen China war, den Export fortgeschrittener Technologien zu stoppen – in der Hoffnung, Huawei und andere große chinesische Hersteller so in die Knie zwingen zu können. Diese Politik stammt direkt aus dem Drehbuch der US-Hegemonie und wurde bereits während des Kalten Krieges gegen die Sowjetunion eingesetzt.
Trumps Regierung rechtfertigt ihr Vorgehen gegen Huawei damit, dass China die 5G-Komponenten des Unternehmens zur Spionage nutzen könnte. Eine plausiblere Erklärung ist, dass es die Huawei-Technik der US-Regierung erschweren könnte, selbst andere auszuspionieren, darunter auch ihre eigenen Bürger. Und ein noch wahrscheinlicherer Grund ist, dass die USA naiverweise denken, sie könnten ihre technologische Überlegenheit durch die Blockade hochwertiger Vorprodukte aus China ewig aufrecht erhalten. Aber China kann die verbleibende technologische Lücke bei der Herstellung hochwertiger Halbleiter wahrscheinlich schnell schließen.
Europa tut gut daran, sich aktiv, umfassend und konstruktiv mit China zu beschäftigen und gleichzeitig sein bewundernswertes Engagement für die weltweiten Menschenrechte beizubehalten. Bidens Regierung sollte dem hegemonischen amerikanischen Impuls widerstehen und stattdessen wieder konstruktive Beziehungen zu China knüpfen.
Bis dahin ist das neue europäisch-chinesische Investitionsabkommen eine gute Art, ein schlimmes Jahr zu beenden. Die EU setzt ihre rechtmäßigen außenpolitischen Ziele unabhängig von den USA durch. Aber 2021, wenn die Welt dringend ihren Kurs wechseln muss, um die Pandemie zu beenden und einen Weg hin zu nachhaltiger Entwicklung zu beschreiten, stehen wir vor neuen Herausforderungen.
Aus dem Englischen von Harald Eckhoff