Otočka dějin
MELBOURNE – Před dvanácti lety jsem během Mezinárodního roku astronomie uspořádaného u příležitosti 400. výročí prvního použití dalekohledu Galileem napsal úvahu s názvem "Hodnota bledě modré tečky" – bylo to zamyšlení o tom, jak astronomie objevuje širý vesmír s nepředstavitelným počtem hvězd, a tím umenšuje význam našeho Slunce a naší planety. Pojem "bledě modrá tečka" se přitom týkal podoby zeměkoule na fotografii, kterou v roce 1990 pořídila sonda Voyager, když dorazila k vnějšímu okraji naší sluneční soustavy. Můj esej naznačoval, že znalosti získané díky astronomii nás "nutí uznat, že naše místo ve vesmíru není nijak zvlášť významné".
Nedávný blog Holdena Karnofského mě vede k přehodnocení této myšlenky. Karnofsky je spoluředitelem nadace Open Philanthropy, která zkoumá nejlepší příležitosti k udělování filantropických grantů a zveřejňuje důvody svých rozhodnutí. Ke Karnofského úkolům proto patří i přemýšlení o dlouhodobém významu dnešních filantropických rozhodnutí. A on přemýšlí skutečně dlouhodobě.
Karnofsky poukazuje na skutečnost, že možná žijeme "na samém počátku titěrného časového úseku, během něhož se galaxie mění z téměř neživotné v hustě osídlenou". Mohli bychom říci, že onen "titěrný časový úsek" započal zhruba před třemi miliony let, kdy naši předkové poprvé použili nástroje. A skončí ve chvíli, kdy naši potomci – což už mohou být digitální mozky, nikoliv biologické organismy – osídlí celou galaxii, a možná tak předznamenají civilizaci skládající se z obrovského počtu vědomých bytostí, která přetrvá desítky miliard let. Podle Karnofského existuje slušná pravděpodobnost, že tento proces osídlování galaxie začne už během tohoto století. Do roku 2100 možná vyvineme technologie schopné budovat soběstačné osady na jiných planetách.
Tato myšlenka odráží představu, kterou v roce 2011 zformuloval zesnulý filozof Derek Parfit. Ten ke konci druhého dílu trilogie On What Matters napsal:"Žijeme během otočky dějin." Stejně jako Karnofsky přemýšlel i Parfit o nástupu technologií, které by při moudrém užívání umožnily, aby náš druh přežil "nejnebezpečnější a nejvíce rozhodující období" a aby se naši potomci rozšířili po celé galaxii. Parfit hovoří o "příštích několika stoletích", tedy nikoliv jen o tomto jediném, jako o době, po jejímž skončení budou žít lidé nezávisle na sobě na jiných planetách, avšak i to může být jen krátký časový střípek oproti tomu, co ještě přijde. Naším nejvýznamnějším příspěvkem k tomuto vývoji by bylo zajištění, aby na naší planetě přežily inteligentní formy života.
Možná je však představa, že jsme pro tento proces nezbytní, jen nejnovější verzí sebestředného klamu, že lidé představují středobod existence. Jistě, v tomto rozlehlém vesmíru musí existovat i jiné formy inteligentního života, a neobydlíme-li Mléčnou dráhu my, udělá to někdo jiný.
Fyzik Enrico Fermi se však kdysi v Národní laboratoři v Los Alamos zeptal během oběda svých vědeckých kolegů: "Kde jsou všichni?" Nenarážel tím na prázdné stoly v jídelně, nýbrž na absenci jakýchkoliv důkazů o existenci mimozemšťanů. Myšlenka tvořící pozadí této otázky je dnes známá jako Fermiho paradox: je-li vesmír tak ohromný a existuje-li už 13,7 miliardy let, proč s námi jiné inteligentní formy života dosud nenavázaly kontakt?
Subscribe to Project Syndicate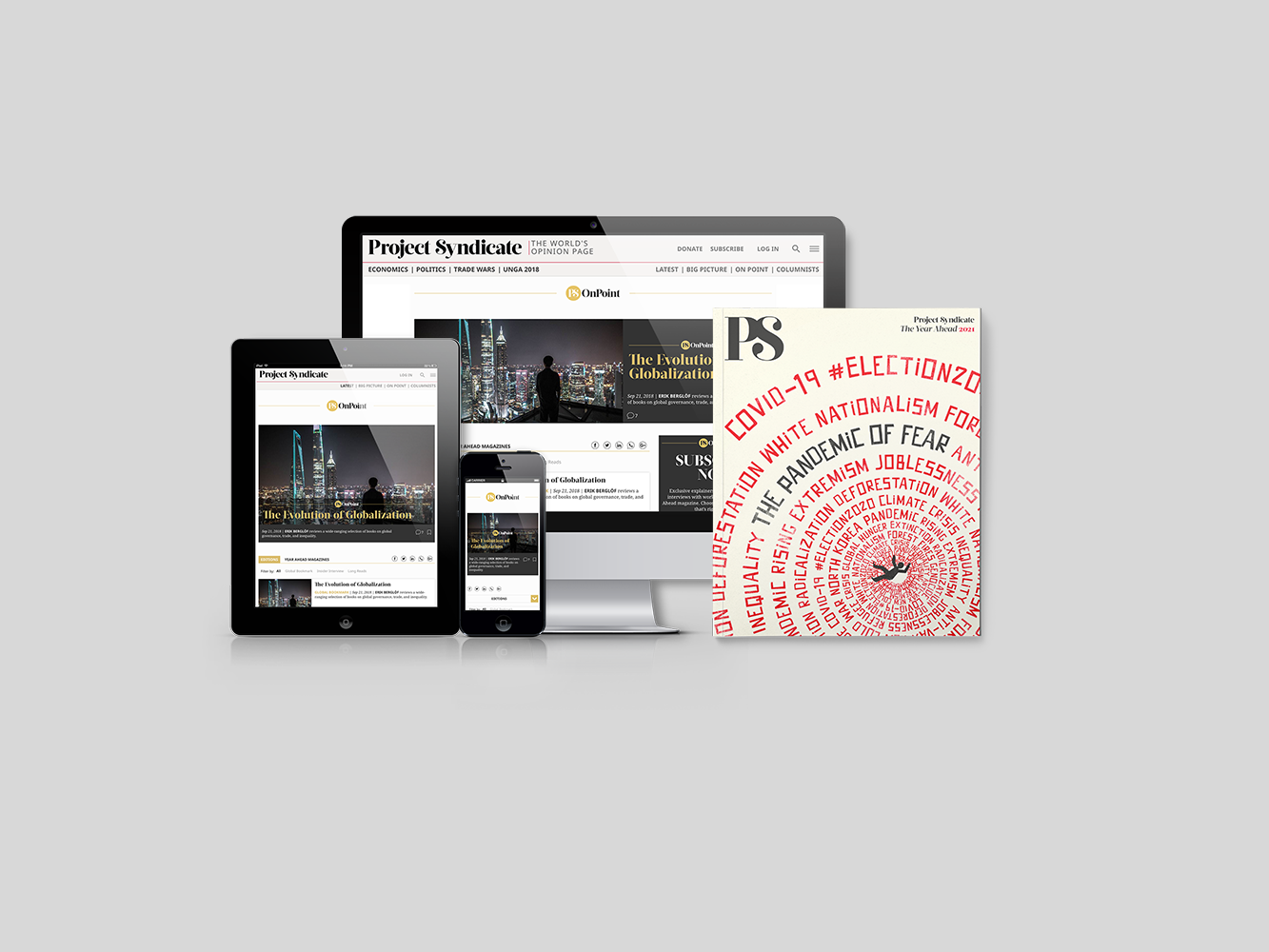 Subscribe to Project Syndicate
Enjoy unlimited access to the ideas and opinions of the world's leading thinkers, including weekly long reads, book reviews, topical collections, and interviews; The Year Ahead annual print magazine; the complete PS archive; and more – for less than $9 a month.
Karnofsky čerpá ze studie, kterou v roce 2018 zveřejnili vědci z Institutu budoucnosti lidstva při Oxfordské univerzitě. Nejpravděpodobnější odpovědí na výše uvedenou otázku je podle nich skutečnost, že inteligentní život je mimořádně vzácný. Je tak vzácný, že jsme možná jedinými inteligentními bytostmi v naší galaxii, a možná i v mnohem větší Nadkupě galaxií v Panně, do níž naše galaxie náleží.
Toto má Karnofsky na mysli, když říká, že budoucnost lidstva je "divoká". Představa, že my, obyvatelé této bledě modré tečky v tento konkrétní okamžik, činíme rozhodnutí, která určí, zda budou miliardy hvězd po miliardy let osídlené, skutečně vypadá divoce. Může však být pravdivá. Pokud to připustíme, co bychom v této věci měli podniknout?
Karnofsky nevyvozuje ze svých spekulací žádné etické závěry; prosazuje snad jen "serióznost s ohledem na to, jak nesmírně mnoho je potenciálně v sázce". Jak ovšem poznamenal Phil Torres, nazírání současných problémů – kromě vyhynutí našeho druhu – optikou "dlouhodobosti" a "existenčního rizika" může umenšit tyto problémy v téměř nicotnou záležitost a zároveň poskytnout odůvodnění, proč můžeme dělat téměř cokoliv, abychom zvýšili pravděpodobnost našeho přežití na tak dlouhou dobu, že naši civilizaci rozšíříme mimo zeměkouli. Marxova vize komunismu jakožto cíle celých lidských dějin poskytla Leninovi a Stalinovi ospravedlnění pro jejich zločiny a cíl "tisícileté říše" byl v očích nacistů dostatečným důvodem k vyhlazování či zotročování těch, které pokládali za rasově podřadnější.
Nenaznačuji, že kteříkoliv současní exponenti teze o otočce dějin by nečinně přihlíželi zvěrstvům. Marx ovšem také nikdy nepředpokládal, že režim vládnoucí v jeho jménu bude terorizovat vlastní lid. Když podnikáme kroky na snížení rizika vlastního vyhynutí, měli bychom se zaměřovat na ty prostředky, které zároveň slouží zájmům lidí v přítomnosti a bezprostřední budoucnosti. Nacházíme-li se na otočce dějin, pak platí, že umožníme-li lidem vybřednout z chudoby a získat vzdělání, posuneme věci správným směrem se stejnou pravděpodobností, jako bychom učinili téměř cokoliv jiného; a pokud se v tomto klíčovém bodě nenacházíme, byla by to sama o sobě dobrá věc.
Z angličtiny přeložil Jiří Kobělka