Um roteiro para a descarbonização
LONDRES – O nosso desafio climático é um desafio energético. Mas a resolução do nosso desafio energético requer uma acção que ultrapassa em muito a produção de energia.
A energia solar e a energia eólica revolucionaram o nosso sistema energético. Mas com o sector energético a fornecer apenas 20% da nossa energia, a mera produção de mais electricidade verde não nos permitirá chegar às emissões líquidas nulas de dióxido de carbono até meados do século. Nem a conversão de energia renovável em fornecimentos de larga escala de hidrogénio verde será um remédio milagroso. Os nossos navios, aviões e comboios não estão configurados para isso, e os incentivos económicos ainda não estão a mover-se na direcção correcta.
O nosso desafio energético é também um problema de procura de energia. A concretização das nossas ambições climáticas colectivas requer transições rápidas e profundas em cada um dos sectores que contribuem para a procura global de energia, e que incluem não só a energia, mas também os transportes, a manufactura, a siderurgia e a indústria química. Conseguir que estas transições se dêem ao ritmo necessário implica uma transformação completa da nossa infra-estrutura energética. Para tal, serão fundamentais três prioridades em particular.
Primeiro, precisamos de acelerar o ritmo da inovação. Uma análise recente da Agência Internacional da Energia mostra que quase metade das reduções de emissões necessárias para que se atinjam as emissões líquidas nulas em 2050 poderão ser originadas por tecnologias que ainda não estão no mercado.
As tecnologias de energias limpas, como os painéis solares, as turbinas eólicas, os carros eléctricos, os díodos emissores de luz e as baterias de iões de lítio permitiram-nos imaginar um mundo de emissões líquidas nulas para as próximas décadas. Mas precisamos de enormes avanços de inovação noutras tecnologias limpas (e algumas ainda não saíram dos laboratórios) para aí chegarmos. Isto é particularmente urgente em sectores como a siderurgia, a produção de cimento, a navegação e a aviação, onde a redução de emissões é mais difícil e onde tardam soluções tecnológicas.
A segunda prioridade é o estreitamento da colaboração entre governo e indústria. O sector privado é um motor inigualável de mudança. É onde se encontra a maior quantidade de inventores, empreendedores e investidores, e as suas contribuições serão cruciais para que o mundo idealize e implemente tecnologias verdes com a rapidez necessária.
Subscribe to Project Syndicate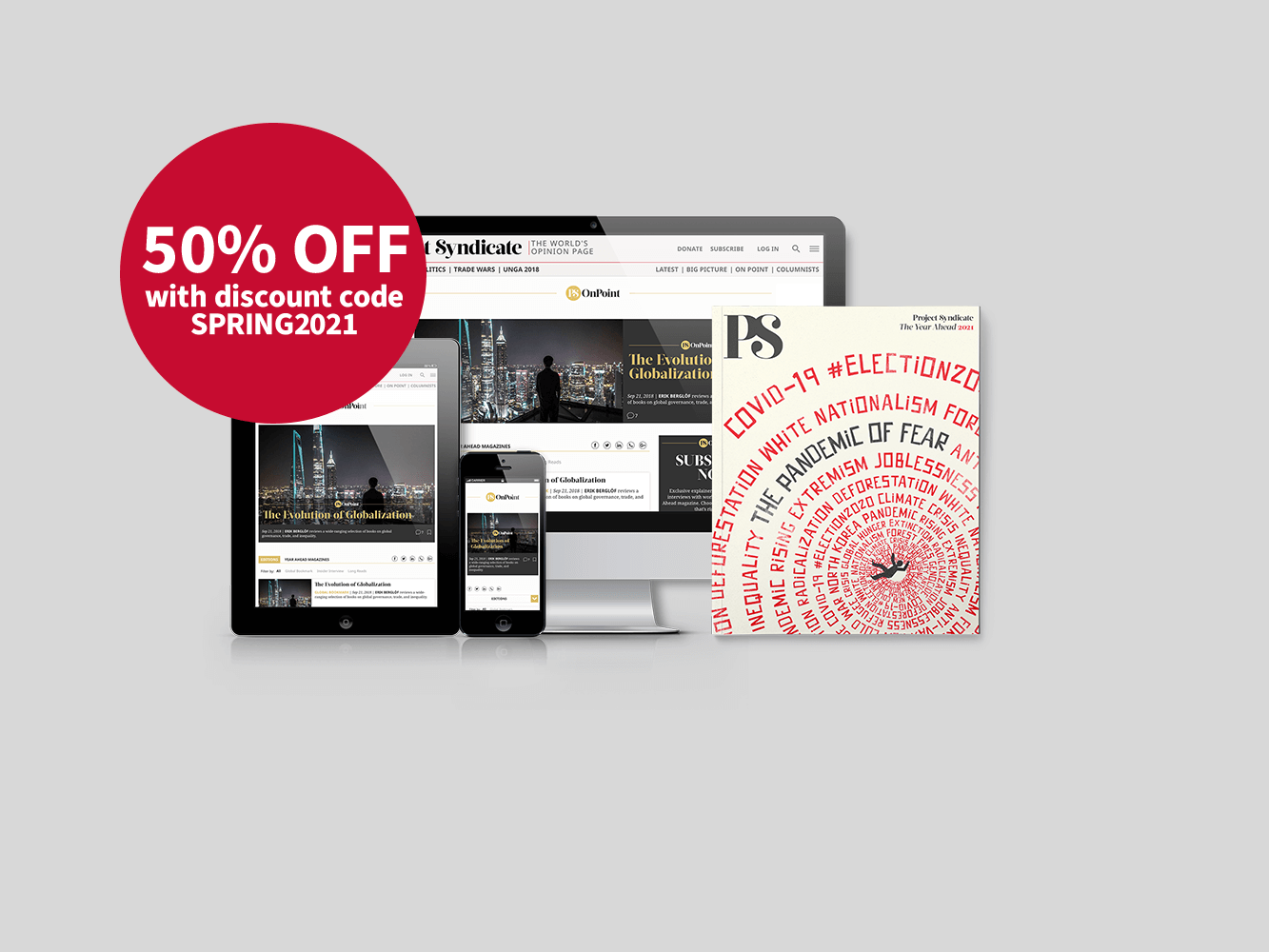 Subscribe to Project Syndicate
Enjoy unlimited access to the ideas and opinions of the world's leading thinkers, including weekly long reads, book reviews, topical collections, and interviews; The Year Ahead annual print magazine; the complete PS archive; and more. All for less than $5 a month.
Ao mesmo tempo, a acção do governo é essencial para libertar todo o poder empresarial. Deixados por sua conta, os mercados não conseguirão garantir a transformação rápida de que necessitamos para o nosso sistema energético global. Em muitos sectores, as empresas necessitam de políticas governamentais fortes para que floresçam tecnologias menos intensivas em carbono. Precisam que o governo apoie a inovação inicial em novas tecnologias, crie mercados de nicho que permita o seu desenvolvimento e que implemente políticas eficazes que viabilizem a sua difusão, sector a sector.
Por último, necessitamos de uma coordenação internacional consideravelmente reforçada. Num sistema global centrado em acções nacionais, orquestrar o tipo de mudança sistémica necessária em muitos sectores consumidores de energia é um desafio considerável. As abordagens nacionais podem ser altamente eficazes em algumas áreas, especialmente quando os governos podem prosseguir políticas determinadas sem ferir os produtores nacionais em sectores como o energético. Mas uma abordagem nacional rígida funciona menos bem nas indústrias comercializadas internacionalmente, especialmente em sectores onde o abate seja mais difícil. Aqui, é necessária uma acção internacional coordenada para incitar a adopção rápida das novas tecnologias.
As instituições multilaterais têm um papel crítico a desempenhar em todas estas áreas. A AIE facilita a colaboração em tecnologias essenciais para a transição energética, num esforço que envolve mais de 6000 especialistas de todo o mundo, em representação de quase 300 organizações públicas e privadas localizadas em 55 países, incluindo muitas de países associados da AIE, como a China, a Índia e o Brasil. Mas com um consenso cada vez maior sobre a necessidade de nos movimentarmos no sentido das emissões líquidas nulas, podemos e devemos fazer mais.
Ainda este ano, a AIE estabelecerá o primeiro roteiro abrangente para o sector energético global, que cobrirá a energia, os transportes, a indústria e os edifícios; precisamos de transformar todas estas áreas para atingirmos as emissões líquidas nulas até 2050. Ao definir com exactidão as necessidades de cada sector e os momentos em que devem ocorrer, o plano permitirá aos governos e às empresas medir a sua evolução e esclarecer onde é mais necessária a atenção.
O próximo passo é transformar os planos em acções. Foi por isso que a AIE formou recentemente uma parceria estratégica com a Mission Possible, uma aliança global de mais de 400 empresas que procura acelerar a descarbonização em larga escala da indústria pesada e dos transportes. O nosso apoio a esta iniciativa também reflecte a nova prioridade da AIE: reunir o sector privado e os governos das principais economias mundiais, para que desempenhem o papel de coordenação que só a eles pode ser atribuído. Ao centrarem-se na inovação, na colaboração e em medidas ousadas, iniciativas como esta podem ajudar o mundo a enfrentar o desafio climático.