Ein Fahrplan zur Dekarbonisierung
LONDON – Unser Klimaproblem ist ein Energieproblem. Und um unser Energieproblem lösen zu können, sind Maßnahmen erforderlich, die weit über die Stromerzeugung hinausgehen.
Unser Energiesystem wurde durch Sonne und Wind revolutioniert. Aber da nur 20% unseres Energiebedarfs durch Strom gedeckt werden, können wir unsere Kohlendioxidemissionen nicht allein dadurch auf Nettonull reduzieren, dass wir mehr grüne Elektrizität erzeugen. Ebenso wird es auch kein Patentrezept sein, erneuerbaren Strom in große Mengen grünen Wasserstoffs umzuwandeln. Unsere Schiffe, Flugzeuge und Züge sind dafür nicht ausgelegt, und die wirtschaftlichen Anreize gehen noch nicht in die richtige Richtung.
Unser Energieproblem ist auch ein Problem der globalen Energienachfrage. Um unsere gemeinsamen Klimaziele zu erreichen, brauchen wir in allen Sektoren, die zu dieser Nachfrage beitragen, schnelle und tiefgehende Veränderungen – nicht nur beim Stromnetz, sondern auch im Transport-, Produktions-, Stahl- und Chemiebereich. Um diesen Wandel in die Wege zu leiten, müssen wir unsere Energieinfrastruktur vollständig transformieren. Dafür sind insbesondere drei Prioritäten entscheidend:
Erstens müssen wir das Innovationstempo erhöhen. Eine aktuelle Analyse der Internationalen Energieagentur (IEA) zeigt, dass wahrscheinlich fast die Hälfte der Emissionsminderungen, die für das Nettonullziel bis 2050 erforderlich ist, über Technologien erreicht werden müssen, die noch gar nicht auf dem Markt sind.
Dank sauberer Energietechnik wie Solarzellen, Windturbinen, Elektroautos, Leuchtdioden und Lithium-Ionen-Batterien können wir uns bereits für die kommenden Jahrzehnte eine "Nettonullwelt" vorstellen. Aber um tatsächlich dorthin zu gelangen, brauchen wir einen enormen Durchbruch bei anderen sauberen Technologien – von denen einige erst in der Laborphase sind. Besonders dringend ist dies in Sektoren wie der Stahl-, Zement-, Chemie-, Transport- und Luftfahrtindustrie, wo die Emissionen am schwersten zu senken sind und die technologischen Lösungen am weitesten hinterher hinken.
Die zweite Priorität besteht in einer engeren Zusammenarbeit zwischen Regierung und Industrie. Der private Sektor ist ein unübertroffener Motor des Wandels. Dort tummelt sich der Löwenanteil der Erfinder, Unternehmer und Investoren, und wenn die Welt schnell genug grüne Technologien entwickeln und verbreiten will, ist ihr Beitrag von entscheidender Bedeutung.
Subscribe to Project Syndicate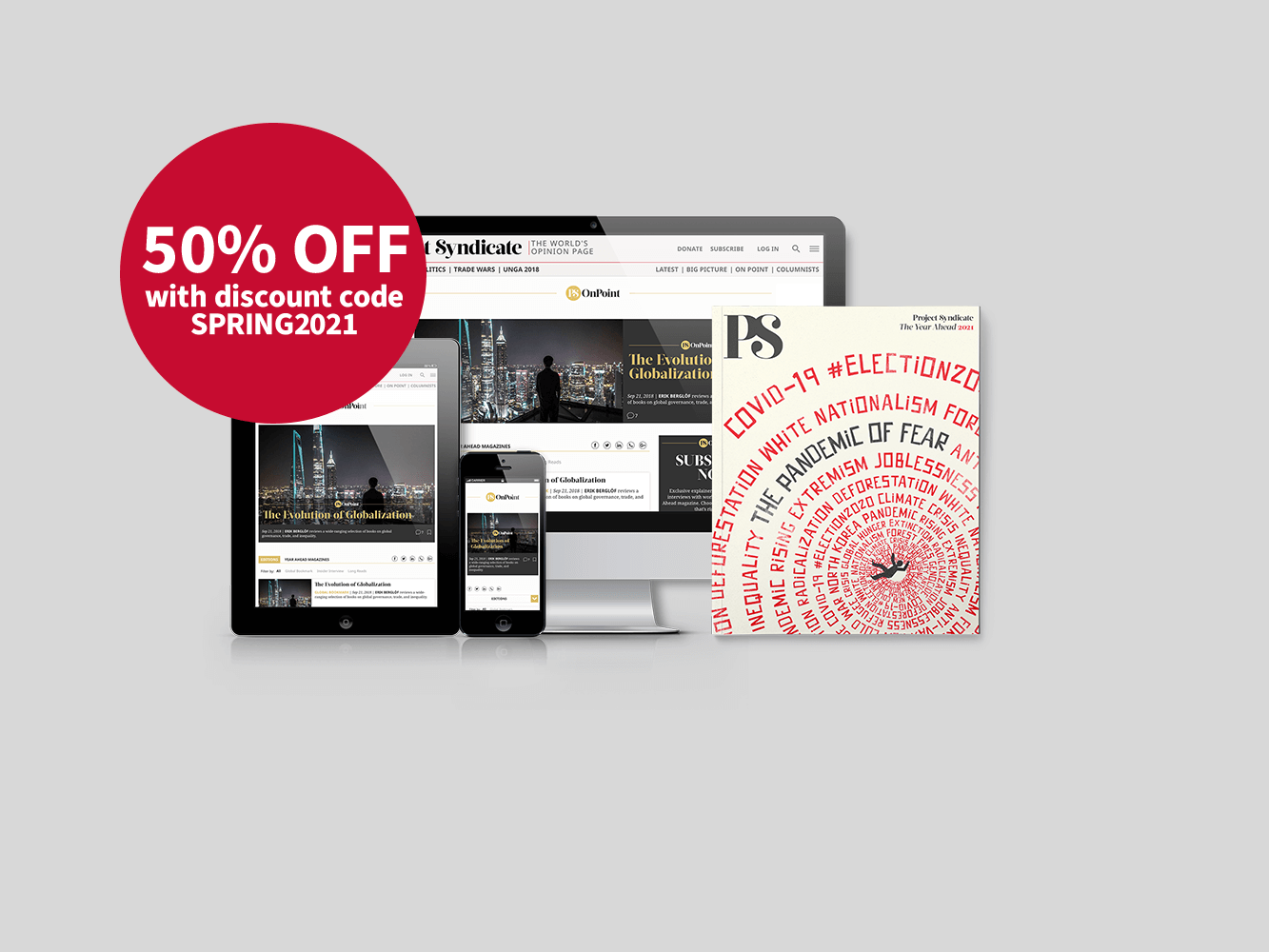 Subscribe to Project Syndicate
Enjoy unlimited access to the ideas and opinions of the world's leading thinkers, including weekly long reads, book reviews, topical collections, and interviews; The Year Ahead annual print magazine; the complete PS archive; and more. All for less than $5 a month.
Gleichzeitig sind staatliche Maßnahmen erforderlich, um die unternehmerische Kraft vollständig zu entfesseln. Werden die Märkte allein gelassen, können sie die nötigen schnellen Veränderungen unseres weltweiten Energiesystems nicht gewährleisten. In vielen Sektoren brauchen die Unternehmen eine entschiedene Politik, um kohlenstoffarme Technologien zur Blüte zu bringen. Sie brauchen Regierungen, die frühzeitig Investitionen in neue Technologien fördern, Nischenmärkte für ihre Entwicklung schaffen und dann effektive Maßnahmen für ihre Verbreitung einführen – Sektor für Sektor.
Und schließlich benötigen wir eine viel bessere internationale Zusammenarbeit. In einem globalen System, das auf staatlichen Maßnahmen beruht, ist die Koordinierung dieser Art systemischer Veränderungen, die in vielen energieintensiven Sektoren erforderlich sind, eine große Herausforderung. Nationale Ansätze können in manchen Bereichen höchst effektiv sein – insbesondere dort, wo die Regierungen entschiedene Maßnahmen durchsetzen können, ohne in Sektoren wie der Energieversorgung inländischen Produzenten zu schaden. Aber dort, wo internationaler Handel getrieben wird, und insbesondere in schwer anpassbaren Sektoren, funktioniert ein rigider staatlicher Ansatz weniger gut. Hier sind koordinierte grenzüberschreitende Maßnahmen erforderlich, um die schnelle Einführung neuer Technologien zu fördern.
In all diesen Bereichen spielen multilaterale Institutionen eine wichtige Rolle. Bei zentralen Technologien für die Energiewende wird diese Zusammenarbeit von der IEA unterstützt. Daran sind weltweit über 6.000 Experten beteiligt, die fast 300 öffentliche und private Organisationen aus 55 Ländern vertreten, darunter viele aus IEA-Teilnehmerstaaten wie China, Indien oder Brasilien. Aber angesichts eines immer stärkeren Konsens über die Notwendigkeit, Nettonullemissionen zu erreichen, können und müssen wir noch mehr tun.
Im Laufe dieses Jahres wird die IEA ihren ersten umfassenden Plan für den weltweiten Energiesektor veröffentlichen, der Elektrizität, Transport, Industrie und Gebäude umfasst – die wir alle transformieren müssen, um bis 2050 Nettonullemissionen zu erreichen. Der Plan legt genau fest, was in jedem dieser Sektoren getan werden muss, und hilft so den Regierungen und Unternehmen dabei, ihre Fortschritte zu messen und nötige Schwerpunkte zu erkennen.
Der nächste Schritt ist dann, Pläne in konkrete Maßnahmen zu überführen. Dazu ist die IEA kürzlich eine strategische Partnerschaft mit Mission Possible eingegangen, einer weltweiten Koalition von über 400 Unternehmen, die die großflächige Dekarbonisierung von Schwerindustrie und Transport vorantreiben wollen. Dass wir diese Initiative unterstützen, spiegelt auch den neuen Schwerpunkt der IEA wider, die Regierungen und Privatsektoren der weltweit größten Volkswirtschaften zu vereinen. Dabei müssen sie die koordinierende Rolle spielen, die sonst niemand leisten kann. Indem sich solche Initiativen auf Innovationen, Zusammenarbeit und mutige Maßnahmen konzentrieren, können sie der Welt helfen, die Herausforderung durch den Klimawandel zu bewältigen.
Aus dem Englischen von Harald Eckhoff